Nutritionist Career Overview
Not all states require nutritionists to be licensed in order to practice legally. According to the Commission on Dietetic Re Registration (CDR) of the Academy of Nutrition and Dietetics (AND), the following states do not require formal certification, licensure or occupational regulation for nutritionists:
Keep in mind, however, that even in states without licensure requirements for nutritionists, some employers require nutritionists to be certified or registered through organizations such as the Academy of Nutrition and Dietetics (AND) or the Clinical Nutrition Certification Board (CNCB). This career page will focus strictly on Non-Licensed Nutritionists who are not required to be registered or certified with any organization. Non-Licensed Nutritionists usually work in non-clinical settings, such as holistic and alternative medicine clinics and centers.
Nutritionist Education Requirements
<!- mfunc feat_school ->
Because Non-Licensed Nutritionists are not regulated by any certifying body or state agency, there are no prescribed educational mandates for the profession. It is necessary for a prospective Non-Licensed Nutritionist to have a thorough knowledge of nutrition and foods. Some employers of Non-Licensed Nutritionists may require that they have a minimum of an associate's degree. Other Non-Licensed Nutritionists jobs call for a master's degree.
Courses for Non-Licensed Nutritionists may be available at traditional colleges and universities, as well as at specialized trade schools and alternative medicine centers. Classes that aspiring Non-Licensed Nutritionists should take include:
Sciences (chemistry, biology, microbiology, anatomy)
Nutrition along the lifespan
Nutritional counseling
Organic herbs and potions
Body systems and functions
Medical terminology
Nutritional supplements
Biopsychology
Much of the knowledge that Non-Licensed Nutritionists have is gained through experience. Some alternative medicine schools and clinics offer students the opportunity to work in a practicum or internship setting. This can provide students with valuable real-life work experience that can be very beneficial when seeking work as a Non-Licensed Nutritionist as apposed to a nutritionist degree.
Nutritionist Job Description
Non-Licensed Nutritionists may work in traditional or alternative settings. Usually, their jobs entail providing advice and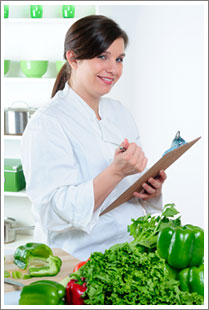 counseling to clients on nutritional and dietary matters. Job duties may be tailored to the job setting for a Non-Licensed Nutritionist. Sites in which one may find a Non-Licensed Nutritionist, in states not requiring licensure for nutritionists, include:
Alternative medicine practice
Holistic health center
Private practice
Community centers
Nonprofit organizations
Fitness and beauty centers
Retail and industry
Duties for a Non-Licensed Nutritionist may include:
Assessing the nutritional needs of clients
Offering nutritional advice and counseling to clients
Creating individualized nutrition plans for clients
Public education on nutrition, both traditional and alternative/holistic
Consulting with other health professionals for the good of the client
Nutritionist Skills Required
The skills that a Non-Licensed Nutritionist should have include:
Public speaking
Listening
Writing
Critical thinking and reasoning
Reading comprehension
Sensitivity to others' feelings, actions and reactions
Problem-solving
Teaching/instructing
Decision-making
Judgment
Flexibility in thinking and open-mindedness
Licensure/Certification Qualifications
Because Non-Licensed Nutritionists are not required to be licensed, there are no qualifications that one must fulfill through any credentialing body, state or other jurisdictional regulating body.
Nutritionist Average Income
It is difficult to pinpoint an average income for Non-Licensed Nutritionists in the United States, as the Bureau of Labor Statistics (BLS) of the U.S. Department of Labor does not maintain separate statistics for nutritionists without licenses. In May 2012, the mean annual income for a Licensed Nutritionist was $56,170. It can be inferred that Non-Licensed Nutritionists might earn slightly less than Licensed Nutritionists, but it all depends upon the employer and type of industry in which one works. For example, a recent scan of job openings for Non-Licensed Nutritionists revealed the following statistics:
Non-Licensed Nutritionist, Prince William County (Virginia) Department of Health – $35,000 annually
Nutrition Sales and Service Manager, Metabolic Research Center, Conway, Arkansas – $60,000 annually
Non-Licensed Nutritionist Health Educator, WIC Clinic, Lafayette, Louisiana – $25,860 to $54,792 annually
Non-Licensed Nutritionist II, WIC Clinic, Spartanburg County, North Carolina – 25,627 to $47,413 annually
Nutritionist Job Outlook and Demand
The BLS says that between 2010 and 2020, job opportunities for nutritionists and dietitians will increase by as much as 28 percent. It is expected that opportunities for Non-Licensed Nutritionist will increase similarly, as alternative and non-traditional medicine is becoming more accepted in the United States.