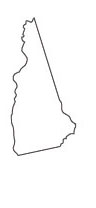 Findings by the New Hampshire Department of Health and Services report that in 2009, 36.5% of the adult population was considered overweight while 26.3% were categorized as obese. There astonishing statistics were largely attributed to a lack of physical activity, excessive eating, and unhealthy eating habits among state residents. This rampant decline in overall public health has led to a greater dependence on preventive health care professionals, like nutritionists, to help promote healthy lifestyles through nutritional education.
New Hampshire's Licensing and Certification Restrictions
According to current state legislature, professional nutritionists in New Hampshire are not required to be registered, licensed, or certified in order to offer nutrition-related advice, assessment or counseling to paying clients. However, these unrestricted nutritionists may not use the professional titles of "dietician." In New Hampshire, dieticians are defined as nutritionists that have earned the credential of "registered dietician" by the Commission of Dietetic Registration. 
Nutrition Degree in New Hampshire
Since New Hampshire does not have any licensing requirements for nutritionists, one of the best ways for professionals to prove their occupational competency is by earning a college degree in a nutrition-related discipline.
Popular Nutrition Degree Programs in NH
Surveys by the United States Bureau of Labor, Employment, and Training Administration indicate that approximately 40% of dieticians and nutritionists between the ages of 25 to 44 hold a bachelor's degree. As such, nutritionists practicing in New Hampshire should acquire at least this degree level.  The two most popular nutrition degree programs in New Hampshire are:
Bachelor of Science in Nutrition
Bachelor of Science in Health Science: Nutrition
These degree programs offer classes in subjects such as:
Lifespan nutrition
Foodservice management
Behavior change facilitation
Food and society
Community nutrition
Nutrition in sports and exercise
<!- mfunc feat_school ->
The following bachelors and Master's programs offer career-focused instruction delivered by trained nutritionists with experience in the field. Find out more what each individual course of study offers through the locations below.
Sponsored School(s)
Featured Nutritionist Programs
<!- /mfunc feat_school ->
Employment for Nutritionists in New Hampshire
The Bureau of Labor Statistics projects that in the ten-year period leading up to 2028, the number of jobs for nutritionists in New Hampshire will increase by 13%. During this ten-year period, the state should see about 30 annual job openings for nutritionists due to a blend of new job growth, retirements, and natural job turnover.*
New Hampshire Nutritionist Salary and Wage
According to the Bureau of Labor Statistics, nutritionists in New Hampshire earned an average salary of $66,420 as of May 2021.*
Nutritionist Jobs in New Hampshire
In New Hampshire nutritionists often work in dual roles as both health care professionals and health educators. They may assist medial patients in hospital like Elliot Hospital in Manchester or Huggins Hospital in Wolfeboro. Nutritionists may also help to develop food plans or menu options for nursing and rehabilitation therapy providers such as Genesis Healthcare in Milford. Government agencies like New Hampshire Department of Education Bureau of Nutrition Programs and services may also employ nutritionists for advice in implementing healthy food initiatives in local schools.
Professional Associations for Nutritionists in New Hampshire
An excellent way for nutritionists in New Hampshire to stay connected to the occupational standards in nutrition is by joining a professional association. These associations offer a variety of career development opportunities through education programs, occupational events, news alerts, networking forums, research projects and job placement boards. Professionals associations available for nutritionist in New Hampshire include:
---
Health Coach in New Hampshire
Healthy Monadnock and Health Coaches
Healthy Monadnock 2020 is a community-oriented health initiative in New Hampshire committed to making Monadnock the nation's healthiest community – and they're relying on health coaches to help them get there. This initiative is centrally focused upon the Monadnock region and Cheshire County and was established by the Cheshire Medical Center back in 2007. The organizations and businesses that make up this community are committed to pushing this initiative forward, providing the perfect environment for health coaches to thrive in one-on-one or group consultations.
Health coaches in the Monadnock community provide opportunities for local residents to succeed in health improvement goals and behavioral changes. One of the ways they are making this happen is through a healthy dining initiative, Turn a New Leaf (TANL). TANL began in 2011 with four restaurants submitting their menus for detailed analysis of calorie counts and nutritional values. The recipes identified as healthier options are then labeled with the TANL emblem of a heart and elm leaf. These restaurants were easy to recruit for the TANL program because they are passionate about the Healthy Monadnock 2020 initiative.
One of the restaurant's owners claimed that joining TANL was not only an efficient way to assist the people of the community in their dietary choices but it also served as a wise business choice. The TANL program allows smaller local businesses to receive a stamp of approval from a health program. This is something they embraced whole-heartedly since many of these smaller businesses don't have the resources for independent nutritional analyses of their menu items.
The steps that the Monadnock community is taking to improve the community's overall health is creating an environment well primed for health coaches to counsel clients and help them make significant behavioral changes. Health coaches in the Monadnock community and throughout New Hampshire will have the opportunity to recommend healthy alternatives for those clients who enjoy going out to eat. This is just one example of the changes and improvements the Monadnock community attempts to make as they work toward a healthier New Hampshire.
Becoming a Health Coach in New Hampshire: Earning a Relevant Degree and Professional Certification
There are several things unique about pursuing a career in health coaching. Among them is the fact that aspiring health coaches have a log of freedom when it comes to developing an area of specialization through education and training, whether in nutrition or fitness. Perhaps you enjoy monitoring, educating, and motivating clients in their eating habits. On the other hand, you might prefer sweating it out with them in the gym, recommending cardio goals or strength training exercises.
Though you'll be expected to be well rounded and familiar with all aspects of health and wellness, as you prepare for a career in health coaching you can choose to shape your future through a degree program, internships, electives, and certification in the area that you feel most passionate about.
Degree Options
Though some entry-level health coaching positions might only require a career diploma, certificate or associate's degree, most employers tend to prefer candidates that have proven a higher level of mastery in the field through a bachelor's degree program in area like the ones shown here:
Health Science with a concentration in Health and Wellness
Nursing
Community Health Education
Nutrition and Dietetics
Kinesiology
Exercise Physiology
 If you're making a life change of your own by changing careers and getting into the health and wellness industry and you already hold a bachelor's degree, then you'll find a master's degree or graduate certificate will take you where you want to go. In some positions, a master's degree is actually preferred and will always be a helpful contribution to any health coaching position you might acquire. You could select a master's degree program from the following list of majors or a closely related field:
Health and Human Performance
Exercise Science
Clinical Nutrition
Dietetics
Professional Certification
Most successful health coaches hold some form of professional certification in addition to a degree. Certification contributes to your academic training by providing more exposure to the field and credentials that you cannot officially receive any other way. Health coach certification can vital to the success of your career in this field. Certification serves as a field-specific credential that signifies your expertise in the field.
In many cases, the specific certification you will be required to complete will be selected by your employer and will likely cater to the requirements of the position for which you are applying. Depending on the company or employer, you may be allowed to complete more than one certification program. In many cases employers will allow time for you to become certified once you have been hired based on the merit of your degree, your experience and your passion for health and wellness.
There is no shortage of certification out there for health coaches, but they aren't all created equal. Certification through American Council on Exercise (ACE) provides "premium" and "standard" self-study packages for your personal preparations leading up to the certification exam. As of now, ACE is the only program accredited by the National Commission for Certifying Agencies (NCCA). Your ACE certification must be renewed every 2 years by completing any continuing education approved by ACE. The ACE Certification Candidate Handbook provides thorough instructions and information about how to go about preparing to become a certified health coach through ACE.
Health Coaching in New Hampshire: Career Paths and Job Opportunities
There are several paths to a career in health coaching:
Getting hired on with a corporation, school, hospital or public health agency that hires health coaches to help improve the health of their staff
Getting hired on with health coach companies that contract their services to corporate employers
Joining a partnership or starting your own practice as an independent health coach business owner
New Hampshire is similar to many other states in the United States when it comes to health coaching jobs in that there are several different options that vary from position to position. In New Hampshire, you can choose to pursue an entry-level health coaching position that requires much less in the way of education than a more advanced coaching position with a nutrition and fitness coaching contracting company or hospital.
The following job vacancy announcements represent the types of employment opportunities available to properly credentialed health coaches in New Hampshire. These job vacancy announcements are shown for illustrative purposes only and are not meant to represent job offers or provide an assurance of employment.
 
Health & Wellness Coach for The Granite YMCA – Goffstown, NH
You will be responsible for motivating members to help them achieve health goals and complete wellness programs through the Granite YMCA.
Requirements:
Nationally recognized personal training certification (or equivalent) or an equivalent degree required
Current CPR and first aid certification required
 
Certified Personal Trainer/Fitness Coach for Fitness Together – Portsmouth, NH
You will motivate and educate clients on nutrition and cardiovascular fitness routines through in-house Fitness Together programs.
 
Requirements:
Nationally recognized training certification as a fitness instructor, personal trainer, or strength and conditioning specialist (ACE, ACSM, NASM, NATA, NSCA, NPTI, ISSA)
Current CPR/AED certification
At least one year of experience as a personal trainer preferred
Willing to learn and apply the company's proprietary nutrition, strength training, and cardio programs (small group and private)
Knowledgeable about healthy eating habits and nutrition
Weight/resistance training as part of your fitness routine
Bachelor of Science degree in Kinesiology, Exercise Science, or Exercise Physiology preferred
Experience with small group personal training, kettlebells, and/or TRX preferred
More than one or two years of personal training preferred
 
Exercise Specialist for D-H Lebanon DHMC Dartmouth-Hitchcock Clinic – Lebanon, NH
You will evaluate patients to determine safety risks and exercise abilities. You will also assign an exercise plan and evaluate their results before and after those routines. 
 
Requirements:
Bachelor of Science in Exercise Physiology/Rehabilitation or Physical Therapy or the equivalent in experience and education required
Master's degree preferred
Exercise training experience preferred
Nationally recognized certification through ACE, NASM, or NSCA with continued education required
Abilities and skills to teach the components of an exercise program
Experience performing assessments in fitness, healthy habits, blood pressure, and heart rate
Muscular strength and endurance testing
ACLS, BLS, AED certification
Knowledge of fitness and nutrition
Local Resources for New Hampshire's Health Coaches
*2021 US Bureau of Labor Statistics salary figures for dietitians and nutritionists. Job growth projections from the US Department of Labor-sponsored resource, Projections Central. Figures are based on state data, not school-specific information. Conditions in your area may vary. Data accessed April 2022.