Nutrition Jobs
It may seem rather simplistic at first glance (eat this, not that), but a career in diet and nutrition is far more complex and multifaceted than first meets the eye.
Nutrition is a science that investigates the metabolic and physiological responses of the body to food and diet and the role of nutrients in the cause, treatment, and prevention of disease.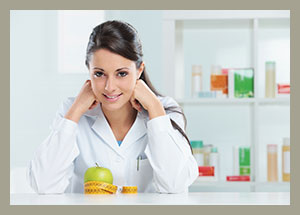 In layman's terms, this means that professionals in diet and nutrition do more than push fruits and vegetables. Their understanding of the relationship between diet, health, and disease allows them to teach and counsel people on healthy food selection, food preparation, and good eating habits.
A career in nutrition will allow you to serve as a credible expert—a guru of good health and nutrition, if you will—who creatively applies these science-based principles to food and nutrition.
The primary professional titles in the field of nutrition and dietetics are:
Nutrition Careers
Non-Licensed Nutritionists may have little to no formal college education, while technicians are required to have an associate's degree or higher. Registered Dietitians hold a bachelor's degree at minimum, and often a master's degree in nutrition.
Nutrition Specialties
Settings in which food and nutrition careers can be found include schools, hospitals and other medical facilities, long-term care facilities, corporations, food manufacturing industries, community and public health organizations, government agencies, and non-profit organizations. Other job locations are also open to registered dietitians, dietetic technicians, licensed nutritionists and even non-licensed nutritionists, including retail stores, holistic healing centers and alternative medicine clinics.
<!- mfunc feat_school ->
The following bachelors and Master's programs offer career-focused instruction delivered by trained nutritionists with experience in the field. Find out more what each individual course of study offers through the locations below.
Sponsored School(s)
Featured Nutritionist Programs
<!- /mfunc feat_school -> <!- mfunc search_btn -> <!- /mfunc search_btn ->
Regardless of the type of career in food and nutrition one chooses, possessing certain skills is vital to becoming an effective professional in dietetics and a important step on how to become a nutritionist. Chief among these is the ability to advise and teach others, good judgment and decision-making skills, active listening skills and patience, good public speaking skills, flexibility and open-mindedness, good problem-solving skills, and the ability to assess and perceive others' feelings and reactions correctly.
Much of the educational requirements of nutrition and dietetics careers depend upon the setting in which these professionals work as well as the individual expectations of employers. And even after becoming a dietary professional, there is no shortage of professional education opportunities. It's always possible to learn more, as the field of food and nutrition is constantly growing and expanding as research brings to light new facts and new ways of thinking about how and what we eat.
Where Are the Jobs in Nutrition?
Although any number of medical professionals may counsel individuals in diet and nutrition, the true pros of nutrition are undoubtedly the ones that hold credentials as registered dieticians (RD) and nutritionists.
Registered dietitians and nutritionists are clinical experts whose work often takes them to hospitals, nursing homes, rehabilitation centers, and other healthcare facilities. But a career in nutrition doesn't have to be bound by the four walls of the clinical setting.
Outside of clinical practice, careers in nutrition include performing research at colleges, universities, and governmental/private research facilities, helping governmental and private agencies set policies used to develop and administer nutrition programs, and overseeing product development and quality control in private food companies/corporations.
Clinical Dietetics/Nutrition

Work in inpatient and outpatient settings
Work with specific populations (older adults, infants, adolescents, pregnant women)
Work in specific medical specialties (pediatric, renal, diabetes, nutrition support)

Food and Nutrition Management

Provide consulting services for healthy eating options to:

Hospitals
Businesses
Schools
Restaurants
Hotels
Spas

Public Health Nutrition

Work with federal government organizations, such as USDA and FDA
Work with state and local agencies in programs such as Women, Infants, and Children (WIC) and Congregate Meals programs

Nutrition Education and Research

Work with state boards of education and nutrition/health councils
Provide nutrition education and wellness programs to businesses
Work in research settings, overseeing clinical trials and interventions 

Private Practice/Consulting

Provide consultation services to clients in areas such as:

Diabetes management
Weight management
Eating disorders
Sports nutrition

Provide consultation services to clients at health clubs/spas

Business and Industry

Work in marketing, public relations, quality control, and research and development for:

Food manufacturers
Nutraceutical companies
Pharmaceutical companies
Food service vendors
Food service contract management
Trade associations

International Food Organizations

US AID
CARE
Peace Corps
Oxfam
Center for Food Safety
How Do Nutritionist and Dietitian Jobs Differ?
Dietitians have a more focused scope of practice than their nutritionist counterparts, and their work is often focused on traditional medicine.
Dietitian Job Scope
According to the Academy of Nutrition and Dietetics' Scope of Practice for the Registered Dietician, an RD's scope of practice focuses on food and nutrition and related services that:
Protect the public, community, and populations
Enhance the well-being of patients/clients
Deliver quality products, programs, and services, including medical nutrition therapy (MNT), across the following focus areas:

Oncology
Pediatrics
Diabetes
Nephrology
Sports
Nutrition support
Extended care
Corrections
Weight management and obesity
Wellness and prevention
Behavioral health
Eating disorders and disordered eating
Intellectual and developmental disabilities
Mental illness
Addictions
Food and culinary and supermarkets
Integrative and functional medicine
Sustainable resilient healthy food and water systems
Communities and public health
Education
Management
Only RDs are permitted to perform MNT, a cost-effective and essential component of nutrition care. A variety of diseases and conditions may be prevented, delayed, or managed through MNT. Some of the job duties of RDs performing MNT include:
Performing nutrition assessments
Determining the nutrition diagnosis
Planning and implementing a nutrition interventi0on using evidence-based nutrition practice
Monitoring and evaluating a patient's progress toward goals
Some of the medical conditions treated through MNT include:
Musculoskeletal conditions
Neurological diseases such as ALS, Parkinson's disease and epilepsy
Behavioral health disorders such as eating disorders, chemical dependency and mental illness
Critical illnesses, such as burns, wound care, trauma, and malnutrition
Cancer
Cardiovascular conditions, such as heart disease and heart failure
Renal conditions, such as chronic kidney disease and kidney failure
Diabetes
Gastrointestinal disease, such as Crohn's disease and ulcerative colitis
Most RDs work in healthcare settings, where they address wellness, prevention, and nutritional management of diseases and medical conditions. They also work collaboratively as members and leaders of interdisciplinary healthcare teams.
RDs provide nutrition counseling and education as components of preventive, curative, and restorative healthcare. Some of the job duties unique to RDs include:
Evaluate, educate, and counsel and determine appropriate nutrition quality standards in foodservice and nutrition programs
Supervise and teach nutrition and dietetics personnel and students
Accept and implement orders from referring practitioners
Perform healthcare functions as delegated by the referring practitioner and in collaboration with other healthcare team members
Conduct nutrition research or collaborate in nutrition research
Nutritionist Job Scope
A hallmark of nutritionist jobs is the focus on holistic nutrition and care.
According to the Center for Nutrition Advocacy, nutritionists can use a variety of nutrition tools to improve the health of their clients, including:
Health histories
Dietary and lifestyle assessment
Assessment of possible drug-nutrient interactions and drug-nutrient depletion
Assessment to identify appropriate supplemental herbs, vitamins, and nutrients
Laboratory tests to assess nutrient status
Therapeutic diets
Traditional, culturally based, healing diets
Counseling as it relates to nutrition, food choices, and physical activity
Individual and group education/training
Reassessment and monitoring for treatment efficacy and modification
How Does Nutritionist and Dietitian Education Differ?
There are few professions as easily confused/substituted/interchanged for one another as dietitians and nutritionists. Most of the confusion between these two professions lies in the fact that in many states, one or both titles aren't protected through registration or licensure.
Dietician Education and Training
In general, dietitians can be distinguished from nutritionists by the depth, scope, length, and type of formal education they must complete. The registered dietitian (RD) has become the standard credential among dietitians and is required for state licensure in many states. To become an RD, you must:
Complete a bachelor's degree or higher from a regionally accredited college or university that includes coursework accredited through the Academy of Nutrition and Dietetics' Accreditation Council for Eduetetics (ACEND); ACEND programs feature a strong foundation in the sciences, including courses such as:

Biochemistry
Anatomy
Physiology
Genetics
Pharmacology
Human behavior
Psychology/sociology/anthropology

Complete an ACEND-accredited internship of at least 1,200 hours, which must include at least 900 hours in professional work settings
Pass the Commission on Dietetic Registration (CDR) RD exam
The Academy of Nutrition and Dietetics' Board of Directors and the Commission on Dietetic Registration (CDR), recognizing the confusion and ambiguity between nutritionists and dietitians, now allow RDs to use the registered dietitian nutritionist (RDN) credential. RDs who want to emphasize the nutrition aspect of their credential may use the RDN credential. The RDN credential is identical to the RD credential and indicates the same level of education and training.
About half of all RDs choose to pursue a graduate education, and many pursue CDR Board Certification in specialized areas of practice, such as diabetes education, pediatric nutrition, and senior nutrition.
Nutritionist Education and Training
Unlike the dietitian profession, there is no uniform definition for a nutritionist. Even in states that define nutritionists, statutes and regulations vary.
It is important to keep in mind that in 16 states, only RDs can perform nutrition counseling and in another 10 states, only RDs can obtain a state-issued credential. This has created significant barriers to practice for nutritionists in many parts of the country. You can read more about the push to recognize and license nutritionists here.
The path to becoming a nutritionist is less well-defined and less rigid. Most employers and most states that license nutritionists require nutritionists to:
<!- mfunc feat_school ->
The following bachelors and Master's programs offer career-focused instruction delivered by trained nutritionists with experience in the field. Find out more what each individual course of study offers through the locations below.
Sponsored School(s)
Featured Nutritionist Programs
<!- /mfunc feat_school ->