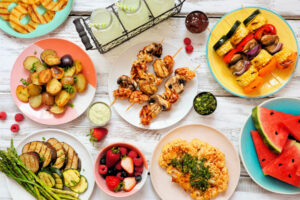 If you are a vegan who has mastered the art of eating well while adhering to your dietary guidelines, you may have had the thought that you can help others do this themselves. Indeed, as more and more people embrace veganism, there is a burgeoning field of vegan dietitians who help individuals craft filling, healthy, and delicious diets to be sure they're eating well.
Plant-Based Nutrition
It can be difficult for individuals to design the healthy vegan diet that works for them, especially for those who are new to veganism. What vegans have to master is the art of plant-based nutrition, finding the protein, vitamins, and other nutrients that are necessary for a well-rounded diet in plants alone. Experts say that when designed and managed effectively, the benefits of a plant-based diet can be even more numerous than a meat-eater's diet, with many fewer health hazards.
What is a Vegan Dietitian's Role?
A vegan dietitian is an expert who helps vegans customize meal plans that will maximize on the nutritious intake possible from their diets, drawing from extensive knowledge of the nutrients found in plant-based foods as well as the dietary needs of their patients.
Vegan dietitians can be hugely helpful to those who are taking on a plant-based diet for the first time, which means that opportunities for vegan dietitians are growing. If you want to know how to become a vegan dietitian yourself, read on.
Steps to Become a Registered Dietitian
In taking the first steps to becoming a vegan dietitian, it's important to know the difference between a self-described "nutritionist" and a registered dietitian, or R.D.
Dietitian vs. Nutritionist
A registered dietitian is a credentialed expert who is licensed to work in medical contexts such as hospitals, clinics, and health departments, as well as in schools, research labs, and businesses.
One does not need a license in order to call oneself a nutritionist; it is not a legally protected job title, which means anyone can use it. While registered dietitians may refer to themselves as nutritionists, they in fact hold a more advanced distinction than many other nutritionists do, and in fact hold the only one that would provide an official license to practice nutrition in one of the contexts named above.
Becoming an R.D. requires schooling, testing, and supervised practice, but it is a worthwhile investment, as it will considerably increase the work opportunities available to you.
There are also programs to become a certified nutritionist, which is a lower-ranking degree that requires only a one- to two-year program. This article focuses on the R.D. path, as it is the most complex but also the most lucrative.
Schooling – Complete a Bachelor's or Master's Degree in Nutrition
In order to become an R.D., one must complete a bachelor's or master's degree in nutrition. The coursework for an R.D. degree typically involves a considerable amount of work in biology, as well as topics in food science and food policy.
In many programs, the focus of an R.D. degree is not specifically veganism, but the biological knowledge gained will be directly relevant to your pursuit of plant-based nutrition. As veganism has also become more popular, there has a been a rise in nutrition programs specifically focused on plant-based nutrition, but that does not need to be the focus of your degree.
<!- mfunc feat_school ->
The following bachelors and Master's programs offer career-focused instruction delivered by trained nutritionists with experience in the field. Find out more what each individual course of study offers through the locations below.
Sponsored School(s)
Featured Nutritionist Programs
<!- /mfunc feat_school ->
Internships
Once you have completed your degree program, the next step is fulfilling your dietetic internship (also known as a D.I.), where you will receive hands-on experience as a nutritionist.
The expectations for your dietetic internship vary by state, so it is crucial to look up the licensing requirements for wherever you live.
Generally, dietitians-in-training are expected to complete around 1200 hours of field work over a period of time ranging from eight months to two years. Some of these programs are full-time and some are part-time.
Exams
Once you have completed your D.I., you are eligible to take the Registered Dietitian exam, a multiple choice test administered by the Commission on Dietetic Registration (C.D.R.). You must apply and register to take the exam, which normally is accompanied by a payment of around $200. Your eligibility will last for one year, so be sure not to let it lapse!
Work Experience and Volunteering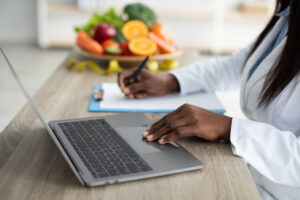 If you have completed your schooling, internship, and exams but now want to know how to become a vegan dietitian specifically focused on plant-based nutrition, it's time to look for work experience that will help you build up the appropriate knowledge.
Once you are working as a vegan dietitian, your patients will trust your opinion highly, so it's crucial that you amass a great amount of experience to demonstrate your authority. Internships related to plant-based wellness will help enrich your understanding of the subject while also adding important experience to your resume.
Finding a Mentor
Perhaps the best resources of all for those figuring out how to become a vegan dietitian are those who are already practicing. While some D.I.s might involve direct mentorship, not all internship experiences guarantee it, so it is important to forge that relationship however you can. Many nutrition programs will provide resources to help you accomplish this.
In addition to showing you the ropes of being a working vegan dietitian, your mentorship can be an important networking opportunity as well, allowing you to show off your skills and potentially secure future employment or contacts who can serve as referrals for future jobs.
Keeping Up to Date with Certification Programs and New Research
Once you are working as a registered dietitian, you must maintain your CDR registration every five years. This means completing periodic courses to supplement your existing knowledge, learn about new areas of specialty, and stay up to date on advances in the field of nutrition.
How to Become a Vegan Dietitian: Taking the Next Steps
If you are ready to pursue an R.D., the next step is to find the degree program that meets your state's licensing requirements. For additional general information about a registered dietitian career and how to become a vegan dietitian, read our R.D. career overview.