As we learn more about the body and the ways our diets can affect our health in the long term, more and more people are turning to nutritionists to help them figure out the perfect dietary regimen to fit their bodies and their lifestyles.
Nutritionists are able to help patients with all sorts of dietary goals, including losing or gaining weight, learning strategies to make one's cooking and shopping geared toward healthier food, developing diets to maximize workouts, and helping people reform negative relationships to food, among others.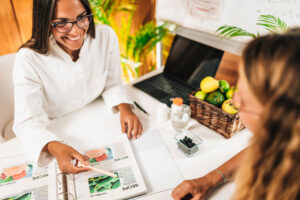 Nutritionists are able to help patients with all sorts of dietary goals, including:
Losing or gaining weight
Learning strategies to make one's cooking and shopping geared toward healthier food
Developing diets to maximize workouts
Helping people reform negative relationships to food, among others
They can be a tremendously impactful force in the lives of their patients, leading to long-term health improvements.
<!- mfunc feat_school ->
The following bachelors and Master's programs offer career-focused instruction delivered by trained nutritionists with experience in the field. Find out more what each individual course of study offers through the locations below.
Sponsored School(s)
Featured Nutritionist Programs
<!- /mfunc feat_school ->
Remote Nutrition Counseling
Increasingly, many who work in the field of nutrition counseling are finding that their jobs can be done just as effectively remotely. If anything, this decision only helps their business, as the ease of meeting with a counselor remotely has brought many people to nutrition counseling who had not sought it previously.
If you are considering a career in online nutrition counseling, there's a lot of good news to be excited about: the Bureau of Labor Statistics anticipates a steady job growth rate of 7% over the next ten years, meaning there continue to be more and more opportunities for nutrition counselors.
What Is Online Nutrition Counseling?
Online nutrition counseling works similarly to in-person counseling, with a series of one-on-one sessions (this can be fixed or ongoing) that track a patient's progress, modifying a prescribed dietary plan to suit their evolving needs.
Many nutritionists focus on an area of specialty so that they can go deep into an area of expertise and work more intensively with clients. This can also be a draw for clients new to nutrition counseling who might want to be sure they are directly targeting their key concerns. Some of the most common nutritionist specialties include the following:
Support for common dietary regimens like veganism, ketogenic diets, or gluten-free eating
Holistic (chemical-free) nutrition
Prenatal and postpartum nutrition
Nutrition and coaching for competitive athletes
Geriatric nutrition
Pediatric nutrition for parents
"Intuitive eating" – learning how to make healthy choices about food without a fixed diet
It is recommended that if you become a nutritionist, you specialize in one or two of these categories.
Nutritionist Vs. Dietitian
Though the words "nutritionist" and "dietitian" are sometimes used interchangeably, they have different meanings implying different levels of credentialing. "Nutritionist" in fact is a catch-all word that is not legally protected, meaning one doesn't need to hold a degree or even certification to offer their services. Someone who has completed a degree program in nutrition, meanwhile, is called a registered dietitian and is qualified to work in a variety of settings including hospitals and other medical programs.
How to Become an Online Nutrition Counselor
Degree and Certification Requirements
Though technically one can call themself a nutritionist without any experience, the proper first step in a nutrition education career is building your expertise through a degree or certification program, and it's what any serious aspiring nutrition counselor should do.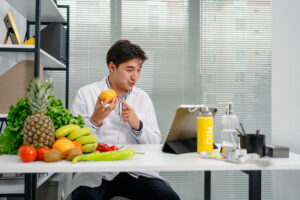 Patients who are looking for nutrition counseling are seeking someone with a great depth of knowledge who can address their specific concerns. This means that your certification matters to your patients, particularly your area of specialization.
To become a registered dietitian (R.D.), one must hold a Bachelor's or Master's in Nutrition. This allows you to work in medical settings as well as schools and community centers. For those who know they would prefer to stick to private nutrition coaching, there are less-intensive certification programs that will still give you a great base of knowledge to work from. To learn more about the different degree and certification opportunities available in your state, take a look at our index of registered dietitian schools.
There are many different types of certification a nutrition counselor can receive, requiring different amounts of schooling. Many of these programs do not require a bachelor's degree, while others require a bachelor's or even master's in order to pursue credentialing. Here are a few of the most popular:
Certified Nutritionist Consultant (CNC): This is the simplest form of certification for an online nutrition counselor, giving you the basic toolbox of what you need to know before entering the field.
NASM Certified Nutrition Coach (NASM-CNC): This certification, given by the National Academy of Sports Medicine, focuses on nutrition for athletes. This is ideal for those who work in the world of fitness (i.e., personal trainers) who would like to offer nutrition counseling services.
Board Certification in Holistic Nutrition (BCHN): This is a specialization in nutrition that approaches wellness without use of artificial agents to enhance nutritional effects.
Certified Nutrition Professional (CNP): One step beyond a BHCN, this certification involves more clinical practice. To pursue a CNP one must first hold a bachelor's degree.
Certified Clinical Nutritionist (CCN): This is one of the more advanced roles a certified nutritionist can hold, as it can lead to work in medical or research facilities. It is an especially science-focused path for a nutrition counselor and therefore requires a prior degree in science with coursework in nutrition, as well as prior internship experience.
Certified Nutrition Specialist (CNS): The highest level of nutrition certifications one can hold, the requirements of a CNS include a master's degree in nutrition and completion of mandatory exams. It allows holders to practice advanced nutrition therapy and education in settings including hospitals and schools.
These are just the most common credential options for nutritional counselors; there are even more sub-specialization certifications that are available.
State By State Requirements
When pursuing your credential, make sure you have familiarized yourself with your state's credential requirements. This is also worth knowing if you are a working nutritional counselor who has decided to move to a different state. Though many certifications, such as the CNS, are able to transfer easily from state to state, sometimes additional coursework is needed.
Learn more about credentialing requirements in your state.
Career Options After Your Certificate or Degree Program
There are many career options for those who are certified nutritionists. Here are just a few of the most popular.
Registered Dietitian Remote Work
If you are an R.D. who holds an advanced degree in nutrition, you can work in institutional settings such as hospitals, schools, and community centers, with specialties including the following:
Clinical dietitians in hospitals and long term care facilities
Community dietitians in public health clinics, government agencies, and nonprofit organizations
Management dietitians who plan meal programs in food service contexts including cafeterias and food corporations
Personal Health Coach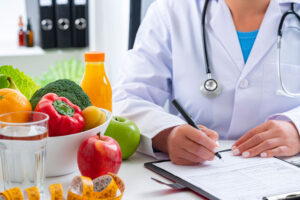 If you would like to jump straight to starting your own private practice as a personal health coach, it's easier than ever to start a personal business offering online nutrition counseling.
Once you have chosen your area of specialty and received the appropriate credential, the next step is to create a website that allows you to show off your services and share your many skills and offerings with the public. Your website should feature all of the information you want prospective patients to know up front, from your background and approach to how they can book their first visit with you.
When your website is complete, it's time to begin marketing your business. The following are all great strategies to help drive traffic to your website and grow your client base:
Use paid marketing on platforms such as Facebook and Google to reach those outside of your network
Create profiles on social media platforms like Instagram, Twitter, and Facebook, which can become new avenues for clients to connect with you
Run email campaigns with regular updates to keep potential clients aware of you
Be sure to invest thorough attention and time to building and marketing your website, as it will be critical to your success as a nutrition counselor.
Content Creators: A New Frontier for Nutrition Counselors  
Many online nutrition counselors have begun to take advantage of the new possibilities of the Internet by also becoming content creators. Indeed, nutritionists are sources of valuable knowledge that many people would like to access, and by making engaging content, nutrition counselors have the opportunity to reach people who might not push themselves to book regular appointments but nevertheless want to learn more about nutrition.
Some content, like blogs, primarily serve as opportunities to raise your public profile and bring more traffic to your website, though some nutrition counselors have made the push to get their articles published elsewhere. Other forms of content, like videos, can serve a similar promotional purpose but can themselves also become sources of additional revenue. Though it takes a great amount of work and dedication to achieve this – your content must be excellent, and typically you need to produce it quite regularly – the rewards can make the effort more than worth it.
Taking the Next Steps to Become an Online Nutrition Counselor
There are many career opportunities for nutrition counselors. If you are interested in learning more about what jobs are available for online nutrition counselors, or if you are a degree-holding dietitian who is thinking through your career path, take a look at our guide to nutrition jobs and guide to nutritionist salaries, which provide overview information about the field as well as more specific information about specific areas of focus. To read more about the process of becoming a nutrition counselor, read our article "How Long Does It Take to Become a Nutritionist?"