Becoming a Registered Dietitian is a commitment. But when family responsibilities, geographical constraints, and work get in the way, it seems like an unrealistic dream. Who has the time to study and commute in the middle of all of that?
Fortunately, it's now possible to become a Registered Dietitian almost completely online. You can attend online classes at your own pace and study when you have a few rare, precious moments. And you can do it all through an accredited, well-respected school of nutrition.
If that possibility has re-ignited your passion for helping others through their dietary struggles, here's how to become a Registered Dietitian online from almost any place in the United States.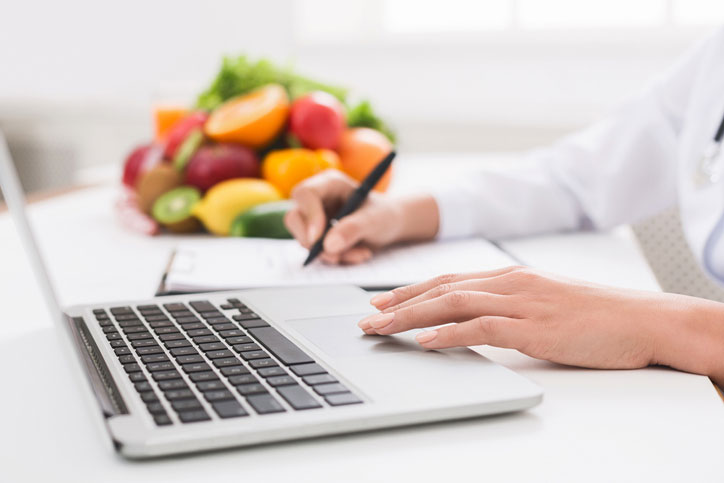 Choose an ACEND-Accredited Online Registered Dietitian Program
To become a Registered Dietitian in the US, you must pass an exam administered by the CDR (Commission on Dietetic Registration). But to be eligible for the exam, you must first graduate from an ACEND-accredited (Accreditation Council for Education in Nutrition and Dietetics) college program.
As of December 2022, the CDR says all Registered Dietitians need a bachelor's degree. However, this is expected to change on January 1, 2024. On that date, the CDR states that all new Registered Dietitians will need a Master's degree at minimum.
With all of these acronyms, dates, and requirements, this may seem like an intimidating process. But fortunately, the ACEND website hosts an interactive online directory where students can find all accredited programs and explore the four different paths to Registered Dietitian licensure. Conveniently, programs are divided up by degree level and whether or not they include internships in the curriculum.
A Handful of Totally Online Programs from the ACEND Directory
The ACEND directory is quite large which is great news for potential Registered Dietitians across the nation. However, if you're just looking for online programs, the directory's size may be more of a hindrance than a help.
With that in mind, here are a handful of completely online programs from the directory that may help you narrow your search:
University of Alabama at Birmingham

Master of Science in Nutrition Sciences
Practicum is included and can be completed anywhere in the U.S.

Harding University, Search, AR

Master of Science in Applied Dietetics Practice
1106 hours of supervised experiential learning is included, which is student-selected and approved by the program

Kansas State University, Manhattan, KS

Bachelor of Science in Dietetics
Once you have completed this coursework, you must find your own dietetic internship online (the ACEND search directory offers options for this as well)

Iowa State University, Ames, IA

Master of Professional Practice in Dietetics
After coursework is completed, you may complete your supervised experiential learning anywhere in the U.S. in the area in which you live and/or work

Eastern Michigan University, Ypsilanti, MI

Bachelor of Science in Dietetics or Master of Science in Dietetics
Students complete their own self-identified remote supervised practice experience sites and preceptors near where they live and/or work
Courses You Will Complete in an Online Registered Dietitian Degree Program
Every Registered Dietitian has their own career goals. Some want to help the aging population live active, healthy lives. Others serve athletes, children, or pregnant mothers. But before learning the nuances of these groups' specific dietary needs, nutrition students must first learn the basics.
However, among accredited nutrition programs, the core curriculum typically covers similar topics.
<!- mfunc feat_school ->
The following bachelors and Master's programs offer career-focused instruction delivered by trained nutritionists with experience in the field. Find out more what each individual course of study offers through the locations below.
Sponsored School(s)
Featured Nutritionist Programs
<!- /mfunc feat_school ->
Basic Nutrition
In basic nutrition courses, students learn fundamental principles that the rest of their education will be built upon. They might learn about the relationship between vitamins and bodily functions, the science of hydration, and how different types of nutrients move through the body.
Typically, these are 101-level classes students in other health-related disciplines may also enroll in.
Human Nutrition
Human nutrition and basic nutrition are often used to describe the same classes. However, this isn't always the case. Sometimes, human nutrition courses are more about humans' relationships with food.
In this almost sociological or even psychological context, students may learn how cultural attitudes, personal preferences, the environment, and public policy affect nutrition.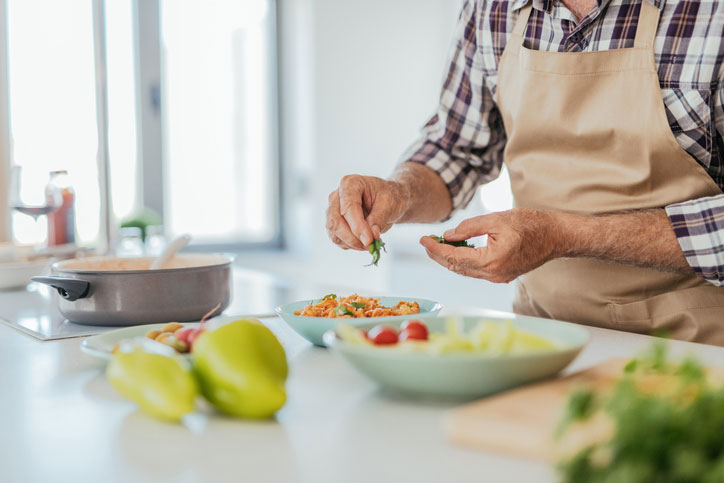 Science of Food
Food science courses often dive deeper into the principles students learn in basic nutrition classes. For example, professors might guide students through the chemistry behind different types of fats or the microbiology behind nutrient absorption. They may even delve into how modern food processing techniques help and hinder human nutrition.
Nutritional Assessment
A Registered Dietitian's greatest and perhaps most used tool is the nutritional assessment. In courses on the subject, students learn how to assess clients' nutritional statuses based on clinical tests, food-related history questionnaires, and anthropometric measurements (height, weight, BMI, etc.).
Additionally, students may learn about the limitations of assessment criteria and how to combine data in a holistic, meaningful way in relation to their clients' goals.
Financial Management in Dietetics
Whether Registered Dietitians work independently or in larger businesses and medical practices, financial management is key. When can you bill clients through insurance? What kinds of tests are the most cost-effective and helpful? How do you create a billing structure that works for you and your clients? These are the types of questions an experienced Registered Dietitian can answer in a field-specific financial management class.
Public Health Nutrition
In a public health nutrition course, future Registered Dietitians learn how culture, laws, poverty, and other environmental factors influence people's dietary choices. Likewise, they may also learn how to become effective, educated advocates in the fight against food insecurity, widespread chronic diseases, and high mortality rates.
Counseling Strategies in Dietetics Practice
Helping clients make healthier choices isn't often as simple as giving them directions. For some, fast food may be their only comfort or perhaps an addiction. For others, poor nutritional choices may stem from a lack of support or even be the result of mental illness.
Counseling-focused nutrition classes can equip students with the tools they need to help clients through these struggles. This might include motivational strategies, basic behavioral therapy techniques, or ways to make dietary discussions open-ended and shame-free.
Life Span Nutrition
Dietary needs change with age. Metabolism changes, bone mass decreases, and almost every tissue of the body behaves a bit differently as the years go on. A life span nutrition course doesn't just educate Registered Dietitians about the science of these changes, but also about how to get clients comfortable with them.
Supervised Practice Experiences or Dietetic Internship in an Online Program
After choosing an online Registered Dietitian degree program, students need to plan how to complete the next step towards licensure: the Dietetic Internship, also called the Supervised Practice Experience. Some programs include internship opportunities in the curriculum while others allow students to pick their own. In that case, the internship locations must be approved by the school.
Typically, Dietetic Internships include a minimum of 1,000 hours of experiential learning and can take up to two years to complete. Though how this time is broken down can vary, a typical internship schedule might include:
250 hours of Community Nutrition rotation. This could occur at a WIC facility, school nutrition site, or other community nutrition site.
400 hours of Medical Nutrition Therapy (MNT) rotation. For this part, students may intern with nutrition teams working in medical facilities. This might include inpatient medical communities or pediatric, oncology, or diabetic health clinics.
250 hours of Food Systems Management rotation. This could occur at the MNT site, at a long-term-care facility, or a K-12 public school participating in the National School Lunch or Breakfast programs.
The internship must be overseen by a student-selected preceptor at the internship site. Basically, preceptors act as mentors or guides. Ideally, this will be a contact you have already met (a dietitian you have met at the internship site or perhaps a class guest speaker). Your preceptor must sign a commitment letter stating that they will precept your experience for a certain period of time.
Pass the Commission on Dietetic Registration (CDR) Examination
Once you have completed your online degree in nutrition and dietetics and the required internship period, you are ready to take the CDR examination. This test cannot be taken online as of August 2021. You may choose a Pearson VUE testing center that is most convenient for you. Test centers are offered across the country.
Though the exam tests the knowledge you gained before graduation, the CDR offers a Registration Examination for Dietitians Handbook for Candidates as well as a Registered Dietitian Exam Study Guide online.
Seek Licensure as a Registered Dietitian, If Necessary, in Your State
Once you have passed the CDR exam, you must still become licensed or certified as a Registered Dietitian if this is a requirement in your state.
As of December 2022, 48 states, Puerto Rico, and the District of Columbia have statutes that regulate the dietetics profession according to the Academy of Nutrition and Dietetics map. Only Arizona and Michigan are listed as having no regulations.
In those regulated states, most licensure applications can be done online or by mail. Many states have their own Board of Dietetics that interview licensees in-person or through virtual interviews.
But as stringent as these licensing guidelines may seem, they indicate one thing: there's a whole network of professionals, health care institutions, and universities wholly invested in forming Registered Dietitians into pillars of the American health care system. Backed by this support, students looking to enter this ever-growing field could have an enriching personal and professional life ahead of them.
The following bachelor's and master's programs offer career-focused instruction delivered by trained nutritionists with experience in the field. Find out more about what each individual course of study offers through the locations below.