Dietetic Technician, Registered Career Overview
A Dietetic Technician, Registered (DTR) is trained in food and nutrition and has met the educational, experiential and examination standards of the Commission on Dietetic Registration (CDR) of the Academy of Nutrition and Dietetics (AND). A Dietetic Technician, Registered (DTR) works under the supervision of a Registered Dietitian (RD) in many different settings,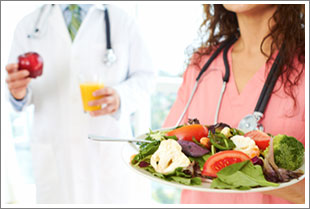 including medical facilities, hospitals, long-term care facilities, schools, home health care programs, research facilities, community programs, health clubs, and food companies.
Dietetic Technician, Registered Job Description
Based on the setting in which a Dietetic Technician, Registered (DTR) works, job duties vary. The DTR works under the supervision of a Registered Dietitian (RD) and performs many hands-on duties with clients. Examples of some of the job duties of a DTR in various work settings include:
Food companies – DTRs who work in food companies or vendors/distributors may oversee sanitation and food safety practices, help to develop menus, and prepare nutrition analysis and food labels.
Health clubs and other community wellness organizations: DTRs in these settings work to educate their clients on how food affects one's overall health and fitness.
Community health programs/public health agencies: DTRs in these settings often develop the curriculum of a nutrition program and teach these classes to the public.
Restaurants, cafeterias of schools, hospitals and corporations and other cafeterias: DTRs in these locations usually manage food service employees, and may participate in the financial side of food service management, preparing budgets, purchasing food, and helping to prepare food.
Hospitals, long-term care facilities, health clinics and research facilities:  DTRs working in these types of organizations often work on the disease prevention aspects of nutrition by screening clients, gathering data from clients and assisting the RD in providing medical nutrition therapy services to clients.
Skills Required
A good example of a Dietetic Technician, Registered (DTR) possesses these skills:
Can teach and instruct others in tasks
Can coordinate one's actions to adjust to the actions of others
Can identify complex problems and solve them
Is an active learner, understanding how newly learned information will affect current and future problems and decisions
Actively searches for ways to help others
Has good critical thinking skills and can reason and apply logic to problem solving
Listens fully to others when they are speaking, asking questions when necessary and understanding
Can effectively speak to others
Can understand and comprehend written documents
Can monitor and assess your own and others' performance
<!- mfunc feat_school ->
The following bachelors and Master's programs offer career-focused instruction delivered by trained nutritionists with experience in the field. Find out more what each individual course of study offers through the locations below.
Education Requirements
The Commission on Dietetic Registration (CDR) of the Academy of Nutrition and Dietetics (AND) mandates that all prospective Dietetic Technicians, Registered (DTR) complete a college-level dietetic technician educational program that meets one of the following requirements:
Is accredited by the Accreditation Council for Education in Nutrition and Dietetics (ACEND) of the Academy of Nutrition and Dietetics (AND) and includes completing the requirements for a two-year associate's degree and 450 hour s of supervised dietetic technician experience in an actual job setting (such as a food service facility, health care facility or community program)
OR
Is an ACEND-accredited Didactic Program in Dietetics (DPD) or Coordinated Program in Dietetics (CP)and includes completing requirements for a bachelor's degree
Classes that most DTR students will take include subject matter such as:
Food preparation and meal management
Food management systems
Nutrition and diet therapy
Medical nutrition therapy
Sanitation and safety
View Accredited Dietetic Technician, Registered Programs Here
The practicum component of a DTR program is a minimum of 450 hours long and may be taken on a part-time or full-time basis, depending upon a student's needs. Usually, the practicum instructor assigns a DTR student to a practicum facility.
Dietetic Technician, Registered Licensure/Certification Qualifications
To become certified as a Dietetic Technician, Registered (DTR) by the Commission on Dietetic Registration (CDR) of the Academy of Nutrition and Dietetics (AND), one must complete all education and experience requirements prior to sitting for the CDR Dietetic Technician, Registered Exam. Passing this exam confers the credentials DTR to a professional. Then, DTRs must check with the state in which they plan to work, as each state has its own licensure and/or certification requirements for DTRs. Some states do not require any licensure or certification for DTRs. Some of the state DTR licensure/certification laws are listed on this page published by the CDR. Once licensed and/or registered, DTRs must fulfill the continuing education requirements of their state (if required) and of the CDR.
Dietetic Technician, Registered Salary – Average Income
According to a May 2021 from the Bureau of Labor Statistics (BLS), the average salary for dietetic technicians was $31,180. Keep in mind that this statistic is just for dietetic technicians; often times, those who hold the DTR credential from earn higher than average salaries. The grantmaking and giving services industry came out on top for its average pay of dietetic technicians, at $41,670. Oregon topped all states when it came to the average salary for dietetic technicians during this time, at $46,280.*
Job Outlook and Demand
According to the BLS, the number of jobs for dietetic technicians will rise about 7 percent between 2020 and 2030. During this ten-year period, this occupation will experience about 2,200 annual job openings due to a combination of new job growth, retirements, and natural job turnover.*
*2021 US Bureau of Labor Statistics salary figures and job growth projections for 
dietetic technicians
reflect national data not school-specific information. Conditions in your area may vary. Data accessed April 2022.