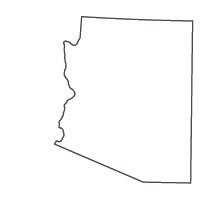 Although people often use the terms dietitian and nutritionist interchangeably, distinctions between them can be found in the requirements for each type of career. A nutritionist is someone who has studied nutrition and typically holds a degree from an accredited institution.
Arizona Certification and Degree Requirements
Since there are no regulatory requirements that mandate certification or licensure in the state, becoming a nutritionist in Arizona and establishing a strong reputation starts with earning the right degree and gaining experience.
Without the burden of state regulations, nutritionists in Arizona are free to pursue an education appropriate to the level of service they would like to offer and to meet the expectations of employers. This means that nutritionists in the state may hold everything from an undergraduate certificate or associate's degree, to a graduate degree or even a doctorate. Typical coursework covers how nutrients are processed in the body and the influence various nutrients have on health.
Nutritionist Job Description and Career Opportunities in Arizona
Food affects almost every aspect of life, so opportunities abound for nutritionists in Arizona to work in specialty areas that are of particular interest to them. This may include working in public health organizations and schools, hospitals, health and fitness facilities, and even private practice.
Nutritionists may be found in the public sector working for an organization like the Arizona Public Health Department, which employs a fulltime Nutrition and Physical Activity Programs Supervisor, or they may work for the Arizona Department of Education as a Nutrition Program Specialist.
Those interested in working within Arizona's healthcare industry may join the dietetic tech staff at Banner Health facilities, or they may fill diet tech jobs with Santé, a major senior housing and post-acute healthcare provider with several facilities throughout Arizona.
<!- mfunc feat_school ->
The following bachelors and Master's programs offer career-focused instruction delivered by trained nutritionists with experience in the field. Find out more what each individual course of study offers through the locations below.
Sponsored School(s)
Featured Nutritionist Programs
<!- /mfunc feat_school ->
Nutritionists also play a role in serving clients in health clubs and fitness facilities, where they work with clients who are attempting to attain better health through exercise and better food choices. In fact, the popular Lifetime Fitness Clubs of Arizona employ nutrition coaches to provide members with one-on-one consultations.
Working with athletes in structured athletic programs, such as college or professional sports teams, is also a growing area of expertise among nutrition services providers in Arizona.
Many of the largest healthcare providers in Arizona also employ nutritionists to serve the needs of patients. Among these are:
Banner Health (Mesa, Scottsdale, Sun City, Phoenix, Gilbert, Glendale, Page)
Catholic Healthcare West (Gilbert)
Scottsdale Healthcare (Scottsdale)
UA Healthcare (Tucson)
Some healthcare providers such as advanced practice nurses, physicians, and osteopaths complete extra courses of study in nutrition so that they can advise patients on healthy food choices.
Arizona Nutritionist Job Growth
According to the Bureau of Labor Statistics, the number of nutritionists in Arizona is expected to increase by 26% in the ten-year period leading up to 2028, well above the national projected national growth rate of 11% for this profession through 2030.*
Arizona Nutritionist Salary
According to the Bureau of Labor Statistics, dietitians and nutritionists in Arizona earned an average salary of $62,720 as of May 2021.*
Recent emphasis on preventative healthcare has increased the interest in the role of proper nutrition in overall health and wellness. As the population ages, a greater number of Arizona residents will be in need of professional consultation to learn about the best food choices to optimize health and maximize longevity.
Professional Associations for Nutritionists in Arizona
Nutritionists in Arizona have various opportunities to network with other industry professionals within organizations promoting health through proper diet and nutrition. The Arizona Academy of Nutrition and Dietetics, an affiliate of the Academy of Nutrition and Dietetics, is a local organization that seeks to improve health by advancing the profession of dietetics through research, education, and advocacy.
The School Nutrition Association of Arizona is an alliance of school food service employees and supporters. This state affiliate to the School Nutrition Association works to promote high quality child nutrition programs in all of Arizona's public schools.
The Collegiate and Professional Sports Dietitians Association (CPSDA) is a relatively new organization that supports those who work with athletes in structured athletic programs such as collegiate or professional sports teams and in the US military. Major universities often have CPSDA members on staff that work to optimize the diets of their collegiate athletes.
---
Health Coach Careers in Arizona
Summer time is the season for relaxing our eating habits, with lemonade and ice cream serving as common cool-down remedies. It is at this time that the eating routine of every student changes as they are no longer in school on a daily basis and subjected to the lunches selected by the school system. Low-income families often fall into the habit of eating what is easy and cheap, particularly during the summer months.
Summer Lunch Buddies is a program based out of Arizona and is designed specifically for teens and children 18 and under. This program is federally funded and designed to support the Summer Food Service Program in reaching the same goal of providing free nutritious meals to children and teens from low-income families.
Considering there are hundreds of Summer Lunch Buddies locations in Arizona, students are encouraged to find one near them and enjoy free breakfasts and lunches throughout the summer. Parents are also welcome to join their children although they will have to pay a small discounted fee of $1 or $2 to receive a meal as well.
Summer Lunch Buddies is a large part of the Arizona Nutrition Network, which is a larger network providing health solutions for the entire family including programs, activities, recipes and videos all contributing to the overall health of the community. The network also provides opportunities for people to collaborate with the program and get involved in improving nutrition for the state. If you visit the Arizona Nutrition Network website you will find a diverse variety of recipes including Avocado Breakfast Bruschetta, Peanut Butter Crunch Balls, and Warm Apple and Kale Salad.
The website also provides various tips for family-friendly physical activities such as playing with your kids, exploring your community, getting creative with everyday household items, and encouraging your children to play with toys that require some aspect of physical activity.
Another unique and helpful element of this website are the various videos and commercials that provide fun and innovative examples of the health remedies that the website recommends. There is something for everyone in the Arizona Nutrition Network and it serves as an inviting community for families or individuals seeking health improvements.
Becoming a Health Coach: Earning a Relevant Degree and Professional Certification
Health coaching is still considered a new field which means that you are given the opportunity to craft your education according to your interests and specialties. Considering a degree has not been created specifically for health coaching, you are given a certain level of freedom in selecting your major, internships, certifications, electives, etc. Several suitable degrees and a standard certification for employment are listed below.
Degree Options
Associate's degrees in areas like those shown here are suitable for some entry-level health coach jobs:
Nutrition
Business Administration
Healthcare Management
Psychology
Applied Science in Health and Wellness
A bachelor's degree in one of these areas is the most common qualification employers look for and is necessary for most health coach career opportunities:
Dietetics
Nutrition
Healthcare Management
Social Work
Counseling
Health Promotion
Fitness
A master's degree in one of these areas would be considered a very strong qualification, and would go beyond the general expectations of most employers:
Biology
Biochemistry
Naturopathy
Health Management
Nutrition
Professional Certification
Certification is often a necessary component of establishing your credentials as a health coach. The certification you are required to complete will vary from one position to another as employers may look for different aspects of hands-on training to fit the position you apply for. The certification you complete will serve as a field-specific credential denoting experience and expertise that contributes to your academic training in your baccalaureate degree. Certification provides you with credentials that will illustrate authority within the specialized scope of practice for health coaching.
American Council on Exercise (ACE) – ACE certification is accredited by the National Commission for Certifying Agencies (NCCA) and provides "standard" or "premium" self-study packages to prepare for the examination that leads to the Health Coach Certification. Certification through ACE must be renewed every 2 years by completing continuing education approved by ACE. The ACE Certification Candidate Handbook provides thorough details concerning the certification examination and maintenance process.
Health Coaching in Arizona: Career Paths and Job Opportunities
The state of Arizona is quite established in the field of health coaching and nutrition with multiple jobs currently available in the market. A few of the current job listings are listed below but these are only a few of several options available in different parts of the state. As many other health coaching jobs vary in responsibilities and expectations from one company to another, the listings below provide a diverse variety of options and qualifications for positions within the field.
The following job vacancy announcements represent the types of employment opportunities available to properly credentialed health coaches in Arizona. These job vacancy announcements are shown for illustrative purposes only and are not meant to represent job offers or provide an assurance of employment.
Nutritional Health Coach for Natural Grocers – Chandler, AZ
You will serve as a professional nutritional resource to customers and employees, providing nutritional education and preventative ideas for healthcare as well as retail support.
Requirements:
Degree/certification in nutrition or related field such as dietetic, master in biology, master in biochemistry, or naturopathy from an accredited and reliable college/university or program
Proof of education/certification provided with application, proof of continued education if required, proof of maintenance of degree/certification as necessary
Capable of obtaining and maintaining liability insurance
Health Coach for Healthways – Chandler, AZ
You will encourage clients to improve behavior and lifestyle in regards to physical fitness, nutrition, tobacco use, stress management, weight management, work life balance, reduce or eliminate high-risk behaviors and any other healh issues.
Requirements:
Bachelor's degree in health promotion, fitness, counseling or other related field
Two or more years of promoting health preferred
Communication, social, organizational, and computer proficiency skills desired
Health Coach for Provant – Phoenix, AZ
You will provide health coaching sessions for clients as well as required health screenings.
Requirements:
Certifications for practical/vocational nursing license, exercise, health educator, registered nurse license
Registered dietitian's license preferred
One or two years of experience in health education, tobacco cessation, physical activity, stress management, or weight loss management preferred
Communication, organizational, and computer proficiency skills desired
Health Coach for Insurance Firm – Mesa, AZ
You will encourage clients in lifestyle and behavioral changes regarding nutrition, physical activity, work life balance, stress management, tobacco use, and any other health issues. You will help build goals clients based upon health assessments and screenings, meeting regularly to discuss/adjust goals as needed.
Requirements:
Bachelor's degree in health promotion, counseling, fitness or other related field preferred
Registered dietitian preferred
Health coach certification obtained within 90 days of hiring
Two years or more of experience in health education, tobacco cessation, weight loss management, physical activity, or stress management preferred
Communication, organizational, and computer proficiency skills desired
Local Resources and Arizona Health Departments
Summer Food Service Program
Arizona Department of Health Services
Maricopa County Department of Public Health
Arizona Public Health Association
Arizona Academy of Nutrition and Dietetics
AZ Healthzone
Association of Arizona Food Banks
*2021 US Bureau of Labor Statistics salary figures for dietitians and nutritionists. Job growth projections from the US Department of Labor-sponsored resource, Projections Central. Figures are based on state data, not school-specific information. Conditions in your area may vary. Data accessed April 2022.