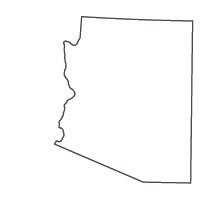 Follow the step by step process or choose what situation that best describes you:
Nutrition Careers in Arizona
According to the Commission on Dietetic Registration (CDR), there were 2,037 Registered Dietitians (RDs) and Registered Dietitian Nutritionists (RDNs) in Arizona as of April 2022. The Bureau of Labor Statistics (BLS) reported that nutritionists and dietitians earned an average salary of $62,720 as of May 2021. Early career professionals in the state earned about $48,450 during this time, while those with extensive experience earned about $79,340.
It's commonplace for metro regions in Arizona to report average salaries that exceed the state average. For example, dietitians and nutritionists in the Phoenix metro area reported an average salary of $63,930 as of May 2021.*
Arizona does not require dietitians or nutritionists to be licensed to work in the state. However, in order to become a Registered Dietitian, you must fulfill requirements of the CDR, the credentialing branch of the American Dietetic Association (ADA). Unique challenges that face registered dietitians in Arizona include working with a varied population, for some of whom English is a second language. Read on to discover what education and experiential learning you must complete to become a registered dietitian in Arizona.
Registered Dietitian Education in Arizona
The Commission on Dietetic Registration (CDR) requires all dietitians to receive certain education and experience before they may use the credentials Registered Dietitian (RD). You must graduate from one of the following types of dietitian education programs in Arizona, all of which are accredited by the Accreditation Council for Education in Nutrition and Dietetics (ACEND:
Arizona ACEND-Accredited Programs Leading to Registered Dietitian (RD) Licensure:
Coordinated Programs in Dietetics (CP) – These programs combine coursework and an internship and fulfill all of the CDR's mandates to become a Registered Dietitian. Unfortunately, there are currently no CP programs in Arizona.
Didactic Programs in Dietetics (DPD) – These programs provide coursework that leads to an undergraduate or graduate degree. Once the DPD is completed, you must still complete an internship. In Arizona, DPD programs include:
What if I want to become a Dietetic Technician in Arizona?
For students who do not want to invest as much time as it takes to become a Registered Dietitian, Arizona also offers the option of studying to become a Dietetic Technician, Registered (DTR). This occupation is not licensed in Arizona, but does require completion of a program that combines coursework and 450 hours of supervised work, culminating in an associate degree. The programs must be ACEND-accredited. In Arizona, your choices are:
You must pass CDR's Dietetic Technician Exam before working as a Dietetic Technician in Arizona.

Can I become a Nutritionist in Arizona?
Becoming a nutritionist in Arizona does not require a state license, but does require obtaining graduate education and experience. There are many certification organizations for nutritionists, and most require a minimum of a master's degree in nutrition or a related field as well as 900 hours of supervised nutrition practice. Certification bodies for nutritionists in Arizona include:
Clinical Nutrition Certification Board (CNCB)

Certified Clinical Nutritionist (CCN)

Certification Board for Nutrition Specialists (CBNS)

Certified Nutrition Specialist (CNS
<!- mfunc feat_school ->
The following bachelors and Master's programs offer career-focused instruction delivered by trained nutritionists with experience in the field. Find out more what each individual course of study offers through the locations below.
Sponsored School(s)
Featured Nutritionist Programs
<!- /mfunc feat_school ->
Dietetic Internship (DI) in Arizona
The next qualification you must satisfy is to complete a Dietetic Internship (DI) in Arizona. All DI programs must be ACEND-accredited and offer 1200 hours of supervised dietetic work. Arizona DI programs include:
Pass Dietetic Registration (CDR) Examination
Now that you have satisfied the educational and experiential requirements, you are ready to take the CDR Examination for Registered Dietitians. After Pearson VUE (CDR's testing service) sends you an email authorizing your testing eligibility status, you have 12 months to take the exam. You can apply for and pay for the exam at CDR's website. You must pay the $200 testing fee by credit card. Pearson VUE Exam Centers are the testing centers used by CDR, and they will send you an email asking that you schedule the date and location of the exam. In Arizona, testing centers include:
Tempe:

1910 West University Drive, Suite 101

Phoenix:

2501 West Dunlap Avenue, Suite 260

Chandler:

2121 W. Chandler Blvd, Suite 209, Portico Place- 2121 Bldg.

Tucson:

5210 East Williams Circle, Suite 810, Merrill Lynch Bldg.
On exam day, don't forget to bring a photo ID and a printout of your scheduling confirmation email.
To prepare for the exam, you might use the Academy of Nutrition and Dietetics eatrightPREP for the RDN Exam Site. The CDR's  Comprehensive Study Outline and Study Guide and  Registration Examination for Dietitians Handbook for Candidates are also helpful.
CDR Registration Exam for Dietitians
CDR's Registration Exam for Dietitians takes three hours to complete on the computer. Questions may be from 125 to 145, and you are not permitted to skip any questions or go back to change or review answers. You must answer at least 125 questions in order for the computer to score the exam.  Questions are multiple-choice and from four domain areas (not in order – usually mixed up on the exam):
Food Service Systems
Principles of Dietetics
Nutrition Care – Individuals and Groups
Management of Food and Nutrition Programs and Services
The score report will be given to you after you complete the test. To pass, you must earn a scaled score of 25 or better. If you fail, you can re-take the exam in 45 days. Contact CDR to receive authorization to take the exam again, by emailing cdrexams@eatright.org or calling (312) 899-4859.
CDR Registration Exam for Dietetic Technicians
If you earned an Associate in Applied Science degree and are pursuing a career as a Dietetic Technician, Registered (DTR) in Arizona, you must pass the CDR Registration Exam for Dietetic Technicians. This exam is also computerized, and its length varies. You will be tested on your knowledge of:
Food and Nutrition
Nutrition Services: Community/Clinical
Counseling, Education and Training
Food Service Systems Management
Registration and Apply for Specialty Certifications
Maintaining your CDR Registration in Arizona
You are required to renew your CDR Registration as a Registered Dietitian every five years. During this time, you must complete 75 continuing professional education units (CPEUs). At least one unit must be in ethics. The PDP Guide   and CDR's online CPE database can assist you in determining appropriate continuing education activities. They include:
In-person college/university courses
Distance learning courses  
Presenting cases
Exhibits
Developing skills
Interactive workshops
Journal clubs (both in person and online)
Seminars
Webinars
Lectures
Teleseminars
Professional leadership
Research
Professional reading
Fellowship programs
Residency programs
Independent learning
Self-study (must be pre-approved by CDR)
Study groups
Specialty certification programs in dietetics
Specialty Certifications in Dietetics and Nutrition in Arizona
Some Registered Dietitians in Arizona opt to pursue specialty certifications in concentrations in dietetics and nutrition. This may also help you to fulfill your CPE requirements. Some of the most popular specialty certifications earned by Arizona RDs are:
Certification in Pediatric Nutrition (by the Commission on Dietetic Registration)
Certification in Renal Nutrition(by the Commission on Dietetic Registration)
Certified Nutrition Support Clinician (by the National Board of  Nutrition Support Certification)
Board Certified Advanced Diabetes Management (by the American Association of Diabetes Education)
Certification in Gerontological Nutrition (by the Commission on Dietetic Registration)
International Board Certified Lactation Consultant (by the International Board of Certified Lactation Educators)
Professional Dietary Organizations in Arizona
Another step that can further your career and offer networking opportunities is to pursue membership in professional dietary organizations and associations in Arizona. Depending upon your clinical specialty or concentration, you might want to join the following associations in Arizona:
Arizona Dietetic Association
Arizona Dietetic Practicum Advisory Committee
Arizona Academy of Nutrition and Dietetics:

Central District
Northern District
Southern District
Southwest District

College and Professional Sports Dietitians Association
Nutrition Alliance
Sports, Cardiovascular and Wellness Nutrition Practice Group of the Academy of Nutrition and Dietetics
American Diabetes Association
Nutrition and Dietetic Educators and Preceptors of the Academy of Nutrition and Dietetics
School Nutrition Association of Arizona
View how to become a nutritionist in Arizona here.
*2021 US Bureau of Labor Statistics salary figures and job growth projections for dietitians and nutritionists reflect state data not school-specific information. Conditions in your area may vary. Salary statistics representing entry-level/early career = 25th percentile; senior-level/highly experienced = 90th percentile. Data accessed April 2022.