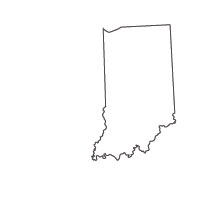 In 2010, Indiana State Department of Health officials became concerned about the health and eating habits of its citizens and produced the Indiana Comprehensive Nutrition and Physical Activity Plan, 2010 – 2020.
Goals of the highly publicized and widely distributed report emphasize improving the health of Hoosiers by reducing obesity (65 percent of Indiana's adults were found to be overweight or obese), increasing both exercise and fruit/vegetable consumption, providing healthier school lunches and decreasing the consumption of sugar-sweetened beverages. The report has increased the demand for nutritionists in Indiana. The following tells you what you are required to do in order to become a practicing nutritionist in Indiana.
Nutritionist Degree Certification and Licensing in Indiana
A bachelor's degree or better is the minimum education requirement for both dieticians and nutritionists. As in most states dieticians, but not nutritionists, must be licensed and registered. However, nutritionists can be certified, which is sometimes necessary to receive insurance reimbursements for services rendered. It is noted that Indiana's governor recently vetoed a bill passed by the state legislature which would have limited certification to registered dieticians, excluding nutritionists from Medicare and other insurance payments.
In 2013, 127 students graduated from Indiana colleges or universities with degrees in nutrition. The following Indiana cities have colleges or universities which offer nutrition degrees:
Evansville
Muncie
Terre Haute
Vincennes
West Lafayette
You can earn a bachelor's degree in nutrition at the schools in all of these cities; four of them have master's programs and.one offers a two-year Associate's degree. Four schools have nutritionist certification programs.
In addition to general education requirements, courses you might take as a nutrition major include but are not limited to:
Introduction to Food
Human Nutrition and Advanced Nutrition
Biochemistry
Food chemistry
Community Nutrition
Life Cycle Nutrition
Medical Terminology
Research in Nutrition/Statistics
Nutritional Epidemiology
Nutrition and Cancer Prevention
Nutrition and Genetics
Appetite, Metabolism and Obesity
Post-baccalaureate nutritionist certification programs generally require two semesters of courses that improve your communication skills and deepen your knowledge of:
Food Science
Optimization of Health through Nutrition
Changing Nutritional Needs from Childhood through Old Age
Nutrition for Individuals with Diabetes, Heart Disease, Eating Disorders or Alcohol/Drug Addiction
Application of Management Principles to Nutrition and Food Service
Problem Solving in Nutrition
Applied nutritional Research
<!- mfunc feat_school ->
The following bachelors and Master's programs offer career-focused instruction delivered by trained nutritionists with experience in the field. Find out more what each individual course of study offers through the locations below.
Sponsored School(s)
Featured Nutritionist Programs
<!- /mfunc feat_school ->
Nutritionist Job Description and Job Opportunities in Indiana
Your job functions as a nutrition might include any of the following:
Evaluate the nutritional needs of patients
Counsel individuals regarding their nutritional needs
Design weight-loss, weight gain or special needs diet plans
Create meal plans for patients in hospitals, rehabilitation clinics, nursing homes, retirement facilities, spas, etc.
Evaluate nutritional contents of processed and other foods
Plan school lunches
Teach nutrition classes
Speak about nutrition to organizations, clubs, civic groups, etc.
Research nutritional issues
Write reports, newspaper/magazine articles
Develop a specialty, such as Sports Nutritionist or Pet/Animal Nutritionist
As a nutritionist you will have an extremely broad array of job opportunities from which to choose. You will have to decide if you wish to be self-employed or employed by others. Self-employed nutritionists counsel individual clients, write about nutrition issues, open a health food store or create healthy food products.
Potential employers for nutritionists include:
Hospitals, medical clinics, rehab centers, physician offices
Federal or state food/nutrition agencies
Research labs
Public school districts
Colleges and universities
Food manufacturers
Humanitarian/refugee organizations
Spas, hotels, resorts
Fitness centers
Wellness centers
Veterinarians / Zoos
Nutritionist Salary and Job Growth in Indiana
According to the Bureau of Labor Statistics, the average salary for nutritionists in Indiana was $59,340 as of May 2021. The BLS projects that in the ten-year period leading up to 2028, the number of jobs for Indiana nutritionists will increase by 12%. During this period, the state will see about 100 annual job openings for nutritionists due to a blend of new job growth, retirements, and natural job turnover.*
Nutritionist Organization or Associations in Indiana
Indiana School Nutrition Association – dedicated to the promotion of healthy child nutrition in Indiana schools.
Indiana Association of Nutrition and Food Service Professionals (ANFP) – dedicated to providing optimum nutritional care through food service and management.
---
Health Coach Careers in Indiana
Maintaining a healthy lifestyle of physical activity and a nutritious diet is not always an easy feat. The residents of Indianapolis struggled to such a significant degree with maintaining healthy habits that the community ranked last among the nation's fifty largest metropolitan areas according to the American College of Sports Medicine's 2016 American Fitness Index.
However, this negative record of decreased health motivated several organizations and companies in the Indianapolis area to provide health initiatives and sponsored events, encouraging individuals to enact behavioral changes when it comes to nutrition and physical activity. A few of these organizations included Jump IN for Healthy Kids and Health by Design, both of which employ the services of health coaches to combat obesity.
Jump IN for Healthy Kids focuses primarily upon fighting obesity in children. The organization provides an excellent resource for families looking to encourage healthy habits in their children. Jump IN's approach is to address the different contexts in which children are raised. Jump IN builds this approach from the socio-ecological model of health behavior. This model indicates that the family is limited to health choices that are available in their surrounding communities. Therefore, if health improvement resources are not readily available in their surrounding environments, families are less likely to make behavioral changes.
The goal of Health by Design is similar to that of Jump IN for Healthy Kids in that it attempts to initiate healthy habits by introducing neighborhoods and communities to forms of transportation that encourage physical activity. For example, Health by Design has been responsible for providing more appropriate bike paths and walking paths throughout various communities in Indiana while reducing dependence on automobiles. These two organizations recognize the importance of developing environments that encourage behavioral changes in order to improve the overall health of families in Indiana.
Becoming a Health Coach: Earning a Relevant Degree and Professional Certification
Considering health coaching is a field that isn't subject to licensing regulations, there is no specific path to becoming a health coach. If you choose to pursue a career in health coaching you are given the freedom to select the degree that best fits your interests and specialties. As you begin to explore employment opportunities in this field, you will find the requirements for health coaching jobs will vary from one position to another depending on the employer you choose to work for. Oftentimes, your employers will allow you the opportunity to complete all of the education and/or certification requirements when you are hired or shortly thereafter according to a designated time frame. Several suitable degrees and standard certification for employment are listed below.
Degree Options
Associate's degrees in areas like those shown here are suitable for some entry-level health coach jobs:
Health and Wellness
Social Work
Kinesiology
Exercise Science
Health Education
A bachelor's degree in one of these areas is the most common qualification employers look for and is necessary for most health coach career opportunities:
Nursing
Health Education
Nutrition and Dietetics
Health Promotion
Biology
Behavioral Health
Exercise Physiology
A master's degree in one of these areas would be considered a very strong qualification, and would go beyond the general expectations of most employers:
Social Work
Dietetics
Nutrition
Public Health
Health Promotion
Counseling
Professional Certification
When you pursue health coaching as a career, you would typically be required to complete some level of certification. The certification you are expected to hold will vary according to the employer or company you choose to work for. The certification you complete will serve as a field-specific credential denoting your coaching expertise. Certification provides you with credential illustrating authority within the specialized scope of practice for health coaching.
American Council on Exercise (ACE) – ACE certification is accredited by the National Commission for Certifying Agencies (NCCA) and provides "standard" or "premium" self-study packages to prepare for the examination that leads to the Health Coach Certification. Certification through ACE must be renewed every 2 years by completing continuing education approved by ACE. The ACE Certification Candidate Handbook provides thorough details concerning the certification examination and maintenance process.
Health Coaching in Indiana: Career Paths and Job Opportunities
Typically, the job market in any given state will vary according to the health coaching community and organizations currently active within that state. Within the state of Indiana, there is a substantial variety of health coaching jobs available particularly in the Indianapolis area. Regardless of where the job may be available, each of the job qualifications will vary according to the expectations of each individual employer and the company they work for. This variety allows you to find a position that best fits your experience and current qualifications. Furthermore, many of these positions will allow space for you to build upon your credentials and education while you work.
The following job vacancy announcements represent the types of employment opportunities available to properly credentialed health coaches in Indiana. These job vacancy announcements are shown for illustrative purposes only and are not meant to represent job offers or provide an assurance of employment.
Health Coach for Bloomington Hospital – Indianapolis, IN
You will provide education and health coaching for participants of the Healthy Results program.
Requirements:
Bachelor's degree in health promotion, health education, nursing, or another health-related field
Health coaching certification strongly preferred or achieved within the year of being hired
Health education certification strongly preferred
Computer proficiency required
Health Promoter for MissionPoint – Indianapolis, IN
You will work directly with your team of Health Partners, registered nurses and master's prepared social workers, as they coach and educate members of MissionPoint.
Requirements:
Associate's degree in wellness, social work, healthcare or a related field or the equivalent combination of experience (3 years) and high school equivalency
Bachelor's degree in social work, healthcare, wellness or another related field preferred
Certified wellness coach or similar designation preferred
At least one year of work experience required, preferably in healthcare or wellness
Excellent interpersonal skills with a background in coaching or working closely with patients
Health Educator for Evolent Health – Indianapolis, IN
You will correspond with patients and caregivers encouraging patients to engage in the program. You will coach, educate, and correspond with patients often telephonically and digitally.
Requirements:
At least two years of experience with commercial, Medicaid and/or Medicare chronic populations to provide education on health promotion, education, wellness, care coordination, and lifestyle related topics
Experience with telephonic health coaching or educating or working in a health plan setting strongly preferred
Registered dietitian, RN or LPN with bachelor of science in health education, respiratory therapist, community health education, health promotion, or equivalent education
Health coach certification completed prior to being hired or within two years of being hired 
Computer proficiency preferred
Additional Resources for Indiana's Health Coaches
Indiana State Department of Health
The Health Foundation of Greater Indianapolis
Indiana Environmental Health Association
Marion County Public Health Department
Jump IN for Healthy Kids
Health by Design
Indiana University Bloomington – Public Health Partners
*2021 US Bureau of Labor Statistics salary figures for dietitians and nutritionists. Job growth projections from the US Department of Labor-sponsored resource, Projections Central. Figures are based on state data, not school-specific information. Conditions in your area may vary. Data accessed April 2022.