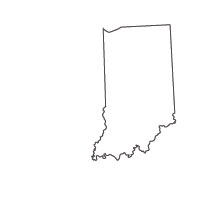 Steps to become a Registered Dietitian in Indiana
View how to become a nutritionist in Indiana here.
Follow the step by step process or choose what situation that best describes you:
Nutrition Career Info in Indiana
As of April 2022, the Commission on Dietetic Registration reported a total of 2,126 Registered Dietitians (RDs) and Registered Dietitian Nutritionists (RDNs) in Indiana. According to the Bureau of Labor Statistics, the average salary for dietitians and nutritionists in the state was $59,340 as of May 2021. Early career professionals earned about $47,980, while those with extensive experience earned about $78,230 during this time.
Indianapolis ($60,490) is a good example of a metro area where the average salary among dietitians and nutritionists exceeds the state average.*
Dietitians who wish to work in Indiana should be certified through the Indiana Dietitians Certification Board. This requires registration with the Commission on Dietetic Registration (CDR). At this time, certification for Indiana dietitians is not mandatory, but is recommended. Many potential employers of dietitians, not only in Indiana but also throughout other states, will not hire dietitians who are not registered dietitians (RD). Those who receive state certification can identify themselves as "certified dietitians" (CD) in Indiana only, but the RD status is applicable in all states.
If you want to know the current way to become a certified, registered dietitian (RD) in Indiana, please read on.
Complete Registered Dietitian Education in Indiana
Completion of dietitian education that is accredited by the Accreditation Council on Education in Nutrition and Dietetics (ACEND) of the Commission on Dietetic Registration (CDR) is required in order to earn Registered Dietitian (RD) status.
ACEND-Accredited Educational Programs Leading to Registered Dietitian (RD) status in Indiana:
Coordinated Programs in Dietetics (CP) – Offer coursework and experience, and may be undergraduate or graduate:
Didactic Programs in Dietetics (DPD)-Offer only coursework, at the undergraduate or graduate level (internship must be completed separately):
Regardless of the type of dietitian education in Indiana you choose, some courses will be held in common in both CPs and DPDs. The basic foundational courses contained within most dietary education programs in Indiana include:
Chemistry
Human anatomy and physiology
Biochemistry
Microbiology
Principles of human nutrition
Fundamentals of food
Quantity food production
Nutrition care processes
Medical nutrition therapy
Community nutrition
Food science
Food service management systems
Health and wellness
Intervention methodologies
<!- mfunc feat_school ->
The following bachelors and Master's programs offer career-focused instruction delivered by trained nutritionists with experience in the field. Find out more what each individual course of study offers through the locations below.
Sponsored School(s)
Featured Nutritionist Programs
<!- /mfunc feat_school ->
Complete your Dietetic Internship in Indiana
The second facet of your dietetic education in Indiana is to complete a minimum of 900 hours in supervised experience. In Indiana, ACEND-accredited Dietetic Internships (DI) include:
Pass the CDR Registration Exam Dietitians
With internship completed and degree in hand, you are ready to sit for the CDR's Registered Dietitian examination, required for registration with the CDR and certification in Indiana. The three-hour, computerized multiple-choice exam contains questions that must be taken in sequence. No questions may be skipped or answers changed. A minimum of 125 questions (on a test whose number of questions ranges from 125 to 145) must be answered in order for the exam to be scored. You must pay for (approximately $200) and register for the exam online through the CDR. You will then schedule your exam at a nearby Pearson VUE Exam Center in Indiana. Choose from:
Indianapolis- 3500 DePauw Blvd. Bldg. 2, Fl. 8, Suite 2080, The Pyramids at College Park
Indianapolis- 2629 Waterfront Pkwy. East Drive, Suite 100
Fort Wayne – 9921 Dupont Circle Drive West, Ste. 140, Dupont Ofc. Ctr. Bldg. 2
Terre Haute – 925 Wabash Ave., Suite 130
Crown Point – 9800 Connecticut Dr., Suite A2-400A, Purdue Technology Ctr.
You will learn your score a soon as you finish the test. A scaled score of 25 or better is required to pass the exam. Those who fail the exam may take it again, but must wait 45 days to re-take the exam.
Apply for Certification as a Dietitian in Indiana
As mentioned earlier in this piece, certification with the Indiana Dietitians Certification Board is optional for dietitians who wish to work in Indiana. However, most of the steps for certification mimic the steps for registration with the CDR to become a Registered Dietitian, and it is almost impossible to be hired as a dietitian without having the RD credentials. If you apply for certification with Indiana, you can also use the CD credentials in state only. To become certified in Indiana, complete all steps above, then:
Download and print the Application for Indiana Dietitian Certification.
Attach two photographs (head shots) of yourself to the application.
Have your college or university forward official transcripts to: Indiana Professional Licensing Agency, Indiana Dietitian Certification Board, 402 West Washington St., Room W072, Indianapolis, IN 46204.
Enclose a copy of your current registration card with the CDR.
Enclose a check or money order for $20 payable to the Indiana Professional Licensing Agency.
Mail the application and all enclosures to the address in number 3 above.
Once your application is received, you will receive an email from the Indiana Dietitian Certification Board, instructing you to initiate the mandatory Criminal Background Check (CBC). Instructions are listed on this page.
Maintain Your Certification as an RD in Indiana
Maintaining Your Indiana Dietitian Certification
Your certification with the Indiana Dietitians Certification Board is renewable every even year on Dec 31. You will receive a renewal notice about two months before your certification is set to expire. About a month before your certification will expire, you can use the blank renewal form on the Indiana Dietitians Certification Board website, or renew online. The renewal fee is $20. During each two-year span, you must complete 30 hours of continuing professional education (CPE) to maintain your certification. Keep records of your CPE, as you may be randomly audited by the Board.
Maintaining your CDR Registration as a Registered Dietitian in Indiana
You must renew your registration with the CDR every five years. During that time, you must take 75 hours of CPE. A list of acceptable activities in Indiana is available through searching the CDR's online CPE database for Indiana activities. The PDP Guide will help you to produce and maintain a portfolio of CPE.
Specialty Certification for Dietitians in Indiana
Many certified, registered dietitians in Indiana decide to pursue specialty certifications in nutrition and dietetics after becoming certified and registered. This can increase your chances of finding work as a dietitian and can help to fulfill both Indiana's requirements for CPE for recertification and the CDR's requirements for CPE for re-registration. Common certifications of dietitians in Indiana include:
Clinical Nutrition Certification Board: Certified Nutrition Specialist (CNS)
American College of Sports Medicine: Certified Clinical Exercise Physiologist (CCEP)
Commission on Dietetic Registration (CDR): Board Certified Specialist in Pediatric Nutrition, Board Certified Specialist in Renal Nutrition, Board Certified Specialist in Sports Dietetics, Board Certified Specialist in Gerontological Nutrition, Board Certified Specialist in Oncology Nutrition
Potential Job Sites for Indiana Dietitians
Indiana dietitians who have completed education and experience and have earned state certification and registration will find a wealth of career opportunities statewide. Opportunities exist for various facets of dietitians and dietary training, including:
Cardiac nutrition
Diabetes nutrition
Nutrition support
Medical nutrition therapy
Food service management in areas such as:

Outpatient clinics
Cooperative extension agencies
Early childhood education programs
Long term care facilities
Hospitals
Educational settings
State agencies
Senior centers
WIC centers

Self-employment as a:

Contract dietitian
Dietary/nutrition consultant

General work as a dietitian in:

Corporations
Airlines
Restaurants
Pharmaceutical companies
Correctional facilities
*2021 US Bureau of Labor Statistics salary figures and job growth projections for dietitians and nutritionists reflect state data not school-specific information. Conditions in your area may vary. Salary statistics representing entry-level/early career = 25th percentile; senior-level/highly experienced = 90th percentile. Data accessed April 2022.