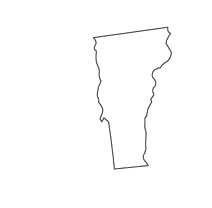 According to the National Center for Chronic Disease and Health Promotion, approximately 40% of adults consume fruit two or more times daily and 30% consume vegetables three or more times daily in Vermont. As a result of unhealthy eating habits, 57.7% of the adult population is considered overweight while 23.2% are categorized as obese. By creating nutritional programs, conducting food research and providing counseling services, nutritionists are helping to integrate healthy eating choices into the daily lives Vermont residents.
The state government does not regulate the nutritionist profession in Vermont. As a result, nutritionists are not required to meet any education, certification or licensing requirements to deliver nutrition care in this state. However, nutritionists are restricted from using the professional title of "certified dietitian." Only nutritionists that receive a license from the Vermont Office of Professional Regulation are granted the designation of dietitian.
Educational Degrees for Nutritionists in Vermont
Graduating from an undergraduate or graduate degree program from an accredited college or university is a crucial step in building a lucrative career in Vermont. By earning a degree, nutritionists demonstrate they have acquired the skills, knowledge and training needed to become competent nutrition professionals. Also, since nutritionist jobs are highly competitive, professionals with college degrees become more marketable to potential employers.
Educational statistics published by the United States of Bureau show the degree distribution among dietitians and nutritionists between the ages of 25 and 44 include:
Associate degree—3.8%
Bachelor degree—40.1%
Master degree—27.6%
Doctoral/professional degree—7.3%
There are currently three nutrition-specific degree programs available in Vermont. These degree options include: Bachelor of Science in Nutrition and Food Sciences, Master of Science in Nutrition and Food Sciences, and Doctor of Philosophy in Animal, Nutrition, and Food Sciences. Students that enroll in these programs may complete courses in topics such as:
Fundamentals of Nutrition
Basic Concepts of Foods
Sports Nutrition
Principles of Food Technology
Nutrition Education and Counseling
Food Service and System Management
Diet and Disease
<!- mfunc feat_school ->
The following bachelors and Master's programs offer career-focused instruction delivered by trained nutritionists with experience in the field. Find out more what each individual course of study offers through the locations below.
Sponsored School(s)
Featured Nutritionist Programs
<!- /mfunc feat_school ->
Employment and Nutritionist Salaries in Vermont
According to the Bureau of Labor Statistics, nutritionists in Vermont earned an average salary of $70,450 as of May 2021. The BLS projects that during the ten-year period leading up to 2028, the number of jobs for nutritionists in Vermont will increase by 5%.*
Although nutritionist jobs can be located in outpatient care facilities, nursing homes and medical centers, hospitals continue to be the major employer for nutritionist in Vermont. Local employers may include:
Compass Group USA
Morrison Senior Living
Springfield Hospital
Kindred Healthcare
Central Vermont Medical Center
Vermont Professional Associations for Nutritionists
Nutritionists can become more prominent leaders in the nutrition industry by pledging membership to professional associations. Nutritionists that join professional associations often offered exclusive benefits pertaining to industry events, continuing education programs, discussion forums, job boards, news information and networking opportunities. Professional associations for nutritionists in Vermont include:
Vermont Academy of Nutrition and Dietetics
Association of Nutrition and Foodservice Professionals-Vermont Chapter
Vermont Center for Nutrition Advocacy
American Nutrition Association
Vermont Dietetic Association
---
Health Coach in Vermont
In her 2014 piece that appeared on Vermont Public Radio, "Health Coaches Help Patients Battle Chronic Illness," Charlotte Albright opens by noting that one out of every 10 health care dollars is spent to treat diabetes. According to the Centers for Disease Control and Prevention (CDC-2014), around eight percent of all Vermonters have diabetes.
Searching for ways to reduce medical expenditures, Dartmouth Hitchcock Medical Center decided to experiment with a new approach to combating preventable disease like diabetes and turned to health coaches. Like other organizations looking for innovative ways to reduce healthcare costs and improve workforce well-being, Dartmouth Hitchcock's health coaches have proven to be invaluable.
The personal allegory featured in Albright's piece proves to be particularly representative of the situation of many Vermonters. With assistance from a health coach, one diabetes patient was able to identify factors that led to her diagnosis – junk food binge eating and a lack of exercise – and find ways to modify her behavior that included better nutrition and lifestyle changes. After three weeks with a health coach the client's blood sugar level dropped by 20 percent and she lost 10 pounds.
With amazing results like this combined with the logical simplicity of health coaching – which doesn't have to involve pills or visits to the doctor's office – corporations, government agencies, and everyone else interested in Vermont's population well-being are getting on board with the new health coach approach. That's important, because the CDC notes the following statistics about our state:
Nearly 20 percent of Vermonters are classified as being physically inactive
About one in four Vermonters is obese
More than 16 percent of Vermonters smoke cigarettes
13.2 percent of Vermont high schoolers are obese
Less than 15 percent of Vermonters consumer their daily recommended amount of fruits
Becoming a Health Coach in Vermont: Earning a Relevant Degree and Professional Certification
Currently there are no statewide or national credential regulations governing the health coach profession. However you still need to contend with the preferences and requirements of your employers and clients, and that often means earning a college degree and professional certification.
Topics of study and degree majors relevant to this field include:
Holistic health and wellness
Exercise science, body mechanics, and exercise physiology
Alternative and complimentary approaches to healthcare
Motivational coaching techniques for groups and individuals
Women's health
Obesity and weight management
Nutrition and dietetic science
Physio-relaxation techniques like yoga and meditation
Biology, especially human biology
Fitness and wellness
Wellness counseling and assessment
Associate's, Bachelor's, and Master's Degrees Options for Health Coaches
An undergraduate degree (associate's or bachelor's) in a relevant major provides a foundation of knowledge and subject area expertise. If you already have a degree in an unrelated field you may be able to apply credits towards your new program. The following degrees are among those offered at campus locations in Vermont. You can find similar options online offered through schools in other states that admit Vermont residents:
Bachelor's Degrees
Bachelor of Science (BS) in Athletic Training (Burlington)
Bachelor of Science (BS) in Wellness and Alternative Medicine (Johnson)
Bachelor of Science (BS) in Nutrition and Food Sciences (Burlington)
Bachelor of Science (BS) in Exercise and Movement Science (Burlington)
Bachelor of Science (BS) in Health Arts and Science (Plainfield)
Master's Degrees
Master of Science in Dietetics (MSD) (Burlington)
Master of Science (MS) in Food Systems (Burlington)
Non-Degree Health Coach Certification Programs
Professional certification is offered by national organizations in a range of relevant fields that would compliment your degree. National certification usually involves completing an online curriculum lasting several months and then passing a final examination.
Currently the American Council on Education (ACE) is the only organization offering health coach certification that is accredited through the National Commission for Certifying Agencies (NCCA). ACE offers three certification options for health coaches:
Health Coach Certification for Fitness Professionals
Health Coach Certification for Health Care Professionals
Health Coach Certification for Workplace Wellness
You can find detailed information about these programs in the ACE Certification Candidate Handbook.
The International Coach Federation (ICF) is another prominent organization that maintains a large network of qualified health coaches throughout the nation. ICF certification enforces a high bar for standards of the coaching profession. It provides several different credentialing options for coaches including:
Associated Certified Coach (ACC)
Professional Certified Coach (PCC)
Master Certified Coach (MCC)
Career Paths for Health Coaches in Vermont
Health coaches traditionally work in one of these types of situations:
As independent business owners who have their own health coaching business, or who are affiliated with a group of independent wellness practitioners
As employees of organizations – corporations, government agencies, universities, etc – to help the workforces of these organizations stay healthy
As part of health coach companies that serve a range of clients
As part of healthcare organizations like hospitals, governmental public health organizations, and health insurance companies to provide health coaching to a targeted population
For example, these organizations in Vermont have been known to hire health coaches:
IBM
Fletcher Allen Health Care
University of Vermont
Rutland Regional Medical Center
Middlebury College
Central Vermont Medical Center
GE Aircraft Engines
Southwestern Vermont Medical Center
Killington Mountain Resort
The following job vacancy announcements, sourced in August 2016, represent the types of employment opportunities available to properly credentialed health coaches in Vermont. These job vacancy announcements are shown for illustrative purposes only and are not meant to represent job offers or provide an assurance of employment.
Health Coach with IBM in Essex Junction – As a health coach with IBM you are responsible for working one-on-one with clients as well as leading group classes that promote wellness. Your duties in this position include developing personalized wellness plans, motivational coaching, and implementing strategies to discourage bad habits like smoking.
Preferred applicants hold any of these credentials:
Relevant certification such as health coach, nutritionist, or fitness instructor
Relevant degree in fields like dietetics, nutrition, exercise science, or wellness development
Relevant work experience
Wellness Health Coach with Fletcher Allen Health Care in Burlington – In this position your primary duty is to engage with employees participating in this organization's wellness program. To engage with your clients you will use techniques like motivational interviewing, team goal setting, and behavior modification methods. Generally you help your clients to achieve their personal wellness goals. Other duties include conducting biometric screenings and wellness education.
Preferred applicants have experience in motivational interviewing and knowledge of the stages of change, and must have these qualifications:
Bachelor's degree
At least two years of experience working with worksite wellness programming, human services, or health care
Tobacco treatment certification within one year of hire
Independent Health and Wellness Coach – You can find many examples of independent health coaches throughout Vermont. Gardner Orton is one example- he is a health coach who started his own business Sacred Mountain Wellness based out of Burlington. He offers a range of services to his clients including lifestyle coaching, integrative nutrition coaching, and conscious breath work. He also leads workshops, with topics including sugar, bone health, cholesterol, the immune system, and stress reduction/management.
Orton's long list of credentials include:
Certified holistic health coach
Pranayama breathwork practitioner
Certified energy health practitioner
Chinese herbal studies certification
State Resources for Health and Wellness Coaches
The following links will direct you to additional resources where you can find more information about health and wellness initiatives in Vermont:
Government Resources and Initiatives
Professional and Advocacy Organizations
*2021 US Bureau of Labor Statistics salary figures for dietitians and nutritionists. Job growth projections from the US Department of Labor-sponsored resource, Projections Central. Figures are based on state data, not school-specific information. Conditions in your area may vary. Data accessed April 2022.