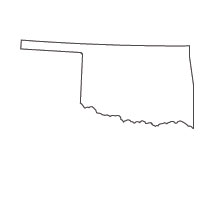 Becoming a Nutritionist in Oklahoma
Oklahoma's 2014 State of the State's Health Report revealed that Oklahoma ranked 50th in fruit consumption and 44th in vegetable consumption nationally. Oklahoma also ranked the 6th most obese state in the nation. As a result, there is a greater need for health care providers like nutritionists to build careers in the Sooner State. By offering nutrition guidance and counseling service, nutritionists are in a unique position to help create a healthier future for Oklahoma residents.
Presently, there are no license requirements needed to become a nutritionist in Oklahoma. However, since dieticians must obtain a license to practice in the state, nutritionists are prohibited to use the title of "licensed dietician." As unlicensed professionals, nutritionist must exhibit their occupational proficiency through an accumulation of formal education, experience, and training.
Nutritionist Degrees and Education in Oklahoma
Although nutritionists are not encumbered by education requirements in Oklahoma, the majority nutritionists have at least a bachelor's degree. In fact, the United States Bureau of Labor Statistics reports that among employed dieticians and nutritionists between the ages of 25 and 44:
40.1% hold a bachelor's degree
27.6% hold a master's degree
7.3% hold a doctoral or professional degree. 
There are several community colleges, colleges and universities in Oklahoma that offer both undergraduate and graduate degree programs in nutrition. Students that enroll in these programs can expect coursework to focus on subjects such as human nutrition, chemistry, food science, physiology, management, and food service administration. Examples of nutrition-related degree programs offered in the state include:
Associate of Science in Nutritional Sciences
Bachelor of Science in Nutrition, Dietetics, and Food Management
Bachelor of Science in Nutritional Sciences
Master of Science in Nutrition
Master of Science in Nutritional Sciences
Ph.D. in Allied Health Sciences: Nutritional Sciences
Ph.D. in Human Sciences: Nutritional Sciences
<!- mfunc feat_school ->
The following bachelors and Master's programs offer career-focused instruction delivered by trained nutritionists with experience in the field. Find out more what each individual course of study offers through the locations below.
Sponsored School(s)
Featured Nutritionist Programs
<!- /mfunc feat_school -> <!- mfunc search_btn -> <!- /mfunc search_btn ->
Oklahoma Nutritionist Salary and Employment Expectations
According to the Bureau of Labor Statistics, the average salary for nutritionists in Oklahoma was $57,460 as of May 2021. In the ten-year period leading up to 2028, the BLS projects a 10% rise in the number of nutritionist jobs in Oklahoma. During this ten-year period, the state should see about 70 annual job openings for nutritionists due to a combination of new job growth, retirements, and natural job turnover.*
 Nutritionist Employers in Oklahoma
Nutritionists in Oklahoma are frequently qualified to for job positions as health and wellness coordinators, sports nutritionists, nutrition education specialists, health educators, nutrition coordinators and nutrition consultants. As such, nutritionists are not just employed by outpatient care centers, hospitals, and nursing care facilities. Today, colleges and universities, corporations, and state health departments are also actively hiring nutritionists. Local employers may include:
Oklahoma State University
Hillcrest Medical Center
Carter Healthcare and Hospice
Provimi North America, Inc.
ManorCare Health Services
Oklahoma Professional Associations for Nutritionists
Professional associations are excellent resources for nutritionists looking for communities of nutrition professionals that improve occupational standards by provide information regarding education, job opportunities, training courses, occupation-related events, current news, and research projects. Professional associations for Oklahoma nutritionists include:
Oklahoma School Nutrition Association
National Association of Nutrition Professionals
Oklahoma Academy of Nutrition and Dietetics
Association of Nutrition and Foodservice Professionals
Center for Nutrition Advocacy-Oklahoma
American Society for Nutrition
---
Health Coach in Oklahoma
Oklahoma's health coaches are busy leading exercise sessions, working one-on-one with clients to encourage healthy living habits, and teaching cooking classes that reveal vegetables really can be tasty. This emerging class of professional is on the front lines in the battle against car commuting, the temptations of fast food, the internalization of stress, and bad habits in general.
The non-profit organization Trust for America's Health reports that we face these challenges in our state:
12 percent of Oklahomans have been diagnosed with diabetes (2014)
Only 8.2 percent of Oklahomans met the recommended daily fruit consumption in 2013
One third of all Oklahomans are obese (2014)
11.8 percent of high school students are obese (2013)
28.3 percent of adults are physically inactive (2014)
37.5 percent of Oklahomans suffer from hypertension (2013)
21.1 percent of Oklahomans smoke (2014) – the leading preventable cause of death
It's not just individuals who are realizing the benefits of working with health coaches. Private companies – like Microsoft in Tulsa and IBM in Oklahoma City – are hiring these professionals to keep their employees healthy and happy (which consequently reduces sick days and improves productivity).
Government agencies are also realizing that millions of dollars can be saved each year on health care costs through preventative health promotion programs. The archetypal example of this is the state's Healthy Oklahoma 2020 initiative. Building on strides made in a similar initiative for 2010, this is one avenue where health coaches can be of particular importance, using state grants and local government funding to help Oklahoma achieve the following goals by the turn of the new decade:
Reduce the number of adult tobacco smokers to 18 percent
Reduce the number of obese high school students to 10.6 percent
Reduce the number of heart disease deaths by 11 percent
Reduce the prevalence of untreated mental illness from 86 percent to 76 percent – Oklahoma ranks 49th in the nation for mental illness among adults
Reduce the infant mortality rate from 6.8 percent to 6.4 percent
Becoming a Health Coach: Earning a Relevant Degree and Professional Certification
Health coaches in Oklahoma are increasingly being recognized as the bridge between hectic schedules or stressful office jobs and a well-balanced fulfilling lifestyle. As this profession comes into full bloom in the 21st century, national credential requirements have not yet been set in stone. Despite this, you still need to be aware of what the market in Oklahoma demands, and this almost always involves earning a college degree and/or professional certification.
Education or certification can fulfill employer requirements, assuage client concerns about your professionalism, and allow you to increase your level of compensation. As you work towards a degree or certification, you will study topics that can include:
Nutrition for health professionals
Human biology
Fitness and wellness
Exercise physiology
Wellness counseling
Health communication and promotion
Obesity and weight management
Program planning
Nutrition and diet
Coaching skills and methods
Mind-body wellness
Health coach ethics
Group coaching
Women's health
College Degrees for Health Coaches
You can find a number of relevant in-state degree programs for health coaches in Oklahoma. You can also apply to colleges in other states that offer online degree programs with open enrollment:
Associate's Degree Programs
Associate of Applied Science (AAS) in nutritional sciences (Oklahoma City)
Associate of Science (AS) in dietetics (Tulsa)
Associate degree in enterprise development (Wilburton)
Associate of Applied Science (AAS) in nursing (Wilburton)
Bachelor's Degree Programs
Bachelor of Science (BS) in human sciences – dietetics (Stillwater)
Bachelor of Science (BS) in human sciences – nutritional sciences (Stillwater)
Bachelor of Science (BS) in nutrition, dietetics, and food management (Edmond)
Bachelor of Science (BS) in dietetics (Broken Arrow)
Bachelor of Science (BS) in nutritional science – dietetics (Tahlequah)
Bachelor of Science (BS) in health and physical education (Durant)
Bachelor of Science (BS) in recreation (Durant)
Bachelor of Science (BS) in clinical dietetics (Weatherford)
Bachelor of Science (BS) in exercise science (Oklahoma City)
Bachelor of Science (BS) in human performance (Oklahoma City)
Bachelor degree with a coaching science minor (Stillwater)
Master's Degree Programs
Master of Arts (MA) in dietetics (Norman and Oklahoma City)
Master of Science (MS) in nutrition and food science (Edmond)
Master of Science (MS) in nutritional sciences (Stillwater)
Earning a college degree can be a good option when you are committed to pursuing your career as a health coach competitively over the long run. Health coaches who already hold an associate's or bachelor's degree in another subject can add more relevant education with a new degree, or apply existing education towards a more advanced degree.
Health Coach Certification Programs
Certification can be a good option if you want to add to your professional qualifications with training in a particular area of focus within the broader field of health and nutrition.
Currently the American Council on Education (ACE) is the only organization that is accredited through the National Commission for Certifying Agencies (NCCA) that offers certification specifically for health coaching. The ACE health coach program offers three certification routes that are tailored to your professional career goals:
Health coach certification for fitness professionals
Health coach certification for health care professionals
Health coach certification for workplace wellness
You can find in-depth information about these certifications in the ACE Certification Candidate Handbook.
The International Coach Federation (ICF) is another leading organizations dedicated to producing a large network of qualified health coaches around the world, enforcing high standards for the profession and offering independent certification.
The organization provides several different credentialing options for coaches including:
Associated Certified Coach (ACC)
Professional Certified Coach (PCC)
Master Certified Coach (MCC)
Career Paths and Job Opportunities Available to Health Coaches in Oklahoma
Health coaches can work as independent practitioners or as employees of public health departments, hospitals, or even as leaders of corporate health programs. If you choose to go independent, typically you would start off as an employee in order to gain experience and establish your reputation before forming your own business.
The following job vacancy announcements and profiles represent the types of employment opportunities available to properly credentialed health coaches in North Dakota. These are shown for illustrative purposes only and are not meant to represent job offers or provide an assurance of employment. The first two examples feature independent health coaches, and the latter two examples feature health coach employee positions.
Lane Winters, Independent Health Coach in Norman – Offering alternative and holistic health resources, Winters decided to start her own business called FigTree Health Coaching. Dedicated to helping clients achieve their health goals with insights and encouragement, Winters offers individual and group coaching sessions. She also hosts events like gluten-free and season-themed cooking classes.
Kajsa Sjodin, Independent Health Coach in Tulsa – A certified health coach, Sjodin is originally from Sweden but has made the US her home away from home. Having lived in New York, Los Angeles, and Boston, she recently made an appearance at the Vegetarian Society of Tulsa's monthly potluck to give a presentation about making almond milk. She also teaches cooking classes at Whole Foods and runs a healthy-diet catering business on the side as a vegan raw-foods chef.
Health Coach with Terrell Clinic in Oklahoma City – Co-founded by a native-Oklahoman MD, this clinic specializes in aesthetics, cosmetic surgery, and lifestyle medicine. As part of its health package the clinic offers personal health coaching services to support the overall wellness of their clients. This health coach position is a great example of the demand for health coaches at private clinics and wellness centers.
Terrell Clinic is looking for candidates with a résumé that includes:
Enthusiastic and personally consistent attitude about healthy eating and exercise
Experience with weight loss and motivation
Bachelor of Science (BS) in chemistry
Coursework towards a degree in physical therapy
Health Coach with Provant in Tulsa – Provant is a company that recruits health coaches for its corporate clients. Applicants for this position must be confident and willing to work with motivated individuals who are taking advantage of their company's wellness plan. Incumbents have experience working with programs like smoking cessation, weight loss, exercise training, and stress management.
All applicants must have at least one of these qualifications:
Exercise physiologist
Health educator
Registered dietician
Registered nutritionist
Examples of companies in Oklahoma that have hired health coaches to work with their staff include:
American Airlines
IBM
University of Oklahoma
Google
City of Oklahoma City
Boeing
Tinker Air Force Base
General Electric
Dell
Devon
Additional Oklahoma Resources
You can find additional resources regarding careers, training, education, and opportunities for health coaches in Oklahoma through the following links:
Government Resources and Programs
Professional Associations and Non-Government Organizations
*2021 US Bureau of Labor Statistics salary figures for dietitians and nutritionists. Job growth projections from the US Department of Labor-sponsored resource, Projections Central. Figures are based on state data, not school-specific information. Conditions in your area may vary. Data accessed April 2022.