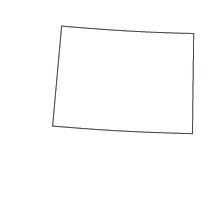 To become a nutritionist, nutrition advisor, or nutrition counselor in Colorado does not require any specific education or credentials. Although Colorado does not require nutritionists to be licensed or certified in order to practice, many jobs may require a certain level of education to be considered as a candidate for employment.
Colorado Nutritionist Salary and Employment Information
According to the Bureau of Labor Statistics, the average salary for nutritionists in Colorado was $65,540 as of May 2021. In the ten-year period leading up to 2028, the BLS projects jobs for Colorado's nutritionists will increase by 24%, which is much higher than the national projected growth rate of 11% for this profession through 2030.*
Other factors that would influence the rate of pay would include the type of employer (hospital vs self-employed, for example) and location (urban vs rural).
Nutrition Degree Information
Many nutritionists have at least a bachelor's degree in nutrition, food science, or similar field of study. Others have obtained degrees or certification in fields such as nursing, public health, exercise science, or medicine and have chosen to focus on the nutrition aspects of their particular field.
For example:
A nurse might specialize in helping diabetic patients make healthful diet choices
A public health specialist may work with low income mothers to ensure they help their children eat well for their growing bodies
A personal trainer may include food and diet advice as part of their clients' fitness regimen.
Working as a nutritionist in Colorado offers qualified candidates a wide variety of employment opportunities because food and nutrition is such a vital aspect of each person's life.
Colorado Universities with Accredited Nutrition Programs
The Colorado Academy of Nutrition and Dietetics (CAND) is a professional organization affiliated with the Academy of Nutrition and Dietetics (formerly known as the American Dietetic Association). According to the CAND's website, Colorado has five universities with accredited nutrition programs. These include:
Colorado State University (Fort Collins)
Johnson & Wales University (Denver)
Metropolitan State University of Denver (Denver)
University of Colorado at Colorado Springs (Colorado Springs)
University of Northern Colorado (Greeley)
Other universities may also have programs that focus on food, nutrition, public health, and similar fields.
<!- mfunc feat_school ->
The following bachelors and Master's programs offer career-focused instruction delivered by trained nutritionists with experience in the field. Find out more what each individual course of study offers through the locations below.
Sponsored School(s)
Featured Nutritionist Programs
<!- /mfunc feat_school ->
Nutritionists Jobs and Potential Employers
Nutritionists are experts in nutrition and as such, their knowledge and skills are highly sought in a variety of fields.
Hospitals, such as Denver Health Medical Center in Denver, Swedish Medical Center in Englewood, and Children's Hospital Colorado in Aurora, are likely to employ a large number of nutritionists, as do other health care facilities.
Nursing home and extended care facilities also utilize the services of nutritionists, as it's important to maintain good nutrition even at advanced ages. Many elderly residents have special dietary needs and a nutritionist is well qualified to help address those issues. Advanced Health Care of Aurora and Boulder Manor in Boulder are examples of well-respected nursing home facilities.
Other nutritionists work in the public health arena, often focusing on education to help citizens get the best nutritional value at the most reasonable and economical cost. Public schools often utilize the services of a nutritionist in order to comply with state and federal meal program requirements. Some fitness centers offer the services of a nutritionist to help members with their overall health and fitness goals. There are also a number of nutritionists who work through more holistic health offices, such as with acupuncturists, herbalists, and homeopaths.
Jobs recently listed for nutritionists include the following:
Child Nutrition Services Assistant Manager for the Pinnacle Charter School in Federal Heights
Consumer Safety Officer for the US Department of Health and Human Services in Denver
Nutrition Specialist at King Soopers Grocery store in Fort Collins
Depending on the level of experience and education and the desire to advance your career, becoming a nutritionist in Colorado is an excellent occupational choice.
---
Health Coach Careers in Colorado
Why is Colorado a great place to be a health coach? Because Coloradans take their health seriously, which means they are on the lookout for ways to keep improving.
Colorado consistently ranks in the top ten for overall health, according to America's Health Rankings (United Health Foundation).
In spite of this, there is room for improvement. The State of Health, a report published by Gov. John Hickenlooper, noted the following trends concerning Coloradans:
1 in 5 adults in Colorado is obese, double the rate seen in 1996.
Over half of Coloradans are either overweight or obese.
Colorado's childhood obesity growth rate is the 2nd fastest in the nation.
Chronic disease (very often obesity-related) accounts for 7 of the top 10 causes of death in Colorado.
But Hickenlooper's report also shared some good news, and it shows exactly why this is a great time to find your place as a health coach in Colorado:
40% of an individual's health is determined by behaviors and lifestyle.
90% of Colorado adults report taking specific steps towards improving their health in the past few years.
New state initiatives are moving Colorado towards a more integrated care system, with the goal of seeing Colorado become the Healthiest State in the Nation.
What does that mean for you as a health coach?
Your job is to help individuals take the information they learn in the doctor's office and turn it into real-life, actionable steps that transform their health. You directly influence the very portion of their health that they have the most control over. With a demonstrated interest in health improvement among both the local population and governmental bodies opportunities for health coaches are likely to grow in coming years.
Taking the Leap: Degrees, Certification, and Finding Your Path as a Health Coach
So what does it take to actually become a health coach? A quick search of major universities in Colorado will reveal that "Health Coaching" is not a common offering. Because the field is relatively new, most health coaches need to find degrees in related fields, and then expand their experience with further certification.
There is currently no one national or state licensing body that sets the standards for health coaches.
In fact, you will see everything from individuals with no formal education to those with Master's degrees in health-related fields coupled with formal certifications and years of experience.
As you examine the wide range of salaries quoted for health coaches, it's wise to take note of the fact that many coaches in the upper salary ranges are those with higher degrees and/or formal certifications.
A question to ask would be, would I want to hire myself? Am I knowledgeable enough that I would hire someone like me? If not, you probably need to consider more education.
In furthering your education, you may find yourself taking some or all of the following courses:
Human Biology
Personal Fitness and Wellness
Holistic Health
Nutrition for Health Professionals
Health Communication
Exercise Physiology
Wellness Counseling
Health Promotion
Obesity and Weight Management
Program Planning
Health Coaching
Food, Culture, Community and Health
Associate, Bachelor's and Master's Degree Options in Colorado
Undergraduate degrees in Colorado that offer applicable courses for potential health coaches include:
Holistic Health – Wellness Coaching Certificate
Integrative Physiology
Nursing
Sports Health and Wellness
Nutrition
Dietetics
Nutrition Sciences
Exercise Science – Health and Wellness Emphasis
Maybe you've already achieved an undergraduate degree and you're ready for something at the graduate level.  Graduate degrees that can lead to various emphases in health coaching include:
Nursing (MSN)
Health Promotion
Integrative Physiology
Sports Medicine
Sports Nutrition
Master of Public Health
Master of Science in Dietetics
Non-Degree Health Coach Certification Programs
Not all employers and situations hold to strict degree requirements. You may be looking to turn your personal interest and experience into something that can help others, without committing to a full-time, 2-4 year program.
There are currently a number of online health and wellness coaching programs that you may want to consider exploring.
Regardless of which level of education you choose to seek out, certification can make a significant difference in how well your services are received and how easy it is for you to build a client base or get a job.
For this reason, you will want to consider exploring professional certification options, which usually involve online courses and a certification exam.
There are a number of private certifying bodies, however these are not nationally regulated, so you will want to carefully compare what they offer and research their credibility when deciding which body to connect with.
At this time only the American Council on Exercise (ACE), is accredited through the National Commission for Certifying Agencies (NCCA).  
ACE offers three options depending on your personal career goals:
Health Coach for Fitness Professionals
Health Coach for Health Care Providers
Health Coach for Workplace Wellness
For more information on certification and maintenance, please check out the ACE Certification Candidate Handbook.
Other Tracks to Becoming a Health Coach in Colorado
Continuing education through audited or non-degree classes.
Lessons learned through personal experience used to help others.
Self study through books and the Internet.
Career Paths and Job Opportunities Available to Health Coaches in Colorado
Live Well Colorado, a partner with recent state wellness initiatives, reported that employers are seeing an average savings of $3 for every $1 invested in wellness programs. Motivated by this demonstrated ROI, numerous state and private organizations now offer wellness programs.
Whether you choose to work for a corporate wellness program provider, state agency, or open your own coaching business, you'll want to carefully examine job postings to get a sense for the type of education required for the job you most want to do.
For those wanting to start their own business, you'll find that a few important steps need to happen long before you can consider any marketing or promoting of your work. According to the Colorado.gov Starting a New Business page, first steps in Colorado include:
Register your business name.
File your business and obtain a tax account.
Get familiar with relevant laws.*
*See listing in additional helpful links at the bottom of this page.
Companies in Colorado who have hired or partnered with health and wellness coaches include:
Colorado Sprints Utilities
Ent Federal Credit Union
Cigna
City of Boulder Parks and Recreation
University of Colorado Anschutz Health and Wellness Center
Adams County Sheriff's Office
Natural Grocers
Iora Health
Volunteers of America (Paid position)
Colorado Athletic Clubs (Fitness focus)
The following job postings should give you a sense for the variety of jobs available to you in Colorado. These postings were sourced from job aggregation sites and are simply examples of potential opportunities. These are not meant to represent job offers or suggest assurance of employment. Some descriptions have been condensed due to space constraints.
Health Coach-Wellness Program Coordinator, Adams County Sheriff's Office, Brighton – We are seeking a health coach and wellness program coordinator to provide one-on-one health coaching to employees and assist with coordination with other health providers. You will plan, organize, and direct health coaching and health education and wellness programs to meet county goals and employee needs; assist with collection and analysis of detailed data regarding clinic and program performance to determine ROI, provide coaching on lifestyle behavior change education, organize special events to promote wellness and awareness and manage the employee fitness center, including proper use of equipment.
Specific qualifies not posted.
Nutritional Health Coach, Natural Grocers, Conifer – This is a dual position that emphasizes employee, customer, and community nutrition education and retail operational support. The Nutritional Health Coach will present nutrition classes to customers in the store, build community relationships and conduct community outreach, conduct one-on-one coaching sessions with customers, facilitate ongoing employee nutrition training, and support the vitamin department as well as other retail departments.
Requirements: Degree or certification in a nutrition related field (i.e., dietetics, master's in biology, master's in biochemistry, naturopathy) from a college or university accredited by a regional and/or national accrediting agency.
Health Coach, Iora Health, Denver – Health coaches engage members and encourage them to take an active part in their health by providing them with the tools necessary to make healthy lifestyle choices and adopt life-long healthy behaviors. They will take medical histories; document visits and follow up plans; counsel, coach, and educate; provide education on chronic disease management; and coordinate with insurance partners to help patients navigate their plans. Health Coaches will communicate with members in person, in groups, by telephone and via electronic means.
Requirements: Healthcare experience not required, but background as an EMT, MN or CAN is preferred. Must demonstrate excellent interpersonal communication skills, compassion, open-mindedness, and flexibility. Must be comfortable with ambiguity and willing to learn new skills.
Health Promotion Facilitator, University of Colorado Denver, Pueblo County – This full-time position will work for the Integrated Nutrition Education Program for Preschools within the "Culture or Wellness in Preschools" program. You will prepare and distribute materials for nutrition education lessons, develop and disseminate nutrition newsletters, maintain regular contact with teachers to ensure high quality implementation, observe teachers and collect and process outcome evaluation data, meet with Culture of Wellness staff to brainstorm solutions, and develop an organized filing system for related documents.
Requirements: Bachelor's degree from an accredited college in Public Health or related field; 2 years of College or University level education with at lease 2 years of experience conducting research in a related field may substitute for a Bachelor's degree. Preference will be given to those with a Master's Degree in Public Health and/or two years experience of research in Public Health or Education and Nutrition programs.
State Resources for Health Coaches in Colorado
Colorado State Health Department and Wellness Initiatives
Professional Organizations and Certifying Bodies
There are currently no health-coach specific professional organizations in Colorado, however health coaches often work within the Health Education and Public Health networks, so you may find these organizations helpful to you:
Additional Helpful Links
*2021 US Bureau of Labor Statistics salary figures for dietitians and nutritionists. Job growth projections from the US Department of Labor-sponsored resource, Projections Central. Figures are based on state data, not school-specific information. Conditions in your area may vary. Data accessed April 2022.