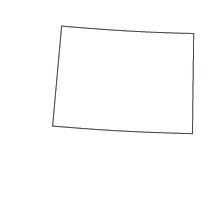 Steps to become a Registered Dietitian in Colorado
View how to become a nutritionist in Colorado here.
Follow the step by step process or choose what situation that best describes you:
Nutrition Careers in Colorado
As of 2019, the state of Colorado does not require its dietitians to be licensed in order to work in the state. Prospective dietitians who wish to work in the Rocky Mountain state must receive Registered Dietitian credentials through the Commission on Dietetic Registration (CDR), meeting specific professional and educational standards. According to the CDR, as of December 2013 there were 1854 registered dietitians working in Colorado. Per the Bureau of Labor Statistics (BLS), as of May 2018 dietitians and nutritionists in Colorado averaged an annual wage of $60,500.
Colorado's registered dietitians have participated in some innovative programs that have gained nationwide notice. In response to increased amounts of Colorado residents becoming obese, the Colorado Obesity, Physical Activity and Nutrition Program (COPAN) was developed, in conjunction with the Colorado Nutrition Coalition and LiveWell Colorado. This initiative is designed to encourage Coloradans to eat healthier and increase physical activity in order to fight the obesity epidemic in the state. Registered dietitians and other health care professionals in Colorado support this program. The Colorado Breastfeeding Coalition along with COPAN's Breastfeeding Work Group is also partially composed of registered dietitians. Its goal is to increase new mothers' awareness of the benefits of breastfeeding to raising healthier and more physically fit children. For those who wish to become a Registered Dietitian in Colorado, read on.
Registered Dietitian Education in Colorado
The state of Colorado does not currently require state licensing of dietitians, although the Denver Dietetic Association and Colorado Academy of Nutrition and Dietetics are trying to get new licensing legislation passed in Colorado. However, in order to become a Registered Dietitian (RD) under the auspices of the Commission on Dietetic Registration (CDR), which credential is required for almost any dietitian job in Colorado, you must satisfy certain education and experience prerequisites. The first prerequisite you must fulfill is to get properly educated. CDR's accreditation body, the Accreditation Council for Education in Nutrition and Dietetics (ACEND) must approve your college or university dietary program.
ACEND-Accredited Programs Leading to Registered Dietitian (RD) Licensure in Colorado:
Options for Registered Dietitian education in Colorado are:
Coordinated Programs in Dietetics (CP)-  This college/university education program pairs coursework in nutrition and dietary subjects with an internship:
Didactic Programs in Dietetics (DPD) – This college/university education program offers coursework leading to a degree (undergraduate or graduate); after which you must complete an internship separately:
<!- mfunc feat_school ->
Dietetic Internship (DI) in Colorado
Under the CDR's rules, a Dietetic Internship (DI) must be fulfilled after completion of coursework in dietetics. These are usually 1200 hours in length and range from eight months to two years in duration. In Colorado, options for Dietetic Internships include:
Pass Dietetic Registration (CDR) Examination
The next challenge in your quest to become a Registered Dietitian in Colorado is to pass the CDR's Registered Dietitian exam. Your coursework and internship should render you well prepared to pass this exam, which must be taken within one year of completing your internship. Nevertheless, you may wish to review the Academy of Nutrition and Dietetics eatrightPREP for the RDN Exam Site. Also take a look at the Registration Examination for Dietitians Handbook for Candidates, which explains the application and examination process in detail.
The exam costs $200 and you must register and pay for it online via CDR's website. You will receive a confirmation email from Pearson VUE, the exam centers hosting the test, asking you to schedule your exam date and place. Colorado Pearson VUE exam centers include:
Westminster- 9101 Harlan St, Suite 220
Greenwood Village – 5660 Greenwood Plaza Blvd., Suite 510, The Triad
Colorado Springs – 1259 Lake Plaza Drive, Suite 245
The computerized, multiple-choice exam takes approximately three hours to complete. You must answer at least 125 questions (length of the exam varies, but usually runs between 125 and 145). Domains from which the test questions are derived include Nutrition Care for Individuals and Groups, Food and Nutrition Services, Foodservice Systems and Management of Food and Nutrition Programs and Services.
You will receive your score instantly as soon as you finish taking the CDR exam. You must receive a scaled score of 25 or better to pass. If you do not pass the exam on the first try, reschedule with the CDR to take it 45 days after the date of your first exam.
Find Employment as a RD in Colorado
Congratulations! You have completed the CDR's educational, experiential and examination requirements and are now a Registered Dietitian in Colorado! Career opportunities abound for well-educated, qualified Registered Dietitians in Colorado. Depending upon any specialty certifications you might receive, you may qualify for even more jobs in the dietary and nutrition field in Colorado.
Colorado Dietary and Nutrition Professional Organizations
Options for finding work as a Registered Dietitian in Colorado may be available through networking. You might want to consider joining one of the following organizations:
Colorado Academy of Nutrition and Dietetics
Denver Dietetic Association
Dairy MAX
American Heart Association
Denver Dietetic Association Speakers Bureau
Share Our Strength Cooking Matters Colorado
LiveWell Colorado
Colorado Breastfeeding Coalition
Colorado Center for Nutrition Advocacy
Colorado Action for Health Kids State Team
Colorado School Nutrition Association
Colorado Public Health Association
Colorado Chapter of the Association of Nutrition & Foodservice Professionals
Colorado Job Sites for Registered Dietitians
Career options for Colorado Registered Dietitians may be available through a variety of potential job sites. They include (but are not limited to):
Schools (elementary, secondary and post-secondary)
Hospitals and health care facilities
Long term care facilities
Home health care agencies
Lactation health care agencies
Corporations
CDR Registration and Apply for Specialty Cert.
Maintaining your CDR Registration as a Registered Dietitian in Colorado
Although Colorado does not require a license for dietitians working in the state, you must maintain your registration as a Registered Dietitian through the CDR. Every five years, you must renew this registration and during each five-year period, complete 75 continuing professional education units (CPEUs). Use the CDR's PDP Guide to learn how to document these units and what qualifies as acceptable CPE.
Specialty Dietary and Nutrition Certification Options for Colorado Dietitians
Some Registered Dietitians in Colorado pursue specialty certifications. These certifications can benefit you in two ways. First, it can enhance your resume and make you more attractive to potential employers. Secondly, some certifications satisfy all or part of the CDR's CPEU requirements for a five-year registration period. Certification options in Colorado include (but are not limited to):
CDR's Certificate of Training in Childhood and Adolescent Weight Management

Open to RDs who work with children and adolescents
Provides 35 CPE hours
Training takes place in New Orleans, Louisiana

National Certification Board for Diabetes Educators (NCBDE)'s Certified Diabetes Educator (CDE)

Provides 75 CPEUs
Exam is given at PSI Assessment Centers in Colorado Springs, Durango, Englewood, Fort Collins, Grand Junction, Pueblo, and Wheat River

Lifestyle Eating and Performance's Certified Leap Therapist (CLT)

Provides CPEUs eligible for CDR credit
Webinars online

CDR's Board Certified Specialist in Gerontological Nutrition (CSG)

Provides 75 CPEUs
Tests are given in Colorado Springs, Denver, Durango, Fort Collins, Grand Junction, Pueblo and Wheat Ridge

National Board of Nutrition Support Certifications' Certified Nutrition Support Clinician (CNSC)

Provides 75 CPEUs
Exams are given at PSI Test Centers in Colorado Springs and Grand Junction