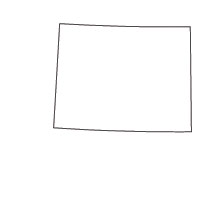 Nutritionists in remain key players propelling the preventative care movement in Wyoming. By educating, counseling and assessing the public, nutritionists can help to prevent the prevalence of obesity, a condition often linked to life-threatening cases of stroke, diabetes, and coronary heart disease in the state. According to the National Center for Chronic Disease Prevention and Health Promotion, health care professionals like nutritionists can help change these current health trends plaguing the Wyoming community:
Only 30.3% of adults consume two or more servings of fruit daily
Only 26.9% of adults consume three or more servings of vegetables daily
62.9% of adults are considered overweight while 25.1% of adults are considered obese
Certification and Licensing Requirements
Some nutritionists are drawn to jobs in Wyoming because they may operate free of regulatory intervention by the state government. As a result, nutritionists are not currently required to obtain a specific level of education, training or experience prior to practicing here nor do they require certification or licensure. However, since the dietitian profession is protected by the state, nutritionists cannot claim to be a dietitian or imply they are practicing dietetics.
Nutrition Degree Programs in Wyoming
Because there are no certification or licensure standards for nutritionists in Wyoming, potential clients are often cautious when selecting a nutrition care provider in this state. Earning a higher education degree from an accredited program in nutrition is possibly the most nationally recognized way that a nutritionist can establish proficiency in the field of nutrition.
The United States Bureau of Labor Statistics reports the educational degree distribution among nutritionists and dietitians between the ages of 25 and 44 are as follows:
Associate Degree—3.8%
Bachelor Degree—40.1%
Master Degree—27.6%
Doctoral/Professional Degree—7.3%
Students looking to enroll in a nutrition degree program in Wyoming will find options provided by colleges and universities in Laramie and Casper. Due to the relative scarcity of degree options in this state, students are encouraged to consider pursuing degrees from accredited online schools as they may provide greater program diversity. By participating in formal education, students can expect coursework in nutrition-related subjects such as: food microbiology, principles of nutrition, scientific study of food, sports nutrition, disease prevention, metabolism, and food product development. Examples of nutrition degree programs in Wyoming include:
Associate of Science in Nutrition
Bachelor of Science in Family and Consumer Sciences: Human Nutrition and Food
Bachelor of Science in Family and Consumer Sciences: Human Nutrition and Food—Pre-Medicine Career Track
Master of Science in Family and Consumer Sciences: Human Nutrition and Food
<!- mfunc feat_school ->
The following bachelors and Master's programs offer career-focused instruction delivered by trained nutritionists with experience in the field. Find out more what each individual course of study offers through the locations below.
Sponsored School(s)
Featured Nutritionist Programs
<!- /mfunc feat_school ->
Employment and Salary Statistics
Typical places of employment for nutritionists include child-care facilities, hospitals, medical centers, and local school systems. Local employers that recently announced job opportunities for nutritionists and dietitians include the University of Wyoming in Laramie and the Wyoming Behavioral Institute in Casper.
According to the Bureau of Labor Statistics, nutritionists in Wyoming earned an average salary of $66,550 as of May 2021. In the ten-year period leading up to 2028, the BLS projects that jobs among the state's nutritionists will increase by 25% – that's more than double the projected national growth rate of 11% for this profession through 2030.*
Professional Associations in Wyoming
Wyoming Academy of Nutrition and Dietetics
Wyoming Center for Nutrition Advocacy
Wyoming School Nutrition Association
---
Health Coach in Wyoming
Wyoming's health coaches are finding plenty of opportunities to bring a holistic approach to health and wellness by teaching and encouraging proper nutrition and exercise in an attempt to reach entire families – starting with the kids.
Lincoln County School District #2 in Afton, Wyoming prioritizes nutrition and fitness in the lives of their students. The schools provide district-sponsored nutrition services and encourage at least 60 minutes of physical activity a day, along with food and beverage alternatives that cultivate healthier eating habits. This school district makes nutrition education fun by providing computer games for students to learn fun facts about nutrition and exercise. These innovative approaches to health encourage awareness in a generation that often lacks daily physical activity and healthy eating habits.
Beyond the fun computer games and comic books geared toward students learning about nutrition and fitness, health coaches are also working closely with staff by providing teachers with innovative resources that would allow them to better incorporate health and nutritional education in the classroom. Some of these resources include curriculum on "50 mind and body activities for an elementary classroom," lesson plans from the founder of SuperKids Nutrition and a variety of games and worksheets for first grade through eighth grade. 
Lincoln County School District's nutrition services department is committed to educating and spreading awareness on the basics of nutrition and physical activity, and they're relying on health coaches to help make it happen. They emphasize how simple it can be to incorporate physical activity and health eating into a daily routine with a little bit of knowledge and discipline.
Wyoming's public health professionals and school administrators agree: even if students are not actively pursuing healthy habits on their own, with the help of health coaches working through the school system they're at least learning about the components of healthy living.
Becoming a Health Coach in Wyoming: Earning a Relevant Degree and Professional Certification
Among the many benefits of pursuing a career in health coaching is that you have quite a bit of freedom when it comes to choosing a degree and professional certification. Whether you hope to be an independent coach or hold a position with a hospital, school district, public health organization, or even in a corporate wellness program, you can craft your academic experiences and hands-on training accordingly. Considering the diverse aspects of health coaching, you can explore your interests in different areas – from nutrition and dietetics to exercise science. As you find your passions and interests within the field, you can begin exploring job opportunities that best match your skill set and specialty. Several suitable degrees and standard certifications for employment are listed below.
 
Degree Options
An associate's degree is sufficient for an entry-level health coaching position if you hope to get in the field quickly, however, most health coaching positions will require you to complete a bachelor's degree. You might consider majoring in one of these diverse areas:
 
Nutrition and Dietetics
Health Education
Health and Wellness
Nursing
Counseling
If you are looking to make a career change and already hold a bachelor's degree in an unrelated area, pursuing a master's degree would build your credentials significantly as a health coach. You might consider a master's degree from the following list or a closely related program:
Master of Science in Nutrition
Master of Science in Kinesiology and Health
Master of Science in Dietetics
Master of Science in Health Education
Master of Science in Health and Exercise Science
 
Professional Certification
Whether you plan to become an independent health coach or plan to land a job with an established healthcare organization, school, public health department or corporate employer, you would most often be expected to hold some form of professional certification in addition to your degree. Depending upon your position or employer, the required certification may vary.
Try not to be too overwhelmed by the huge variety of certification options available to you. Most employers will provide you with the time and resources to complete certification within a certain time frame after you have been hired. Certification is often necessary, and with online options available it is also quite attainable.
 
Just one example is the health coach certification available through the American Council on Exercise (ACE), which offers the only health coach-specific certification program that is accredited by the National Commission of Certifying Agencies (NCCA). You can utilize the "standard" or "premium" packages for your personal study and preparation for certification through ACE. You are required to renew your ACE certification every 2 years by completing continuing education that is approved by ACE. The online ACE Certification Candidate Handbook provides thorough details about the certification process.
Health Coaching in Wyoming: Career Paths and Job Opportunities
The job descriptions for health coaches in Wyoming vary considerably from one employer to the next. You might even consider establishing an independent practice of your own in an attempt to establish a larger network of independent health coaches in the state.
 
The following job vacancy announcements represent the types of employment opportunities available to properly credentialed health coaches in Wyoming. These job vacancy announcements are shown for illustrative purposes only and are not meant to represent job offers or provide an assurance of employment.
 
Health Coach for UnitedHealth Group – Cheyenne, WY
You will be responsible for producing individual wellness plans for UnitedHealth Group members and provide online and telephonic support as clients establish health and wellness goals for themselves.
 
Requirements:
Bachelor's degree in nutrition, nursing, health education, exercise physiology, or a closely related field required.
At least 2 years of experience in coaching or direct education with individuals for health promotion, behavior change, or disease prevention
At least intermediate level proficiency in PC-based database documentation and word processing
Basic understanding of disease prevention, nutrition and weight management, and health promotion

Nutritional Health Coach (NHC) for Natural Grocers – Cheyenne, WY
You will provide nutrition education to customers and employers as well as emphasize retail operations. The NHC serves as the professional resource for nutrition education promoting a preventive and informative vision for healthcare.
 
Requirements:
Degree/certification in dietetics, nutrition, naturopathy, biology, biochemistry or another closely related health field from a nationally accredited university or agency required
Proof of education must be submitted upon hiring as well as a willingness to complete continuing education if required through the tenure of employment
Proof of degree/certification must be submitted as necessary
Must be able to obtain and maintain liability insurance
 
Local Resources for Wyoming's Health Coaches
Wyoming Department of Health
Casper-Natrona County Healthy Department
Wyoming Health Council
Wyoming Environmental Health Association
*2021 US Bureau of Labor Statistics salary figures for dietitians and nutritionists. Job growth projections from the US Department of Labor-sponsored resource, Projections Central. Figures are based on state data, not school-specific information. Conditions in your area may vary. Data accessed April 2022.