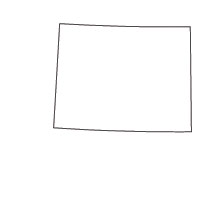 View how to become a nutritionist in Wyoming here.
Follow the step by step process or choose what situation that best describes you:
Nutrition Jobs Information in Wyoming
According to the Commission on Dietetic Registration, there were 181 Registered Dietitians (RDs) and Registered Dietitian Nutritionists (RDNs) in Wyoming as of April 2022. According to the Bureau of Labor Statistics, nutritionists and dietitians in the state earned an average salary of $66,550 as of May 2021. Early career professionals earned about $44,710 during this time, while the most experienced pros in the field earned about $127,470.
Wyoming's western nonmetropolitan region ranks first in the nation among nonmetro areas for its average pay of dietitians and nutritionists, which was a $84,370 as of May 2021.*
Wyoming's dietitians are regulated by the Wyoming Dietetics Licensing Board. They define dietetics as "the integration and application of principles derived from the sciences of food, nutrition, management, communication, and biological, physiological, behavioral, and social sciences to achieve and maintain optimal human health." Under their definition, they make it clear that the term "dietetics" does include medical nutrition therapy and the nutrition care process. However, under this definition, "dietetics" does not include any type of medical differential diagnosis of an individual's health status.
Those who want to pursue a license to practice as a registered dietitian in Wyoming must complete the following steps.
RD Education Program in Wyoming
To become a licensed dietician in Wyoming, you must first obtain an education from an accredited college or university. Wyoming law states that all individuals must possess a baccalaureate or post baccalaureate degree from a program that has been accredited by ACEND, the Accreditation Council for Education in Nutrition and Dietetics of the Academy of Nutrition and Dietetics.
ACEND-Accredited Programs Leading to a Licensure as a Registered Dietician in Wyoming:
Wyoming offers one didactic program in dietetics (DPD), which is a program that that offers a course of study that leads to either an undergraduate or graduate degree. Upon completion of a DPD program, students must apply for a dietetic internship.
You need not attend an ACEND-accredited program in Wyoming, however. Your approved educational program may originate from anywhere in the United States, even online. To find other ACEND-accredited Cis and DPDs across the country, search ACEND's database. Online/distance DPD programs include:
<!- mfunc feat_school ->
The following bachelors and Master's programs offer career-focused instruction delivered by trained nutritionists with experience in the field. Find out more what each individual course of study offers through the locations below.
Sponsored School(s)
Featured Nutritionist Programs
<!- /mfunc feat_school ->
Apply to a Dietetic Internship in Wyoming
Provided you meet the academic requirements set forth by ACEND, you are eligible to pursue a post-graduate competitive dietetic internship (DI) as to prepare to take the examination for registered dieticians. All dietetic internship programs approved by ACEND provide at least 1,200 hours of supervised practice over a period from eight months to two years. Although there are no DI programs in Wyoming, there are a number of options in neighboring states:
Colorado Dietetic Internships:
Idaho Dietetic Internships:
Idaho State University, Pocatello

16 months, full-time, degree program
Master of Science in Nutrition issued at end of program
Emphasis on Community
Offered at Pocatello/Twin Falls and Meridian campuses
Montana Dietetic Internships:
Montana State University, Bozeman

40-week, full-time non-degree program
Emphasis on sustainable food systems
Rotations include clinical dietetics/nutrition, community nutrition, foodservice management, sustainable food systems
Pass the (CDR) Exam in Wyoming
Upon successfully completing your dietetic internship program, you are eligible to take the Commission on Dietetic Registration (CDR) Examination. You will receive email correspondence notifying you of your CDR authorization to test. You must register, pay the application fee of $200, and take the exam within one year of completing your DI program.
When they receive your application and application fee, Pearson VUE Exams will notify you, via email, that you now must schedule the date and time of your examination. There are over 250 testing sites nationwide to take the CDR Examination. Within Wyoming, there is one site in Casper. Nearby sites include Ogden, Utah; Greenwood Village, Colorado; Westminster, Colorado; and Billings, Montana. 
You can prepare for the CDR examination by reading the Comprehensive Study Outline and Study Guide and the Registration Examination for Dietitians Handbook for Candidates.
On the date of examination, you must bring your confirmation email from Pearson VUE Exams, along with your photo identification.
The CDR examination includes, at a minimum, 125 questions, 100 of which are scored at 25 pretest questions that must be completed for the examination to be scored.
You will be given approximately 3 hours to complete the examination, and all students are permitted to familiarize themselves with the computer by taking a tutorial before the examination begins. You are permitted to use a simple calculator during the exam, which is provided for you.
You must answer each question of the exam before moving onto the next question, and you are not permitted to review or change any question or response once you move on.
You will receive your report score before leaving the test center, which includes your scaled score and the scaled score required to pass the examination.
If you fail the exam, you are permitted to retest 45 days after taking the examination. You must contact the Commission on Dietetic Registration to reauthorize to test again by email at cdrexams@eatright.org, or by telephone at (312) 899-4859. There is no limit to the number of times you can retake the examination, although it is important to contact your state board for specific requirements for retesting.
Licensure as an RD in Wyoming
After passing the CDR exam, you are eligible to become licensed as a registered dietician in Wyoming. To apply for state licensure,  begin by downloading the Wyoming Dietetics Licensing Board's Application for Licensure packet. Along with a completed application, you must submit:
$200 application fee (cashier's check or money order payable to the State of Wyoming
Have the CDR send the Board verification of your credential directly (via email at jason.brock1@wyo.gov, fax to (307) 777-3508, or mail to the address below)
Proof of U.S. citizenship by providing a copy of your birth certificate, social security card, or passport.
Complete the application in its entirety and include copies of all requested legal documents. Print the form, and sign and date the application (preferably with blue ink). Mail everything to:
Wyoming Dietetics Licensing Board
2001 Central Ave, Room 105
Cheyenne WY 82002
The Board will send you a confirmation email when your application is received. Most applications are reviewed within two to five business days. When you application is approved, you will receive a wall certificate, pocket identification card, and receipt from the Board.
Maintain License and Apply for Additional Certs
Renewing and Maintaining your Wyoming License
Your Wyoming license is valid for two years, and all license renewal applications must be received by the Board no later than 15 days before your license expiration date. At this time, you must pay the renewal fee, complete the application for renewal, and provide proof of your continuing professional education (CPE) requirements. Renewal forms are posted here.  You will receive a renewal notice about 90 days prior to your renewal date.
You must earn at least 30 contact hours of CPE during each renewal period. A contact hour must include no less than 50 minutes of instruction or presentation. For academic courses, one semester credit equals 15 contact hours, and one quarter hour equals 10 contact hours.
You may seek guidance on professional development by referring to the CDR's Professional Development Portfolio Guide.
Renewing and Maintaining Your CDR Registration in Wyoming
Your registration as a Registered Dietitian with the Commission on Dietetic Registration (CDR) revews every five years.  Use the CDR's PDP Guide  to assist you in choosing appropriate continuing professional education, as it is your responsibility to complete 75 continuing professional education units (CPEUs) every five years. CDR's online CPE database can help you to find approved CPE activities in Wyoming. Examples of currently posted CPE opportunities in Wyoming include:
American Association of Diabetes Educators – Modules (1.0 CPEU each):

Module 1- Diabetes Basics
Module 2- The Role of Hypertension in Diabetes
Module 3 – Medication for Treating Diabetes
Module 4 – Basic Nutrition for Diabetes & HTN
Module 5 – Leading Edge Nutrition for Diabetes and Hypertension
Module 6- Understanding the Value of DSMES and DPP

Tailored Nutrition, LLC (8.0 CPEUs):

Blood Pressure Control – A Map to Medication Freedom
*2021 US Bureau of Labor Statistics salary figures and job growth projections for dietitians and nutritionists reflect state data not school-specific information. Conditions in your area may vary. Salary statistics representing entry-level/early career = 25th percentile; senior-level/highly experienced = 90th percentile. Data accessed April 2022.