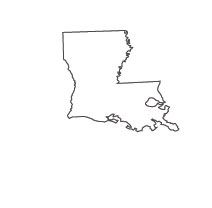 Louisiana is a great place to be a nutritionist. The Pelican State is one of the U.S. states that require nutritionists to be licensed. In fact, in Louisiana, the licensure requirements for registered dietitians and licensed nutritionists are the same, meaning that a licensed nutritionist is also a licensed dietitian and has greater responsibilities. This not only gives the profession greater prestige and credibility but also helps to ensure government and private insurance payments for services rendered. Unlicensed nutritionists are unlikely to receive any government or private insurance reimbursements for personal counseling.
Nutritionists in Louisiana are sorely needed, as the population of the state tries to increase its levels of health and well-being. Nearly one out of four adults in Louisiana are considered to be obese. Louisiana ranks among the top ten states in the country in terms of percentage of adult and childhood obesity. As of 2020, 35.9 percent of Louisiana's population is obese. Nutritionists in this state are definitely challenged with helping to turn this unhealthy trend around.
Nutritionist Degree Certification and Licensing in Louisiana
The Louisiana Board of Examiners in Dietetics and Nutrition is the regulating agency for nutritionists who wish to practice in Louisiana. The Louisiana Dietetics and Nutrition Act is the statute that the board follows in carrying out its duties. Two types of licensure are available for nutritionists:
Licensed Dietitian-Nutritionist (LDN)
Provisional Licensed Dietitian/Nutritionist (Provisional LDN)
<!- mfunc feat_school ->
The following bachelors and Master's programs offer career-focused instruction delivered by trained nutritionists with experience in the field. Find out more what each individual course of study offers through the locations below.
Sponsored School(s)
Featured Nutritionist Programs
<!- /mfunc feat_school ->
Licensed Dietitian-Nutritionist.
In order to become a LDN in Louisiana, you must meet the following requirements:
Complete 900 hours of supervised professional work experience under the supervision of a registered dietitian or of a licensed dietitian-nutritionist. The Board has designated the supervised practice program (known as a Dietetic Internship, or DI) of the Accreditation Council for Education in Nutrition and Dietetics (ACEND) as the board-approved work experience program. In Louisiana, the following choices are available for Dis for aspiring LDNs:
Pass the Commission on Dietetic Registration (CDR)'s Examination for Registered Dietitian Nutritionists (RDNs). This is the Board-approved exam for licensure as a Licensed Dietitian-Nutritionist (LDN) in Louisiana. Please visit How to Become a Registered Dietitian in Louisiana for more information on the CDR exam.
Provisional Licensed Dietitian Nutritionist (Provisional LDN)
You may apply for a provisional LDN if you have successfully completed all educational and work experience requirements for a LDN but have not yet taken and passed the CDR examination. Provisional licenses are renewable annually; however, they cannot be extended beyond a five-year period. While holding a provincial license you can only work under the direct supervision of an LDN and you cannot set up shop as a private practitioner. As soon as you pass the licensure exam you can apply for your LDN license.
Nutritionist Salary and Job Growth and Employment Projections in Louisiana
According to the Bureau of Labor Statistics, jobs for nutritionists in Louisiana will increase about 11% in the ten-year period leading up to 2028. Those working in the Shreveport and Baton Rouge metro areas earned average salaries of $61,290 and $60,720, respectively, as of May 2021.*
Nutritionist Job Description and Job Opportunities in Louisiana
Licensed dietitian nutritionists (LDNs) in Louisiana have the same job duties and responsibilities as registered dietitian nutritionists (RDNs) (also because they must fulfill the same requirements in order to become an RDN through the CDR). Duties will differ depending on job title, but may include:
Writing, adapting and modifying menus or diets to meet client needs
Developing and implementing specialized diet and nutrition plans for groups and individuals
Scheduling amounts of food and supplies necessary to be purchased
Determining specifications for food, supplies and equipment to meet the needs of an institution
Teaching nutrition classes to professionals and to the community
Examples of recent job titles in Louisiana for which LDNs would qualify include:
Dietitian – Department of Defense, Leesville
Public Health Nutritionist III – Mission Orleans Healthcare, New Orleans
Research Dietitian – Louisiana State University, Baton Rouge
Clinical Dietitian – Healthcare Services Group, Lafayette
Registered Dietitian, Clinical Nutrition – North Oaks Health System, Hammond
Registered Dietitian, Clinical Sales Liaison – CVS Health, New Orleans
Professional Associations and Organizations for Nutritionists in Louisiana
Some professional organizations and associations that you might want to join as a LDN in Louisiana are:
Louisiana Academy of Nutrition and Dietetics
Louisiana Dietetic Association
Baton Rouge Academy of Nutrition & Dietetics
School Nutrition Association of Louisiana
Louisiana Believes
Louisiana Fit Kids
---
Health Coach in Louisiana
Three out of ten adults in Louisiana report that they get little to no physical exercise (CDC, 2014), giving the state the dubious distinction of having the third highest rate of physical inactivity in the nation. The state also holds the fourth place slot in terms of the adult obesity rate (at 34.9 percent). It is clear that there is a real health crisis in the state, and that health coaches are needed more than ever to step in to help Louisianans learn to live healthier lives and turn these numbers around.
Because much of Louisiana's population is rural and notoriously medically underserved, many Louisianans have trouble accessing health care. In fact, there were 118 areas designated as Health Professional Shortage Areas (HPSA) across Louisiana as of 2014. It stands to reason that these areas would house some of the most obese, physically inactive residents of the state, and that health coaches would be highly valuable here. The state and federal government are working to try to reach out to poorer, rural residents, marshalling the help of qualified health coaches to do so.
In 2015, Louisiana State University's AgCenter received a two-year, $1.25 million federal grant for a project designed to reduce obesity and chronic diseases in the rural parishes of Tensas, St. Helena and Madison. These three parishes have some of the state's highest rates of both obesity and poverty. The project is working to improve access to healthy recreation and nutritious foods, as well as to educate them about healthy behavior. Health coaches are expected to be in high demand within these three parishes.
Professional Certification to Become a Health Coach By Earning the Right Degree
Health coaching is a largely unregulated profession, meaning no licensing or certification requirements are in place in the state. However, holding a degree and/or professional certification or registration is often necessary to obtain an entry-level health coaching position.
While your degree may be in any number of health-related fields, some employers prefer candidates who have majored in a particular area. Other employers may be looking for candidates who are registered nurses, registered dietitians, or those certified in exercise science or physiology.
Degree Options
Entry-level health coaching jobs may call for an associate's degree or career certificate in areas like:
General Studies (Allied Health concentration)
Instructional Coaching
Health and Wellness Promotion
Wellness Coaching Certificate
Most health coaching jobs, however, require a bachelor's degree at minimum. Majoring in one of these areas should help you to get your foot in the door:
Health Promotion and Wellness
Kinesiology with a Health Promotion and Wellness concentration
Health Studies
Health Coaching
Do you already have a bachelor's degree in a non-health related area, but want to break into the field of health coaching? Consider something similar to one of these specialized graduate certificates or master's degrees:
Graduate Certificate in Health Coaching
Master of Science in Exercise Science and Health Promotion
Master of Science in Health Science
Master of Arts in Health & Wellness Coaching
Professional Certification and Registration
Employers often require you to obtain professional certification as a health coach or exercise physiologist either before or after being hired. Some may require you to be a state-registered dietician, which is a state-mandated legal requirement when offering dietetic services and shouldn't be confused with professional certification.
Specific health coaching certifications also exist, and are valued by some employers:
Duke Integrative Medicine – This health coaching certification provides a foundation course, only available on-campus in North Carolina, as well as an online/teleconferencing course that results in a Certificate of Completion as a Certified Integrative Health Coach. You must have a bachelor's degree in a related field to apply for either of the courses. Once the certificate is earned, you will be listed on Duke's website database under Find a Certified Integrative Health Coach. You must maintain professional insurance to maintain this certification
Wellcoaches School of Coaching– This organization's Core Health Coach Training Program lasts 18 weeks and leads to Health and Wellness Coach certification. After that, you may enroll in the ten-month long Wellcoaches Professional Health Coach training program. Training is mainly completed online, but you must also attend live workshops. To enroll, you must have a bachelor's degree in a related health field. To maintain your certification, you must recertify every three years and complete 30 hours of continuing education and 45 hours of client coaching.
Health Coaching in Louisiana: Career Paths and Job Opportunities
Health coach positions go by many different monikers in Louisiana. As you will notice below, some of them require specialized credentials in dietetics and nursing, while others allow you to break into the field with just a bachelor's degree. Whatever your specialty, you should be able to find a fulfilling health coaching job in Louisiana.
The following job vacancy announcements represent the types of employment opportunities available to properly credentialed health coaches in Louisiana. These job vacancy announcements are shown for illustrative purposes only and are not meant to represent job offers or provide an assurance of employment.
Health Coach Dietitian for Franciscan Health and Wellness – Monroe. LA
You will coach clients in the utilization of behavior modification tools to help them better manage their health. You will help clients plan and achieve their health goals.
Requirements:
Current Louisiana State License as a Dietitian/Nutritionist
Current Registered Dietitian registration through the Commission on Dietetic Registration
Two years of experience with adult and pediatric clients
Corporate Wellness Coordinator for Ochsner Health System – New Orleans, LA
You will conduct health promotion events including health screenings for employees at Corporate Wellness events. This position requires travel to Ochsner Health System facilities and partner facilities throughout the area.
Requirements:
Bachelor's degree in health education and promotion or a related field
Experience working with and maintaining confidential information
Experience working in a fast paced environment with little supervision
Readmissions Preventionist for Lafayette General Health- Lafayette, LA
You will work with clients during and after their hospital stays, to help them become accountable for their own health care needs. The goal is to promote a positive outcome in the clients and to prevent unnecessary hospital readmissions.
Requirements:
Current RN and licensed in state of Louisiana
Must obtain Health Coach Certification within two years of hire
Five years of clinical work experience
Corporate Health Coach for Catholic Health Initiatives Mercy Medical Center- Iowa, LA
You will work with corporate and community health and wellness clients to help them make positive behavioral changes in nutrition and physical activity. You will meet individually and by phone with clients to check in with them weekly or monthly. You will use the Academy of Nutrition and Dietetics and the American Council of Physical Fitness materials and techniques in your work with clients.
Requirements:
Bachelor's degree in nutrition and dietetics, exercise physiology, exercise or a related health field
Experience in client education
Must become certified in Basic Life Support for the Healthcare Provider by the end of a six-week orientation period
State and Local Health Resources in Louisiana
State of Louisiana Department of Health
Louisiana Health Connect
Metropolitan Human Services District
Louisiana Health Care Quality Forum
Jefferson Parish Human Services Authority
Louisiana Office of Public Health
New Orleans Health Department
*2021 US Bureau of Labor Statistics salary figures for dietitians and nutritionists. Job growth projections from the US Department of Labor-sponsored resource, Projections Central. Figures are based on state data, not school-specific information. Conditions in your area may vary. Data accessed April 2022.