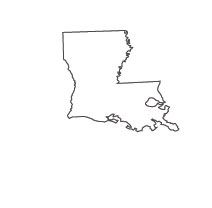 View how to become a nutritionist in Louisiana here.
Follow the step by step process or choose what situation that best describes you:
Nutrition Job Information in Louisiana
As of April 2022, the Commission on Dietetic Registration reported a total of 1,415 Registered Dietitians (RDs) and Registered Dietitian Nutritionists (RDNs) in Louisiana. As of May 2021, the Bureau of Labor Statistics reported that nutritionists and dietitians earned an average salary of $61,500. Early career professionals here earned about $49,550, while those with extensive experience earned about $77,960 during this time.
The New Orleans metro area reported a similar average salary of $61,470, while Baton Rouge reported an average salary of $60,720.*
The Louisiana Board of Examiners in Dietetics and Nutrition requires all who wish to work as a dietitian-nutritionists in the state to be licensed. All LDNs (Licensed Dietitian-Nutritionists) must complete registered dietitian education in Louisiana that is mandated by the Commission on Dietetic Registration (CDR). This ensures that you are well-prepared and well-rounded as a licensed dietitian-nutritionist (LDN) and registered dietitian (RD) in the state of Louisiana. According to the Louisiana Dietetic Association, LDNs in the state have found work in food companies, business, industry, wellness centers, private practice, research centers, hospitals, nursing homes, clinics and schools.
If you would like to join their ranks, you must complete the following steps.
Registered Dietitian Education in Louisiana
In the state of Louisiana, you cannot work as a dietitian until you have completed education, experience and examination required for registered dietitian nutritionists (RDN) mandated by the Commission on Dietetic Registration (CDR) and have applied for licensure as a dietitian-nutritionist (LDN) in Louisiana. You must complete an ACEND (Accreditation Council for Education in Nutrition and Dietetics) approved college educational program in dietetics. (Please note that, as of 2024, a master's degree will be required in order to sit for the CDR exam).

ACEND-Accredited Dietetic Programs in Louisiana
Coordinated Programs in Dietetics (CP)
Coordinated educational programs are all-inclusive programs in dietetics. They include all education and experience necessary to qualify to take the CDR's Registered Dietitian nationwide exam. As of January 2021, there are no CPs in Louisiana.
Didactic Programs in Dietetics (DPD)
Didactic programs in dietetics include just the educational coursework necessary to take the CDR exam for RDNs. After completing a DPD, you must still complete a DI (Dietetic Internship). The following DPDs exist in Louisiana:
Types of courses that are common to both CPs and DPDs include:
Biological sciences
Chemistry
General humanities
Human ecology
Mathematics
Accounting
Communication Studies
Experimental statistics
Psychology
Economics
Management and organization
Food and nutrition
Food science
Nutrition through the life cycle
Institutional planning and purchasing
Quantity food production
Community nutrition
Diversity in health beliefs and practices
Medical nutrition therapy
Research in dietetics
What If I Wish to Become a Dietetic Technician, Registered (DTR) in Louisiana?
Are you interested in the discipline of dietetics and nutrition but want a shorter educational program? You might want to consider studying to become a Dietetic Technician, Registered (DTR) in Louisiana instead. DTRs work under the supervision of a Registered Dietitian (RD) in the same type of job settings, but usually study for two instead of four years and have an internship of 450 hours as opposed to 900 hours. They must also pass the CDR's DTR nationwide exam. There are no DTR programs in Louisiana as of January 2021. There are some in neighboring states, however, such as:
There are also DTR distance education programs offered, such as:
Coursework in a DTR program includes classes such as:
English Composition
Algebra
Chemistry
Speech
Medical Terminology
General Psychology
Anatomy and Physiology
Introduction to Dietetics
Basic Nutrition
Introductory Foods
Institutional Foods
Nutrition in the Life Cycle
Nutrition in Disease
Computer Systems in Dietetics
Management Practice
Nutrition in Wellness
Practicum in Dietetic
Dietetics Seminar
<!- mfunc feat_school ->
The following bachelors and Master's programs offer career-focused instruction delivered by trained nutritionists with experience in the field. Find out more what each individual course of study offers through the locations below.
Sponsored School(s)
Featured Nutritionist Programs
<!- /mfunc feat_school ->
Dietetic Internship (DI) in Louisiana
You must then satisfy Louisiana's requirement of 900 hours of supervised experience in a dietetic internship (DI). ACEND requires a supervised internship to be 1200 hours, so you can easily fulfill this requirement by choosing one of the following ACEND-approved DI programs in Louisiana:
CDR Registration Examination for RDs in Louisiana
Your next step along the pathway to becoming a registered dietitian nutritionist in Louisiana is to pass the CDR's Registered Dietitian nationwide exam. It is a three-hour exam taken on the computer, consisting of up to 145 multiple-choice questions. You are required to answer at least 125 questions for the exam to be scored properly. In addition, answers cannot be changed once entered nor questions skipped. You will pay $200 to take the exam and register through the CDR's website. Pearson VUE Exam Centers in Louisiana administer the test:.
Baton Rouge – 5555 Hilton Ave, Suite 430, Corporate Atrium Building
Baton Rouge – 4000 S. Sherwood Forest Blvd., Suite 503
Metairie –2800 Veterans Blvd., Suite 256
New Orleans – 1615 Poydras Street, Suite 920, DXC Digital Transformation Center
Jackson – 1755 Lelia Drive, Suite 404
Make sure to review the Comprehensive Study Outline and Study Guide and the Registration Examination for Dietitians Handbook for Candidates in preparation to take the CDR exam.
You will receive your score upon completion of the exam. You must score at least 25 on a scale of 0 to 50 to pass the exam. If you fail the exam, you must contact CDR to reschedule, although you must re-register, pay the examination fee, and wait at least 45 days to do so.
Upon successfully completing the CDR, you will receive registration, thereby allowing you to practice as an RD and use the term RD (or RDN if you prefer, either term is acceptable – it's up to you which you want to use).
Apply for Licensure as a Dietitian in Louisiana
Before you may legally work as a dietitian in the state of Louisiana, you must apply for licensure to the Louisiana Board of Examiners in Dietetics and Nutrition. Apply online. You will be instructed to create an account with the Louisiana Board of Examiners in Dietetics and Nutrition. Pay all necessary fees and scan all required attachments.
Once issued, you may use the initials LDN (Licensed Dietitian/Nutritionist) in Louisiana only.
Licensing and Registration in Louisiana
Maintaining Your Louisiana Dietitian Licensing
Your Louisiana license as a dietitian/nutritionist (LDN) is renewable every year. You must renew online. You must also complete 15 hours of continuing education each year in dietetics and nutrition and submit this at the time of your license renewal. This may be satisfied by showing that you are still registered with the CDR as a Registered Dietitian (RD) and enclosing a current copy of your CDR card. Renewal fees range from $60 to 88, depending on when and how (online or via mail) you renew.
Maintain Your Registration as a RDN with the CDR
You must renew your registration with the CDR every five years, and complete 75 hours of continuing professional education (CPE) every five years. CPE activities must be approved in order to count for credit. Look at CDR's online CPE databaseand PDP Guide for guidance in finding and documenting CPE in Louisiana.
*2021 US Bureau of Labor Statistics salary figures and job growth projections for dietitians and nutritionists reflect state data not school-specific information. Conditions in your area may vary. Salary statistics representing entry-level/early career = 25th percentile; senior-level/highly experienced = 90th percentile. Data accessed April 2022.