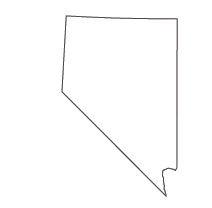 Although the terms "nutritionist" and "dietician" are frequently grouped together, they have legal distinctions in Nevada. Basically, dieticians are nutritionists that have obtained a professional license by the Nevada Division of Public and Behavioral Health.
Certification and Licensing Requirements in Nevada
Nutritionists are non-licensed health care providers that offer nutrition advise and knowledge to promote healthy lifestyle for employers and clients. Currently there are no legal certification, licensure or educational requirements needed to become a nutritionist in Nevada. As a result, individual employers often set education and experience requirements.
Nevada Nutritionist Degrees and Education
Students interested in becoming a nutritionist in Nevada are encouraged to earn a post-secondary degree from an accredited college or university. Nutritionists frequently earn degrees in nutrition, science, technology, engineering, and mathematics (STEM) disciplines or life science disciplines.
Ideally, however, students will complete a degree program with a specific concentration in nutrition. These programs are designed for students pursuing careers in nutrition and therefore provide internships, field experience, volunteer opportunities, job placement services, and supervised activities by professional nutritionists to help build strong educational foundations for success.
Examples of nutrition degree programs available in Nevada include:
Bachelor of Science in Nutrition Science
Bachelor of Science in Nutrition
Master of Science in Nutrition
<!- mfunc feat_school ->
The following bachelors and Master's programs offer career-focused instruction delivered by trained nutritionists with experience in the field. Find out more what each individual course of study offers through the locations below.
Sponsored School(s)
Featured Nutritionist Programs
<!- /mfunc feat_school ->
Employment Projections for Nutritionists
In the ten-year period leading up to 2028, the BLS projects the number of nutritionist jobs in the state to rise by 26% – that's nearly triple the projected national growth rate of 11% for this profession through 2030.*
Top Employers for Nutritionists in Nevada
As the general public continues to place greater emphasis on the role of nutrition in human health, nutritionists are craving out a wider niche in the workforce. Some of the biggest employers of nutritionist are local hospitals, nursing houses, and long-tern care facilities that cater to elderly and medical patients. The recent resurgence of a holistic care trend also opens up job opportunities in athletic clubs and wellness centers. School systems, government agencies and food service providers typically hire nutritionists as well. Examples of local employers include:
University Medical Center in Las Vegas
Sunrise Hospital and Medical Center
Department of Health and Human Services
VA Sierra Nevada Health Care System
Life Care Center of Reno
Nevada Nutritionist Salary
According to the Bureau of Labor Statistics, the average salary for nutritionists in Nevada was $63,860 as of May 2021.*
Professional Associations for Nutritionists in Nevada
Nutritionists often become members of a professional association to stay current with statewide and national occupational trends. In addition, professional associations provide recent news, professional networking opportunities, continuing education information, organized events announcements and training programs to nutritionists practicing in Nevada. Examples of these professional associations include:
Nevada Association of Nutrition and Foodservice Professionals
Nevada School Nutrition Association
Center for Nutrition Advocacy in Nevada
National Association of Nutrition Professionals
---
Health Coach in Nevada
According to Nevada Wellness, 26.2% of Nevadans are obese, and based on the current trend this is projected to increase to 49.6% by 2030 if things don't change – and fast.
Nevada Wellness is a nonprofit established with the goal of improving health policies and systems while encouraging state residents to make healthier lifestyle choices for themselves. Nevada's health coaches have been promoting Nevada Wellness as a resource for clients looking to achieve health and wellness goals through daily exercise, healthy eating habits and more.
Working with healthcare providers, schools, local health departments and major corporate employers, Nevada's health coaches are dedicated to making a real difference in combating the obesity issues arising in the state of Nevada.
A few of the most practical tools health coaches present to Nevada's most at-risk residents for improving health and longevity are introduced through workplace and school initiatives.
Corporations these days are all bout promoting physical fitness and healthy habits in the workplace. The benefits of fit, healthy, happy, energetic employees speak for themselves, with reduced occurrences of sick leave and improved productivity.
Health coaches working for some of Nevada's largest corporate employers are challenging office workers with simple yet effective ways to incorporate physical activity in their daily lives – even while at work!
Education Programs and Certificates
There are many different aspects of health coaching – fitness, nutrition, counseling, disease prevention, mental health and more. With so many diverse elements coming together in a single profession, you have the opportunity to prepare for a career in health coaching by pursuing an education in virtually any area that deals with health and wellness – from psychology to exercise science. This means pursuing an area of study that is geared to your personal interests and skill set.
Here you'll find just a few examples of the many suitable degree options and professional certification employers often look for.
 
Education Options
Perhaps you are still in the process of deciding which facet of health coaching you are most interested in. If you would like to explore health coaching with an entry-level position, an undergraduate certificate, career diploma or associate's degree will suffice.
For a career in this field, a bachelor's degree serves as the more widely accepted standard requirement for a health coach position.
A graduate level education provides many more opportunities for advanced leadership positions and career advancement. If you already hold a bachelor's degree in an unrelated area and are ready to make a fresh start with a new career, then a graduate certificate or mater's degree would be the right choice.
Regardless of the degree level you choose, you would have the freedom to select from the following list of majors or a program in a closely related field:
 
Sports Medicine
Exercise Science
Nutrition and Dietetics
Food Science and Nutrition
Integrative Health
Athletic Training/Trainer
Health & Wellness
Physical Education
Kinesiology
Professional Certification
Health coach certification is often vital to a successful career in this field. Certification serves as a field-specific credential that shows prospective employers and clients that you are an authority in the field of health coaching. Since there are so many certification options available for health coaching, you might find selecting the right option a bit daunting. The good news is that the company you end up working for often determines the most appropriate certification for your position. In some cases, you may have to complete more than one certification examination but many employers will foot the cost and give you time become certified after you have been hired.
American Council on Exercise (ACE) is currently the only certifying agency that offers a health coach credential that is accredited by the National Commission for Certifying Agencies (NCCA). Health coach certification through ACE must be renewed every 2 years by completing continuing education approved by ACE. The ACE Certification Candidate Handbook provides extensive preparatory details about the maintenance process and certification examination.
 
Health Coaching in Nevada: Career Paths and Job Opportunities
You'll find there is no shortage of job opportunities seeking a career in health coaching in Nevada. Although requirements and job descriptions for these positions vary, they all involve working to help clients achieve similar goals: health and lifestyle improvements through behavioral changes.
With so much variety, you are sure to find a position that fits your training, skills, and interests..
 
The following job vacancy announcements represent the types of employment opportunities available to properly credentialed health coaches in Nevada. These job vacancy announcements are shown for illustrative purposes only and are not meant to represent job offers or provide an assurance of employment.
 
Health Coach for Check-Ups Program – Las Vegas, NV
You will be responsible for assisting men and women in setting and achieving health improvement goals related to disease prevention.
 
Requirements:
Bachelor of Science degree in health or another closely related field preferred
At least 3 years of experience in health and wellness
Experience with performing and reading biometric screenings in a corporate setting
Capable of conducting blood tests obtained through the capillary (FingerStick – cholesterol machine)
Basic understanding of health and wellness
Ability to identify health blood pressure, cholesterol, weight, and glucose
Commitment to providing quality customer service
Communication and interpersonal skills
Health Coach for Real Appeal Inc. – Las Vegas, NV
You will work directly with the Real Appeal team to assist members and clients work to improve their overall health. This will involve facilitating one-on-one sessions with members as they work through the program.  
 
Requirements:
Bachelor of Science in a health related major or another closely related field
At least 1 year of personal training, coaching, wellness or health care experience
Fitness, health, or coaching certification or licensing
Additional Resources for Health Coaches in Nevada
Nevada Department of Health and Human Services
Washoe County Health District
My Nevada County – Public Health
Food Assistance – Department of Health and Human Services
Southern Nevada Health District
Nevada Care Connection
Nevada Wellness
*2021 US Bureau of Labor Statistics salary figures for dietitians and nutritionists. Job growth projections from the US Department of Labor-sponsored resource, Projections Central. Figures are based on state data, not school-specific information. Conditions in your area may vary. Data accessed April 2022.