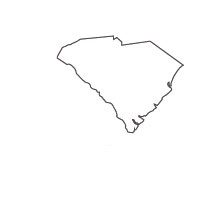 Becoming a Nutritionist in South Carolina
In September 2012, the United States Center for Disease Control and Prevention released a report documenting South Carolina's nutrition, physical activity, and obesity profile. The reported revealed that among the state's adult population, 66.9% were overweight and 31.5% were obese. These conditions are often linked to diets lacking nutritional content. By helping state residents develop healthier lifestyle changes, nutritionists continue to combat the prevalence of destructive weight conditions in South Carolina.
One of the reasons that nutritionists are inclined to practice in South Carolina is due the state's lack of regulatory restrictions. Nutritionists are not bound by any licensing, education or training mandates. However, nutritionists are legally prevented from using the professional titles of "dietician" or "licensed dietician" as all dieticians are required to obtain licensure to practice here.
Nutrition Education and Degrees in South Carolina
Although there are no educational requirements for nutritionists in South Carolina, these professional often earn at least a field-related bachelor's degree to show occupational prowess and credibility. Undergraduate and graduate degree earners are also better equipped to contend in today's competitive job market. According to the South Carolina Department of Employment and Workforce, candidates looking for dietician and nutritionists jobs in 2014 had the following levels of education:
High school diploma—25.93%
Bachelor's degree—40.74%
Master's degree—18.52%
Students searching for nutrition degree programs in South Carolina should locate one that is accredited by an agency like the Accreditation Council for Education in Nutrition and Dietetics (ACEND). Upon enrolling in a nutrition program, students can expect courses to cover topics in child nutrition, education research, community nutrition, data analysis, and food management. Examples of popular nutrition degree programs in South Carolina include:
Bachelor of Science in Nutrition and Food Management
Bachelor of Science in Human Nutrition
Master of Science in Nutritional Sciences: Nutritional Health Care
Master of Science in Nutritional Sciences: Food and Nutrition
Master of Science in Human Nutrition
<!- mfunc feat_school ->
The following bachelors and Master's programs offer career-focused instruction delivered by trained nutritionists with experience in the field. Find out more what each individual course of study offers through the locations below.
Sponsored School(s)
Featured Nutritionist Programs
<!- /mfunc feat_school -> <!- mfunc search_btn -> <!- /mfunc search_btn ->
South Carolina Nutritionist Salary and Employment
According to the Bureau of Labor Statistics, nutritionists in South Carolina earned an average salary of $54,820 as of May 2021. In the ten-year period leading up to 2028, the BLS projects that jobs among South Carolina's nutritionists will increase by 10%. The state should see about 80 annual job openings for nutritionists during this ten-year period due to a blend of new job growth, retirements, and natural job turnover.*
Examples of local employers that hire nutritionists in South Carolina:
Fresenius Medical Care Holdings, Inc.
Compass Group North America
Georgetown Healthcare and Rehab
Clemson University
Morrison Management Specialists
HCR ManorCare
Nutritionist Associations in South Carolina
A great way for nutritionists to get more involved in the nutrition community is by becoming an active member in a professional association dedicated to nutrition. These organizations are information hubs designed to help nutritionists forge business connections, receive occupational news updates, learn about certification options, attend industry events, participate in training programs, and obtain job placements. Professional associations for nutritionists in South Carolina:
South Carolina Academy of Nutrition and Dietetics
American Society for Nutrition
South Carolina Dietetic Association
National Association of Nutrition Professionals
South Carolina Association of Nutrition and Foodservice Professionals
American Nutrition Association
South Carolina School Nutrition Association
---
Health Coach in South Carolina
In 2014, state leaders made history when they unveiled South Carolina's first-ever statewide obesity action plan. This came in response to SC's ranking as the seventh-most obese state in the nation. Health coaches are an important part of implementing this plan. They work on the front lines to encourage nutritious eating habits, regular exercise, and healthy lifestyle habits. As the main sponsor of this action plan, the Department of Health and Environmental Control identified four key areas where health coaches can make a difference in the fight against obesity: in communities, in the workplace, in health care, and in schools.
Two years later in 2016, health coaches have helped to bring South Carolina's obesity levels down to the point where we are now. Still, we find ourselves in the unenviable position of being the 10th-most obese state in the nation. As any health coach will tell you, losing weight is a slow process that happens over years and takes continuing perseverance. And obesity isn't the only thing that needs to improve. According to the Trust for America's Health, South Carolina still faces many other challenges:
It has the seventh-highest percentage of people diagnosed with diabetes – 12 percent in 2014
It has the eighth-highest percentage of people with hypertension – 38.4 percent in 2013
It has the eighth-highest percentage of people who smoke tobacco – 21.5 percent in 2014
It has the seventh-lowest percentage of people who consume their daily recommended amount of vegetables – 6.8 percent in 2013
A look at these statistics tells you there is plenty of demand – and need – for health coaches throughout the state.
Relevant Degree and Professional Certification Programs for South Carolina's Health Coaches
There is no standardized set of qualifications you must meet to become a health coach so there are many different majors you can choose from. As you talk with employers and potential clients you will find a general preference or requirement for a relevant college degree, professional certification, or both. It's also important to consider these qualifications as you look towards your long-term career goals.
Studying for a degree or professional certification as a health coach entails covering topics like these:
Alternative and complimentary approaches to healthcare
Individual and group coaching techniques
Health communication and promotion
Nutrition for health professionals
Mindfulness meditation and yoga
Obesity and weight management
Exercise science and physiology
Diet, nutrition, and exercise
Women's holistic health
Fitness and wellness
Health coach ethics
Program planning
Human biology
Relevant College Degree Programs
You can find relevant health coach degree programs both online and at campus locations throughout South Carolina. If you already have a degree in another subject you may be able to apply your prior credits towards your new program.
Associate's Degree Programs – Entry-level jobs are often available with a two-year associate's degree:
Associate of Applied Science (AAS) in dietetic technician (Arlington)
Associate of Applied Science (AAS) in business (Greenwood)
Associate of Applied Science (AAS) fitness specialist (Charleston)
Associate Degree in Nursing (ADN) (Columbia)
Bachelor's Degree Programs – A bachelor's degree is the most common degree requirement for health coach jobs:
Bachelor of Science (BS) in nutrition and food management (Orangeburg)
Bachelor of Science (BS) in food science and human nutrition (Clemson)
Bachelor of Science (BS) in health science (Clemson and Tigerville)
Bachelor of Science (BS) in exercise science (Aiken and Columbia)
Bachelor of Art (BS) in public health (Columbia)
Bachelor of Science (BS) in public health (Columbia)
Master's Degree Programs – If you already have a degree in another field, consider applying transferrable credits towards a relevant graduate degree:
Master of Science (MS) in nutritional sciences (Orangeburg)
Master of Science (MS) in athletic leadership (Clemson)
Master of Public Health (MPH) in physical activity and public health (Columbia)
Master of Science (MS) in exercise science (Columbia)
Professional Health Coach Certification Programs
Professional health coach certifications are offered by a variety of national organizations with varying levels of accreditation. Typically, earning a certification involves completing coursework over a period of weeks or months and then passing a final exam. Each sponsoring organization sets its own rules about certification requirements and program admittance.
Currently the American Council on Education (ACE) is the only organization that is accredited through the National Commission for Certifying Agencies (NCCA). The ACE health coach program offers three certification routes that are designed to meet your professional career goals:
Health coach certification for fitness professionals
Health coach certification for health care professionals
Health coach certification for workplace wellness
You can find detailed information about these programs in the ACE Certification Candidate Handbook.
The International Coach Federation (ICF) is another leading organization dedicated to producing a large network of qualified health coaches around the world, enforcing high standards for the profession and offering independent certification. The organization provides several different credentialing options for coaches including:
Associated Certified Coach (ACC)
Professional Certified Coach (PCC)
Master Certified Coach (MCC)
Job Opportunities and Careers Paths Available to Health Coaches in South Carolina
Health coaches can start their own business or work for an employer, usually in the healthcare, workplace wellness, or public health fields. Universities, government HR departments, and corporations frequently hire health coaches as a benefit to their workforces. Examples of companies in South Carolina that have been known to hire health coaches include:
Medical University of South Carolina
BMW
Greenville Memorial Hospital
Palmetto Health Richland
Medical University Charleston
Adidas
Spartanburg Regional Healthcare
Clemson University
The following job vacancy announcements represent the types of employment opportunities available to properly credentialed health coaches in South Carolina. These job vacancy announcements are shown for illustrative purposes only and are not meant to represent job offers or provide an assurance of employment.
Health and Wellness Coach with Plus One in Gaffney – As a health coach with Plus One you work on-site with employees who are participating in its wellness program. You are responsible for developing and maintaining an effective wellness coaching relationship client by client. This includes using motivational techniques and compassion. Your goal is to achieve positive lifestyle behavior changes, including in the areas of weight management, tobacco cessation, healthy nutrition, physical fitness, and stress management.
You need the following qualifications to qualify for this position:
Bachelor's degree in health promotion, fitness, counseling, or a related field
Certification from a nationally recognized coaching organization
Prior work experience relating to health management and behavior modification
Health Coach with Provant in Moncks Corner – Provant is one of the leading nationwide employers in this field, acting as the go-between for corporations with workforce wellness plans and health coaches. When working with clients at their workplace you are responsible for face-to-face health coaching, conducting body fat and cholesterol checks, taking blood pressure readings, and always maintaining a professional demeanor. As a successful applicant you should have experience with tobacco cessation programs and weight loss management.
To qualify for this position you need one of the following credentials:
Health educator
Exercise physiologist
Nursing license: RN, vocational nurse, or LPN
Health Coaching with Stephanie Burg – Like many South Carolina health coaches who operate their own business independently, Stephanie Burg got into this field as someone who needed coaching herself. After going from being too skinny to gaining 30 pounds Burg's body was beginning to exhibit signs of protest that she ignored. Eventually health issues forced her to drastically modify her habits, and she found a whole new path and career as a health coach. Now she shares her methods of increasing energy and maintaining a healthy weight with her clients.
Burg's résumé includes these qualifications:
Certified holistic health coach
Ballet dancer
Local Resources for Health Coaches
You can find additional resources that relate to a career in health coaching in South Carolina through government agencies and programs, as well as professional organizations:
Government Agencies and Initiatives
South Carolina Department of Health and Human Services (SCDHHS)
Professional Organizations
*2021 US Bureau of Labor Statistics salary figures for dietitians and nutritionists. Job growth projections from the US Department of Labor-sponsored resource, Projections Central. Figures are based on state data, not school-specific information. Conditions in your area may vary. Data accessed April 2022.