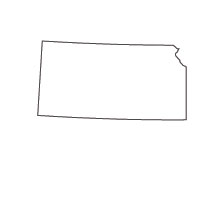 The state of Kansas lies in the center of the contiguous U.S. states. In fact, the economy of Lebanon, town with 212 residents (2012), is boosted by the sale of souvenirs related to the "US Geographic Center" monument located two miles northwest of the town. The Kansas Department of Health has implemented various projects to ensure the availability of medical care, including nutritional services, to rural towns like Lebanon.
Nutritionist Degree Certification and Licensing in Kansas
Unlike dieticians, nutritionists in Kansas are not licensed; however, there are rigid requirements that must be met to become a nutritionist in the Sunflower State, including at least a bachelor's degree in Nutrition.
There are universities that offer bachelors and master's degrees in the Kansas cities of Manhattan and Lawrence as well as six community colleges across the state that offer an associate's degree that can be transferred to a four-year program. In addition, you can earn your degree from at least three accredited online schools. These olleges/universities are especially convenient if you working full time, raising a family, or have other serious time constraints.
In addition to general education and introductory and advanced nutrition classes, you can expect to take such courses as:
Biology, Chemistry and Biochemistry
Food, Culture and Society
Community Nutrition
 Nutrition from Kindergarten to Old Age
 Nutrition for Sports and Exercise
The Link Between Nutrition and Disease
Nutrition for Diabetes and other Chronic Diseases
Dealing with Eating Disorders
The Nature and Causes of Obesity
Women, Weight and Body Images
Food Across Different Cultures
Nutritional Research / Statistics
Food Service Systems
Dietary Supplements
On June 11, 2014, Kansas newspapers carried an article by Brian Lindsheld, Associate Professor of Nutritional Sciences at Kansas State University, in which he warned the public about dietary supplements which may not live up to their promises. Lindsheld has been researching vitamins and other supplements to see if their nutritional labels match their actual contents. He suggests avoiding "bargain" priced supplements and looking for products with the longest nutritional labels. Nutritionist like Lindsheld play a major role in assuring the public gets the most benefit for dollars spent on nutrition.
<!- mfunc feat_school ->
The following bachelors and Master's programs offer career-focused instruction delivered by trained nutritionists with experience in the field. Find out more what each individual course of study offers through the locations below.
Sponsored School(s)
Featured Nutritionist Programs
<!- /mfunc feat_school ->
Nutritionist Job Description and Job Opportunities in Kansas
As a nutritionist, you work in a lab doing important research; in a kitchen planning menus for hospitals, schools or other institutions; or in an office or patient room working directly with individuals to develop the right eating plan for them. Your duties might include any of the following:
Educate the public about nutrition issues
Counsel individuals about their nutritional needs
Design weight-loss or special needs diet plans
Develop menus for hospitals, rehabilitation clinics, nursing homes, retirement facilities, spas, schools, summer camps, etc.
 Evaluate nutritional contents of processed and other foods
Teach nutrition classes in high schools or colleges
Do nutritional research
Write reports, newspaper/magazine articles
Evaluate food products for food manufacturers or the government
You might consider becoming a nutritional specialist such as one of the following:
Sports Nutritionist – If you opt to become a sports nutritionist you will provide nutrition counseling to individual athletes or teams to help them improve their performance while maintaining peak condition and an ideal weight. In addition to the standard educational requirements for a nutritionist, you will be required to take courses in subjects like sports nutrition and medicine, exercise physiology, anatomy, biomechanics, etc. It is noted that Kansas Jayhawkers sports teams have access the performance nutrition services of a well-trained group of sports nutritionists.
Holistic Nutritionist – These specialists use food and nutrition to improve a person's physical, mental, emotional and spiritual health. As a holistic nutritionist you could work with individuals who suffer from chronic diseases as well as those who simply want to optimize their health. The focus is on both lifestyle choices and finding the optimum balance of vitamins, minerals, proteins, carbohydrates, acids and other essentials. The whole body is considered rather than a specific bodily ailment. You will have to take add courses in subjects like psychology, ecology and human metabolism to your degree program. Holistic nutritionists often have private practices or work in the natural food products industry.
The National Association of Nutrition Professionals offers Board Certification as an Holistic Nutritionist. It is necessary to have a bachelors or masters degree, have worked a minimum of 500 hours in holistic nutrition and pass an examination on in order to be eligible for certification. Contact the Holistic Nutrition Credentialing Board for details.
Nutritionist Salary and Job Growth in Kansas
As of May 2021, the Bureau of Labor Statistics reported an average salary of $67,090 for Kansas nutritionists. In the ten-year period leading up to 2028, the BLS projects the number of nutritionist jobs in Kansas will increase by 6%.*
---
Health Coach in Kansas
Nutrition science researchers at Kansas State University recently reported that sitting for six to eight hours per day greatly increases your risk of developing a chronic illness like heart disease, diabetes or even cancer. In contrast to conventional wisdom, even working out for thirty minutes a day, five times a week doesn't protect you from the damage that is done from sitting too long, they say. Although the reasons for this are unclear, some experts think that sitting increases fat levels in the blood and lowers good cholesterol levels, affecting our blood vessels and metabolism negatively.
So what, if anything, can health coaches do to reduce this risk? For one thing, they often recommend standing while working, and some offices are now providing elevated desks and treadmills in office spaces to promote wellness. Even taking a break and getting up to walk around for a few minutes every two hours can help a bit, something health coaches strongly encourage. Instead of falling into your easy chair as soon as you get home from work, health coaches suggest moving around and stretching your muscles.
According to the Centers for Disease Control and Prevention (CDC), as of 2014, 23.8 percent of Kansas' adult population is physically inactive. This statistic is not surprising when you take into account the fact that 14.2 percent of 10 to 17 year olds in the state are obese (2011, National Survey of Children's Health). Kansas has the 13th highest obesity rate in the United States, with a whopping 31.3 percent of its adult population classified as obese (2014, CDC). Obesity in Kansas has steadily risen from 13.5 percent of the adult population in 1995.
In order to combat obesity rates, the University of Kansas recently received a three year, $12.5 million Healthcare Innovation Award to create the Kansas Heart and Stroke Collaborative, a health care delivery model targeting rural Kansans.  Health coaches are crucial to the success of this initiative, as they will be reaching out to heart and stroke patients in areas underserved by the medical community. Education is a large part of what health coaches in Kansas do to help their clients take an active role in improving their own health. 
Becoming a Health Coach: Earning a Relevant Degree and Professional Certification
Health coaching is a fairly new and unregulated profession, so there are no mandatory degree or certification requirements you have to meet to offer health coaching services. This means you can essentially choose your own path to becoming a health coach. Health coaches may hold associate, bachelor's or master's degrees in a variety of majors. They also hold professional certification in a variety of areas related to everything from personal training to nutrition science.
Degree Options
Health coaches often hold associate's degrees in areas like:
Exercise Science
Applied Science- Health and Wellness
Health/Physical Education Sports Coaching
Allied Health
Most health coach jobs in Kansas call for candidates with a minimum of a bachelor's degree. Employers may be looking for candidates with bachelor's degrees in areas like:
Health and Wellness
Community Health
Fitness Wellness
Nutrition/Dietetics
Career changers with bachelor's degrees and the most ambitious health coaches sometimes hold master's degrees:
Master of Science in Health and Wellness Coaching
Master of Science in Exercise Science and Nutrition
Master of Science in Community Health
Master of Social Work
Professional Certification
Many employers seek health coaches who are certified in a particular area. However, some of these employers may give you the chance to become professionally certified within six months of being hired. Examples of some professional certifications that would demonstrate your advanced level of expertise and authority in the field include:
American Council on Exercise (ACE)- Health Coach Certification by ACE is the only health coach credential currently accredited by the National Commission for Certifying Agencies (NCCA). They offer standard and premium study programs to prepare you for their Health Coach Certification examination. You must maintain your Health Coach Certification by completing continuing education and renewing your credential every two years. The ACE Health Coach Manual, available in hard copy or digital format, provides information on certification and maintenance of your credential.
Health Coaching in Kansas: Career Paths and Job Opportunities
Health coaches in Kansas work in a variety of milieu, from hospitals to community health centers to insurance companies. With all of these opportunities available, you should be able to find your own career niche in Kansas.
The following job vacancy announcements represent the types of employment opportunities available to properly credentialed health coaches in Kansas. These job vacancy announcements are shown for illustrative purposes only and are not meant to represent job offers or provide an assurance of employment.
Health Coach for Provant- Hutchinson, KS
You will work one-on-one with employees, conducting local health screenings in corporate settings. You will educate employees on issues including clinical health, weight loss management, physical activity, stress management, and tobacco cessation.
Requirements:
Current license or certification as an RN, RD, Health Educator or in Exercise Phsyiology
Experience with clinical health education, weight loss management, stress management, tobacco cessation and physical activity
Nutritional Health Coach for Natural Grocers- Mission, KS
You will serve as a professional resource for information on nutrition and products for employees and customers. In addition to presenting nutrition classes to store customers, you will conduct one-on-one nutritional health coaching sessions with them, and facilitate employee nutrition training.
Requirements:
Bachelor's degree in nutrition, dietetics, naturopathy or a related field
Be able to obtain and maintain liability insurance
Health and Wellness Enthusiast Coach for Profile by Sanford Health- Wichita, KS
You will provide one-to-one coaching to members of the Profile Weight Management Program. You will develop a rapport with current and potential members and help them in healthy lifestyle modification.
Requirements:
Bachelor's degree in food and nutrition, dietetics, exercise science or a related field
Must become registered or certified in your field within six months of hire
One year prior experience with fitness and nutrition counseling preferred
Health Coach at Pratt Regional Medical Center in Pratt, KS
You will work with heart and stroke patients in taking health histories and creating individualized care plans for them. As a health coach, you will be a patient's educator, navigator and advocate. You will also work in community outreach programs and help to develop and revise guidelines, policies and procedures.
Requirements:
Hold a license as a health care professional in the state of Kansas (Kansas State Board of Nursing, Kansas Board of Healing Arts, Kansas Behavioral Sciences Regulatory Board, etc)
Two years of experience working in the health care industry
Local Resources and Health Departments in Kansas
Kansas Department of Health and Environment- Division of Public Health
Johnson County Health Department
Kansas Department of Health and Environment- Bureau of Oral Health
Sedgwick County Health Department
Kansas Public Health Association
Kansas Health Foundation
Kansas Health Institute
Kansas Hospital Association
*2021 US Bureau of Labor Statistics salary figures for dietitians and nutritionists. Job growth projections from the US Department of Labor-sponsored resource, Projections Central. Figures are based on state data, not school-specific information. Conditions in your area may vary. Data accessed April 2022.