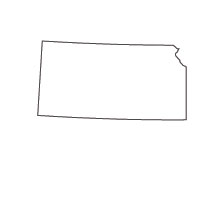 View how to become a nutritionist in Kansas here.
Follow the step by step process or choose what situation that best describes you:
Kansas Nutrition Career Description
As of April 2022, the Commission on Dietetic Registration reported a total of 1,000 Registered Dietitians (RDs) and Registered Dietitian Nutritionists (RDNs) in Kansas. According to the Bureau of Labor Statistics, Kansas nutritionists and dietitians earned an average salary of $67,090 – that exceeds the national average for this profession by about $2,000. Early career professionals earned about $48,690, while those with extensive experience earned about $89,410 during this time.
The average salary for dietitians and nutritionists is often higher in larger metro areas like Wichita, which reported an average salary of $72,280 as of May 2021.*
The Kansas Academy of Nutrition and Dietetics (formerly known as the Kansas Dietetic Association) celebrated its 80th anniversary in 2017 as a non-profit organization, composed of dietetic professionals working across the state. Its members may be Registered Dietitian Nutritionists (RDNs) or Dietetic Technicians, and may work in areas including, but not limited to, media, business, education, industry, food service management, education, research, healthcare institutions, government agencies, and community organizations.
Becoming a registered dietitian nutritionist in Kansas is limited to those who complete the correct registered dietitian education in Kansas, pass an exam, and fulfill all licensing requirements. Please keep reading if you wish to learn how to become a Registered Dietitian Nutritionist in Kansas.
Complete RD Education Program in Kansas
Dietitians in Kansas must be licensed, which means they must first receive Registered Dietitian (RD) status from the Commission on Dietitian Registration (CDR) of the American Dietetic Association (ADA). This requires completion of an Accreditation Council for Education in Nutrition and Dietetics (ACEND)-approved course of study, culminating in at least a bachelor's degree.
ACEND-Accredited Educational Programs Leading to Registered Dietitian (RD) status in Kansas:
Coordinated Programs in Dietetics (CP) – Coursework combined with an internship fulfills the CDR requirement for dietary education:
Didactic Programs in Dietetics (DPD)- Coursework only:
Both types of dietitian education programs in Kansas will require that you complete coursework in:
English (writing)
Communications (public speaking)
Psychology or sociology
Macroeconomics
Biology
Anatomy and physiology of the human body
Microbiology
Environmental issues in hospitality
General organic chemistry
Biochemistry
Algebra
Calculus
Statistics
Biometrics
Basic human nutrition
Science of food
Nutrition assessment
Life span nutrition
Public health nutrition
Nutrient metabolism
Clinical nutrition
Food production management
Financial management in dietetics
Counseling strategies in dietetics
Human ecology
Research in dietetics
<!- mfunc feat_school ->
The following bachelors and Master's programs offer career-focused instruction delivered by trained nutritionists with experience in the field. Find out more what each individual course of study offers through the locations below.
Sponsored School(s)
Featured Nutritionist Programs
<!- /mfunc feat_school ->
Apply to a Dietetic Internship (DI) in Kansas
The next requirement of CDR and Kansas for registration and licensing as a dietitian nutritionist is to complete at least 900 hours of a supervised dietary internship.
University of Kansas Medical Center, Kansas City

10 months full-time program
Emphasis is in medical nutrition therapy
Four options are available:

Dietetic internship graduate certificate- complete 1240 hours of supervised dietary practice and 24 graduate credit hours
Dietetics and integrative medicine graduate certificate – complete 12 web-based credit hours
Masters of Science in Dietetics and Nutrition – includes courses in the behavioral, clinical and biochemical aspects of nutrition
Ph.D. in Medical Nutrition Science – prepares you to conduct research and perform statistical analysis in dietetics and nutrition
Pass the CDR Registration Exam in Kansas
After meeting the CDR's and the state of Kansas' requirement for education and internship, you are ready to take CDR's National Registration Exam for Dietitians. It should last approximately three hours and is computer-based and multiple-choice. You must answer 125 of a possible 145 questions in order for the computer to score your exam correctly. You may not skip or change any answers once you have entered them into the computer. The test cost $200 and covers the above-mentioned subject matter, with which you should be quite familiar by now. You can register online to take the test at Pearson VUE Exam Centers, which in Kansas include:
Hays – 205 E. 7th St., Suite 237, Hadley Center
Overland Park – 8700 Indian Creek Pkwy., Suite 120, Corporate Woods, Bldg. 3
Topeka—4125 SW Gage Center Drive, Suite 201, Gage Center Office Suites
Wichita – 7701 E. Kellogg, Suite 750, 7th Floor, Equity Financial Center
Your score will flash on-screen as you complete the exam. You must get at least 25 on a scaled score from zero to 50 in order to pass. If you fail, you may re-take the exam, but not for at least 45 days from your first try. Passing the CDR National Registration Exam for Dietitians gives you the credentials RD (Registered Dietitian) and allows you to move on to the next step, applying for RDN licensure in Kansas.
Apply for Licensure as a Dietitian in Kansas
Now that you have fulfilled Kansas' and the CDR's requirement for education, experience and examination, you are ready to apply for licensure through the state of Kansas. Download and print the Application for Kansas Dietitian License. You must include a check or money order for $140 payable to Kansas Department for Aging and Disability Services (KDADS). Along with your application and licensing fee, include:
A copy of your social security card
Have your school send official transcripts to Health Occupations Credentialing at the address below
A copy of your CDR registration card
Mail all documents and money to KDADS Health Occupations Credentialing, 503 S Kansas Ave, Topeka, KS 66603.
Maintain Your Licensing as a Dietitian in Kansas
Maintaining Your Kansas Dietitian Licensing
Your Kansas dietitian license expires biennially. During each two-year span, you must complete 15 hours of continuing professional education (CPE) to maintain your license. At the renewal time, you must apply for renewal online and pay the renewal fee of $135. Keep all of your CPE documentation as you may be randomly audited. The Kansas Department for Aging and Disability Services Health Occupations Credentialing department publishes approved CPE activities online.
Approved topics of education for Kansas' CPE purposes include:
Nutrition Services

Screening, assessment and monitoring of individuals
Screening, assessment and monitoring of groups
Planning and intervention in normal nutrition and health promotion
Planning intervention in clinical nutrition

Food Service Systems

Food planning and production
Service distribution
Sanitation and safety
Facility management

Management

Personnel management
Financial management and resource procurement
Marketing products and services
Management responsibilities and functions

Education and Communication

Assessment and learner evaluation
Program development and planning
Implementation of educational programs

Evaluation

Research
Program and services evaluation
Professional standards

Other topics appropriate for CPE in Kansas:

Environment
Stress management
Computer users
Nutritional methods of self and others
Ways to earn CPE in Kansas include, but are not limited to:
Workshops
Meetings
Seminars
Conferences
Journal club meetings
National meetings
Preparing and presenting a seminar, lecture or workshop
College coursework (must be an accredited institution)
Publication of a book or journal article
Journal article
Self-study (via video tapes, audio tapes, study kits, web based, or journal articles)
Poster sessions
Food exhibitions
Initial specialty certification as a:

Certified Nutrition Support Dietitian (CNSD) through the American Association of Diabetes Educators
CDR board certification in renal nutrition or pediatric nutrition
Certified Diabetes Educator through the American Association of Diabetes Educators or National Certification Board for Diabetes Educators
IBLCE certified lactation consultant through the International Board of Lactation Consultant Educators
Keep records of your CPE, as you may be selected to be randomly audited by the Board.
Maintaining your Registration as a Registered Dietitian in Kansas
Your registration as a dietitian with the CDR is renewed every five years. During that time, you must satisfy their CPE requirement of 75 CPE hours. Activities specific to the Kansas area may be found by searching the CDR's online CPE database. The CDR's PDP Guide will demonstrate how to create and maintain a CPE portfolio, which is also a requirement for registration renewal. Currently listed CPE programs in Kansas cover the following subject matter:
Healthy Body, Healthy Mind: A Mindful Approach to Integrative Healing by Institute for Natural Resources (6.0 CPEus)
*2021 US Bureau of Labor Statistics salary figures and job growth projections for dietitians and nutritionists reflect state data not school-specific information. Conditions in your area may vary. Salary statistics representing entry-level/early career = 25th percentile; senior-level/highly experienced = 90th percentile. Data accessed April 2022.