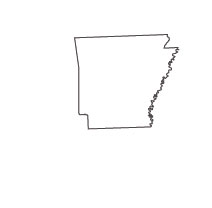 Nutritionists in Arkansas are non-licensed professionals. The Dietetics Practice Act of the Arkansas Dietetics Licensing Board (ADLB) outlines the regulations and licensing process for the practice of dietetics to include only licensed dieticians.
Arkansas Certification and Degree Requirements
Although no certification or licensure requirements for nutritionists exist in Arkansas, professionals practicing the act of nutritional care in this state nevertheless choose to pursue a post-secondary education, a standard in this profession.
A typical requirement for nutritionist licensing in other states includes a post-secondary education, from a bachelor's degree to a doctoral degree. Nutrition-related degrees, both in Arkansas and through online programs, typically include a focus on a number of topics, including:
Food and nutrition
Dietetics
Community nutrition
Public health nutrition.
Courses in biochemistry, physiology, or anatomy/physiology, and nutrition science are also often an integral part of these degree programs.
Individuals in Arkansas who choose to complete a bachelor's degree may decide to take additional didactic coursework to ensure a well-rounded education in nutrition and dietetics, while individuals who choose to complete a master's or doctoral degree may better position themselves for nutrition-related professional certification, such as:
<!- mfunc feat_school ->
The following bachelors and Master's programs offer career-focused instruction delivered by trained nutritionists with experience in the field. Find out more what each individual course of study offers through the locations below.
Sponsored School(s)
Featured Nutritionist Programs
<!- /mfunc feat_school ->
Arkansas Example of Nutritionist Careers and Job Descriptions
Career opportunities in Arkansas for nutritionists may be found through a number of establishments, such as nursing homes, assisted living facilities, health clubs, governmental agencies, school districts, and hospitals.
Just a few of the organizations/businesses in Arkansas where nutritionists are likely to be employed include:
North Arkansas Regional Medical Center
Arkansas Department of Health
Arkansas Children's Hospital
Arkansas Heart Hospital
Arkansas School for the Blind
Conway Regional Health System
Nutritionists, therefore, are desperately needed to help create a better environment of healthful eating and overall physical health. This need creates a variety of job opportunities for nutrition experts. Baptist Health and HealthSouth are two examples of healthcare networks which have multiple locations throughout the state. Baptist Health, for example, has hospitals in Arkadelphia and Little Rock, plus several other communities.
Other opportunities for nutritionists can be found in health and fitness facilities that offer nutrition counseling for club members as part of their fitness program. Kerch Wellness Management in Russellville focuses on a broad spectrum of wellness strategies, including offering the services of nutrition consultants. Powerhouse Gym in Little Rock is another health club that offers nutrition education to club members.
Statewide, nutritionists with the Arkansas Department of Health provide education, resources, and assistance to help Arkansans eat more healthfully. Areas of focus include helping prevent obesity, increasing fruit and vegetable consumption, and breastfeeding, while decreasing the amount of sugar-laden foods and beverages in typical diets.
Overall, nutrition specialists in the following categories are especially in demand:
Diet and Nutrition
Diabetes
Weight Management
Wellness Counseling
Eating Disorders
Arkansas Nutritionist Degrees and Education
Nutritionists study about food and its nutrients as well as how the human body processes, uses, and depends on various nutrients so that they can inform others regarding healthful choices. Nutritionists often obtain a bachelor's degree and take classes such as human physiology, biology, and chemistry. They also take food-related classes that discuss the preparation of food, health and safety of food storage and preparation, and the different properties and nutrients in food that help or hurt the human body.
Arkansas Nutritionist Salary and Job Opportunities
According to the Bureau of Labor Statistics, nutritionists in Arkansas earned an average salary of $58,340 as of May 2021. The BLS also projects that in the ten-year period leading up to 2028, jobs for nutritionists in the state will increase by 13%, which is higher than the national growth rate of 11% for this occupation through 2030.*
Professional Associations and Organizations for Nutritionists in Arkansas
Professional competence for nutritionists in Arkansas can be achieved through membership and participation in state and regional professional associations, such as:
Continuing Education
Nutritionists need to stay informed about new developments and strategies regarding nutrition. Continuing education is a given in this field, especially because nutritionists themselves are often teaching others about good choices when it comes to food. The Arkansas Chapter of the Academy of Nutrition and Dietetics (formerly the American Dietetic Association) provides excellent resources for nutritionists and dietitians to receive information as well as network with others in their profession.
Nutritionists Working at the Arkansas Department of Education
Nutritionists who work for the Arkansas Department of Education oversee and administer many programs that directly influence students' nutrition options in public schools. These programs include the National School Lunch Program, the School Breakfast Program, the Seamless Summer Program, Fresh Fruits and Vegetables Grants, and other programs designed to encourage children to eat healthy snacks, meals, and drink milk. Child Nutrition Services provides additional information and resources.
---
Become a Health Coach in Arkansas
From children to adults, reward systems are effective in motivating people. Children will behave in order to gain an extra piece of candy and adults will work really hard to exercise and eat well so that they can enjoy a cheat meal later on in the week. The state of Arkansas uses this principle of reward to its advantage by implementing a reward system for employees who live healthy lifestyles.
Arkansas Healthy Employee Lifestyle Program (AHELP)
The Arkansas Department of Health created a program in which employees are rewarded for a nutritious diet, exercise, and any other healthy life choices. The Arkansas Healthy Employee Lifestyle Program (AHELP) is a complex web-based program that provides web-based health assessments of each individual employee. The web-based evaluation of employees' health improvements earns them points which go toward paid time off or other prizes of their choice.
Although the AHELP program still requires some adjustments to the web-based evaluations and point system, the program is designed to support employees who are actively attempting to improve their health. When the program is adopted by the company, the company is then required to assist the employees by providing walkways around the company, encouraging employees to engage in physical activity as well as providing healthy alternatives at catered events for the company. These initiatives provide ample opportunities for employees to pursue a healthier lifestyle by providing significant support through the process.
Arkansas Makes Nutrition Approachable with Reward Systems
As you can see, Arkansas attempts to make nutrition approachable with reward systems like these and practical everyday alternatives to improve the overall health of the state and further prevent the growing problem of obesity. The U.S. Department of Agriculture teamed up with the Arkansas Coalition of Obesity Prevention by providing a large sum of money as a grant for 21 different farmers markets in the state Arkansas to implement a program called Double Up Food Bucks. This program permits low-income families who have to rely on the Supplemental Nutrition Assistance Program (SNAP, formerly food stamps) to spend the equivalent of their SNAP funds on fresh fruits and vegetables at participating vendors. Arkansas clearly relies heavily upon the reward system to improve the overall health of the state in many different ways and the state continually attempts to improve the processes.
Becoming a Health Coach: Earning a Relevant Degree and Professional
Certification
Considering health coaching is a relatively new field, there is no "health coach" major. This means you can select the degree or program you are most interested in so long as it includes some component of health coaching like nutrition or fitness. Several suitable degrees and a standard certification for employment are listed below.
Degree Options
Associate's degrees in areas like those shown here are suitable for some entry-level health coach jobs:
Healthcare Management
Business Administration
Nutrition
Applied Science in Health and Wellness
Psychology
A bachelor's degree in one of these areas is the most common qualification employers look for and is necessary for most health coach career opportunities:
Social Work
Counseling
Healthcare Management
Nutrition
Fitness
Dietetics
Health Promotion
A master's degree in one of these areas would be considered a very strong qualification, and would go beyond the general expectations of most employers:
Biology
Health Management
Sport and Fitness Management
Nutrition
Professional Certification
Due to the hands-on element of certification for health coaching, most employers will require some form of certification for any given health coaching position. These certification examinations will vary from position to position depending on the type of training employers are looking for. The experience you obtain through certification serves as a field-specific credential denoting expertise. Certification will provide you with credentials proving you are an authority within the specialized scope of practice for health coaching.
American Council on Exercise (ACE) – ACE certification is accredited by the National Commission for Certifying Agencies (NCCA) and provides "standard" or "premium" self-study packages to prepare for the examination that leads to the Health Coach Certification. Certification through ACE must be renewed every 2 years by completing continuing education approved by ACE. The ACE Certification Candidate Handbook provides thorough details concerning the certification examination and maintenance process.
Health Coaching in Arkansas: Career Paths and Job Opportunities
The list of jobs below provide a variety of health coaching positions and qualifications, allowing you to choose where your credentials and qualifications fit best.
The following job vacancy announcements represent the types of employment opportunities available to properly credentialed health coaches in Arkansas. These job vacancy announcements are shown for illustrative purposes only and are not meant to represent job offers or provide an assurance of employment.
Wellness Coach for Plus One Health Management – Fort Smith, AR
You will serve as a one-on-one health coach for clients providing encouragement and education as the individuals set goals toward health improvement.
Requirements:
Bachelor's degree or higher education in fitness, nutrition, counseling, health promotion, or a related field
Certification from Wellcoaches or another nationally recognized coaching organization required
At least two years of experience as a wellness coach in a corporate setting preferred
Proven experience and understanding in health management: behavioral modification, health screenings, disease management, prevention
Strong written, communication, organizational, and time management skills
Health Coach for Provant – Hampton, AR
You will conduct face-to-face health coaching sessions and conduct a variety of health screenings for participants.
Requirements:
Certifications for practical/vocational nursing license, exercise, health educator, registered nurse license
Registered dietitian's license preferred
One or two years of experience in health education, tobacco cessation, physical activity, stress management, or weight loss management preferred
Communication, organizational, and computer proficiency skills desired
Sales and Service Manager Trainee/ Weight Loss Coach for the Metabolic Research Center – Conway, AR
You will motivate and encourage clients to participate in programs for their health improvement. You will coach clients in individualized goal-setting and weight loss programs as well.
Requirements:
At least five years of experience in management or sales
Customer service experience
Able to meet and exceed sales and service goals
Competitive drive for results in sales and management
Exceptional ability to create uplifting and positive environments for clients
Local Resources and Arkansas Health Departments
Arkansas Department of Health
Arkansas Center for Health Improvement
Healthy Active Arkansas
Arkansas Coalition for Obesity Prevention
Baptist Health
Arkansas Academy of Nutrition and Dietetics
Arkansas Health Information Management Association
*2021 US Bureau of Labor Statistics salary figures for dietitians and nutritionists. Job growth projections from the US Department of Labor-sponsored resource, Projections Central. Figures are based on state data, not school-specific information. Conditions in your area may vary. Data accessed April 2022.