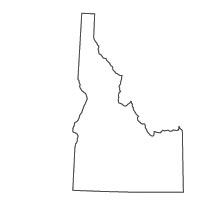 The dramatic increase in attention given to healthier living and eating over the last few years has led to significant growth in the number of persons considering a career in nutrition. The Bureau of Labor Statistics has predicted a 21 percent national increase in nutritionists and dietitian jobs between 2012 and 2018, a greater growth than theaverage for all other professions.
If you are a "people person" who likes food and is concerned about healthy living, why not look into becoming a nutritionist.
Nutritionist Degree and Licensing Requirements in Idaho
Nutritionists and dietitians are often thought of as the same but they are actually two different occupations. Both are health professionals who promote good nutrition; however, dieticians must be licensed, which involves specific education and training requirements, while in most states (including Idaho) becoming a nutritionist does not. This doesn't mean anyone can walk into a nursing home or a health clinic and get a job as a nutritionist. A bachelor's degree in nutrition is needed to qualify for almost any entry-level position as a nutritionist and a master's degree opens many additional doors.
You can find accredited schools that offer undergraduate and graduate degrees in nutritional science in the following Idaho cities:
Moscow
Pocatello
Twin Falls
There are also many accredited online colleges and universities that offer nutrition degrees. In recent years some of the best schools in the country now provide online studies and these degrees are just as acceptable as those from on-campus schools.
The kinds of courses you are likely to take for a B.S. in Nutrition include:
Biology and Biochemistry
Nutrition and Health / Disease
Behavioral Consequences of Poor Nutrition
Obesity Management
Nutrition for Diabetics
Human Nutrition and Energy Metabolism
Nutritional Counseling
Meal Planning
Nutrition Evaluations
Relationship between Cancer and Nutrition
Role of Vitamins in Biochemical Processes
Effect ot Dietary Supplements on Body Functions
<!- mfunc feat_school ->
The following bachelors and Master's programs offer career-focused instruction delivered by trained nutritionists with experience in the field. Find out more what each individual course of study offers through the locations below.
Sponsored School(s)
Featured Nutritionist Programs
<!- /mfunc feat_school ->
Nutritionist Job Description and Job Opportunities in Idaho
Nutritionists fill a wide variety of job functions, including but not limited to:
Educating the public about nutrition issues
Designing meal plans for hospitals and health facilities
Providing individual nutrition counseling
Calculating caloric needs
Working with patients who suffer from diabetes, heart disease or eating disorders
Doing nutritional research
Working for government agencies to evaluate prepared foods, complete food labels or test products to assure that food labels are accurate
Teach high school, college or adult education nutrition classes
Design nutritional posters and brochures
Prospective employers of nutritionists include:
Hospitals
Rehabilitation clinics
Nursing homes
Federal and state food-related agencies
Private physicians
Diet programs
Food manufacturers
Spas / Resorts / Hotels
Health food stores
Fitness centers
Senior enters
Public and private schools
Research laboratories
The BLS reports that 14 percent of the working nutritionists are self-employed as:
Nutrition consultants
Personal chefs
Restaurant owners
Nutritional product producers
Nutritionist Salaries and Job Growth
Many nutritionists specialize in a specific area of nutrition, such as:
Geriatric Nutrition
Diabetic Nutrition
Child Nutrition
Sports Nutrition
In Idaho, you could possibly become one of the nutritionists working for the Certified Idaho Potato Commission which produces websites, brochures, TV/radio commercials and newspaper/magazine ads about the nutritional benefits of Idaho's famous spuds.
Nutritionist Salary and Job Growth in Idaho
According to the Bureau of Labor Statistics, the average salary for nutritionists in Idaho was $57,150 as of May 2021. In the ten-year period leading up to 2028, the BLS projects that jobs for Idaho nutritionists will increase by 14%.*
Professional Organizations for Nutritionists in Idaho
Idaho School Nutrition Association. Statewide organization provides networking, school nutrition news updates, workshops and annual conferences.
---
Health Coach Careers in Idaho
The agricultural community of Idaho is so concerned with nutrition and the overall health of their communities that the United Dairyman of Idaho often partners with other organizations to support 5k races and other health-oriented events.
Currently, the United Dairymen of Idaho and FitOne have collaborated in creating a 10-week Eating and Running Plan for anyone who would like to participate. The state of Idaho maintains a standard for understanding the United Dairymen of Idaho's slogan, "where good comes from" and the importance of physical activity. The collaboration with FitOne provides an extensive 10-week plan of a well-monitored nutritious diet and a consistent running schedule. FitOne and the United Dairymen of Idaho challenge participants to celebrate the end of the program by participating in the FitOne 5k on September 24th.
FitOne is not only hosting a 5k on September 24th, but they are also providing a 10k and a half  marathon for the avid runners. Each of these races capitalize on the beauty and history of the city of Boise, starting runners off on the stairs of the State Capitol and ending in Ann Morrison Park with the track lacing through various historic landmarks throughout the city. The price to participate in any one of these races varies depending upon the length of the race but the gifts and prizes you receive for participating are well worth the price– not to mention having the opportunity to together with friends and family in your community for something that supports individual and community health.
FitOne is one of the more established health organizations in the state of Idaho and a top employer of health coaches. As such, when they host a community event, the list of sponsors and organizations that lend their support is extensive. FitOne has amassed a list of least ten high profile sponsors to contribute to the overall experience of the races for those who would like to participate in September.
FitOne frequently hosts similar events for the community of Boise. Events like these illustrate the size of the health community in the state of Idaho as well as the number of organizations and companies eager to partner with their community in an effort to improve health.
Becoming a Health Coach: Degree and Professional Certification
Since health coaching is an unregulated profession, while you are preparing for your education you will find you have a lot of freedom in choosing the degree, certification, electives, internships, etc. in preparing for your career. This freedom allows you to build your educational experience around your interests. Several suitable degrees and standard certification for employment are listed below.
Degree Options
Associate's degrees in areas like those shown here are suitable for some entry-level health coach jobs:
Applied Science in Health and Wellness
Psychology
Nutrition
Exercise Physiology
A bachelor's degree in one of these areas is the most common qualification employers look for and is necessary for most health coach career opportunities:
Biology
Health Promotion
Nutrition
Behavioral Health
Health Education
Exercise Physiology
A master's degree in one of these areas would be considered a very strong qualification, and would go beyond the general expectations of most employers:
Social Work
Nutrition
Health Education
Public Health
Counseling
Dietetics
Biology
Professional Certification
Regardless of your chosen degree, professional certification is a strong addition to your credentials as a health coach. Oftentimes, the required certification will depend on specified requirements from the employer, which will vary from position to position. The certification you complete will serve as a field-specific credential denoting hands-on experience and expertise. Certification provides you with credentials that will illustrate authority within the specialized scope of practice for health coaching.
Two popular certification options specific to health coaches are:
American Council on Exercise (ACE) – ACE certification is accredited by the National Commission for Certifying Agencies (NCCA) and provides "standard" or "premium" self-study packages to prepare for the examination that leads to the Health Coach Certification. Certification through ACE must be renewed every 2 years by completing continuing education approved by ACE. The ACE Certification Candidate Handbook provides thorough details concerning the certification examination and maintenance process.
Health Coaching in Idaho: Career Paths and Job Opportunities
Similar to many other states in the US, Idaho's health coaching job market and employers set the standards for required qualifications and responsibilities. These significant differences from one position to another allow you to find a position that corresponds with your credentials and experience while providing space for you to continue in your education and progress in your field.
The following job vacancy announcements represent the types of employment opportunities available to properly credentialed health coaches in Idaho. These job vacancy announcements are shown for illustrative purposes only and are not meant to represent job offers or provide an assurance of employment.
Health Coach for Provant – Boise, ID
You will be responsible for conducting various health screenings for clients while maintaining a healthy lifestyle standard and cultivating a professional, comfortable, and energetic environment for clients.
Requirements:
Licensed practical/vocational nursing license, registered nurse license, health educator, exercise phys certification minimum
Registered dietician's license preferred
Minimum of one to two years of experience with health education, clinical health, weight loss management, stress management, physical activity, tobacco cessation preferred
Capable of conducting biometric screenings and reading results
Weight Loss Specialist for Metabolic Research Center of Boise – Boise, ID
You will educate and motivate clients on health choices and lifestyle changes. You will coach clients through program choices and offer feedback on results.
Requirements:
2 years sales experience minimum
1 year of nutritional, health/weight loss experience minimum
Drive to set and achieve goals in a commission-based environment
Enthusiastic about healthy living
College experience preferred
Nutritional Health Coach for Natural Grocers – Hailey, ID
You will provide nutritional education for customers and employees while providing operational support in retail.
Requirements:
Degree/certification in nutrition, dietetics, masters in biology or another health related field from a nationally accredited agency or university
Proof of education must be submitted with application as well as proof of continuing education over the course of job if required
Education maintenance must be submitted to the company as necessary
Additional Resources for Idaho's Health Coaches
Idaho Department of Health and Welfare
South Central Public Health District
Idaho Health Matters
Rural Health Information Hub – Idaho
FitOne
United Dairymen of Idaho
Fleet Feet Sports – Meridian
*2021 US Bureau of Labor Statistics salary figures for dietitians and nutritionists. Job growth projections from the US Department of Labor-sponsored resource, Projections Central. Figures are based on state data, not school-specific information. Conditions in your area may vary. Data accessed April 2022.