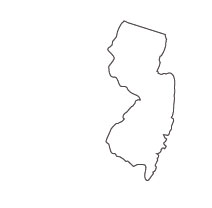 Becoming a Nutritionist in New Jersey
Nutritionists continue to be a powerful tool in the fight against obesity in New Jersey. By providing clients with informative assessments, personalized diet plans, and food-related counseling, nutritionists are helping to popularize preventive solutions for future generations. Statistics by the New Jersey Department of Health indicate that the adult obesity rate increased from 19.6 percent to 25.8 percent between 2001 and 2015. These current statistics illustrate the prevalence of obesity among state residents:
As of October 2020, 14 percent of New Jersey youth ages 10-17 were obese
As of 2019, 11.9 percent of high schoolers in New Jersey (grades 9-12) classified as obese
By 2017, 27.7 percent of New Jersey's adult residents were obese
Nutritionist Licensing and Certification in New Jersey
New Jersey just started licensing dietitian nutritionists and nutritionists as of January 13, 2021. Under the state's new Dietetics and Nutrition Licensing Act, a licensed nutritionist is defined as a person who holds a license through the State Board of Dietetics and Nutrition. In order to be eligible to be licensed as a nutritionist in New Jersey, one must meet the following state requirements:
Be at least 18 years old
Be of good moral character
Submit a completed application to the board
Submit fees required by the board
Submit proof of completion of educational, experiential and examination requirements (see below)
Nutrition Education and Degrees in New Jersey
In order to become a licensed nutritionist in New Jersey, the State Board of Dietetics and Nutrition says that you must have a master's or doctoral degree in nutrition or a related field from an accredited college or university. Related fields include:
Human nutrition
Foods and nutrition
Community nutrition
Public health nutrition
Nutrition education
Nutrition
Nutrition science
Clinical nutrition
Applied clinical nutrition
Nutrition counseling
Nutrition and functional medicine
Nutritional biochemistry
Nutrition and integrative health
In addition, you must have completed courses in medical nutrition therapy, including:
15 semester hours of clinical or life sciences, with at least three semester hours in human anatomy and physiology
15 semester hours of nutrition and metabolism, with at least six semester hours in biochemistry
Some examples of degrees that would lend themselves well to becoming a licensed nutritionist in New Jersey are:
Master of Public Health in Public Health Nutrition – Rutgers University, New Brunswick
Master of Science in Clinical Nutrition – Rutgers University, Newark
Master of Science in Nutrition and Food Science – Montclair State University, Montclair
Master of Science in Nutrition – Saint Elizabeth University, online program
<!- mfunc feat_school ->
<!- mfunc search_btn -> <!- /mfunc search_btn ->
Nutritionist Experience Requirements in New Jersey
Besides holding the education listed above, you must also have completed a board-approved internship/supervised experience to fulfill practical experiential requirements before a nutritionist license will be granted in New Jersey. This includes:
1000 hours of providing nutrition care services and medical nutrition therapy, with at least:

200 hours in nutrition assessment
200 hours of nutrition intervention, education, counseling or management
200 hours of nutrition monitoring or evaluation

This experience must be completed under the supervision of a Certified Nutrition Specialist, a Diplomate of the American Clinical Board of Nutrition, a Registered Dietitian Nutritionist, a licensed dietitian nutritionist or a licensed nutritionist in NJ, a state-licensed health care provider who provides nutrition services, or a person with a doctoral degree in a nutrition field
Nutritionist Examination Requirements in New Jersey
You must also pass an examination before you receive a nutritionist license in New Jersey. This examination must be through either the Board for Certification of Nutrition Specialists (BCNS) or American Clinical Board of Nutrition.
Alternatively, if a person holds a valid current certification with the BCNS that gives them the right to use the title Certified Nutrition Specialist (CNS) or a valid current certification with the American Clinical Board of Nutrition that gives them the right to use the title Diplomate, American Clinical Board of Nutrition or DACBN, they may be exempt from the examination requirement above.
Licensing of Current Nutrition Practitioners in New Jersey
From January 13, 2021 to January 13, 2022, any person who is practicing or living in New Jersey and meets all of the following requirements may apply for a license as a nutritionist in New Jersey:
Is at least 18 years of age
Is of good moral character
Submits a completed application to the board
Pays the applicable fees
Holds at least a bachelor's degree from an accredited college or university with:

30 credit hours or a major concentration in human nutrition, foods and nutrition, food system management, nutritional science, nutritional education, community nutrition, public health nutrition, nutrition education, nutrition, nutrition science, clinical nutrition, applied clinical nutrition, nutrition counseling, nutrition and functional medicine, nutritional biochemistry, nutrition and integrative health, or related coursework by the board

Has been employed at least part-time as a nutritionist providing nutrition care services in order to treat or manage a disease or medical condition regularly for three of the previous five years
Employment Projections for Nutritionists in New Jersey
The U.S. Department of Labor's Bureau of Labor Statistics (BLS) predicts that job opportunities for nutritionists will increase by eight percent nationwide between 2019 and 2029. This growth rate is faster than the average expected growth for other occupations. As of May 2019, the highest employment level of nutritionist jobs in New Jersey (and in the entire nation) was in the New York-Newark-Jersey City NY-NJ-PA metropolitan area, where 4700 dietitians and nutritionists were employed.
Pay Expectations for Nutritionists Salary in New Jersey
The mean annual wage nationwide for nutritionists as of May 2019 is $62,330. However, in New Jersey, nutritionists can expect to make even higher than average salaries. The mean annual wage for nutritionists in New Jersey is $70,550, making New Jersey the fifth-highest paying state in which nutritionist worked as of May 2019.
Nutritionist Jobs in New Jersey
Those seeking licensed nutritionist jobs in New Jersey may find a wide variety of opportunities available. Recent job postings in the state include Clinical Nutrition Manager at Sodexo in Paramus, Nutrition Care Manager at Compass Group in West Orange; Clinical Dietitian Nutritionist at Memorial Sloan Kettering Cancer Center in nearby New York City; and Nutritionist at Robert Wood Johnson University Hospital in New Brunswick.
Professional Associations and Organizations for Nutritionists in New Jersey
Professional associations and organizations that licensed nutritionist in New Jersey may consider joining or volunteering within include (but are not limited to):
The New Jersey Academy of Nutrition and Dietetics
New Jersey School Nutrition Association
New Jersey Partnership for Healthy Kids
Center for Food Action
Community Food Bank of New Jersey
Meeting Essential Needs with Dignity Hunger Relief Network
---
Health Coach in New Jersey
The American College of Sports Medicine's annual survey has listed health and wellness coaching among its top 20 international fitness trends every year since 2010. Health coaching is a field that you can break into whether you are just starting out or want to change careers in mid-life. For example:
Health coach Kathy Dickson of Newfield, was an industrial engineer for 30 years. After retiring, she sought health coaching education and certification and now owns an independent health and wellness company, Vital Body Wellness. Dickson counsels clients individually and in small groups. She has also provided health education for corporations requesting her services.
Another New Jersey health coach, Suzanne Taylor-King of Marlton, focuses on holistic life coaching in her independent practice. She helps clients find time to improve their own health and then holds them accountable to the goals they set together. In this way, Taylor-King is helping clients not only to improve physical health but to learn to better manage time and stress in their lives.
New Jersey's Courier-Post suggests that the health coaching profession is gaining ground due to the Affordable Care Act, shifting the health care industry towards prevention to keep medical costs down. Virtua, a health system in New Jersey, employs community-based health managers to oversee patients with chronic illnesses who face frequent hospitalizations. These managers act as health coaches to the patients, making sure that they receive all of the diagnostic testing their illnesses require and that they are getting the right care at the right time.
Earning a Relevant Degree and Professional Certification to Start a Career in Health Coaching
Health coaches are not required to be professionally registered, licensed or certified. This means you would have a lot of leeway when it comes in the type of degree you pursue, as long as it is health-related.
Some health coaching positions in New Jersey may call for applicants who are Registered Dietitians (RD), which would involve qualifying for registration with the Academy of Nutrition and Dietetics Commission on Dietetic Registration.
Most health coach jobs in New Jersey, however, just call for a bachelor's degree.
Degree Options
Certificates or associate's degrees such as these can help you to qualify for an entry-level health coaching position in New Jersey:
Associate in Science in Health Sciences
Associate in Science in Health/Physical Education/Recreation
Associate in Applied Science in Health Sciences
Associate in Science in Exercise Science
Bachelor's degree majors that many of New Jersey's top employers of health coaches look for include:
Nutrition and Food Science
Integrative Health Coaching
Holistic Health
Health/Physical Education
Exercise Science
Public Health Education
If you hold a bachelor's degree in that area, but would like to become a health coach, you could change careers more easily if you pursue one of the following graduate certificates or degrees:
Master of Science in Health Science- Integrative Health Coaching
Master of Science in Exercise Science and Physical Education
Graduate Certificate in Complementary and Alternative Medicine
Graduate Certificate in Health Coaching
Professional Certification and Registration
Many health and wellness coaches in New Jersey elect to pursue professional certification. These accredited and professionally recognized organizations provide optional credentials to qualified individuals:
American Council on Exercise (ACE) – The ACE is the sole professional health coaching certification that has earned accreditation by the National Commission for Certifying Agencies (NCCA. Two levels of health coaching certification, standard and premium, are offered.
International Coach Federation (ICF) – As an internationally known health coach certification foundation, this program provides the credentials Associated Certified Coach (ACC), Professional Certified Coach (PCC), and Master Certified Coach (MCC).
IPEC – This program accredited by the ICF is based in New Jersey and provides health coach certification to international clients. Their Health and Wellness Coach Certification Program provides the credential Certified Health and Wellness Coach to qualified candidates.
Health Coaching Career Paths and Job Opportunities in New Jersey
The following job vacancy announcements, sourced in August 2016, represent the types of employment opportunities available to properly credentialed health coaches in New Jersey. These job vacancy announcements are shown for illustrative purposes only and are not meant to represent job offers or provide an assurance of employment.
Health Coach for Check-Ups Program – Port Reading, NJ
You will coordinate and conduct biometric screening appointments for members, collect health history and help to engage members into health and wellness programs. You will promote goals for fitness, weight loss, health and nutrition.
Requirements:
Bachelor's degree in a health related field
Three years of health and wellness experience
Bilingual in Spanish preferred
Wellness Program Consultant for Innovative Benefit Planning, LLC- Moorestown, NJ
You will work with employees in designing, coordinating and delivering health programming to change behaviors and improve outcomes. In addition to coaching participants to make behavior changes, you will also work with outside vendors and oversee events such as health screenings or organized runs or walks.
Requirements:
Bachelor's degree in a health related field
Account management and project management skills
Ability to travel locally to onsite locations
Health and Wellness Specialist for Behavioral Health Home Unit- Hammonton, NJ
You will coordinate and deliver health and wellness education to consumers who are mental health clients. You will help to develop and conduct wellness activities and programs, as well as disease management and wellness education. You will also provide on-call support for clients.
Requirements:
Bachelor's degree in health education related field
Certification as a Health Education Specialist (CHES) or other wellness coach certification
Experience with severe, persistently mentally ill preferred
Nutrition Coach for Life Time Fitness- Mount Laurel, NJ
You will engage members in services, programs, supplements and technology of Life Time Fitness. You will provide nutrition consultations for prospective clients, and nutrition coaching sessions for members. You will also facilitate seminars and group nutrition and fitness events for members.
Requirements:
Bachelor's degree in nutrition, dietetics, exercise science, kinesiology or related field
Hold one of the following certifications/registrations: Registered Dietitian Nutritionist (RDN), Sports Nutritionist (C-ISSN), Certified Nutrition Specialist (CNS), or Precision Nutrition Level 1 Certified
Within six months of hire, you must obtain one of the following certifications: Certified Personal Trainer, ACSM, ACE, Cooper Fitness, Life Time Academy, NPTI, NSCA, NATA, NASM
State and Local Resources for Health Coaches in New Jersey
State of New Jersey Department of Health
Cape May County Health Department
New Jersey Health Resource Center
Atlantic City Health & Human Services Department
Atlantic County Division of Public Health
Hackensack Health Department
Paramus Board of Health
Newark Department of Health and Community Wellness