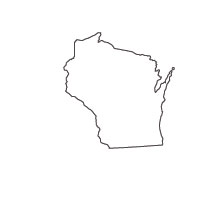 The obesity epidemic is continuing to wreak havoc on Wisconsin residents. According to the Centers for Disease Control and Prevention, by 2011, 27.7% of adults, 25.3% of high school students, and 30.6% of children between the ages of 2 and 4 were considered overweight or obese in the state. Today, nutrition professionals, including nutritionists, are partnering with the Department of Health Services to implement a comprehensive plan to reduce statewide obesity rates by 2020. This innovative health enterprise is referred to as the Wisconsin Nutrition, Physical Activity and Obesity Program.
Wisconsin Certification and Licensing Requirements
In 2013 a proposed law restricting nutrition practices and professionals was struck down in Wisconsin. As a result, nutritionists working in this state are not presently required to obtain certification or licensure. However, it is illegal for nutritionists to use any titles or initials that misrepresent them as dietitians, licensed or certified dietitians, or any other certified or licensed nutrition professionals. Since the future of regulatory practices for nutritionists remains uncertain in Wisconsin, nutritionists that intend to work here are advised to stay abreast on legislative activity surrounding this profession.
Degrees for Nutritionists in Wisconsin
Since nutritionists are not regulated by state agencies in Wisconsin, nutritionists are not required to acquire a post-secondary degree in order to practice here. Yet, studies by the United States Bureau of Labor Statistics has found that approximately 75% of all dietitians and nutritionists between the ages of 25 and 44 hold either a undergraduate or graduate degree. This finding sets a national precedence for all nutritionists entering in the field in Wisconsin. As such, nutritionists should strive to graduate from a nutrition-related degree program that is accredited by a recognized accrediting body like Accreditation Council for Education in Nutrition and Dietetics.
Pro-active students interested in jumpstarting their careers through formal education, will find no shortage of nutrition-based degree programs in Wisconsin. Boasting ten accredited nutrition schools, this state offers diverse program options in areas like human nutrition, nutritional science, and animal nutrition. Students that enroll in these degree programs will receive stellar instruction in courses of study such as nutrition, biochemistry, public health, eating behavior, and food science. Some example of nutrition programs in Wisconsin include:
Bachelor of Science in Dietetics: Nutritional Sciences
Bachelor of Science in Natural Sciences: Nutritional Sciences
Bachelor of Science in Nutritional Sciences
Master of Science in Biochemical and Molecular Emphasis
Master of Science in Human Nutrition
Master of Science in in Food and Nutritional Science
Doctor of Philosophy in Biochemical and Molecular Emphasis
Doctor of Philosophy in Human Nutrition
Doctor of Philosophy in Animal Nutrition
<!- mfunc feat_school ->
The following bachelors and Master's programs offer career-focused instruction delivered by trained nutritionists with experience in the field. Find out more what each individual course of study offers through the locations below.
Sponsored School(s)
Featured Nutritionist Programs
<!- /mfunc feat_school ->
Jobs and Nutritionist Salaries in Wisconsin
One of the reasons that formal education is such a crucial component of a nutritionist's career is due to the fierce competition over jobs in the field. According to the Bureau of Labor Statistics, the number of jobs for nutritionists in Wisconsin will increase by 3% in the ten-year period leading up to 2028. During this ten-year period, the state will see about 100 job openings for nutritionists due to a blend of new job growth, retirements, and natural job turnover.*
Jobseekers are encouraged to research opportunities in hospitals, outpatient care centers, medical centers, nursing care facilities, and colleges and universities as these worksites typically hire nutritionists to compliment their staff. Local employers may include:
Colonial Manor Medical and Rehabilitation Center
Aurora Healthcare
UW Health System
Ministry Health Care
Children's Hospital and Health System
Agnesian Healthcare
Sauk County Public Health
The Bureau of Labor Statistics reported that as of May 2021, nutritionists in Wisconsin earned an average salary of $61,870.*
Professional Associations in Wisconsin
Association of Nutrition and Foodservice Professionals-Wisconsin Chapter
Wisconsin Academy of Nutrition and Dietetics
Society for Nutrition Education and Behavior
Wisconsin Association of Nutrition Directors
School Nutrition Association of Wisconsin
---
Health Coach in Wisconsin
The county of La Crosse in Wisconsin hopes to be labeled the healthiest county in the state, and they're relying on health coaches to help make it happen.
The La Crosse Medical Health Science Consortium, a nonprofit corporation comprised of five other health institutions has been established to help make this goal a reality. Through this partnership, which has grown to include the La Crosse County Health Department and the La Crosse County school system, the hope is to establish a foundation for health improvement while encouraging collaboration among local schools, businesses, nonprofits and public health organizations working towards the common goal of achieving a healthier community. This consortium fosters a large network through which health coaches are able to reach the community one individual at a time.
The most significant element of the Consortium is its emphasis on collaboration. It would seem that La Crosse recognizes the value of working together for the sake of their community.
This positive emphasis on collaboration has created opportunities for a diverse and varied combination of organizations to come together while allowing each individual organization to do what it does best, whether that's education, community outreach, nutritional counseling, or smoking cessation. This can be seen in the Farm2School programs developed by the La Crosse Health Department as well as the Complete Streets ordinance being put in place, which is creating walkways and biking paths that better support bicycle commuting and physical activity.
The La Crosse Medical Health Science Consortium is constantly seeking new partnerships and initiatives to engage in as the county tries to become the healthiest in the state, and this means more jobs in health coaching are becoming available. The county of La Crosse gladly welcomes the contributions of health coaches as the community continues to seek health improvements both individually, and for the community as a whole.
Becoming a Health Coach in Wisconsin: Earning a Relevant Degree and Professional Certification
Perhaps you are more interested in nutrition than you are in fitness or perhaps it is the other way around for you. In either case, as an aspiring health coach you have the opportunity to build your education and training around those interests. Considering there are so many facets to health coaching and behavioral modification, any degree you choose in the area of health promotion, exercise science, sports psycholgy or nutrition would prepare you for a job in health coaching. Some employers will be more specific in their requirements than others but as long as you have been trained in some area of health and wellness, you would be well qualified to begin a career in the field of health coaching.
Degree Options
If you are eager to get into your career and prefer to spend less time in school, an associate's degree, career diploma or undergraduate certificate will suffice for some entry level positions. Still, most health coaching positions will require a bachelor's degree of some kind. Associate and bachelor's programs in the following areas are among those that employers most often look for:
 
Health and Wellness Management
Nursing
Psychology
Health, Wellness and Fitness
Exercise Science and Kinesiology
Nutrition and Dietetics
 
If you're interested in making a career change and already have a bachelor's degree, you'll want to consider a master's degree or graduate certificate. A graduate degree will have the added benefit of giving you stronger credentials, which would be helpful for more competitive positions. Some examples of relevant options include:
Master of Science in Education (MEd) with a Health, Human Performance and Recreation (HHPR) emphasis
Master of Science in Education (MEd) with a Health, Physical Education and Coaching (HPEC) emphasis
Master of Science (MS) in Health and Wellness Management
Professional Certification
You would be hard pressed to become an independent health coach or land anything beyond an entry-level health coaching position without professional certification. Due to the nature of this field, hands-on experience and practical training is a necessity, and being able to prove you're expert with the right certification is also key to marketing your services. Certification serves as a field-specific credential that shows clients that you are an authority in your field.
With the near endless number of heath coach certification options on the market, selecting the right one is no easy task. The good news is that since employers often require certification through a specific certifying agency, they often provide you with a timeline for becoming certified after you've been hired, and even cover the costs
 
The American Council on Exercise (ACE) is just one certifying agency that offers an independent self-study certification program in health coaching. Currently, ACE is the only program accredited by the National Commission for Certifying Agencies (NCCA). Every two years you will be required to renew your ACE certification by completing the continuing education approved by ACE. The ACE Certification Candidate Handbook can serve as your guide and point of reference if you prepare to take the ACE certification exam.
Health Coaching Career Opportunities in Wisconsin
There is a tremendous amount of variety when it comes to career paths in the field of health coaching. Some health coaching jobs involve more program development while other positions will require you to engage with clients in both one-on-one and group settings. Depending on your level of expertise and your experience in the field, you have the opportunity to select the position you are most interested in and most qualified for.
Career in health coaching typically follow one of four paths:
Landing a job with health and wellness companies that contract coaching services out to corporate employers
Landing a job directly with a corporate employer that hires health coaches to maintain a healthy workforce
Landing a job with a government agency, hospital or insurance company to promote wellness in a particular population group (rural populations, high-risk populations, elderly populations, etc)
Joining a partnership firm or striking out on your own to start an independent health coaching contracting business
The following job vacancy announcements represent the types of employment opportunities available to properly credentialed health coaches in Wisconsin. These job vacancy announcements are shown for illustrative purposes only and are not meant to represent job offers or provide an assurance of employment.
 
Director of Nutrition and Weight Loss Coaching for WeightNot – United States (100% work from home)
You will be responsible for training a team of health coaches for WeightNot that will work directly with members. You will also be responsible for evaluating members' experiences and adjusting programs and coaching methods accordingly.
Requirements:
Bachelor of Science in Nutrition or a closely related field required
Graduate degree in Nutrition or a closely related field preferred
At least 3-5 years of experience managing a professional staff
Experience managing team in a virtual environment
Capable of providing management and support over the phone
Experience providing and managing nutrition and behavioral coaching
Sales management/revenue generation through customer referral programs and relationship management
Comfortable with help desk/CRM/support technologies
Wellness Coach for Plus One – Appleton, WI
You will be responsible for on-site coaching and educating clients on behavioral modification, health, and disease prevention. You will motivate them to complete their designated health improvement programs as well as oversee their results.
Requirements:
Bachelor of Science in Counseling, Fitness, Health Promotion or a closely related field required
Coaching certification from WellCoaches or another nationally recognized coaching organization preferred
At least two years of experience coaching in a corporate setting preferred
Comprehensive understanding and experience in health management: behavior modification, screenings, disease management modalities, and prevention
Experience with metric management and reporting
Health Coach for Aurora Health Care – Milwaukee, WI
You will be responsible for coaching and educating clients to help them achieve health goals. You will also be responsible for assisting high-risk clients susceptible to diseases by providing disease prevention tips and programs.
Requirements:
Registered Nurse License issued by the state in which the caregiver practices or Dietitian certification issued by the state of Wisconsin and Dietitian (RD) registration with the Academy of Nutrition and Dietetics
Bachelor of Science degree in Nursing, Dietetics, or another closely related field
At least 3 years of experience in clinical practice as a licensed clinician and experience in adult teaching, patient education and coaching, and health promotion
Completion of a health and wellness program that is accredited by the National Consortium for Credentialing Health and Wellness Coaches (NCCHWC) must be completed 6 months after being hired
 
Additional Local Resources for Health Coaches in Wisconsin
Wisconsin Department of Health Services
Wisconsin Health and Educational Facilities Authority
Wisconsin Department of Health Services
La Crosse Medical Health Science Consortium
Milwaukee Health Department
*2021 US Bureau of Labor Statistics salary figures for dietitians and nutritionists. Job growth projections from the US Department of Labor-sponsored resource, Projections Central. Figures are based on state data, not school-specific information. Conditions in your area may vary. Data accessed April 2022.