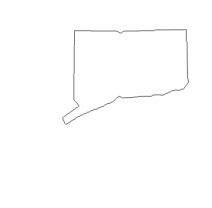 Becoming a Nutritionist in Connecticut
Connecticut does not require specific certification for a person to offer services as a nutritionist. This does not mean that becoming a nutritionist in Connecticut is easy or does not require certain skills. Typically a nutritionist has earned at least a bachelor's degree in nutrition, food science, or other similar field. Nutritionists work in many types of jobs, including food management, nutrition educator, research, and fitness. Therefore, skills a good nutritionist has include critical thinking and reasoning, listening, and compassion for other people's feelings and struggles. It takes a special person to be able to help others with their choices regarding food and wellness.
Nutritionist Degrees and Education in CT
A well-educated nutritionist offers the best advice and information to clients. Therefore, content areas may include human nutrition, biochemistry, nutrient assessment, nutrition counseling, nutrition and disease, and public health nutrition. In some cases, nutritionists can earn higher degrees, especially if they focus specifically in one of these areas of interest. Some nutritionists decide to complete a master's degree or even a PhD in order to learn as much as possible about their field of interest.
Nutritionists can also serve in the medical field, and some may start as nurses. Specialties in medical nutrition include diabetes education, heart healthy eating, pediatric nutrition, and nutrition for cancer patients. All of these fields require knowledge of the physiology of the human body, the way disease affects it, and how nutrition plays a role in becoming healthy.
Although Connecticut does not require certification or licensure for nutritionists, some employers may. Organizations such as the Academy of Nutrition and Dietetics (formerly the American Dietetic Association) or the Clinical Nutrition Certification Board provide certification. The Connecticut chapter of the Academy of Nutrition and Dietetics provides a wealth of information regarding a variety of nutrition-based topics. Additionally, the American Nutrition Association provides a forum for promoting health and wellness through nutrition education.
<!- mfunc feat_school ->
Salary and Job Prospect Outlook
According to the State of Connecticut Department of Labor Occupation Outlook, Connecticut averages about 40 job openings for nutritionists and dietitians annually. The Connecticut Department of Labor forecasts a growth rate of 14% through 2020. Average salaries range from $57,363 in New London/Norwich to $70,104 in Danbury. The average statewide salary is $63,890. Salaries are dependent on experience, education, and geographic location, as well as the type of position. Most nutritionists tend to work in hospitals, schools, and government offices, although a fair number are self-employed.
A career as a nutritionist in Connecticut can be very fulfilling as it enables you to help others feel better about themselves and provide their families with healthful, nutritious meals.
Nutritionists: What do they do?
Typical duties for a nutritionist may include assessing nutritional needs for a client; offering advice about nutrition and diet choices; educating individuals, families, or groups about nutrition; working with other health professionals to create the best overall health plan for a client; or creating nutrition plans for individual clients.
Nutritionists may work in an alternative or holistic healthcare setting such as with a chiropractor, acupuncturist, or massage therapist; retail health food or vitamin supplement stores, nursing homes, public schools, fitness centers, or in private practice.
The overall goal for a nutritionist is to provide clients with beneficial information about food and nutrition and how to best care for themselves and their family.
Examples of positions for nutritionists in Connecticut include:
Nutrition Coordinator for the Community Development Institute in Waterbury
Nutritionist for the Connecticut Institute for Communities in Danbury
Nutritional Counseling at St. Francis Care Fitness Center in Hartford
Food Services Managers for a variety of Connecticut Public School Districts
WIC Program Nutritionist in Norwich
---
Health Coach Careers in Connecticut
If you're looking to work in a state where the concept of health coaching is already well-received and the government is actively working to change the state health culture, Connecticut is the place for you.
Acknowledged as one of the top ten states for integrating wellness programs into health insurance plans (The Council of State Governments Knowledge Center), Connecticut has set up a system of rewards and penalizations for employees who do or do not participate in the state Health Enhancement Program.
Why is Connecticut taking this issue so seriously? According to the Connecticut Department of Health:
57% of Connecticut residents suffer from chronic diseases.
6 out of 10 deaths are the result of chronic disease in Connecticut.
1 in 4 Connecticut adults is obese, with an additional 1 in 3 overweight.
Obesity is directly tied to chronic disease, and therefore a leading cause of death in Connecticut.
In searching for solutions, it's clear that lifestyle choices play a big role in these health concerns, The CDPH also found that:
Only 34.4% of Connecticut residents met both aerobic exercise and muscle strengthening guidelines for a healthy life.
33.7% of adults eat less than one serving of fruit a day.
22.2% of adults eat less than one serving of vegetables a day.
2 out of 3 adults get less than 8 hours of sleep.
If you're thinking that this sounds like the job for a health coach, you're right on target. As a health coach, you help people see the risk factors in their lives and then guide them in taking steps towards health and longevity.
In the past few years as Connecticut has worked to institute programs to improve health and save money, state and private organizations have been using the services of health coaches to improve outcomes.
Even pharmaceutical giant Boehringer Ingelheim hired health coaches to work with their employees (Business Council of Fairfield County), and their Boehringer Ingelheim Cares Foundation recently started a new health coaching program at the AmeriCares Free Clinic in Danbury (BI Press Release Archive).
So if you're ready to be part of helping Connecticut continue to stand out as a leader in innovative health care, read on.
Health Coaches in Connecticut: Degrees and Professional Certification
Trying to find the "right" path to a health coaching career can be frustrating.  Conflicting information and differing viewpoints might already have you confused and not sure where to start.
The reality is, health coaching is still a fairly new and mostly unregulated field. With no one national or state licensing body, the title "Health Coach" can mean a wide variety of things.
As you plan your education, consider carefully whether or not your choices will help you develop into the kind of coach you yourself would want to hire. There are many "fast track" options, but you will want to think about whether or not your current knowledge base is sound enough for such an option or whether you should consider a longer course of study.
Depending on which educational track you choose, you will likely find yourself exploring many of the courses below:
Illness and Disease
Health and Wellness Promotion
Spirituality in Health Care
Nutrition & Health
Mind/Body Interventions for Health
Health Education and Promotion for Healthy Lifestyles
Food Hygiene
Alternative Healing Modalities
Human Growth & Development
Principles of Fitness
Traditional Healing Methods
Sports Nutrition
Psychology of Women's Health
Nutrition Therapy
Foods, Herbs, Supplements and Other Products
Associate, Bachelor's and Master's Degree Options in Connecticut
Undergraduate and certificate programs that could lead to a health coaching career include:
Health Promotion – Holistic Health Studies
Public Health and Health Promotion
Dietetics
Health Science
Fitness Specialist
Health and Exercise Science
Personal Trainer Certification
Nursing
Nutrition & Dietetics
Exercise Science and Wellness
Graduate level majors suitable for those seeking a career in health coaching include:
Dietetics
Human Nutrition
Naturopathic Medicine
Masters in Health Promotion
Health Psychology
Doctor of Health Sciences
Non-Degree Health Coach Certification Programs
Today, there are a number of online wellness coaching programs that offer certification. Some offer courses that can be completed in as little as six weeks, with others requiring somewhere in the neighborhood of 2 years.
These programs are sometimes treated as stand alone options and at other times seen as complementary to existing degrees.
Did you know that certified health coaches tend to make anywhere from 30-40% more than uncertified health coaches? Although there are no official statistics from the Department of Labor, job vacancy aggregation sites like indeed.com and glassdoor.com show a considerable pay gap between certified and uncertified coaches.
When choosing a certification program, carefully research who stands behind the program. For example, some agencies are connected to major universities or well-respected organizations, while others are simply stand alone groups without any credible backing.
One of the most respected accrediting agencies in the United States is the National Commission for Certifying Agencies (NCCA). At this time, the NCCA has only chosen to offer accreditation to the American Council on Exercise (ACE).
ACE offers three tracks that you can choose from when planning your career path:
Health Coach for Fitness Professionals
Health Coach for Health Care Providers
Health Coach for Workplace Wellness
For more information on certification and maintenance, please check out the ACE Certification Candidate Handbook.
Other tracks to becoming a health coach in Connecticut may include:
Personal experience used to help others
Audited or other non-degree classes
Self study
Career Paths and Job Opportunities Available to Health Coaches in Connecticut
The Connecticut News-Times reported that 50% of patients leave their doctor's office without understanding the advice they were given. That translates into poor health outcomes and a huge drain on state resources – the total cost of diabetes alone in Connecticut recently hit nearly $2.43 billion in just one 12-month period! (Connecticut Department of Health.)
Government agencies and employers are recognizing the solid returns that can come from focusing on preventative measures – averaging anywhere from nearly $3 to $6 per dollar invested, according to the Harvard Business Review.
Healthy people save their employers – and themselves – serious cash. By coming alongside individuals and organizations you get to be the coach, instructor, and cheerleader who helps get people onto the right path.
If you hope to work with worksite wellness programs you may want to explore the many larger companies that design and provide such wellness programs to the corporate world. Working in this setting, you will be part of a team that helps large organizations focus on their individual employee's health goals and needs.
Some smaller businesses also hire independent health coaches to work with their teams. In this situation, you may work part time with two or three organizations on a freelance basis.
Either way, corporate and small business health coaches generally put in their hours during the standard 9-5, Monday through Friday workweek.
Some independent health coaches prefer to freelance with individuals, usually meeting with people during evenings and weekends to help them achieve their personal health goals.
If you do plan to work independently, you will need to choose a business name and then register your business with the Connecticut Department of Revenue Services. If you plan to hire additional employees, you will also need to obtain an Employer Identification Number (EIN) and register with the Connecticut Department of Labor, filling out the UC-1A form.
Companies in Connecticut known to hire or partner with organizations providing health coaches include:
Americares
Boehringer Ingelheim Pharmaceuticals, Inc
Cigna
EJ Prescott
Provant
Hartford Healthcare
Aetna
Daymon Worldwide
Harmon International Industries
Nestle Waters North America
Tauk Inc.
Eversource Energy
Neopost USA
Point 72 Asset Management, L.P.
The Hartford
If you're wondering what it looks like to work in a corporate health coach position, we've collected a handful of job postings, sourced in June 2016, to help give you a better picture. Please remember that these are examples only, and we are not proposing job offers or giving assurance of employment. Job descriptions have been condensed due to space restrictions.
Wellness Coordinator and Health Coach, Yale New Haven Health, New Haven – In this position you will plan and implement wellness programs and provide lifestyle/health risk coaching services to improve the health and productivity of employees and covered dependents. This will involve face-to-face coaching, documentation of data, development of relationships with internal champions and subject experts in key disease and health risk disciplines, and work with key functional areas to develop a culture of health in the workplace.
Qualifications: College degree in a health related field. A minimum of two years' experience in the delivery of worksite health and wellness programs. Ability to demonstrate positive self-care measures in your own life to serve as a role model.
Health Coach, Check-Ups Program, Enfield – The coach will coordinate appointments consisting of blood tests, collect health histories, and engage individuals into health programs. Help identify and promote weight loss, nutrition, health and fitness goals to improve health.
Preferred Attributes: B.S. Degree (Health), Experience with performing biometric screenings in a corporate/manufacturing setting, ability to work with minimal supervision, focus and attention to details, excellent communication and interpersonal skills, ability to identify what constitutes healthy readings for blood pressure, weight, cholesterol and glucose. Available for projects ASAP.
Face to Face Health Coach, Provant, New Canaan – You will be responsible for face to face health coaching sessions based on Provant's risk stratification methodology. You will assess clinical date, claims, and pharmacy data as well as tobacco use within a clinical assessment to determine the participant's risk stratification. You will be actively involved in Wellness Programs per client's request, completing duties which may include onsite health coaching and education, clinical research, client specific training, and other assignments as determined by management.
Required Skills and Experience: Clinical assessment skills, interpersonal skills, flexibility, and health coach experience or certification. We are looking for someone with relevant experience that could include an athletic trainer, registered dietitian, nurse, kinesiologist, or exercise physiologist.
Community Health Coach, Hartford Health Care, Hartford – In this position you will work as part of the clinical care management team, providing support to team members and outreach to the community. You will cultivate deep relationships with potential patients and their loved ones to help them navigate complex circumstances, work to build relationships with local organizations to improve health for seniors, assist in resolving problems and patient concerns, assist patients in scheduling and follow up, and provide patients with education materials.
Qualifications: High school graduate or GED. Health Sciences education program preferred. At least 5 years health care experience. A passion for helping with vulnerable populations. Ability to work independently and offsite also required.
State Resources for Health Coaches in Connecticut
Connecticut State Health Department and Wellness Initiatives
Connecticut Department of Public Health
Local Health Agencies
Healthy Connecticut 2020
Live Healthy Connecticut
Behavioral Risk Factors Surveys
Professional Organizations and Certifying Bodies
There are currently no Connecticut-based professional organizations serving health coaches. However, depending on which area of education you choose to focus on and because your work has the potential to overlap with other health fields, you may find these resources helpful:
Connecticut Naturopathic Physicians Association
Connecticut Association of Public Health Nurses
Connecticut Health Foundation
Connecticut Nurses Association
United Nurses & Allied Professionals

Additional Helpful Links
Connecticut Health Foundation Grants
Connecticut Laws for Practicing Nutrition
How to Establish a Sole Proprietorship in Connecticut
Law and the Health Coach