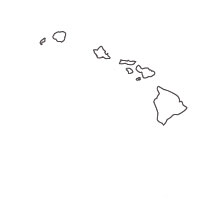 Becoming a Nutritionist in Hawaii
Public interest in food and nutrition has grown almost exponentially in the last few years with a profusion of news, books and even movies ("Super Size Me") about the consequences of an unhealthy diet for both adults and children. The government has been promoting healthier choices in school cafeterias and Hawaii's single school district (the ninth largest in the US), serves over 100,000 lunches each day. Since Hawaii receives government subsidies for low-income children, school nutritionists in Hawaii must plan menus that meet federally mandated nutritional standards while satisfying the diverse cultural tastes of the students.
The growing interest in healthy food choices has spawned a concurrent interest in nutrition as a career. If you enjoy helping people, like science, have an analytical mind, technical know-how and excellent communication skills, becoming a nutritionist might be the ideal profession for you.
Nutritionist Degree and Licensing Requirements in Hawaii
Dietitians must be registered and licensed in Hawaii; however, there are no licensing or certification requirements for nutritionists. Nonetheless, in order to be hired you will need a degree in nutrition. One university in Hawaii, located in Honolulu, offers both undergraduate and graduate degrees in nutrition through the School of Agricultural Science's Department of Human Nutrition.
Courses you are likely to take as a nutrition major might include:
Principals of Nutrition
Human Physiology
Relationship between Food and Nutrition
Biology
Biochemistry
Functional Fiber
Study of Obesity
Bioactive Food Components
Diet and Cancer
Mineral Nutrition
Nutritional Epidemiology
Nutrition Education
Preventive Nutrition
Sports Nutrition
Diseases Related to Dietary Deficiencies
Nutritional Product Development
Community Nutrition
International Nutrition
Statistics / Research Methods
You also have the option of choosing to earn a nutrition degree from one of several, accredited online colleges or universities. Online learning is extremely convenient if your time is constrained by work, parenthood or other responsibilities. As long as they are accredited online schools are generally just as accepted by prospective employers as on-campus institutions.
Nutritionist Job Description and Job Opportunities in Hawaii
As a nutritionist you might be responsible for any of the following duties:
Give programs on nutrition to organizations, schools, clubs, etc.
Provide individual nutritional evaluations
Design health and fitness plans for individuals
Plan menus for schools, hospitals
 Supervise food preparation
Assist physicians with patient medical assessments
Create diet charts
Prepare meal plans and recipes for patients suffering from diabetes, heart disease, obesity, eating disorders, etc.
Do nutritional research
<!- mfunc feat_school ->
The following bachelors and Master's programs offer career-focused instruction delivered by trained nutritionists with experience in the field. Find out more what each individual course of study offers through the locations below.
Sponsored School(s)
Featured Nutritionist Programs
<!- /mfunc feat_school -> <!- mfunc search_btn -> <!- /mfunc search_btn ->
Job opportunities for nutritionists in Hawaii have increased along with growing concerns about the role food plays in health and the prevention of disease. The kinds of places that hire nutritionists in Hawaii include but are not limited to::
Hospitals
Public schools
Universities and colleges
Prisons
Group homes
Nursing homes
Child care facilities
Spas
Resorts / Country Clubs
Hotels
Public health agencies
Rehab facilities
Diet programs
Health food stores
Food manufacturers
Research labs
You might be interested in specializing in a specific area like sports nutrition, in which case you could work for physicians specializing in sports medicine, clinics devoted to sport injuries or individual athletes desiring to improve their strength and energy. Hawaii has a growing cottage industry surrounding nutrition and surfing. You'll find a wide array of books and articles on surfer nutrition, high-energy food products for surfers, and nutritional consultants.
Nutritionist Salary and Job Growth
According to the Bureau of Labor Statistics, the average salary for nutritionists in Hawaii was $75,020 as of May 2021. In the ten-year period leading up to 2028, the BLS projects that nutritionist jobs in the state will increase by 13%.*
---
Health Coach Careers in Hawaii
When you think of Hawaii, particularly Honolulu, you might think of the various natural attractions like Waikiki Beach or Diamond Head. Although Hawaii has numerous mediums through which you can explore these natural attractions and commute through the beautiful city, you might not consider Honolulu to be a large biking community, but it is! Recently, a non-profit organization called Bikeshare Hawaii planted 150 stations all over the city for the general public's transportation needs. You can stop at any one of these stations, pick up a bike, use it for as long as you need, and return it to any other station located around the city. This free access to an environmentally friendly and healthy form of transportation has been something the city's health coaches are getting very excited about.
When people use bikes for everyday commutes and transportation, it significantly limits the city's excessive use of fossil fuels, directly contributing to the health of Hawaii's air quality and natural environment. Furthermore, riding a bike to and from work or while running errands encourages consistent physical activity.
Hawaii consistently ranks low in obesity rates and high in terms of the amount of aerobic activities residents enjoy according to Hawaii: Quality of Life. Hawaii also ranks high for life expectancy and low for tobacco use.
Hawaii also sets itself apart from other states in the US with its emphasis on natural health and prevention, something the state's health coaches have been promoting for years.
Health coaches working for Family Health Hawaii focus primarily on prevention as the primary means of achieving health benefits. This organization provides wellness plans for people attempting to avoid future health issues. These plans include health assessments, consultations, medical library access, and various other resources intended to guide people in their journeys toward healthy living.
Becoming a Health Coach: Earning a Relevant Degree and Professional Certification
Considering health coaching is still a relatively new field, it is still in the process of becoming established in terms of standardized job requirements. If you are interested in pursuing a career in health coaching, you have the opportunity to build your credentials and experiences according to your interests. This means you're able to select your own related degree major, certifications, internships, electives, and more.
Several suitable degrees and a standard certification for employment are listed below.
Degree Options
Associate's degrees in areas like those shown here are suitable for some entry-level health coach jobs:
Psychology
Healthcare Management
Nutrition
Applied Science in Health and Wellness
A bachelor's degree in one of these areas is the most common qualification employers look for and is necessary for most health coach career opportunities:
Health Promotion
Nutrition
Health Sciences
Health Education
Behavioral Health
A master's degree in one of these areas would be considered a very strong qualification, and would go beyond the general expectations of most employers:
Health Administration
Public Health
Social Work
Counseling
Nutrition
Health Promotion
Professional Certification
As you build your credentials and experience in health coaching, you'll soon find yourself looking at certification options. The certification you are required to complete will vary from one position to another depending on what employers require from their applicants. The certification you complete will serve as a field-specific credential denoting experience and expertise, which contributes to your academic training. Certification also provides you with credentials that will illustrate authority within the specialized scope of practice for health coaching.
American Council on Exercise (ACE) – ACE certification is accredited by the National Commission for Certifying Agencies (NCCA) and provides "standard" or "premium" self-study packages to prepare for the examination that leads to the Health Coach Certification. Certification through ACE must be renewed every 2 years by completing continuing education approved by ACE. The ACE Certification Candidate Handbook provides thorough details concerning the certification examination and maintenance process.
Health Coaching in Hawaii: Career Paths and Job Opportunities
Considering that Hawaii maintains high standards when it comes to healthy lifestyle choices, embracing prevention initiatives and natural health, the job market is significant and varied regardless of the size or population of the island you might live on. Each of the job listings varies according to the required qualifications and experience. These variations allow you to find a job that fits your specialties and areas of expertise. Furthermore, some job listings require fewer qualifications, allowing you to start working in the field even before you complete your education or certification. These job listings allow space for you to grow in your professional and academic development as you progress in the field of health coaching.
The following job vacancy announcements represent the types of employment opportunities available to properly credentialed health coaches in Hawaii. These job vacancy announcements are shown for illustrative purposes only and are not meant to represent job offers or provide an assurance of employment.
Health Coach for Hawaii Medical Service Association – Honolulu, HI
You will provide preventative solutions for individuals who are at risk for chronic diseases. You will provide behavioral and lifestyle modifications for individuals setting goals to improve their overall health.
Requirements:
Bachelor's degree in health promotion, nutrition, health sciences, health education, behavioral health or another related field
Equivalent combination of education and experience to that of a bachelor's degree
Effective communication skills
Health Coach for HealthSlate – 'Aiea, HI
You will be responsible to help people create and maintain healthy lifestyle habits, focusing primarily upon the Diabetes Prevention Program.
Requirements:
Diabetes Program Prevention experience highly preferred
Bi-lingual English Spanish highly preferred
HIPAA training required
At least one year's experience with health coaching
Bachelor's degree
Program Manager, Accountable Health Community for Hawaii Medical Service Association – Honolulu, HI
You will be assigned projects by executive management as well as oversee the programs and program managers.
Requirements:
Master's degree in health administration, social work, or public health
Four years of any combination of field work in social work, community health experience, or public health
At least two years of experience managing staff
Experience with research and evaluating data
Excellent written and communication skills
Local Resources that Hawaii's Health Coaches Would Benefit From
Hawaii State Department of Health
Natural Healing Hawaii
Project Vision Hawaii
Hofa – Sustainable Hawaii Organic Agriculture
Aloha United Way
Hawaii Public Health Association
Healthy Hawaii Initiative
Hawaii Medical Service Association Foundation
*2021 US Bureau of Labor Statistics salary figures for dietitians and nutritionists. Job growth projections from the US Department of Labor-sponsored resource, Projections Central. Figures are based on state data, not school-specific information. Conditions in your area may vary. Data accessed April 2022.