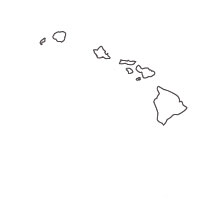 View how to become a nutritionist in Hawaii here.
Follow the step by step process or choose what situation that best describes you:
Registered Dietitian Job Info in Hawaii
As of April 2022, the Commission on Dietetic Registration reported a total of 420 Registered Dietitians (RDs) and Registered Dietitian Nutritionists (RDNs) in Hawaii. The Bureau of Labor Statistics (BLS) reports that dietitians and nutritionists in Hawaii earned an average salary of $75,020 as of May 2021, which ranks this state third in the nation in terms of average pay.
Hawaii/Kauai's nonmetropolitan region ranks among the top nonmetro areas in the nation for its average pay of dietitians and nutritionists, which was a $74,200 as of May 2021.*
Registered dietitians in Hawaii work in a variety of job settings, including schools, hospitals, long term care facilities, military bases, government organizations, community organizations, and private industry. Registered dietitians working in Hawaii can enjoy the benefits of the island state and the beauty it has to offer, as well as reap a lucrative salary.
To discover how you can become a registered dietitian in Hawaii, keep reading.
Complete Registered Dietitian Education in Hawaii
The Hawaii Department of Health has required its dietitians to become licensed before working in the state since August of 2012. Under Hawaii's licensing rules, all applicants to become Registered Dietitians must have a bachelor's degree or higher from an accredited university with a major in human nutrition, dietetics, food and nutrition, or food systems management. Course work must include nine semester hours in food preparation and food science. Additionally, all prospective Hawaii dietitians must first become Registered Dietitians under the Commission on Dietetic Registration (CDR). This means you must complete certain educational and experiential requirements, all of which must be accredited by CDR's accreditation council, the Accreditation Council for Education in Nutrition and Dietetics (ACEND).
Hawaii ACEND-Accredited Programs Leading to Registered Dietitian (RD) Licensure:
Coordinated Programs in Dietetics (CP) – A Coordinated Program in Dietetics combines the education and experience you need to become registered and licensed as a dietitian in Hawaii. As of June 2019, there are no CPs in Hawaii. If you are interested in finding ACEND-accredited CPs in other states, visit the Academy of Nutrition and Dietetics website
Didactic Programs in Dietetics (DPD)-A Didactic Program in Dietetics offers coursework that fulfills the educational requirement of the CDR and Hawaii. After completion of coursework in food, nutrition and dietetics, you must still take an internship to fulfill the experience requirements.  There is currently one DPD in Hawaii:
<!- mfunc feat_school ->
The following bachelors and Master's programs offer career-focused instruction delivered by trained nutritionists with experience in the field. Find out more what each individual course of study offers through the locations below.
Sponsored School(s)
Featured Nutritionist Programs
<!- /mfunc feat_school ->
Apply to a Dietetic Internship (DI) in Hawaii
Now you are ready to fulfill the internship requirement imposed by the CDR and the state of Hawaii on all prospective registered, licensed dietitians. Unfortunately, as of June 2019, there are no ACEND-approved Dietetic Internships (DIs) in Hawaii. An option many students use is to find an ACEND-accredited internship from another state that allows you to use an internship site and preceptor in your home state. You can use the Academy of Nutrition and Dietetics website to find ACEND-accredited DIs that interest you in other states
There are 33 ACEND-accredited Dietetic Internships in the United States that offer distance education. These can be an option for Hawaii students searching for Dis. Once such program exists at Utah State University, Salt Lake. The program lasts for seven months (31 weeks) and is full-time, non-degree. The emphases of the program include Child Nutrition, School Foodservice and System Management. Most importantly for Hawaii students, the program allows applicants to use sites and preceptors within their geographic area.
Rotations within the DI at Utah State University include:
Clinical Nutrition for 13 weeks (520 practice hours)
Community Nutrition for 6 weeks (240 practice hours)
Food Service Systems Management for 11 weeks (440 practice hours)
In addition to practice hours, interns in the DI complete 26 hours of coursework online. This is just one example of the many distance education Dis available for interested students.
CDR Registration Exam for Registered Dietitians
After your DI has come to its end, you are ready to take the CDR's Registered Dietitian Examination. Use the CDR's Comprehensive Study Outline and Study Guide and the Registration Examination for Dietitians Handbook for Candidates to help you prepare for the examination. You must answer a minimum of 125 questions in the 180 minutes you are given to complete this computerized exam consisting of multiple-choice questions. In this format, no questions may be skipped nor answers reviewed or changed.  
Pay the $200 exam fee via the CDR website. Pearson VUE Exam Centers will email you when CDR receives your fee payment to schedule your exam.  Hawaii test centers include:
Honolulu – 1441 Kapiolani Blvd, Suite 204
On examination day, bring a hard copy of the email Pearson VUE Test Centers sent you confirming your exam date and location, as well as your government-issued photo id card.
The exam should be easy if you did well in your DPD and DI. The following content areas are covered in the exam:
Foodservice Systems
Food and Nutrition Sciences
Nutrition Care for Individuals and Groups
Management of Food and Nutrition Services and Programs
A proctor at the Pearson VUE Exam Center will hand you a hard copy of your exam score once you have finished the exam.  You must get a scaled score of 25 (on a scale of 0 to 50) or more in order to pass. If you fail, you may take the exam again in 45 days by scheduling it again with CDR.  Passing the CDR exam gives you the credentials Registered Dietitian (RD).
Apply for Licensure as a Dietitian in Hawaii
Congratulations on passing the Registered Dietitian Exam! Now, you must become a licensed dietitian in Hawaii. As Hawaii's licensing laws for dietitians are so new, there are no forms available online to download, so you must request them. Contact the Hawaii State Licensing Section of the Department of Health, Office of Health Care Assurance (as of 2019, this is Susan K. Nakamura, MPH, RD, who can be reached at 808-692-7400). The contact will give you information on what needs to be enclosed with your application, such as the application fee, licensing fee, and a copy of your CDR registration card. Once you have the license, you are officially a Licensed Dietitian (LD) in Hawaii.
Maintain Licensure and Registration in Hawaii
Maintaining Your Hawaii Dietitian License
Your license to practice as a dietitian in Hawaii is renewable every three years. Currently, this just requires that you obtain a renewal form (from the contact above) and submit it with a renewal fee. No continuing education is required as of 2019 to maintain a Hawaii dietitian license, but this may change.
Maintaining your CDR Registration as a Registered Dietitian in Hawaii
Every five years, you must renew your registration through the CDR as a Registered Dietitian in Hawaii. This means you must also complete 75 units of continuing professional education (CPEUs) every five years. You may find opportunities and record them through the CDR's PDP Guide   and CDR's online CPE database. The Hawaii Dietetic Association also lists continuing education opportunities on its website.
Specialty  Certification for Dietitians in Hawaii
One way to earn CPEUs to help maintain your registration as a dietitian in Hawaii is to pursue specialty certifications in the dietetics and nutrition fields. Many of these CDR-approved or accredited certification programs fulfill part or all of the 75 CPEU requirement every five years. They can also broaden your career opportunities and horizons. Certification programs that have been used for CPEU credits include (but are not limited to):
CDR (Commission on Dietetic Registration) programs:

Board Certified Specialist in Renal Nutrition
Board Certified Specialist in Sports Dietetics
Board Certified Specialist in Gerontological Nutrition
Board Certified Specialist in Oncology Nutrition
Board Certified Specialist in Pediatric Nutrition

National Certification Board of Diabetes Educators (NCBDE):

Certified Diabetes Educator

American Association of Diabetes Educators (AADE):

Board Certified Advanced Diabetes Management

Canadian Diabetes Education Certification Board (CDECB):

Canadian Board Certified Diabetes Educator
*2021 US Bureau of Labor Statistics salary figures and job growth projections for dietitians and nutritionists reflect state data not school-specific information. Conditions in your area may vary. Salary statistics representing entry-level/early career = 25th percentile; senior-level/highly experienced = 90th percentile. Data accessed April 2022.