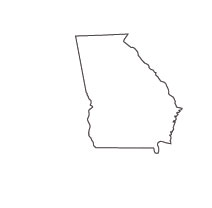 View how to become a nutritionist in Georgia here.
Follow the step by step process or choose what situation that best describes you:
Licensed Dietitian Job Info in Georgia
According to the Commission on Dietetic Registration, there were 2,574 Registered Dietitians (RDs) and Registered Dietitian Nutritionists (RDNs) in Georgia as of April 2022. The Bureau of Labor Statistics reports that dietitians and nutritionists in Georgia earned an average salary of $51,480 as of May 2021. Early career professionals here earned about $29,570, while those with extensive experience earned about $78,380 during this time.
Big metro areas often report salaries that exceed the state average. For example, the Atlanta metro area reported an average salary of $57,400 for dietitians and nutritionists as of May 2021 – that's about $6,000 higher than the state average.*
The Georgia Dietetic Association lists many and varied areas in which registered, licensed dietitians in Georgia work. They include corporate wellness programs; sports nutrition centers; food and/or nutrition-related businesses; research areas in food companies, pharmaceutical organizations, hospitals and universities; medical centers and universities as instructors; community and public health organizations; and private practice.
Becoming a registered dietitian in Georgia takes hard work over a period of a few years but is an attainable goal for those who work hard. Read on to discover how to become a registered dietitian in Georgia through education and experience.
Get Your Registered Dietitian Education in Georgia
The Georgia Board of Examiners of Licensed Dietitians requires that all dietitians who plan to work in Georgia become licensed. In order to receive a dietitian license, you must complete registered dietitian education in Georgia. This education must be accredited the Commission on Dietetic Registration (CDR)'s Accreditation Council for Education in Nutrition and Dietetics.
Georgia ACEND-Accredited Programs Leading to Registered Dietitian (RD) Licensure:
Coordinated Programs in Dietetics (CP) – A CP includes coursework and an internship, fulfilling the CDR's requirement for education and experience. Georgia CPs are:
Didactic Programs in Dietetics (DPD)-A DPD provides coursework required by the CDR, but you must still fulfill the experience requirement after. DPDs in Georgia are:
<!- mfunc feat_school ->
The following bachelors and Master's programs offer career-focused instruction delivered by trained nutritionists with experience in the field. Find out more what each individual course of study offers through the locations below.
Sponsored School(s)
Featured Nutritionist Programs
<!- /mfunc feat_school ->
Apply to a Dietetic Internship (DI) in Georgia
With your undergraduate or graduate degree in dietetics or a related major that satisfies the CDR's educational requirement, you are now ready to tackle their internship requirement. You must complete a Dietetic Internship (DI) in Georgia, which, under Georgia's licensing law for dietitians, must be at least 900 hours in length. DIs in Georgia include:
Take CDR Registration Exam for Registered Dietitians
When your internship is done and your education complete, you must pass the CDR's Registered Dietitian Examination before licensure in Georgia can occur. This computerized, multiple-choice exam takes 180 minutes to finish. The CDR's  Comprehensive Study Outline and Study Guide and the Registration Examination for Dietitians Handbook for Candidates are helpful in preparing to take the exam. You must answer a minimum of 125 questions for the exam to be scored. You are not permitted to skip questions, review answers or change answers once you have answered a question.  
The exam costs $200 and is payable online through the CDR website. You will receive an email from PSI Exam Centers once the CDR receives your payment. Pearson VUE Exam Centers will help you schedule your exam. Georgia test centers include:
Albany – 2410 Westgate Drive, Suite 102
Atlanta- 2 Corporate Blvd NE, Suite 150
Atlanta – 1117 Perimeter Center West, Suite 311 East
Augusta- One 10th St., Suite 640, Augusta Riverfront Ctr
Macon- 6055 Lakeside Commons Drive, Suite 110, Lakeside Commons I Bldg
Savannah- 785 King George Blvd, Suite C, Georgetown Ctr
Stockbridge – 239 Village Ctr Pkwy, Suite 280, The Grand Professional Bldg
Make sure to bring a printed copy of your scheduling confirmation email from Pearson VUE along with your driver's license or other government-issued photo identification card on exam day.
Questions on the exam are based in these areas of Dietetics and Nutrition:
Food and Nutrition Sciences
Nutrition Care for Individuals and Groups
Management of Food and Nutrition Services and Programs
Food Service Systems
A proctor at the Pearson VUE Exam Center will give you your score on the exam after you have finished taking it. A scaled score of 25 or better (on a scale of 0 to 50) is required to pass. Those who fail are allowed to re-take the exam in 45 days, by contacting the CDR to reschedule. After passing the CDR Registered Dietitian exam, you are permitted to use the credentials RD (Registered Dietitian) behind your name.  
Apply for Licensure as a Dietitian in Georgia
When you pass the CDR Registered Dietitian Examination and receive your Registered Dietitian title, you may apply for licensure as a dietitian in Georgia.
Enclose the application fee via a check or money order for $75 payable to the Georgia Board of Examiners of Licensed Dietitians
Complete the application in its entirety – incomplete applications will not be processed.
Enclose a copy of your current signed CDR card showing that you are a Registered Dietitian
Enclose an original of the Verification Statement from ACEND showing that you have completed your supervised experience
Mail the application in a 9 x 12 envelope – do not staple or fold the application – and fee to: Georgia Board of Examiners of Licensed Dietitians, 237 Coliseum Drive, Macon, GA 31217
When your application is processed, you may officially use the title "licensed dietitian" in Georgia.
Licensure and Registration as a Dietitian in Georgia
Maintaining Your Georgia Dietitian License
You must renew your Georgia license as a dietitian every two years. The fee for renewal is $50, payable via check or money order to the Georgia Board of Examiners of Licensed Dietitians. During each two-year licensing period, you must complete 30 hours of continuing professional education (CPE). Keep all documentation of your CPE for five years in case the Board audits you. This includes certificates of completion, attendance, transcripts etc. CPE is acceptable to the Board if it meets the requirements of the Board, the American Dietetic Association, the CDR, and other approved dietary organizations. Activities that may be counted as CPE for the Board's purposes include:
Academic coursework – may account for all 30 CPE units (CPEUs)in a renewal period
Case presentations – may account for all 30 CPEUs
Dietetics-related Certificate Programs- may account for all 30 CPEUs
Viewing learning through dietetics related exhibits – may account for up to 6 CPEUs in a renewal period
Experiential skill development training – may account for all 30 CPEUs
Interactive workshops – may account for all 30 CPEUs
Journal club activities – may account for all 30 CPEUs
Attending lectures and seminars – may account for all 30 CPEUs
Attending learning through dietetics related poster sessions – may account for up to 6 CPEUs
Professional leadership in dietetics-related organizations – may account for up to 6 CPEUs
Professional reading of dietetics-related articles from peer-reviewed professional journals – may account for up to 6 CPEUs
Conducting research related to dietetics- may account for up to 20 CPEUs in a renewal period
Dietetics related, post-bachelor's Residency and Fellowship programs- may account for all 30 CPEUs
Sponsored independent learning activities- may account for up to 20 CPEUs
Dietetics study groups- may account for up to 20 CPEUs
Earning dietetics-related certification approved by CDR- may account for all 30 CPEUs
Pre-approved self-study – may account for all 30 CPEUs
Maintaining your CDR Registration as a Registered Dietitian in Georgia
Your registration as a Registered Dietitian in Georgia with the CDR is renewable every five years. During this time, you must complete 75 hours of CPEUs, many of which are the same as the Board requires (see above) The CDR's PDP Guide   and  CPE database assist you in finding applicable CPE activities and in keeping track of them online.
*2021 US Bureau of Labor Statistics salary figures and job growth projections for dietitians and nutritionists reflect state data not school-specific information. Conditions in your area may vary. Salary statistics representing entry-level/early career = 25th percentile; senior-level/highly experienced = 90th percentile. Data accessed April 2022.