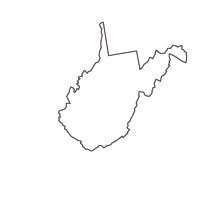 View how to become a nutritionist in West Virginia here.
Follow the step by step process or choose what situation that best describes you:
Nutrition Job Info in West Virginia
The Commission on Dietetic Registration reported that as of April 2022, there were 390 Registered Dietitians (RDs) and Registered Dietitian Nutritionists (RDNs) in West Virginia. According to the Bureau of Labor Statistics, nutritionists and dietitians in the state earned an average salary of $66,390 as of May 2021, which is slightly higher than the national average of $65,620 for this profession. Early career professionals earned about $58,320, while those with extensive experience earned about $87,820 during this time.*
Becoming a registered dietitian, or RD, is an important step in this profession, as only professionals with the RD title are authorized to do so by the Commission on Dietetic Registration of the Academy of Nutrition and Dietetics (CDR) thereby letting others know they have met strict academic and supervised practice requirements.
The West Virginia Board of Licensed Dietitians mandates education, experience and exam requirements that you must complete prior to working as a licensed, registered dietitian in the state. According to West Virginia Code, § 30-35-1 (a), "anyone who represents or implies to the public by use of the title "dietitian" or "licensed dietitian" or any other title intended to convey the impression that he or she is authorized to practice dietetics in this state must be licensed."
Complete these steps to become a licensed, registered dietitian in West Virginia.
Registered Dietitian Degree in West Virginia
West Virginia law states that you must complete a course of study in human nutrition, dietetics, food systems management, or an equivalent and a baccalaureate or post-baccalaureate degree in order to become a dietitian in the state.
Dietitian education programs in West Virginia must be accredited by the Accreditation Council for Education in Nutrition and Dietetics (ACEND).
Didactic Programs in Dietetics (DPD) are programs that lead to a bachelor's or graduate degree. Upon completion of a DPD, you are the eligible to pursue a dietetic internship and write the CDR examination.
The following ACEND-approved programs lead to registered dietitian certification in West Virginia:
If you want to become certified and licensed as a nutritionist in West Virginia, you must, instead, seek certification as a Certified Nutritionist Specialist (CNS)  through the Board for Certification of Nutrition Specialists (BCNS).
To achieve CNS certification, you must meet specific academic and supervised experience requirements:
Academic Requirement
You must possess either a master of science or a doctoral degree from a regionally accredited college or university in the field of nutrition or a related science or healthcare field, or a doctoral degree in the clinical healthcare field.
You must complete at least nine semester credit hours in nutrition; at least six semester hours in biochemistry; at least three semester credit hours in physiology or anatomy/physiology; and at least 12 semester credit hours in clinical or life sciences.
Supervised Experience Requirement
You must complete at least 1,000 hours of documented supervised practice experience in nutrition, with minimum hours in each of the following:
Nutrition assessment (200 hours)
Nutrition intervention, education, counseling, or management (200 hours)
Nutrition monitoring or evaluation (200 hours)
Examination Requirement
You must then successfully complete the Certified Examination for Nutrition Specialists, offered two times per year nationwide. To maintain your certification as a CNS, you must document at least 75 continuing nutrition education credits every five years.
<!- mfunc feat_school ->
The following bachelors and Master's programs offer career-focused instruction delivered by trained nutritionists with experience in the field. Find out more what each individual course of study offers through the locations below.
Sponsored School(s)
Featured Nutritionist Programs
<!- /mfunc feat_school ->
Dietetic Internship (DI) in West Virginia
Once you have completed an ACEND-approved didactic program, you are eligible to apply for a dietetic internship (DI).  All DI appointments are awarded on a competitive basis.
West Virginia requires all DI programs to include at least 1,200 hours of supervised practice over a period of eight to 24 months. Upon completion of an ACEND-approved DI program, you will then be eligible to write for the CDR examination for dietitians.
The following ACEND-approved DI programs are located in West Virginia:
Pass the (CDR) Exam in WV
After completing your DI program, you will then be notified by CDR's testing agency to register to take the CDR examination, a computer-based, multiple-choice examination. You must register and take the CDR examination within one year (365) days of completing your DI program.
You must complete the application and pay the application fee of $200.
You will receive an email confirmation of your application from Pearson VUE Exams, at which time you will be required to choose a date, location and time to take the CDR exam. There are more than 250 locations nationwide where you can take the CDR exam. In West Virginia, there are Pearson VUE exam centers in Charleston and Morgantown.
You can prepare for the CDR examination by reading the Comprehensive Study Outline and Study Guide and the Registration Examination for Dietitians Handbook for Candidates.
On exam day, you must bring the confirmation email from Pearson VUE Exams and your government-issued identification with you.
The CDR exam consists of 125 questions, 25 of which are pretest questions that are not scored. The exam consists of four domains, which include:
Principles of Dietetics
Nutrition Care for Individuals and Groups
Management of Food and Nutrition Programs and Services
Foodservice Systems
The test time limit is 2 ½ hours, although you will have 30 minutes to familiarize yourself with the computer beforehand. You will also be given a simple computer to complete the test.
Following the test, you will be immediately notified if you passed. If you did not pass you may retest after 45 days, provided you have re-registered with, and paid the registration fee to, the Commission on Dietetic Registration. There is no limit to the number of times you can take the exam, provided you wait 45 days between testing dates. In order to re-take the exam, you must obtain reauthorization (and pay the examination fee) by email at cdrexams@eatright.org, or by telephone at (312) 899-4859.
Licensure as an RD in West Virginia
Upon passing the CDR exam, you are eligible to apply for state licensure as a registered dietitian in West Virginia. You may do so online or by completing the paper application and enclosing a personal check or money order for $75, payable to the West Virginia Board of Licensed Dietitians.
You must also verify your standing as a registered dietitian by the CDR by including a notarized photo copy of your CDR card or a letter from the Commission on Dietetic Registration.
The completed application, application fee, and appropriate documentation must be sent to:
West Virginia Board of Licensed Dietitians
100 Dee Drive, Suite D
Charleston, WV 25311
If you have any questions regarding the application process, you can contact the Board at 304-558-1024 or at 1-800-293-9832, or via email at wvbold@wv.gov.
Maintain your License in West Virginia
Renewing and Maintaining your West Virginia License
You must renew your West Virginia license every year. You must complete the renewal form (provided by the Board), pay the renewal fee, and complete at least 20 hours of continuing professional education every two years. Documentation of continuing professional education must be submitted with your renewal application every two years. Documentation is not required on intervening years.
Online webinars and other educational events are acceptable forms of CE, according to WV law. Unacceptable forms of CE include copies of PowerPoint presentations or schedules of conferences, workshops, or presentations with no other documentation submitted.
Renewing and Maintaining Your CDR Registration in WV
Every five years, your CDR registration is due for renewal. During that period of time, you must complete 75 approved CPE units (continuing professional education) Find appropriate professional development activities through the CDR's Continuing Professional Education (CPE) Database. This database allows you to search by location, date or keyword.
*2021 US Bureau of Labor Statistics salary figures and job growth projections for dietitians and nutritionists reflect state data not school-specific information. Conditions in your area may vary. Salary statistics representing entry-level/early career = 25th percentile; senior-level/highly experienced = 90th percentile. Data accessed April 2022.