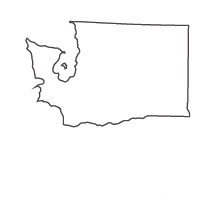 Follow the step by step process or choose what situation that best describes you:
Registered Dietitian Job Info in Washington
According to the Commission on Dietetic Registration, there were 2,738 Registered Dietitians (RDs) and Registered Dietitian Nutritionists (RDNs) in Washington as of April 2022. The Bureau of Labor Statistics reports that as of May 2021, the average salary for dietitians and nutritionists was $68,410, which is about $3,000 more than the national average of $65,620 for this profession. Early career professionals earned about $60,250, while the most experienced earned about $87,710 during this time.
The Seattle metro area (which also includes Tacoma and Bellevue) reported an average salary of $69,030, while the Spokane metro area revealed a slightly lower average salary of $65,470 for these professionals as of May 2021.*
Becoming a registered dietitian (RD) in Washington means that you have met specific academic and professional requirements and are qualified to work in any number of areas, including hospitals, private practices, healthcare facilities, community and public health settings, academia and research, and HMOs, just to name a few.
If you want to pursue a career as a certified and registered dietitian in Washington, you must complete the following steps.
Programs in Dietetics Accredited by ACEND
To become certified in Washington as a registered dietitian, you must first complete a baccalaureate degree or higher in the one of the following subject areas:
Human nutrition
Food and nutrition
Dietetics
Food management
Only those programs accredited by the Accreditation Council for Education in Nutrition and Dietetics (ACEND) are an acceptable route to writing the CDR exam and applying for certification in Washington.
The following ACEND-approved programs lead to registered dietitian certification in Washington:
Coordinated Programs in Dietetics
Coordinated programs (CP) in dietetics are dual programs that include both the required dietetic coursework and the 1,200 hours of supervised practice required to become certified as an RD in Washington. Once you have completed a CP you are eligible to write for the CDR exam for dietitians. IN Washington, they include:
University of Washington, Seattle

Degrees available include:

Master of Public Health in Nutritional Sciences
Master of Science in Nutritional Sciences
Ph.D. in Nutritional Sciences

Concentrations:

Medical Nutrition Therapy
Public Health

Washington State University, Spokane

Master of Science in Dietetics, Nutrition and Exercise Physiology
Concentrates on the effects of exercise and nutrition on human health
Didactic Programs in Dietetics
Didactic programs in dietetics (DPDs) are programs that lead to an undergraduate or graduate degree. Upon completion of a didactic program, you must then apply to a Dietetics Internship (DI) program before being eligible to write the CDR exam. DPDs in Washington include:
Nutritionist in Washington
If you want to pursue a career as a licensed and certified nutritionist in Washington, you must either meet the same requirements as an RD, OR achieve a master's or doctorate degree in human nutrition, nutrition education, foods and nutrition, or public health nutrition.
You must also complete at least four hours of HIV/AIDS training to become a certified nutritionist in Washington. Visit this page for credentialing requirements and application information for nutritionists in Washington state.
<!- mfunc feat_school ->
The following bachelors and Master's programs offer career-focused instruction delivered by trained nutritionists with experience in the field. Find out more what each individual course of study offers through the locations below.
Sponsored School(s)
Featured Nutritionist Programs
<!- /mfunc feat_school ->
Dietetic Internship in Washington
If you completed a CP in dietetics, you do not need to complete a dietetic internship (DI). However, if you completed a didactic program in dietetics (DPD), you must complete an ACEND-approved DI before being eligible to write for the CDR examination.
The following ACEND-approved DI programs are located in Washington:
Pass the (CDR) Examination in Washington
Upon completion of your CP in dietetics or dietetic internship, you will receive correspondence from the Commission on Dietetic Research (CDR). You have one year from the time you complete your program to register for and take the CDR exam.
Register to take the CDR exam and pay the $200 application fee.  Upon receipt of payment, Pearson VUE Exams will ask you to schedule the date, time, and location of the examination. Pearson VUE has more than 250 locations nationwide, and most locations have year-round testing, five days a week. The Pearson VUE Exam sites in Washington are located in Seattle and Yakima.
You can review both the Study Guide for the Registration Examination for Dietitians and the Registration Examination for Dietitians Handbook for Candidates to prepare yourself for the exam.
On the date of the exam, you must bring with you the confirmation email from PSI Exams and your valid driver's license (or another government-issued piece of identification).
The CDR exam consists of a computer-based exam, which consists of about 125 multiple-choice questions. You are given a simple calculator to complete the exam and three hours, 30 minutes of which can be spent familiarizing yourself with the computer and test.
All questions must be answered before you move on to the next question, and once you complete a question you are not able to return to the question or change your answer.
Before leaving the exam site, you can view your graded score, and you can also receive a paper score of your exam. To pass the CDR exam you must score at least 25 on a scale of 0 to 50.
If you fail the exam, you may retest in 45 days. There is no limit to the number of times you can retake the exam.  You must re-register and pay the examination fee by emailing cdrexams@eatright.org, or by calling (312) 899-4859.
Certification as a RD in Washington
After passing the CDR exam, you will be eligible for state certification as an RD in Washington. In addition to a current CDR card, you must also show proof of at least four hours of HIV/AIDS training to be eligible for certification in Washington.
To apply for state certification as an RD, you must apply online or via paper application.  Mail your $100 application fee and all initial documentation to:
Department of Health
PO Box 1099
Olympia, WA 98507-1099
If you have more information to send after submitting your initial application and documentation, send it to:
Dietitian and Nutritionist Credentialing
P.O. Box 47877
Olympia, WA 98504-7877
If you have any questions, you can contact the Washington Department of Health at 360-236-4700.
Maintain and Renew your Washington Certs.
Maintaining Your Washington Certification
All certified dietitians and nutritionists in Washington are required to renew their state certification every year on their birthday. You must complete a renewal application and pay a $70 renewal fee. You can renew your RD certification either in person, online, or by mail. Directions on renewing your certification can be found here. Continuing education requirements will be listed on your renewal card, which will be mailed to you before your renewal is due.
Maintaining Your CDR Registration in Washington
Every five years, your CDR registration is due for renewal. During that period of time, you must complete 75 approved continuing professional education units. It is now possible to discover approved professional development activities through the CDR's Continuing Professional Education (CPE) Database. Search the database by location, date or keyword.
View how to become a nutritionist in Washington here.
*2021 US Bureau of Labor Statistics salary figures and job growth projections for dietitians and nutritionists reflect state data not school-specific information. Conditions in your area may vary. Salary statistics representing entry-level/early career = 25th percentile; senior-level/highly experienced = 90th percentile. Data accessed April 2022.