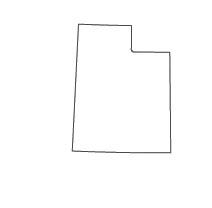 Follow the step by step process or choose what situation that best describes you:
Nutrition Career Info in Utah
According to the Commission on Dietetic Registration, as of April 2022, there were 1,191 Registered Dietitians (RDs) and Registered Dietitian Nutritionists (RDNs) in Utah. The Bureau of Labor Statistics reports that the average salary for dietitians and nutritionists in the state was $53,200 as of May 2021. Early career professionals earned about $37,300, while seasoned professionals earned upwards of $78,610.
The Provo-Orem metro area reported an average salary of $55,200 for dietitians and nutritionists as of May 2021, while the Salt Lake City metro area reported an average salary of $56,530.*
The state's larger metro areas often report average salaries that exceed the state average. For example, Salt Lake City reported an average salary of $56,530 for dietitians and nutritionists as of May 2021.
The Utah Department of Commerce Division of Occupational and Professional Licensing is responsible for the certification of dietitians in the state. In order to become a Certified Dietitian in Utah, you must fulfill certain educational, experiential and examination requirements.
Dietetic Educational Program in Utah
Utah requires its dietitians to earn Registered Dietitian credentials from the Commission on Dietetic Registration (CDR) of the Academy of Nutrition and Dietetics. The first step towards achieving this involves completing one of two different types of approved educational programs, Coordinated Programs (CP) or Didactic Programs in Dietetics (DPD). Programs must be accredited by ACEND, the Accreditation Council for Education in Nutrition and Dietetics of the Academy of Nutrition and Dietetics.
ACEND-Accredited Programs Leading to Registered Dietitian (RD) Credential in Utah:
Coordinated Programs in Utah
Coordinated programs in dietetics (CP) are comprehensive programs that include a course of study leading to a bachelor's or master's degree, as well as supervised practice of at least 900 hours. Upon completion of a CP in Utah, you are eligible to write for the CDR exam to become a registered dietitian (see Step 3). The following ACEND-accredited coordinated programs are located in Utah:
Didactic Programs in Utah
Didactic programs lead to an undergraduate or graduate degree in dietetics. Upon completion of a didactic program in Utah, you must then apply to an ACEND-approved dietetic internship (see Step 2) to qualify to sit for the Commission on Dietetic Registration (CDR) examination. The following ACEND-accredited didactic programs are located in Utah:
<!- mfunc feat_school ->
The following bachelors and Master's programs offer career-focused instruction delivered by trained nutritionists with experience in the field. Find out more what each individual course of study offers through the locations below.
Sponsored School(s)
Featured Nutritionist Programs
<!- /mfunc feat_school ->
ACEND-Approved Dietetic Internship in Utah
Next, you must apply for and complete supervised practice in dietetics through a dietetic internship (DI). Dietetic internships, which must be accredited by ACEND, offers, at a minimum, 1,200 hours of supervised practice over a period of 8 to 24 months, depending on whether they are part-time or full-time programs.
The following ACEND-accredited DI programs are located in Utah:
Brigham Young University, Provo

Full-time, 24-month degree program
Culminates in a Master of Science in Nutrition, Dietetics and Food Sciences
Emphasis on leadership
Supervised practice experiences include leadership, professionalism, research, foodservice management, community nutrition and wellness, and clinical nutrition

Utah State University-Salt Lake

Full-time, seven-month non-degree program
Emphasis on child nutrition programs, school foodservice system management
Option to apply for Master of Dietetics Administration degree (online)
Pass the (CDR) Examination in Utah
Once you have completed your DI program, your program administrator will provide you with information on the CDR examination process. You can register for the CDR exam and pay the $200 application fee online.
Upon completion of the registration process and paying the application fee, you can expect an email from Pearson VUE, the company of the testing centers where you will take your exam. There are more than 250 testing centers nationwide, and you can take the test year-round. Most testing centers Monday through Friday and some are open on Saturdays. In Utah, there are Pearson VUE Testing Centers in:
Draper
Salt Lake City
Bountiful
Ogden
Prepare for the exam by studying the Comprehensive Study Outline and Study Guide and the Registration Examination for Dietitians Handbook for Candidates
The exam is a computer-based, multiple-choice test that consists of about 125 questions, which include 25 pre-test questions that are not scored. The test format includes the following:
Principles of Dietetics: 25percent
Nutrition Care for Individuals and Groups: 40 percent
Management of Food and Nutrition Programs and Services: 21 percent
Foodservice Systems: 14 percent
On the day of the exam, bring your PSI Exams confirmation email and your government-issued photo identification. PSI will provide you with a simple calculator and time to familiarize yourself with the computer and the testing format.
You will have 2 ½ hours to complete the examination, and you can view your score upon finishing the test by clicking the "Report" button on your online account. You must score at least 25 (on a scale of 0 to 50) to pass the test.
If you fail the test, you may retest after 45 days, provided you obtain reauthorization (and pay the examination fee) by email at cdrexams@eatright.org, or by telephone at (312) 899-4859.
State Certification as a RD in Utah
To apply for state certification as a registered dietitian in Utah, do so online. You will need a copy of your current, valid CDR registration card. Upload any additional documentation requested and pay all application fees online.
Maintain your Utah Certification
Maintaining your CDR Registration
You must renew your CDR registration every five years and show proof of at least 75 hours of continuing education units. You can find continuing education opportunities and track your completed work through the CDR's Professional Development Portfolio (DPD). Find applicable opportunities through CDR's online CPE database. As of July 2019, opportunities in Utah include:
Real Food Nutrition for People on Feeding Tubes
Health & Wellness Journal Club: Dairy, CVD & Mortality
Higher Fat Diets and Metabolic Syndrome
The Art and Science of Nutrition Therapy
Environmental Insights Into Conventional and Organic Milk Production
Renewing Your Utah Certification
Your dietitian certification in Utah expires on September 30 of even years. You will receive a renewal notification from the Division of Occupational and Professional Licensing 60 days prior to expiration. You must renew your certification and pay the $37 renewal fee online. Note that the certification renewal date is NOT based on the initial date of certification.
As of July 2019, the DOPL does not require continuing professional education to renew your Utah certification. You can renew your certification online here.
View how to become a nutritionist in Utah here.
*2021 US Bureau of Labor Statistics salary figures and job growth projections for dietitians and nutritionists reflect state data not school-specific information. Conditions in your area may vary. Salary statistics representing entry-level/early career = 25th percentile; senior-level/highly experienced = 90th percentile. Data accessed April 2022.