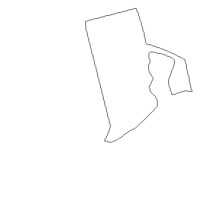 Follow the step by step process or choose what situation that best describes you:
Rhode Island Nutrition Careers
The Commission on Dietetic Registration reported a total of 445 Registered Dietitians (RDs) and Registered Dietitian Nutritionists (RDNs) in Rhode Island as of April 2022. According to the Bureau of Labor Statistics, dietitians and nutritionists in the state earned an average salary of $74,080 as of May 2021. Rhode Island's average salary ranks the state fifth in the nation for its pay of dietitians and nutritionists. Early career professionals earned about $59,540, while those with extensive experience earned about $100,650 during this time.*
The Rhode Island Academy of Nutrition and Dietetics (RIAND) is an affiliate of the national Academy of Nutrition and Dietetics and a professional organization for licensed dietitians in the state. According to RIAND, dietitians in Rhode Island work in doctor's offices, gymnasiums, private practice, grocery stores, hospitals, schools, long-term-care facilities, and more.
Dietitians/nutritionists in Rhode Island must be licensed to practice in the state. You must complete the following steps to become licensed in Rhode Island through the Rhode Island Board of Dietetics Practice: registered dietitian-nutritionist (and use the term RDN).
Dietitian Education Program in Rhode Island
To become licensed as a dietitian in Rhode Island, you must complete a course of study that culminates in a bachelor's or graduate degree from a regionally accredited college or university that is approved by the Accreditation Council for Education in Nutrition and Dietetics (ACEND) within the Academy of Nutrition and Dietetics (AND). The following ACEND-approved programs are located in Rhode Island:
ACEND-Accredited Programs Leading to a Registered Dietitian (RD) License in Rhode Island:
There are two accredited Didactic Programs in Dietetics (DPD) in Rhode Island. These programs feature coursework only and must be followed by a dietetic internship (DI).
If you want to become licensed to practice as a nutritionist in Rhode Island, it is important to understand that Rhode Island considers the terms "dietitian" and "nutritionist" interchangeable, and many professionals in Rhode Island use the letters LDN (licensed dietitian nutritionist). Therefore, to become licensed as a nutritionist in Rhode Island, you must follow the same set of guidelines as a dietitian.
<!- mfunc feat_school ->
The following bachelors and Master's programs offer career-focused instruction delivered by trained nutritionists with experience in the field. Find out more what each individual course of study offers through the locations below.
Sponsored School(s)
Featured Nutritionist Programs
<!- /mfunc feat_school ->
Dietetic Internship in Rhode Island
An ACEND-accredited dietetic internship is required upon completion of your educational program in Rhode Island. Rhode Island requires at least 900 hours of supervised practice within a DI program, which meets the standards of the ACEND-accredited programs, which feature at least 1,200 hours of supervised practice. You must apply for these competitive internship positions.
Rhode Island's only DI program is located at the University of Rhode Island, Department of Nutrition and Food Sciences, in Kingston. This full-time, two-year degree program culminates in a Master of Science in Nutrition and emphasizes community and population health. Facilities throughout Southern New England are utilized for rotations during the DI. Specializations in the DI include:
Metabolic regulation, energy balance, lipid metabolism
Macronutrient metabolism and energy
Diet and exercise
Nutrition issues related to weight management and aging
Changing dietary behavior in order to reduce chronic disease risk
Health behavior and nutritional status of high risk population groups
Dietetic Registration (CDR) Examination
Upon completion of your DI program, you will be eligible to sit for the CDR examination. Your program administrator will contact CDR on your behalf or provide you with the information to do so yourself. You can expect to receive an email asking you to register to take the exam and pay the $200 examination fee. You must register and take the exam within one year of completing your DI program.
You can then expect to receive another email from Pearson VUE Exams, the company that runs the more than 250 test centers across the country. You will need to register the date, time, and location of your CDR exam. Although there are no test centers in Rhode Island, you may take the exam at one of the following neighboring locations:
Connecticut:


| | |
| --- | --- |
| | 35 Thorpe Avenue, Suite 105 |
| | 100 Great Meadow Road, Suite 404, Putnam Park |
| | 20 Glover Ave, Ground Level, 2nd Door, Merritt on the River |

Massachusetts:


| | |
| --- | --- |
| | 31 St. James Avenue, Suite 725, Park Square |
| | 295 Devonshire Street, 2nd Floor |
| | 186 Alewife Brook Parkway, Suite 202 |
| | 24 Hartwell Ave, Building A, First Floor |
| | 1414 Main St, Suite 1110, One Monarch Place |
| | 20 William Street, Suite 201 |
| | 255 Park Ave, Suite 300-3rd Floor |
You can prepare to take the exam by reading the Comprehensive Study Outline and Study Guide and the Registration Examination for Dietitians Handbook for Candidates..
On the day of exam, you must bring a government-issued photo ID with you, along with a confirmation email from Pearson VUE Exams. You will be provided with a simple calculator to complete the examination; you may not bring your own calculator.
The CDR Exam consists of about 125 questions (25 of which are pretest questions that are not scored) and is divided up into the following areas:
Principles of Dietetics: 25 percent

Research applications
Education/technology/communication
Nutrition and supporting sciences
Food science and nutrient composition

Food service systems: 14 percent

Equipment and facility planning
Sanitation and safety
Distribution, procurement, service and production
Menu development

Management of food and nutrition programs and services: 21 percent

Marketing and public relations
Financial management
Quality management and improvement
Functions of management
Human resources

Nutrition care for individuals and groups: 40 percent

Diagnosis
Screening
Assessment
Planning
Intervention
Monitoring
Evaluation
You will have 2 ½ hours to complete the examination. Once you answer a question and move onto the next question, you are not able to go back and change your answer.
Upon completing the exam, you can immediately view your score by checking your online account.
If you fail the exam, you can retest after 45 days. You must reauthorize to test again by email at cdrexams@eatright.org, or by telephone at (312) 899-4859. There is no limit to the number of times you can retake the exam, provided you register and pay the fee each time and wait 45 days between exams.
Licensure as a RD/Nutritionist in Rhode Island
Upon successfully completing the CDR exam, you can apply for state licensure by completing and notarizing the Rhode Island Board of Dietetics Practice Application for License as a Dietitian/Nutritionist and providing the following:
Evidence of successfully completing the CDR exam (must be mailed directly from the CDR)
Official transcripts showing the completion of a bachelor's or graduate degree (must be sent directly from the college or university)
An application fee of $75 (check or money order payable to RI General Treasurer)
Original Bureau of Criminal Investigation check (background check) from the RI Attorney General's Office
Mail the signed and notarized application, application fee and supporting documents to:
Rhode Island
Board of Dietetics Practice
Room 105
3 Capitol Hill
Providence, RI 02908-5097
Maintain RD Designation and Licensure
State Licensure Renewal
You must renew your Rhode Island dietitian/nutritionist state license every two years (November 1 of every even or odd year, depending on the year you received your initial license). Upon renewal of your license, you must provide documentation of the completion of at least 20 continuing education credits approved by the CDR.
RD Renewal
You must renew your registered dietitian (RD) credential every five years with the CDR and provide proof of the completion of at least 75 continuing education credits. The CDR requires that you track your continuing education through a Professional Development Portfolio (PDP). This PDP Guide will help you to choose continuing professional education that is necessary to keep your registration current. CDR's online CPE database can help you to find approved CPE activities in Rhode Island.
View how to become a nutritionist in Rhode Island here.
*2021 US Bureau of Labor Statistics salary figures and job growth projections for dietitians and nutritionists reflect state data not school-specific information. Conditions in your area may vary. Salary statistics representing entry-level/early career = 25th percentile; senior-level/highly experienced = 90th percentile. Data accessed April 2022.