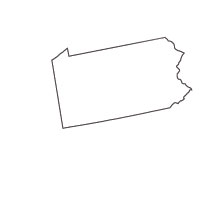 Steps to become a Registered Dietitian in Pennsylvania
View how to become a nutritionist in Pennsylvania here.
Follow the step by step process or choose what situation that best describes you:
Dietitian Career Information in Pennsylvania
According to the Commission on Dietetic Registration, there were 4,960 Registered Dietitians (RDs) and Registered Dietitian Nutritionists (RDNs) in Pennsylvania as of April 2022. The Bureau of Labor Statistics revealed that nutritionists and dietitians earned an average salary of $63,180 as of May 2021. Early career professionals earned about $49,700 during this time, while late career pros earned about $79,730.
The Philadelphia metro area reported an average salary of $69,260 for dietitians and nutritionists during this time, while Pittsburgh came in below Philly with an average salary of $60,810.*
Pennsylvania licenses "dietitian-nutritionists" who meet certain educational, experiential and examination requirements. To work as a licensed and registered dietitian-nutritionist (and use the term LDN), you must complete the following steps.
Education Programs in Dietetics in Pennsylvania
Pennsylvania law states that all licensed and registered dietitians-nutritionists in Pennsylvania must achieve a bachelor's degree or higher from a Board-approved, regionally accredited college or university, with a major course of study in: human nutrition, food nutrition, dietetics, or food system management.
Further, to qualify to sit for the Commission on Registered Dietitians (CDR) exam and become a registered dietitian (RD), you must complete an Accreditation Council for Education in Nutrition and Dietetics (ACEND)-approved program.

ACEND-Accredited Program Leading to Registered Dietitian (RD) Licensure in Pennsylvania:
You can pursue an ACEND-approved education in dietetics through either a coordinated program (CP) or a didactic program in dietetics (DPD):
Coordinated Programs (CP)
Coordinated programs in dietetics are those that: (a) culminate in a bachelor's degree or higher; and (b) include supervised practice of at least 1,200 hours. Once you complete a CP program, you are eligible to sit for the CDR Examination (see Step 3). The following CP programs are located in Pennsylvania:
Didactic Programs in Dietetics(DPD)
Didactic programs are programs that culminate in a bachelor's degree or higher. Upon completion of a didactic program in dietetics, you must apply for a competitive dietetic internship (DI) to qualify to take the CDR exam.
The following DP programs are located in Pennsylvania:
<!- mfunc feat_school ->
The following bachelors and Master's programs offer career-focused instruction delivered by trained nutritionists with experience in the field. Find out more what each individual course of study offers through the locations below.
Sponsored School(s)
Featured Nutritionist Programs
<!- /mfunc feat_school ->
Dietetic Internship (DI) in Pennsylvania
Upon the completion of a didactic program in dietetics, you must apply for a dietetic internship (DI) approved by ACEND. All ACEND-approved DI programs include at least 1,200 hours of supervised practice. Upon completion of a DI program, you will be eligible to sit for the CDR examination.
The following DI programs are located in Pennsylvania:
CDR Registered Dietitian Exam in Pennsylvania
Upon completion of a coordinated education program or dietetic internship in Pennsylvania, you are eligible to sit for the CDR Examination. Your program administrator will provide CDR with your eligibility status. You will then receive correspondence asking you to register and pay the $200 application fee.
Once you pay the application fee and register online, you will receive an email from Pearson VUE Exams, the company that operates the 250 Pearson VUE Testing Centers across the nation.  At this time, you must register for the date, time and location of your exam. There are Pearson VUE Testing Centers located in the following Pennsylvania cities:
Allentown
Blue Bell
King of Prussia
Lancaster
Harrisburg
Scranton
Warrington
You may prepare to take the CDR exam by reading the Comprehensive Study Outline and Study Guide and the Registration Examination for Dietitians Handbook for Candidates.
The CDR is a computer examination with multiple-choice questions. Although the structure of the test changes from time to time, you can expect about 125 questions in the following categories:
Food and Nutrition Sciences
Nutrition Care for Individuals and Groups
Management of Food and Nutrition Programs and Services
Foodservice Systems
You have 2 ½ hours to complete the examination, with another 30 minutes reserved for non-scored, pretest questions. Pearson VUE Testing Centers will provide you with a simple calculator to complete the examination.
You will be notified immediately upon finishing the examination of your score. You must score at least 25 on a scale of 0 to 50.
If you fail the exam, you will have the opportunity to retest after 45 days, provided that you reauthorize to test again by email at cdrexams@eatright.org, or by telephone at (312) 899-4859.
State Licensure in Pennsylvania
Once you successfully complete the CDR exam and become a registered dietitian (RD), you can apply online for state licensure as a dietitian-nutritionist in Pennsylvania. The Pennsylvania State Board of Nursing is responsible for dietitian-nutritionist licensure. You will be asked to pay the $45 application fee. Additionally, you must complete three hours of approved training on child abuse recognition and reporting. Once you have completed this course, the course provider will submit your information to the Board to be including in your application materials. Have your college send official transcripts directly to the Board. Request that CDR send verification of passage of the CDR exam directly to the Board.
You must also complete a Criminal History Check. Instructions may be found here.
Maintain License and CDR Reg. in Pennsylvania
State License Renewal
Your Pennsylvania dietitian-nutritionist state license must be renewed biennially. You will receive a notice for renewal from the state prior to the expiration of your license. and you must submit documentation of at least 30 board-approved continuing professional education credits to be eligible for license renewal. The cost of renewal is $65.
Registered Dietitian Renewal
You must renew your CDR registration every five years and submit evidence of the completion of at least 75 continuing education credits. You are required to track your continuing education credits through the CDR's Professional Development Portfolio. The CDR's PDP Guide will help you to choose continuing professional education that is necessary to keep your registration current.
*2021 US Bureau of Labor Statistics salary figures and job growth projections for dietitians and nutritionists reflect state data not school-specific information. Conditions in your area may vary. Salary statistics representing entry-level/early career = 25th percentile; senior-level/highly experienced = 90th percentile. Data accessed April 2022.