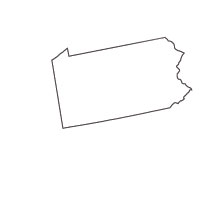 Dieticians and nutritionists are licensed through the Pennsylvania State Board of Nursing. In 2002, the Professional Nursing Law was amended to include the licensing of dieticians-nutritionists. Now, only licensed dieticians-nutritionists may use the title or the abbreviation, LDN, in Pennsylvania.
Salary Data for Nutritionists in Pennsylvania
According to the Bureau of Labor Statistics, nutritionists in Pennsylvania earned an average salary of $63,810 as of May 2021. The Philadelphia metro area ranked fifth in the nation during this time for its employment level of dietitians and nutritionists.*
Qualifications for Nutritionist Licensure in Pennsylvania
<!- mfunc feat_school ->
The following bachelors and Master's programs offer career-focused instruction delivered by trained nutritionists with experience in the field. Find out more what each individual course of study offers through the locations below.
Sponsored School(s)
Featured Nutritionist Programs
<!- /mfunc feat_school ->
Individuals who want to learn how to become a licensed nutritionist in Pennsylvania must successfully complete the following:
A bachelor's degree or higher from a Board-approved, regionally accredited college or university with a major course of study in one of the following:

Human nutrition
Food and nutrition
Dietetics
Food system management
The PA Board of Nursing approves educational programs that are approved by the Accreditation Council for Education in Nutrition and Dietetics (ACEND).
A Board-approved planned and continuous pre-professional experience in dietetic practice of at least 900 hours
An examination approved by the Board
The PA Board of Nursing approves the Registration Examination for Registered Dieticians and the Examination of the Certification Board for Nutrition Specialists (CNS).
To qualify to take the registered dietician (RD) examination, candidates must possess:
A bachelor's degree from an accredited college or university, along with an ACEND-accredited didactic programs in dietetics
At least 1,200 hours of supervised practice
To qualify to take the CNS examination, candidates must possess:
A master or doctoral degree in nutrition or a doctoral-level degree in a clinical healthcare field that includes at least 15 semester hours in nutrition and metabolism, including 6 semester hours in biochemistry, and at least 15 semester hours in clinical or life sciences, including at least 3 semester hours in anatomy/physiology
At least 1,000 hours of supervised practice experience
The Application Process
Candidates who have met the minimum requirements for licensure as a dietician-nutritionist in Pennsylvania must complete an Application for Dietician-Nutritionist License and submit it, along with the application/licensure fee of $45 (made payable to the Commonwealth of PA) and all related documentation, to:
Pennsylvania State Board of Nursing
P.O. Box 2649
Harrisburg, PA 17105
Applicants with questions regarding licensure and the application process can contact the Board at 717-783-7142 or at st-nurse@state.pa.us.
Note:
Applicants who are currently registered as an RD with the CDR should complete Form 1 Application for Dietician-Nutritionist Licensure and request an original certification of registration letter to be sent directly from the CDR to the State Board of Nursing.
Applicants who are not CDR registered must complete and submit:

Form 1 Application for Dietician-Nutrition Licensure
An original Verification Statement of Program Completion (completed by the program director of the college or university)
An original Verification Statement of Dietetic Internship/Pre-Professional Practice Program (completed by the program director)
The Renewal Process for Licensed Nutritionists in Pennsylvania
To maintain LDN licensure in Pennsylvania, nutritionists must complete at least 30 hours of continuing professional education credits every two years. The cost of license renewal is $65.
One hour of CPE credit is given for each 50-minute clock hour of CPE activity. The Board accepts "substantive learning experiences" for CPE activity that are related to the field of nutrition and dietetics. Programs must:
Be sponsored by the ADA, the ACN or by individual state dietetic associations
Be a member association of the ADA or ACN
Be an approved college or dietetic program where a certificate of attendance is issued
Include courses related to the practice of dietetics-nutrition that are offered by the Accreditation Council for Continuing Medical Education, the Accreditation Council on Pharmaceutical Education, the American Osteopathic Association, and the American Medical Association.
Licensed LDNs may also apply to the Board for approval of CPE credit if they have completed:
Case presentations
Academic coursework and research studies approved by an institutional review board
Interactive workshops
Lectures and seminars
Residency and fellowship programs at the post-baccalaureate level and are either sponsored by a regionally accredited college or university or an institution accredited by the Joint Committee on Accreditation of Healthcare Organizations, or the National Committee for Quality Assurance.
---
Health Coach Info in Pennsylvania
Saving Lives but Much Work Remains
Every year Pennsylvania's health coaches contribute to saving lives– and millions of dollars. They help clients achieve their ideal weight, kick bad habits, and eat healthy. They contribute to increasing the productivity of the state's workforce while reducing sick leave. The government likes us because we provide preventative health care that reduces future expenditures (the Kaiser Family Foundation reported that Pennsylvania's Medicaid program spent an average of $7,811 per beneficiary in 2011 – an amount that is much higher than the national average).
Pennsylvania's health coaches have their work cut out for them (Trust for America's Health):
23.3 percent of adults are physically inactive (2014)
30.2 percent of the population is obese (2014)
11.2 percent of the population has been diagnosed with diabetes (2014)
7.5 percent of Pennsylvanians consume their recommended amount of daily vegetables (2013)
33.7 percent have been diagnosed with hypertension (2013)
19.9 percent of the population are current tobacco smokers (2014)
Highmark Foundation
The private charity, Highmark Foundation, is an example of one organization that is tackling issues related to diet, exercise, and health in Pennsylvania. A specific initiative it sponsors is aimed at eliminating childhood obesity, through the two primary routes: improving nutrition and increasing the level of physical activity, and this is where health coaches come in. To date, health coaches with the Highmark Foundation have reached more than one million children across Pennsylvania.
You can see the broad coalition of actors who are on board to fund the activities of the Highmark Foundation and the health coaches it employs by looking at some of the grants it has received in just the first quarter of 2016:
$180,000 from One on One Fitness and Training
$150,000 from Sto-Rox Neighborhood Health Council
$100,000 from the Allegheney County Health Department
$100,000 from the Erie Health Department
$100,000 from Bethlehem Haven of Pittsburgh
$64,000 from Allen Place Community Services
$5,000 from Women for a Healthy Environment
Becoming a Health Coach in Pennsylvania
As health coaching emerges as an important profession, these specialists enjoy the freedom to pursue relevant degrees and professional certification without the need to meet any specific licensing regulations. These qualifications you choose to earn all depend on your professional goals, and the expectations of prospective employers and future clients.  
Relevant areas of study for health coaches include:
Food, culture, community, and health
Women's health and wellness
Holistic health
Fitness and wellness
Exercise physiology
Wellness counseling
Health promotion and communication
Obesity and weight management
Nutrition and dietetics
Metabolism and physical exercise
Alternative and complimentary approaches to healthcare
Coaching skills and techniques for individuals and groups
Some employers specifically look to hire health coaches who have met state and national requirements to become a RD (Registered Dietician), which involves being listed on the registry for the Academy of Nutrition and Dietetics Commission on Dietetic Registration and holding state licensure through the Pennsylvania State Board of Nursing.
Degree Options for Health Coaches
The following list shows relevant in-state degree programs for aspiring health coaches in Pennsylvania. You can also find similar programs at schools throughout the nation that offer online enrollment options for Pennsylvania residents:
Associate's Degree Programs:
Associate of Applied Science (AAS) in Exercise Science (Williamsport)
Associate of Science (AS) in Dietetics (Pittsburgh)
Associate of Applied Science (AAS) in Public Health (Bethlehem)
Associate of Science (AS) in Health Science (Harrisburg)
Bachelor's Degree Programs:
Bachelor of Science (BS) in Nutrition and Dietetics (Mechanicsburg, Greensburg, Indiana, Mansfield, Scranton, and Immaculata)
Bachelor's of Science (BS) in Exercise Physiology (Loretto)
Bachelor's degree with a minor in Health and Exercise Science (Mechanicsburg)
Bachelor of Science (BS) in Athletic Training (Scranton)
Bachelor of Arts (BA) in Health and Physical Education (Mechanicsburg)
Bachelor of Science (BS) in Nutritional Science (University Park)
Bachelor of Science (BS) in Exercise Science (Scranton and Slippery Rock)
Bachelor of Science (BS) in Nutrition (Allentown, Philadelphia, and Indiana)
Bachelor of Science (BS) in Sports Nutrition (Mansfield)
Bachelor of Science (BS) in Nutrition and Foods (Philadelphia)
Master's Degree Programs:
Master of Science (MS) in Nutritional Science (University Park)
Master of Science (MS) in Exercise Science and Health Promotion (California)
Master of Arts (MA) in Nutrition Education with a Focus on Wellness Promotion (Immaculata)
Master of Science (MS) in Exercise Science (East Stroudsburg and Bloomsburg)
Master of Science (MS) in Food and Nutrition (Indiana)
Master of Science (MS) in Sports Nutrition and Exercise Science (Scranton)
Master of Science (MS) in Nutrition (Scranton)
Starting your career with the solid foundation that a college degree brings is a good strategy for the long term. You can often apply credits from prior higher-level education towards programs that are relevant for health coaches.
Non-Degree Health Coach Certification Programs
Several national organizations also offer relevant professional certification programs for health coaches that will add to the skills you have developed through your degree program. Each individual organization sets its own requirements for admission and content. Certification can typically be earned once you complete a course of study (ranging from weeks to months) and pass an exam.
Currently the American Council on Education (ACE) is the only organization accredited through the National Commission for Certifying Agencies (NCCA) that offers health coach certification. The ACE health coach program offers three certification routes that cater to your professional goals:
Health Coach Certification for Fitness Professionals
Health Coach Certification for Health Care Professionals
Health Coach Certification for Workplace Wellness
You can find detailed information about these programs in the ACE Certification Candidate Handbook.
The International Coach Federation (ICF) is another leading organization dedicated to credentialing health coaches around the world, holding them to high professional standards and offering independent certification. The organization provides several different options for coaches including:
Associated Certified Coach (ACC)
Professional Certified Coach (PCC)
Master Certified Coach (MCC)
Examples of Career Paths Available to Health Coaches in Pennsylvania
You can pursue a health coach career as an independent practitioner, an employee of respected companies in the healthcare or public health sectors, or with corporations looking to implement employee wellness plans.
There are many companies located throughout Pennsylvania that have been known to hire health coaches for their staff, including:
GlaxoSmithKline
IBM
Boeing
Lockheed Martin
University of Pennsylvania
US Airways
Abington Memorial Hospital
Albert Einstein Medical Center
The following job vacancy announcements represent the types of employment opportunities available to properly credentialed health coaches in Pennsylvania. These job vacancy announcements are shown for illustrative purposes only and are not meant to represent job offers or provide an assurance of employment.
Health Coach with WellSpan Health at the Apple Hill Medical Center in York – As a health coach it is your responsibility to provide safe and efficient therapeutic care to your clients. You focus specifically on disease prevention as well as early testing, treatment, and screening. You also play a role in assisting patients assigned to you, instructing them and their families on appropriate methods of care within your scope of practice.
To apply for this position you need to have training in basic cardiac life support and 1-2 years of related experience.
Health Coach and Inside Sales with Physician Recommended Nutriceuticals in Plymouth Meeting – This job takes place in a call center, where you are responsible for both inbound and outbound calls. Health coach duties include providing professional and knowledgeable information to clients about product nutritional information.
To be a successful applicant for this position you need at least 1-2 years of customer service or sales experience, as well as at least a bachelor's degree in a related field like nutrition, dietetics, public health, or another health/science field. Preferred applicants have these qualifications:
Fluency in French and/or Spanish
Knowledge of vitamins and supplements
Health Coach Julie Cerrone in Pittsburgh – Julie Cerrone is an example of someone who decided to start her own health coaching business. She offers courses in one-on-one or group sessions in the greater Pittsburgh area, as well as virtually online. When working with clients, Cerrone begins by establishing their personal goals and goes from there to increase her clients' energy, meet their ideal weight goals, and find the most appropriate diet. Cerrone describes herself as a holistic health coach and autoimmune warrior who believes chocolate and wine are non-negotiable.
As far as professional qualifications, Cerrone's résumé includes:
Holistic health coach training from a nutrition institute in New York City
Bachelor of Science (BS) in Business Management
Former job in a consulting company working closely with clients
doTerra Wellness Advocate
National Psoriasis and Psoriatic Arthritis Foundation Mentor
Additional Resources for Pennsylvania's Health Coaches
Local initiatives, government agencies, and professional organizations are good sources where you can find more information about health concerns and solutions in Pennsylvania.
Government Organizations and Programs
Professional Organizations and Initiatives
*2021 US Bureau of Labor Statistics salary figures and job growth projections for dietitians and nutritionists reflect state data not school-specific information. Conditions in your area may vary. Data accessed April 2022.