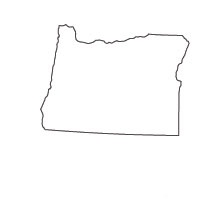 Follow the step by step process or choose what situation that best describes you:
Nutrition Careers in Oregon
The Commission on Dietetic Registration reports a total of 1,303 Registered Dietitians (RDs) and Registered Dietitian Nutritionists (RDNs) in Oregon as of April 2022. According to the Bureau of Labor Statistics, nutritionists and dietitians in Oregon earned an average salary of $73,120 as of May 2021— that's about $8,000 more than the national average of $65,620 for this profession. Early career professionals earned about $60,850, while those with extensive experience earned about $99,220 during this time.
Oregon's largest city of Portland reported an average salary of $75,660 for dietitians and nutritionists as of May 2021.*
Dietetics practice, according to the Oregon Board of Licensed Dietitians, is defined as the integration and application of principles derived from the sciences of food, management, nutrition, biochemistry, behavioral and social sciences, and physiology as to maintain the health of people.
If you are not licensed in Oregon, you cannot practice as a licensed dietitian in the state. Furthermore, in order to practice as a registered, licensed dietitian, you must earn your RD credentials from the Commission on Dietetic Registration (CDR) in addition to fulfilling Oregon's state licensure requirements.
To attain licensure and registration in Oregon as a dietitian, you must complete a number of steps.
Educational Programs in Dietetics in Oregon
Under Oregon state law, you must possess, at a minimum, a bachelor's degree in dietetics, human nutrition, food and nutrition, or food systems management from a regionally accredited college or university approved by the Board of Licensed Dietitians to qualify for licensure as a dietitian. This is similar to the Accreditation Council for Education in Nutrition and Dietetics (ACEND), which requires the completion of a dietetic program approved by ACEND to sit for the CDR exam and become a registered dietitian (RD).
ACEND-Accredited Programs Leading to a Registered Dietitian (RD) License in Oregon:
There is one ACEND-accredited education program, a Didactic Program in Dietetics (DPD) located at Oregon State University in Corvallis, which offers a Bachelor of Science in Nutrition-Dietetics Option. This program includes coursework only and must be following by a Dietetic Internship (see Step 2 below). Coursework that you can expect to take in this program includes (but is not limited to):
Introduction to Public Health
Elementary Biochemistry
General Psychology
Organic Chemistry
Managing Organizations
Introduction to Human Disease
Foodservice Production and Purchasing
Human Anatomy and Physiology
Human Nutrition Science – Macronutrient Metabolism
Human Nutrition Science – Micronutrient Metabolism
Science of Foods
Community Nutrition
Medical Nutrition Therapy
Exercise Physiology
Foodservice Organizations
Communications in Dietetics
<!- mfunc feat_school ->
The following bachelors and Master's programs offer career-focused instruction delivered by trained nutritionists with experience in the field. Find out more what each individual course of study offers through the locations below.
Sponsored School(s)
Featured Nutritionist Programs
<!- /mfunc feat_school ->
Apply to a Dietetic Internship in Oregon
Following the successful completion of a didactic program in dietetics, you must complete an ACEND-approved dietetic internship (DI), which includes, according to ACEND standards, at least 1,200 hours of supervised practice. (Oregon requires at least 900 hours of supervised practice.) If you earn your degree at Oregon State University, you will have access to the Dietetic Internship Centralized Application Services (DICAS), which helps to match you to dietetic internships across the nation.
Should you wish to complete your DI in Oregon, the following programs are available:
Oregon State University, Corvallis

Full-time, 22-month degree program

Emphasis on senior nutrition care and community/primary nutrition care practice
Culminates in a Master of Science in Nutrition-Dietetics degree
New program beginning in Fall 2019

Full-time, 9.5-month non-degree program

Emphasis on senior nutrition care, community and primary nutrition practice
Features experience in traditional venues such as clinical, management and foodservice.

Oregon Health and Science University, Portland

Full-time, 24-month degree program

Emphasis on community outreach
Culminates in a Master of Science in Human Nutrition
Rotation sites in Portland and surrounding areas

Full-time, 11-month non-degree program

Emphasis on community outreach
Culminates in a graduate certificate
Rotation sites in Portland, Bend and Medford and surrounding areas
Commission on Dietetic Commission Exam
Upon completion of a DI program, you are eligible to take the CDR examination. Your program administrator will provide you with the information to take the CDR examination or will contact CDR on your behalf.
You will receive an email when you are eligible to register to take the examination and pay the application fee of $200, both of which are completed online. You must register for the exam, pay for the exam, and take the exam within one year of completing your DI program.
You will then receive communication from Pearson VUE, the company that oversees the more than 250 Pearson VUE Testing Centers across the country. You must choose a date, time and location for the exam. Within Oregon you may take the exam at the following locations:
You can prepare for the exam by reading the Comprehensive Study Outline and Study Guideand the Registration Examination for Dietitians Handbook for Candidates.
The CDR is a computer-based, multiple-choice examination that consists of about 125 questions, which includes 25 pre-test, non-scored questions. Although the structure of the exam changes from time to time, the most recent information reveals the exam is structured as follows:
Principles of Dietetics
Foodservice Systems
Management of Food and Nutrition Programs and Services
Nutrition Care for Individuals and Groups
On the day of the exam, you must come prepared with the verification email from Pearson VUE Exams and your valid driver's license (or other government-issued ID).
You are given 180 minutes to take the exam, along with another 30 minutes to familiarize yourself with the computer systems and test structure.
You can review your score immediately upon completing the exam by checking the "report" section of your online account. You must score at least 25 (on a scale of 0 to 50).
If you do not pass the exam, you have the option of retesting again after 45 days. However, you must reauthorize to test again by email at cdrexams@eatright.org, or by telephone at (312) 899-4859.
There is no limit to the number of times you can test, although you must re-register each time and wait 45 days between exams.
Licensure as a Registered Dietitian in Oregon
Once you pass the CDR exam and receive your RD designation, in order to legally work as a licensed dietitian in Oregon you must apply for licensure. In addition to completing the Dietitian License Application, you must:
Pay the application fees of $110
Submit two forms of application containing your legal name, one with a photograph
Provide documentation of completion of a qualifying pathway (in your case, likely transcripts, CDR exam score, dietetic experience validation)
You must also complete a Criminal Records Check, including fingerprinting. Instructions may be found here.
Mail the completed application, application fee, and all related documentation to:
Oregon Health Licensing Office
Board of Licensed Dietitians
1430 Tandem Ave. NE
Suite 180
Salem, OR 97301-2192
Maintain Oregon State Licensure and CDR Reg.
Congratulations – you did it! You are now a registered, licensed dietitian authorized to practice within the state of Oregon! Going forward, remember to renew your dietitian license in Oregon every year and pay the renewal fee of $75. You can complete your online renewal here.
You must complete, at a minimum, 15 continuing education credits each year to maintain your dietitian license in Oregon. If you attain more than 15 continuing education credits during one renewal period, you may carry them forward for up to 4 years, with no more than 60 annual credits allowed to be carried forward each year.
To maintain your CDR registration, you must complete at least 75 continuing education credits and renew your RD designation every five years.
View how to become a nutritionist in Oregon here.
*2021 US Bureau of Labor Statistics salary figures and job growth projections for dietitians and nutritionists reflect state data not school-specific information. Conditions in your area may vary. Salary statistics representing entry-level/early career = 25th percentile; senior-level/highly experienced = 90th percentile. Data accessed April 2022.