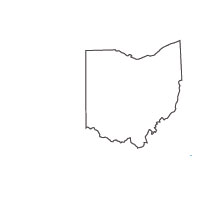 Follow the step by step process or choose what situation that best describes you:
Nutrition Jobs Description in Ohio
The Commission on Dietetic Registration reports that as of April 2022, there were 4,676 Registered Dietitians (RDs) and Registered Dietitian Nutritionists (RDNs) in Ohio. According to the Bureau of Labor Statistics, the average salary for nutritionists and dietitians was $61,750 as of May 2021. Early career professionals earned about $49,870, while those with extensive experience earned about $78,760 during this time.
Ohio's big metro areas of Cincinnati ($63,540), Cleveland ($62,850), and Columbus ($61,760) reported similar average salaries during this time.*
The State Medical Board of Ohio regulates licensed dietitians (LD) working in the state. Under Ohio State Law, licensed dietitians in Ohio may practice within three areas: nutritional assessment, nutritional counseling/education, and development/administration/evaluation/consultation regarding nutritional care standards.
Only those individuals who meet specific education and practice requirements are permitted to practice as nationally registered and licensed dietitians in Ohio. If you want to become a registered and licensed dietitian in Ohio, you must complete the following steps:
Approved Education in Dietetics in Ohio
To become a registered and licensed dietitian in Ohio, you must earn a bachelor's or graduate degree from a regionally accredited college or institution that is consistent with the academic standards for dietitians according to the Academy of Nutrition and Dietetics.
Further, the Accreditation Council for Education in Nutrition and Dietetics (ACEND) requires that you complete an ACEND-accredited course of education that results in either a bachelor's or graduate degree in dietetics to be eligible to sit for the Commission on Dietetic Registration (CDR) examination and earn a Registered Dietitian credential (which is recognized nationwide). The following ACEND-accredited programs meet the requirements for both CDR registration and state licensure in Ohio:
ACEND-Accredited Educational Programs in Ohio:
In Ohio, you have the option of completing a Coordinated Program (CP) in dietetics or a Didactic Program (DPD) in dietetics:
Coordinated Programs (CP)
Coordinated programs in dietetics are programs that culminate in a bachelor's or graduate degree in dietetics and also include at least 1,200 hours of supervised practice in dietetics. Upon the completion of a CP in Ohio, you are eligible to sit for the CDR examination and become a registered dietician. The following four coordinated programs are located in Ohio:
Didactic Programs (DPD)
Didactic programs in dietetics culminate in a bachelor's or graduate degree, but they do not include supervised practice. As such, as the successful completion of a DPD, you must apply for and complete a supervised practice in dietetics to qualify to sit for the CDR examination and become a licensed and registered dietitian in Ohio. The following 12 didactic programs are located in Ohio:
<!- mfunc feat_school ->
The following bachelors and Master's programs offer career-focused instruction delivered by trained nutritionists with experience in the field. Find out more what each individual course of study offers through the locations below.
Sponsored School(s)
Featured Nutritionist Programs
<!- /mfunc feat_school ->
Complete a Dietetic Internship (DI) in Ohio
Upon successfully completing an ACEND-accredited didactic program in dietetics, you must apply for and complete a dietetic internship in Ohio. All ACEND-accredited dietetic internships include at least 1,200 hours of supervised practice in dietetics, thereby qualifying you, upon completion, to sit for the CDR exam. The following 13 dietetic internships are located in Ohio:
Pass the CDR Examination in Ohio
Upon completion of your DI program, you program administrator will direct you on the steps you need to take to prepare for and take the CDR examination, which often includes contacting CDR with your eligibility status and contact information. You will receive an email with instructions on how to register for the exam and how to pay for the $200 examination fee. Important: You have 365 days from the time you complete your DI to register for and take the examination.
Once you have paid and registered for the CDR examination, Pearson VUE Exams will contact you to schedule your exam location, date, and time. There are more than 250 Pearson VUE Testing Centers located throughout the United States. Within Ohio you can take the exam in the following locations:

Beachwood
Columbus
Copley Township
Gahanna
Independence
Mason
Maumee
Moraine
Norwood
Westlake

Before you take the exam, you can best prepare to take it by reading the Comprehensive Study Outline and Study Guide and the Registration Examination for Dietitians Handbook for Candidates.
The CDR examination, as of July 2019, is a computer-based, multiple-choice examination that consists of between 125 and 145 questions and the following topics:

Principles of Dietetics
Nutrition Care for Individuals and Groups
Management of Food and Nutrition Programs and Services
Foodservice Systems

You will have 2 ½ hours to complete the CDR examination. Once you answer a question and move on, you are not permitted to go back and change any answer. Pearson VUE will provide you with a simple calculator to complete the examination.
Upon completion of the examination, you will be able to see your score by logging into your account and clicking the "report" button. You must score at least 25 (on a scale of 0 to 50) to pass the exam.
If you fail the exam, you can retest after 45 days, provided you obtain reauthorization from CDR and pay the examination fee again. There is no limit to the number of times you can take the exam, provided you wait 45 days between exams
State Licensure as a Dietitian in Ohio
Once you have achieved your RD credential, you are eligible to apply for state licensure as a dietitian in Ohio. You must complete a criminal background check along with the online application for licensure. Initial license fees are $225 plus $3.50 transaction fee. Instructions for criminal background check procedure may be found here.
After submission, allow the Board 10 days to process your application for licensure. After that time, check your status by logging into the online system using the link above. Select "Options" and "Review Status." Any outstanding items will be listed in the "Comments" section at the bottom of the page.
CDR Registration and Ohio State License
You can complete your annual license renewal online through the Ohio eLicense portal. It costs $180 to renew your dietitian license in Ohio (plus a $3.50 transaction fee). You must complete one continuing education unit (a video and a quiz on Ohio Dietetics Jurisprudence Course).
You must also renew your CDR registration every five years and show documentation of the completion of at least 75 continuing education credits. You must track your continuing education credits through CDR's PDP Guide. Find applicable continuing education in Ohio by visiting the CDR's online CPE database.
View how to become a nutritionist in Ohio here.
*2021 US Bureau of Labor Statistics salary figures and job growth projections for dietitians and nutritionists reflect state data not school-specific information. Conditions in your area may vary. Salary statistics representing entry-level/early career = 25th percentile; senior-level/highly experienced = 90th percentile. Data accessed April 2022.