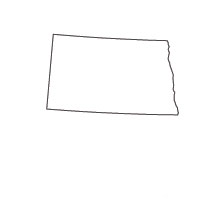 Follow the step by step process or choose what situation that best describes you:
Registered Dietitian Career Information in North Dakota
The Commission on Dietetic Registration reports that as of April 2022, there were 395 Registered Dietitians (RDs) and Registered Dietitian Nutritionists (RDNs) in North Dakota. The Bureau of Labor Statistics reports that as of May 2021, dietitians and nutritionists in the state earned an average salary of $63,490. Early career professionals earned about $58,980, while those with extensive experience earned about $77,670.
Dietitians and nutritionists in the Fargo metro area earned slightly less during this time, at $61,990.*
In North Dakota, you may not practice or represent yourself as a dietitian or use the term, dietitian, licensed dietitian, registered dietitian, or licensed registered dietitian unless you achieve state licensure to do so. The North Dakota Board of Dietetic Practice regulates licensed registered dietitians and licensed nutritionists practicing in the state.
If you want to become a registered and licensed dietitian in North Dakota, you must be prepared to complete a number of steps:
Comprehensive Dietetic Education in North Dakota
According to the North Dakota Board of Dietetic Practice, you must satisfactorily complete a bachelor's degree or graduate degree in the field of dietetics or food and nutrition from an accredited college or university to qualify for licensure.
In addition, before becoming licensed in the State of North Dakota, you must achieve registration through the Commission on Dietetic Registration (CDR), which requires the completion of an education program accredited by the Accreditation Council for Education in Nutrition and Dietetics (ACEND). Because North Dakota requirements are in line with CDR requirements, you must complete an ACEND-accredited program to be eligible for both CDR registration and licensure in North Dakota.
ACEND-Accredited Programs in Dietetics in North Dakota:
You can pursue two different types of programs in Ohio: a coordinated program (CP) in dietetics or a didactic program (DPD) in dietetics:
Coordinated Programs in Dietetics(CP)
Coordinated programs fulfill both the education requirement and the supervised practice requirement needed to sit for the CDR exam. This includes a bachelor's or graduate degree in dietetics and supervised practice of at least 1,200 hours. Upon completion of a coordinated program, you are eligible to sit for the CDR exam and achieve registration as a registered dietician (RD). The following coordinated programs are located in Ohio:
Didactic Programs in Dietetics (DPD)
Didactic programs in dietetics culminate in a bachelor's or graduate degree in dietetics, yet they do not include the supervised practice component of a coordinated program. As such, following the successful completion of a DPD, you must apply to and complete a dietetic internship (DI) as to qualify to take the CDR exam and become a registered and licensed dietitian in North Dakota.
In North Dakota, DPDs include:
To become a licensed nutritionist in North Dakota, you must submit a transcript of your college degree when you apply for licensure. Further, if your degree is more than 10 years old, you must show documentation of at least 75 hours of continuing education.
A master's or doctorate degree in one of the following areas is required for licensure as a nutritionist in North Dakota:

Human Nutrition
Foods and Nutrition
Public Health Nutrition
Nutrition Education

OR:
You may have a bachelor's degree and a minimum of 9 semester hours of nutrition credits, with two of those hours being in advanced nutrition. The bachelor's degree must be in the field of dietetics or food and nutrition.
<!- mfunc feat_school ->
The following bachelors and Master's programs offer career-focused instruction delivered by trained nutritionists with experience in the field. Find out more what each individual course of study offers through the locations below.
Sponsored School(s)
Featured Nutritionist Programs
<!- /mfunc feat_school ->
Dietetic Internship (DI) in North Dakota
If you have completed a CP, you are now eligible to write for the CDR exam and can move on to Step 3. Otherwise, you must apply to a DI in North Dakota as to complete the requirement of 1,200 hours of supervised practice.
Although there are no DI programs located in North Dakota, there is a DI program located in neighboring South Dakota, at South Dakota State University in Brookings. This program is available as a 22-month full-time degree program, culminating in a Master of Science in Nutrition and Exercise Science; or a full-time non-degree program. The emphasis in both programs is in community nutrition.
CDR Exam to Become an RD in North Dakota
Once you successfully complete your CP or DPD/DI program, you are now eligible to sit for the CDR examination, a computer-based, multiple-choice examination that includes the following components:
Principles of Dietetics: 25 percent
Foodservice Systems: 14 percent
Management of Food and Nutrition Programs and Services: 21 percent
Nutrition Care for Individuals and Groups: 40 percent
Your DI program director may contact CDR on your behalf or may provide you with the information to do so yourself. You will receive email correspondence instructing you to register for the exam and pay the $200 examination fee. You will be able to register and pay the fee online.
Once you complete the registration process, your registration information will be sent to Pearson VUE, the testing centers where CDR exams are given. Within North Dakota, you can take the CDR exam in Bismarck and Fargo.
There are two guides that will help you prepare to take the CDR exam: the Comprehensive Study Outline and Study Guide and the Registration Examination for Dietitians Handbook for Candidates.
On the day of the exam, you will be required to bring your photo ID and your confirmation email from Pearson VUE with you. Pearson VUE will give you a simple calculator to take the exam.
You will also have about 30 minutes before the test to familiarize yourself with the testing structure and computer.
You will be given 2 ½ hours to complete the examination and, at the end of the exam, you can immediately view your score by checking the "report" section of your online account. You must score at least 25 on a scale of 0 to 50 to pass the exam.
If you fail the exam, you must wait at least 45 days to retake the examination. Reauthorize to test again by email at cdrexams@eatright.org, or by telephone at (312) 899-4859.
Licensure as a Registered Dietitian in North Dakota
After passing the CDR exam, you are eligible to become licensed in North Dakota as a registered and licensed dietitian. You must complete the North Dakota Board of Dietetic Practice's Application for Licensure  and provide the Board with the following documents:
Official transcripts from your dietetic education program
$60 application fee (made payable to North Dakota Board of Dietetic Practice)
Mail all three pages of the application and your application fee to:
Pat Anderson, NDBODP Executive Secretary
2304 Jackson Avenue
Bismarck, ND 58501
You can contact Pat Anderson at 701-838-0218 or execsec@ndbodp.com if you have any questions about applying for dietitian licensure.
Maintain your License Credentials in North Dakota
Congratulations! You are now a licensed, registered dietitian who can legally practice in North Dakota! North Dakota does not require any separate continuing education to maintain your license in the state. However, it does require that you keep your registration current with the CDR, which means you must complete at least 75 hours of continuing education in every five-year recertification cycle. Renew your North Dakota license here.
The CDR's PDP Guide  will help you to choose continuing professional education that is necessary to keep your registration current. CDR's online CPE database can help you to find approved CPE activities in Alabama. You can also check out the North Dakota Academy of Nutrition and Dietetics' Professional Development section for applicable CPE activities in the state.
View how to become a nutritionist in North Dakota here.
*2021 US Bureau of Labor Statistics salary figures and job growth projections for dietitians and nutritionists reflect state data not school-specific information. Conditions in your area may vary. Salary statistics representing entry-level/early career = 25th percentile; senior-level/highly experienced = 90th percentile. Data accessed April 2022.