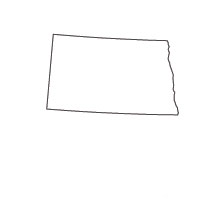 The North Dakota Board of Dietetics Practice (NDBODP) regulates and licenses both dieticians and nutritionists. The definition of a licensed nutritionist is a person licensed to provide general nutrition services in North Dakota. As such, only licensed nutritionists are allowed to practice or represent themselves using the title of licensed nutritionist or LN.
Nutritionists in North Dakota earned an average salary of $63,490 as of May 2021.*
Requirements on Becoming a Licensed Nutritionist in North Dakota
Requirements for becoming a licensed nutritionist in North Dakota vary from requirements for becoming a licensed dietician; candidates for nutritionist licenses in North Dakota should ensure they distinguish between these two sets of requirements.
Nutritionist candidates can meet the requirements for licensure by possessing one of the following:
Successfully complete a bachelor's degree in dietetics or food and nutrition from an accredited college or university that meets the didactic requirements of the American Dietetic Association; OR
Successfully complete a master's or doctoral degree from an accredited college or university in one of the following:

Human nutrition
Nutrition education
Foods and nutrition
Public health nutrition; OR

Successfully complete a master's or doctoral degree in a related field that meets the eligibility requirements for Commission on Dietetic Registration; OR
Maintain membership in one of the following organizations:

American Institute of Nutrition
American Society for Clinical Nutrition
American Board of Nutrition
Note: Unlike most states, there are no experience or examination requirements for becoming a licensed nutritionist in North Dakota.
<!- mfunc feat_school ->
The following bachelors and Master's programs offer career-focused instruction delivered by trained nutritionists with experience in the field. Find out more what each individual course of study offers through the locations below.
Sponsored School(s)
Featured Nutritionist Programs
<!- /mfunc feat_school ->
Applying to Become a Licensed Nutritionist in North Dakota
To become a licensed nutritionist in North Dakota, candidates must ensure they meet the educational requirements set forth by the Board. If the candidate's bachelor's degree is more than 10 years old, they must submit evidence of the completion of 75 hours of continuing education completed in the last 5 years.
In addition to submitting a completed, signed, and notarized License Application form, candidates must furnish the Board with official transcripts from their degree or a copy of their current membership card.
All three pages of the application must be completed. A $60 initial application fee (made payable to the North Dakota Board of
Dietetics Practice) for a nutritionist license must accompany the application and all materials must be mailed to:
Pat Anderson, NDBODP
2304 Jackson Avenue
Bismarck, North Dakota 58501
Renewal Instructions for Nutritionists in North Dakota
The renewal period for nutritionist licenses in North Dakota is 5 years. Candidates for renewal must complete at least 75 hours of continuing education during their 5-year licensure period, complete a Renewal Form, and pay a renewal fee of $45.00.
The Board encourages licensed nutritionists to utilize the professional development resources of the Academy of Nutrition and Dietetics and the professional development opportunities through the North Dakota Academy of Nutrition and Dietetics.
---
Health Coach Careers in North Dakota
Health coaches are needed in North Dakota now more than ever. The non-profit non-partisan organization Trust for America's Health reports some alarming statistics about North Dakota:
The obesity rate is over 32 percent
Nearly 30 percent of the population suffers from hypertension
8.6 percent of the state's population has been diagnosed with diabetes
Only 11.4 percent of residents eat the recommended daily amount of fruit
Almost 20 percent of residents smoke or use tobacco products
These statistics have a dire cost, and that is why the state has enlisted health coaches as part of its efforts to improve wellness through the Healthy ND initiative. This program is a four-pronged assault, sponsored by the state's Department of Health, aimed at improving residents' overall quality of life by approaching challenges on these fronts:
Healthy eating – health coaches know the science behind healthy eating and can relay this to our clients
Physical activity – one of the core competencies of health coaches, we know how to tailor safe exercise that will result in specific outcomes
Healthy living – health coaches know how to approach wellness from the macro level and advise clients on fundamental lifestyle changes
Worksite wellness – health coaches are adept in identifying minor changes that can be made to dramatically improve health and fitness at the office
Obviously governmental agencies are putting a high value on professionals like health coaches who make an important difference in improving the physical vitality of North Dakotans. This saves millions every year in health care costs. Private industry also has a motivation to enlist health coaches, who help companies keep their workforce healthy and thereby also save millions of dollars in expenses from lost wages and decreased productivity. Examples of significant employers in North Dakota who have been known to hire health coaches include:
Sanford Health
North Dakota State University
Blue Cross Blue Shield of North Dakota
Fargo Public Schools
Innovis Health
Microsoft
Concordia College
While money might be an important motivating factor for the government and business, our fellow North Dakotans themselves value health and well being on a much more personal level. Being healthy feels great and improves the overall quality of life. Interacting with clients who appreciate you for these most personal reasons is often the most rewarding experience of all.
Health Coach Credentials – Academic Degrees and Professional Certifications
Holistic health is a relatively new concept that involves striking a daily balance between work and stress on one side, with exercise and a healthy diet on the other. As leaders in this new field health coaches are not currently subject to state or national licensing requirements.
However employers pick up where government regulation leaves off, often citing their own requirements or preferences for their prospective health coaches that can include relevant education as well as certification. Your clients will also be glad to hear you list your professional qualifications during your first face-to-face get together. And as a health coach with demonstrable credentials you can also justify an increased compensation for your services.
Gaining relevant education will prepare you to earn your degree or certificate, with relevant subjects of study including:
Nutrition and exercise
Alternative and complimentary approaches to healthcare
Coaching skills
Ethical considerations
Group coaching
Dietary theories
Women's health
Holistic health
Nutrition for health professionals
Human biology
Fitness and wellness
Exercise physiology
Wellness counseling
Obesity and weight management
Academic Degrees
As a North Dakota resident you have a number of relevant on-campus academic programs to choose from. You also have the option to enroll in online degree programs throughout the United States while earning your degree at home.
In-state options for relevant degree programs include:
Associate's Degree Programs
Associate's degree in health, physical education, and recreation (Wahpeton)
Bachelor's Degree Programs
Bachelor's of Science (BS) degree in dietetics (Fargo and Grand Forks)
Bachelor's of Science (BS) degree in exercise science (Fargo, Dickinson, and Bismarck)
Bachelor's of Science (BS) degree in food science (Fargo)
Bachelor's degree with a minor in nutrition (Grand Forks)
Bachelor's degree in health education (Fargo)
Bachelor's degree in physical education (Fargo)
Bachelor's degree with a minor in wellness (Fargo)
Bachelor's degree in athletic training (Grand Forks, Bismarck, and Minot)
Bachelor's degree in community nutrition (Grand Forks)
Bachelor's of Science (BS) degree in kinesiology (Grand Forks)
Bachelor's degree with a minor in coaching (Minot)
Bachelor's degree with a minor in health and wellness (Minot)
Bachelor's degree in corporate fitness (Minot)
Master's Degree Programs
Master of Athletic Training (Fargo)
Master's of Science (MS) in food safety (Fargo)
Master's of Science (MS) in health, nutrition, and dietetics (Fargo)
Master's of Science (MS) in kinesiology (Grand Forks and Bismarck)
Master's of Science (MS) in clinical exercise physiology (Bismarck)
Students can find an equivalent or even greater range of programs offered online at universities throughout the country that accept enrollment applications from North Dakota residents.
Many of today's health coaches started their careers in other fields. Having already earned an undergraduate degree, they choose to earn another bachelor's degree or go on to pursue a master's degree in a field that is related to health coaching.
Health Coach Certification Programs
Professional certification is another route you may want to consider as you explore becoming a health coach. Certification programs are typically offered online to accommodate working professionals. Each sponsoring organization that offers a certification program sets its own admission requirements, program length, and content.
Certification programs can be completed in a matter of months, and are therefore a good option for those who are not fully prepared to commit to a four-year degree program. Employers also often state a preference or requirement for applicants to hold a health coach-related certification.
While there are several certification programs for health coaches located throughout the nation, currently the American Council on Education (ACE) is the only organization that is accredited through the National Commission for Certifying Agencies (NCCA).
The ACE health coach program offers three certification routes that are tailored to your professional career goals:
Health coach certification for fitness professionals
Health coach certification for health care professionals
Health coach certification for workplace wellness
The International Coach Federation (ICF) is also dedicated to producing qualified health coaches by enforcing high professional standards for certification. The ICF provides several different credentialing options for health coaches, including:
Associated Certified Coach (ACC)
Professional Certified Coach (PCC)
Master Certified Coach (MCC)
Types of Health Coach Careers in North Dakota
The Trust for America's Health reports that North Dakota's adult physical inactivity rate in 2014 was 21.3 percent. In 2014 it reported that 32.2 percent of the population was considered obese, up from 26.7 percent in 2007. These figures underlie the important role health coaches can play throughout the state as they reduce medical costs, boost productivity, and generally improve people's overall quality of life.
Health coaches can work as independent business owners, contractors, or employees. While there are many successful independent health coaches out there in North Dakota, you will find that most started their career working for somebody else. Doing this allows you to gain experience, develop a list of regular clientele and references, and get an idea for how this field works. Once you have gained experience and want to strike out on your own, professional credentials coupled with your reputation are often your two best friends for recruiting new clients.
Career Examples
The following job vacancy announcements represent the types of employment opportunities available to properly credentialed health coaches in North Dakota. These job vacancy announcements are shown for illustrative purposes only and are not meant to represent job offers or provide an assurance of employment.
Nutritional Health Coach with Natural Grocers in Grand Forks – customers at this store have long enjoyed free health and nutrition information that helps to inform them when stocking up on supplements and healthy food. Natural Grocers is seeking applicants who are prepared to fulfill a dual role of educating employees about nutrition and also supporting retail operations by interacting with customers. Applicants should understand the organic and sustainable living lifestyle, be great at interacting with shoppers, and have a wealth of knowledge about science-based nutrition information.
Applicants must have a degree or certification from an organization accredited by a regional or national accrediting agency that is recognized by the US Secretary of Education.
Health Coach with the University of North Dakota in Grand Forks – the UND recognizes that having healthy students is good for everyone on campus and results in better outcomes all around. As such it hires health coaches to work one-on-one with students to develop good diet and exercise habits, as well as to promote stress management. The university's current health coach has these credentials:
Licensed registered dietician
Certified life wellness coach
Training from a guiding mindful change program
Prior experience in motivational interviewing, worksite health promotion, and health coaching
Health Coach with Provant Health in Wahpeton – Provant hires health coaches to provide health and wellness screenings to its clients in corporate settings. These screenings include evaluating cholesterol, BMI, and blood pressure. Applicants need experience working one-on-one with clients in activities like smoking cessation programs, weight loss programs, and stress management programs. Applicants must have a license or certification in an area such as:
Registered dietician
Registered nutritionist
Health educator
Exercise physiology
State Resources
You can find additional resources about health coach opportunities and developments throughout the state with the following organizations and initiatives:
Government Resources and Programs
Non-Governmental Organizations
*2021 US Bureau of Labor Statistics salary figures and job growth projections for dietitians and nutritionists reflect state data not school-specific information. Conditions in your area may vary. Data accessed April 2022.