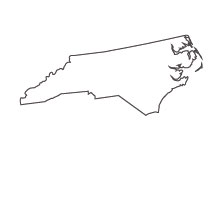 View how to become a nutritionist in North Carolina here.
Follow the step by step process or choose what situation that best describes you:
Registered Dietitian Job Information in North Carolina
According to the Commission on Dietetic Registration, there were 3,634 Registered Dietitians (RDs) and Registered Dietitian Nutritionists (RDNs) in North Carolina as of April 2022. The Bureau of Labor Statistics reports that dietitians and nutritionists in the state earned an average salary of $58,930 as of May 2021. Early career professionals earned about $47,300, while those with extensive experience earned about $78,230 during this time.
Many of North Carolina's metro areas reported average salaries for dietitians and nutritionists that exceeded the state average. For example, Charlotte reported an average salary of $60,650, while Wilmington reported an average salary of $62,140.*
According to the North Carolina Board of Dietetics/Nutrition, its mission is to protect the health, safety, and welfare of the citizens of North Carolina from harmful nutrition practice. As such, the Board has developed licensure, education, practice, and regulation requirements for all individuals involved in the practice of dietetics and nutrition in North Carolina.
The Dietetics/Nutrition Practice Act, effective in 1991 and amended in 2018, regulates the practice of registered dietitians and licensed nutritionists in North Carolina. Their rules for registered dietitians are now in line with the mandates of the commission on Dietetic Registration (CDR), the national governing body of registered dietitians in the U.S.
To become a registered and licensed dietitian in North Carolina, you must complete the following steps:
Education in Dietetics (ACEND) in North Carolina
The Dietetics/Nutrition Practice Act mandates that all applicants to become registered dietitians in North Carolina complete education that has been approved by the Accreditation Council for Education in Nutrition and Dietetics (ACEND). This education must:
Be at the bachelor's degree level or higher
Be in one of these majors: human nutrition, foods and nutrition, dietetics, food systems management, community nutrition, public health nutrition, nutrition education, nutrition, nutrition science, clinical nutrition, applied clinical nutrition, nutrition counseling, nutritional and functional medicine, nutritional biochemistry, nutrition and integrative health or an equivalent course of study
Must include the following coursework:

15 semester hours of clinical or life sciences, including human anatomy and physiology, microbiology, organic chemistry, and biochemistry
Three semester hours of behavioral sciences
24 semester hours of food and nutrition, with at least 3 semester hours in each of these categories:

Diet therapy, medical dietetics, clinical nutrition
Nutrition through the life cycle, applied human nutrition, advanced human nutrition
Foods, food science, food composition and menu planning, food service management
ACEND-Accredited Programs in North Carolina:
ACEND-accredited dietetic programs fulfill both North Carolina's mandates for education for registered dietitians and the CDR's mandates for education necessary prior to taking the national registered dietitian examination. There are two ways to achieve this education in North Carolina:
You may complete a coordinated program (CP) in dietetics, which includes the CDR's requirement of an ACEND-accredited education program that results in a bachelor's or graduate degree and a course of supervised practice totaling at least 1,200 hours; or
You may complete a didactic program in dietetics (DPD), which includes a course of study in dietetics that results in a bachelor's or graduate degree, but does not include the supervised practice component. After the successful completion of a DP, you must then apply for and complete a dietetic internship to meet the supervised practice requirement set forth by the CDR.
(Keep in mind that as of 2024, the CDR will require all applicants for the registered dietitian exam to have a minimum of a master's degree).
Coordinated Programs in Dietetics (CP) in North Carolina
As of January 2021, there are no Coordinated Programs in Dietetics in North Carolina.
Didactic Programs in Dietetics (DPD)
The following Didactic Programs in Dietetics exist in North Carolina:
If you wish to become a licensed nutritionist in North Carolina, visit this page for information on the state's educational, experiential and examination requirements.
<!- mfunc feat_school ->
The following bachelors and Master's programs offer career-focused instruction delivered by trained nutritionists with experience in the field. Find out more what each individual course of study offers through the locations below.
Sponsored School(s)
Featured Nutritionist Programs
<!- /mfunc feat_school ->
Dietetic Internship (DI) in North Carolina
Following the completion of a DPD in North Carolina, you must apply to and successfully complete a dietetic internship (DI) to qualify to sit for the CDR exam and become a registered and licensed dietitian in North Carolina. The following DI programs are located in North Carolina:
Commission on Dietetic Registration (CDR) Exam
Upon the successful completion of a DI program or CP program, you are eligible to sit for the CDR exam, a computer-based, multiple-choice examination. You will receive email correspondence once you have completed your course of supervised practice. You have 365 days from the time you complete your program to register and take the CDR examination. Upon receipt of the email, you will be asked to register to take the exam and pay the $200 application fee.
Once your registration and application fee are received, you will then receive correspondence from Pearson VUE, the testing centers at which you will be taking your CDR exam. You must then schedule the date, time, and location of your exam. There are more than 250 Pearson VUE Testing Centers throughout the country, with the following testing centers located in North Carolina:
Durham
Raleigh
Winston-Salem
Greenville
Wilmington
Charlotte
Before taking the CDR exam, you may prepare by reading the Comprehensive Study Outline and Study Guide and the Registration Examination for Dietitians Handbook for Candidates.
As of January 2021, the CDR exam consists of the following components (and their percentage of the exam):
Principles of Dietetics – 25 percent
Nutrition Care for Individuals and Groups – 40 percent
Management of Food and Nutrition Programs and Services – 21 percent
Foodservice Systems – 14 percent
You will have 2 ½ hours to complete the examination, as well as an additional 30 minutes to answer 25 pre-test questions and familiarize yourself with the computer and testing structure. The CDR exam has between 125 and 145 questions. Once you answer a question and move onto the next question, you cannot go back and change your answer.
Upon completion of the exam, you can view your score instantly. You must receive a minimum score of 25 (on a scale of 0 to 50) to pass the exam.
If you fail the exam, you can retake the exam after 45 days, provided you receive authorization from CDR to retake the exam. There is no limit to the number of times you can take the CDR exam, provided you wait 45 days between exams and pay the application fee.
Apply for a State Licensure in North Carolina
Once you have passed the CDR exam, you are now eligible to become a registered and licensed dietitian in North Carolina. To apply for state licensure with the North Carolina Board of Dietetics/Nutrition (NCBDN), you must:
Register and apply online at the NCBDN website (make sure you choose Category A: Registered Dietitian/Nutritionist (RDN) Licensed Dietitian/Nutritionist (LDN) Application)
Pay the necessary fees ($213, broken down into $50 application fee + $125 issuance fee + $38 criminal background check fee)
Supply requested documentation
Maintain your CDR Registration in North Carolina
Congratulations! You are now a Registered Dietitian Nutritionist in North Carolina! RDN licenses in North Carolina renew every year on March 31. You will receive a reminder email from NCBDN 60 days prior to your license's expiration. You must pay a renewal fee of $75.
While the state currently has no continuing education requirements for its RDNs, in order to qualify for license renewal, you must maintain your CDR registration, which requires the completion of at least 75 continuing education hours every 5 years. All continuing education hours must meet the standards found within the CDR's Professional Development Portfolio Guide. Examples of acceptable CPE activities may be found in the CDR's online CPE database.
*2021 US Bureau of Labor Statistics salary figures and job growth projections for dietitians and nutritionists reflect state data not school-specific information. Conditions in your area may vary. Salary statistics representing entry-level/early career = 25th percentile; senior-level/highly experienced = 90th percentile. Data accessed April 2022.