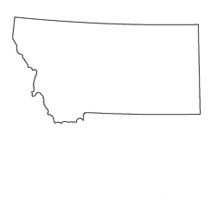 Follow the step by step process or choose what situation that best describes you:
Registered Dietitian job Description in Montana
According to the Commission on Dietetic Registration, there were 450 Registered Dietitians (RDs) and Registered Dietitian Nutritionists (RDNs) in Montana as of April 2022. The Bureau of Labor Statistics reports that dietitians and nutritionists in Montana earned an average salary of $57,610 as of May 2021. Early career professionals earned about $47,460, while those with extensive experience earned about $77,210 during this time.*
While nutritionists require licensing in order to legally practice in the state of Montana, dietitians do not. However, dietitians must be registered with the Commission on Dietetic Registration (CDR) of the American Dietetic Association (ADA).
To discover how to become a registered dietitian in Montana, read on.
Registered Dietitian Education in Montana
Montana does not require dietitians in the state to be licensed. However, in order to become registered, you must complete Accreditation Council for Education in Nutrition and Dietetics (ACEND)-accredited educational and experiential programs through the Commission on Dietetic Registration (CDR) of the American Dietetic Association (ADA).
Montana ACEND-Accredited Programs Leading to Registered Dietitian (RD) Licensure:
Coordinated Programs in Dietetics (CP) – A CP offers the educational courses in nutrition and dietetics as well as the required 900 or more hours of supervised internship necessary under the CDR's regulations for becoming a registered dietitian in Montana. As of July 2019, there are no CPs in Montana.
Didactic Programs in Dietetics (DPD) – A DPD offers just the educational courses in nutrition and dietetics necessary for registration through the CDR. You must still complete a dietetic internship (DI) after finishing your DPD. There is one DPD offered in the state of Montana to become a registered dietitian:

Montana State University, Bozeman

Bachelor of Science Degree in Food and Nutrition, Option in Dietetics
Courses include:

Medical Nutrition Therapy I & II
Micronutrient Metabolism
Macronutrient Metabolism
Nutrition & Society
Food Service System Management
Health Behavior Theories
Sustainable Food Systems
Culinary Marketing – From Farm to Table
Capstone
Practical Quantification Food Production and Management
Nutrition Assessment and Counseling
Research Methods
Theories and Skills for Human Services
Biochemistry
Nutrition in the Life Cycle
Food and Culture
Elements of Organic Chemistry
Human Anatomy & Physiology I & II
Food Fundamental and Lab
<!- mfunc feat_school ->
The following bachelors and Master's programs offer career-focused instruction delivered by trained nutritionists with experience in the field. Find out more what each individual course of study offers through the locations below.
Sponsored School(s)
Featured Nutritionist Programs
<!- /mfunc feat_school ->
Dietetic Internship (DI) in Montana
The second step in your quest to becoming a registered dietitian in Montana is to complete an ACEND-accredited DI. This must be completed after earning your bachelor's degree. There is currently one DI in Montana:
Montana State University, Bozeman

40 week, full-time non-degree dietetic internship
Emphasis on sustainable food systems
Rotations include clinical dietetics/nutrition, community nutrition, foodservice management, sustainable food systems
You are assigned to a regional cluster in Montana based on your preference and availability. Examples of rotations include:

Community Nutrition:

MSU's Towne's Harvest/Campus/Community
MSU Extension
Team Nutrition
Special Supplemental Nutrition Program for Women, Infants and Children

Food Service Management:

Office of Public Instruction
K-12/University Food Service
Large Hospital Food Service
Food Bank or Non-profit

Clinical Nutrition:

Comprehensive Care Facilities (hospitals, long-term care, etc.)
Critical Access Hospital/rural health

Self-Select Rotation:

Out of State or International
Other clinical rotations:

Sports/wilderness
Eating disorders
Bariatric surgery
Mental Health

Other food service rotation:

Department of Corrections
Chef
Restaurant

Other Community Rotation:

Hunger/Food Insecurity
Policy legislation
Business/industry
Marketing/media
Child nutrition programs
Human Resource Council

Other Sustainable Food System Rotation:

Agricultural business
Non-profits
Organic farm production
Montana CDR Registered Dietitian Examination
Now that you have completed your education and internship, you are set to take the CDR Exam for Registered Dietitians.  Take a look at the Registration Examination for Dietitians Handbook for Candidates. Information in this handbook should help you to apply for and prepare to take the registration examination.  It costs $200 and is payable when you register online via your CDR account. Pearson VUE Exam Centers offers the computerized, multiple-choice test at these Montana locations:
Helena – 111 N. Last Chance Gulch, Suite 4K, Arcade Bldg.
Billings – 404 North 31st St., Suite 320, TransWestern 1 Building
You are given three hours to complete a maximum of 145 questions based on your knowledge of food, nutrition and dietetics. At least 125 questions must be answered or your test will not be scored. You cannot skip or change any answers on the test. You are given your score report as you leave the test center. You must get a scaled score of 25 or better to pass. Passing this exam gives you the credentials RD (Registered Dietitian), which are valid anywhere that RDs are recognized, including Montana.
Registration as a Dietitian in Montana
You must renew your registration as a dietitian with the CDR on a five-year cycle. During each five-year cycle, you must fulfill their continuing professional education (CPE) requirement of 75 hours. CDR's online CPE database and PDP Guide   provide ideas for acceptable CPE and how to document it in your professional portfolio. Per the Montana Dietetic Association and the CDR, examples of CPE activities in Montana currently include:
22nd Annual Montana Diabetes Professional Conference by DPHHS-Montana Diabetes Program; worth 7.0 CPEUs, 10/3-10/4/2019
Specialty Certifications in Dietetics and Nutrition in Montana
Another way to fulfill the CDR's requirements for CPE is to seek specialty certification(s) in areas of nutrition and dietetics. Some of these certifications fulfill the entire 75-hour requirement of the CDR for CPE in a five-year period. Examples of certifications available for dietitians in Montana include:
AADE (American Association of Diabetes Educators):

Board Certified Specialist in Advanced Diabetes Management

ACCL (Accreditation Council for Clinical Lipidology):

Clinical Lipid Specialist

ACE (American Council on Exercise):

Certified Advanced Health & Fitness Specialist
Certified Personal Trainer
Certified Health Coach
Certified Group Fitness Instructor

AAFCS (American Association of Family and Consumer Sciences):

Certified in Family and Consumer Sciences

ACSM (American College of Sports Medicine):

Certified Exercise Physiologist
Certified Personal Trainer
Health/Fitness Director
Program Director
Clinical Exercise Specialist

CDECB (Canadian Diabetes Educator Certification Board):

Canadian Board Certified Diabetes Educator

CDR (Commission on Dietetic Registration):

Gerontological Nutrition Specialist
Pediatric Nutrition Specialist
Advanced Practitioner Certificate in Clinical Nutrition
Pediatric Critical Care Nutrition Specialist
Obesity and Weight Management Specialist
Renal Nutrition Specialist
Sports Dietetics Specialist
Oncology Nutrition Specialist

IFT (Institute of Food Technologists):

Certified Food Science Specialist

IAEDP (International Association of Eating Disorders Professionals):

Certified Eating Disorders Registered Dietitian

IBLCE (International Board of Lactation Consultant Educators):

International Board Certified Lactation Consultant

HQCB (Healthcare Quality Certification Board):

Certified Professional in Healthcare Quality

NBCC (National Board for Certified Counselors):

National Certified Counselor

NASM (National Academy of Sport Medicine):

Certified Personal Trainer

NBNSC (National Board of Nutrition Support Certification):

Certified Nutrition Support Clinician

NCBDE (National Certification Board for Diabetes Educators):

Certified Diabetes Educator

NSCA (National Strength and Conditioning Association):

Certified Strength and Conditioning Specialist
Certified Personal Trainer

NCHEC (National Commission for Health Education Credentialing):

Certified Health Education Specialist

NAFEM (North American Association of Food Equipment Manufacturers):

Certified Foodservice Professional

SNA (School Nutrition Association):

School Nutrition Specialist
Become a Licensed Nutritionist in Montana?
One dietetics – related career that is licensed in the state of Montana is that of nutritionist. The Montana Board of Medical Examiners help to regulate the licensing of nutritionists in Montana. Under Montana's laws, a nutritionist must meet the following prerequisites for licensure:
Complete a bachelor's and master's degree, or doctoral degree, accredited program in public health nutrition, food and nutrition, or dietetics
Be registered with the Commission on Dietetic Registration (CDR)
Nutritionist duties under Montana law include:
Assess individuals' and groups' nutrition needs and determine resources and constraints on those needs
Establish nutrition priorities and objectives
Offer nutrition counseling for individuals
Develop, implement and manage nutrition care systems
Evaluate, adjust and maintain standards of quality in food and nutrition services
In order to become licensed to practice as a nutritionist in Montana, you must apply online.
View how to become a nutritionist in Montana here.
2021 US Bureau of Labor Statistics salary figures and job growth projections for dietitians and nutritionists reflect state data not school-specific information. Conditions in your area may vary. Salary statistics representing entry-level/early career = 25th percentile; senior-level/highly experienced = 90th percentile. Data accessed April 2022.