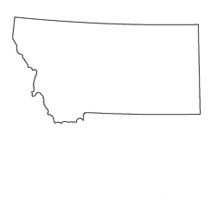 Montana Nutritionist Certification
The Montana Board of Medical Examiners oversees the licensing and regulation of nutritionists in Montana. The scope of dietetic-nutrition practice is therefore clear: only a licensed nutritionist can provide the following services:
Assess the nutrition needs of individuals and groups
Establish priorities and objectives that are in line with available resources and constraints
Develop, implement, and manage nutrition care systems
Evaluate and maintain appropriate standards of quality in food and nutrition services
What is a Nutritionist? Eligibility and Degree Requirements
The Montana Board of Medical Examiners recognizes nutritionists as individuals licensed by the Board under Montana law. Nutritionists must successfully complete a bachelor's degree and a master's or doctorate degree by an accredited college or university in one of the following fields:
Dietetics
Food and nutrition
Public health nutrition
Candidates who do not possess the above educational requirements must apply to the Montana Board of Medical Examiners for approval. The Board evaluates the applicant's fitness to practice and ensures that the basic requirements have been met.
Candidates for nutritionist licensure in Montana must pass the Commission on Dietetic Registration (CDR) exam through the Academy of Nutrition and Dietetics (AND). To be eligible to sit for the CDR exam, candidates must possess the above educational requirements and show proof of the completion of a documented, supervised practice experience of at least 900 hours.
<!- mfunc feat_school ->
The following bachelors and Master's programs offer career-focused instruction delivered by trained nutritionists with experience in the field. Find out more what each individual course of study offers through the locations below.
Sponsored School(s)
Featured Nutritionist Programs
<!- /mfunc feat_school -> <!- mfunc search_btn -> <!- /mfunc search_btn ->
Applying to Become a Nutritionist in Montana
Individuals who want to learn how to become a nutritionist in Montana must complete an Application for Nutritionist License and complete the following:
Provide an application fee of $58.50 (made payable to the Montana Board of Medical Examiners).
Provide official transcripts verifying the completion of an education in nutrition (must be sent directly from the institution).
Provide a current copy of their CDR card.
Complete the National Practitioner Data Bank (NPDB) self-query and mail it to the address on the instructions. Applicants can obtain the form by visiting www.npdb-hipdb.com or by calling the NPDB at 1-800-767-6732.
The completed application, along with the application fee and related documentation, must be mailed to:
Montana Board of Medical Examiners
P.O. Box 200513
Helena, MT 59620-0513
Applicants can contact the Board at 406-841-2300 or at dlibsdmed@mt.gov with any questions regarding the application process.
Nutritionist licenses are valid for a period of 2 years, with renewals taking place August 31 to October 31 biennially. The cost of renewal is $100. There is no continuing education requirement.
Staying Connected to Nutrition-Related Issues in Montana
Professional organizations and associations play an important role in nutrition practice and advocacy in Montana. As such, membership and certification in nutrition organizations are popular in this profession:
Montana Academy of Nutrition and Dietetics
American Nutrition Association
American Society and Nutrition
School Nutrition Association
Career Opportunities for Nutritionists in Montana
A trend toward holistic care has made the integration of nutritional therapy and care commonplace in such settings as hospitals, government institutions, nursing homes, rehabilitation centers, schools, and workplace wellness programs. As such, nutritionists in Montana may find a number of career opportunities at these large Montana employers:
Billings Clinic
St. Patrick Hospital
Benefis Hospital
Kalispell Regional Medical Center
St. Vincent Healthcare
Missouri River Care and Rehabilitation Center
St. John's Lutheran Home
Village Health Care Center
Park Place Healthcare Center
Valley Health Care Center
Billings Health and Rehab Community
Billings Public Schools
---
Career Information for Health Coaching in Montana
Like many other states in the U.S. a significant percentage of Montana's population suffers from obesity. According to Healthy Gallatin, a resource available through the Gallatin City-County Health Department, 24 percent of Montanans suffer from obesity. Working with local health departments, Montana's health coaches support healthy eating initiatives and physical fitness programs in order to combat obesity.
Almost every corner of the state encourages people to engage in physical activities by providing hiking/biking trails, skiing/snowboarding resorts, walking/jogging paths, and two national parks with numerous recreational activities available to visitors. These options allow health coaches and their clients to engage in a variety of physical fitness activities beyond what you find in a routine gym regimen.
Race Montana is an organization created by a small group of athletic enthusiasts to encourage fitness in the community of central Montana. Initially, the group started out hosting a couple of triathlons or marathons. These races quickly became yearly traditions including the Race Montana Triathlon, Save the Ta Ta's 5k, Burn the Bird 5k and 10k, and the Kickin' Half Marathon and 10k. These races have grown in popularity year by year and the Race Montana team is now in the process of developing a trail series for off-road runners.
The Race Montana organization has made a powerful impact upon its community as it has supported the city of Great Falls in its development of a lengthy biking/walking trail called the River's Edge Trail. This trail consists of 25 miles of pavement and an additional 35 miles of gravel or dirt. The city is committed to seeing through the full development of this trail and eager to begin using it as a resource for physical fitness and/or commuting. Race Montana is just one example of how health coaches in the great state of Montana are taking advantage of the state's natural environment to unite its community and combat obesity through physical fitness.
Health Coach Degree and Professional Certification
Regardless of whether you wish to pursue a career as an independent health coach or are more interested in working as an employee of a local health department, school district, corporation or hospital, you will find a near limitless number of options available to you for getting the education, training and credentials you need. There is no one educational path to becoming a health coach, so you have the opportunity to develop your area of expertise according to the program you choose.
Several suitable degrees and standard certifications for employment are listed below.
<!- mfunc search_btn -> <!- /mfunc search_btn ->
Degree Options
For some entry-level health coaching jobs, an associate's degree in health and wellness, applied nutrition, or other relevant areas is suitable, though a bachelor's degree is the more common requirement.
Common options available at the bachelor's level include:
Bachelor of Science in Exercise Science
Bachelor of Science in Health Education
Bachelor of Science in Exercise Physiology
Bachelor of Science in Health Management
Bachelor of Science in Kinesiology
Bachelor of Science in Dietetics
If you are considering a career change and already hold a bachelor's degree in another area, you might consider pursuing a master's degree related to health and wellness, exercise science or nutrition.
Professional Certification
Professional certification beyond your degree helps support your professional development and is often a requirement for employment. Your employer would determine the specific certification requirements you are required to complete. Employers routinely hire well qualified candidates and pay for them to become certified within the first months of employment.
With so many certification options available to health coaches, it can be daunting to try to select one over the other.
 
As just one example among many, the American Council on Exercise (ACE) health coach certification is currently the only program of its kind accredited by the National Commission for Certifying Agencies (NCCA). ACE offers "standard" or "premium" self-study packages to prepare for the examination leading to the Health Coach Certification. Certification through ACE must be renewed every 2 years by completing continuing education approved by ACE. The ACE Certification Candidate Handbook provides thorough details concerning the certification examination and maintenance process.
Health Coaching in Missouri: Career Paths and Job Opportunities
Even as health coaching is still in the midst of becoming a well established career path in Montana, there is a considerable variety of job opportunities available to those seeking a career in health coaching. These job opportunities vary in requirements and levels of authority, allowing you to find a position that best fits your set of skills and experience.
 
The following job vacancy announcements represent the types of employment opportunities available to properly credentialed health coaches in Montana. These job vacancy announcements are shown for illustrative purposes only and are not meant to represent job offers or provide an assurance of employment.
 
Wellness Professional for HealthFitness – Helena MT
You will promote health and wellness programs as well as interact with members and participants in the programs. You will also provide education and health promotion for internal employees.
 
Requirements:
Bachelor's degree in kinesiology, exercise science, health promotion or another closely related field
At least 2 years of related experience
Current first aid and CPR/AED certification required
Personal training certification from ACE, ACSM, AFAA, NSCA, or NASM preferred
Experience in coordinating and delivering effective programs including budgeting, marketing and promotions

Active After School Coordinator for Gallatin Valley YMCA – Bozeman MT
You will be responsible for coordinating and overseeing the Active After School Club. You will monitor staff performance and participant services.
 
Requirements:
1-2 years of experience working with children
1-2 years of experience in health and wellness/fitness or a related field preferred
Current first aid and CPR/AED certifications
Complete mandatory Redwoods training for sexual harassment prevention, bloodborne pathogens, child abuse prevention within 30 days of being hired
Exercise Specialist for Bozeman Health Deaconess Hospital – Bozeman MT
You will work as the Cardiac Pulmonary Rehab Exercise Physiologist managing health risks of patients and ensuring lasting health behavior changes.
 
Requirements:
Bachelor of Science in kinesiology, exercise science, exercise physiology, or another closely related field required
Master of Science in kinesiology, exercise science, exercise physiology, or another closely related field preferred
Current Basic Life Support (BLS) for Health Care Providers certification required
ACSM Certified Clinical Exercise Physiologist or ACSM Registered Clinical Exercise Physiologist within 4 months of hire required
Advanced Cardiac Life Support (ACLS) certification within 4 months of hire required
ACSM Certified Clinical Exercise Physiologist preferred
500 hours of practical experience in a clinical exercise program
Local Resources and Health Departments in Montana
Mineral County Montana Health Department
Central Montana Health District
Flathead City-County Health Department
Healthy Gallatin
Montana Public Health Association
Montana Nutrition and Physical Activity Program
Race Montana