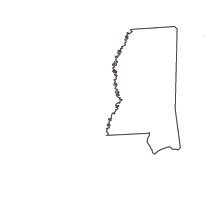 Follow the step by step process or choose what situation that best describes you:
Registered Dietitian job Description in Mississippi
As of April 2022, the Commission on Dietetic Registration reported 816 Registered Dietitians (RDs) and Registered Dietitian Nutritionists (RDNs) in Mississippi. According to the Bureau of Labor Statistics, nutritionists and dietitians in the state earned an average salary of $43,990 as of May 2021. Early career professionals earned about $28,900, while those with extensive experience earned about $71,120 during this time.
Mississippi's largest city of Jackson reported an average salary of $53,050 for dietitians and nutritionists – that's about $10,000 more annually than the state average.*
A bachelor's degree and 900 hours of experience is required to become a licensed, registered dietitian in Mississippi. Becoming a registered dietitian in Mississippi affords one the opportunity to apply for dietitian licensing in that state. After completing the required accredited dietitian educational program, dietetic internship, and passing the CDR's national registration exam, you will be ready to apply for licensure as a dietitian in Mississippi. Once registered and licensed, you may legally use the credentials RD (registered dietitian) and LD (licensed dietitian) behind your name when practicing in Mississippi.
If you would like to know how to join the ranks of these Mississippi dietitians, read on.
Registered Dietitian Education in Mississippi
The Mississippi State Department of Health demands that all who wish to become licensed dietitians in the state first become registered through the Commission on Dietetic Registration (CDR) of the American Dietetic Association (ADA). This means that you must complete registered dietitian education in Mississippi that is accredited by the Accreditation Council for Education in Nutrition and Dietetics (ACEND).

Mississippi ACEND-Accredited Programs Leading to Registered Dietitian (RD) Licensure:
Coordinated Programs in Dietetics (CP) –  Full-service programs providing both education and experience:
Didactic Programs in Dietetics (DPD)- Education only (experience must be fulfilled later):
<!- mfunc feat_school ->
The following bachelors and Master's programs offer career-focused instruction delivered by trained nutritionists with experience in the field. Find out more what each individual course of study offers through the locations below.
Sponsored School(s)
Featured Nutritionist Programs
<!- /mfunc feat_school ->
Dietetic Internship (DI) in Mississippi
The Mississippi State Department of Health and the CDR mandate that you must have a minimum of 900 hours of professional experience in an ACEND-accredited dietetic internship (DI). DIs in Mississippi include:
Gulf Coast Dietetic Internship, Biloxi

8 months, full-time, non-degree program
Emphasis on Entrepreneurship
Post-baccalaureate program
40 hours per week, 31 weeks
Consists of:

1 week of orientation
11 weeks of clinical nutrition
8 weeks of foodservice management
7 weeks of community nutrition
4 weeks of elective rotations in entrepreneurship

1240 supervised practice hours

University of Southern Mississippi, Hattiesburg

One year, full-time degree program
Emphasis in health promotion and education
You must be admitted to the school's Master of Science in Nutrition and Food Systems program before you will be considered for admittance to this DI
Academic standards you must meet for admission to this DI include:

Have a GPA of 2.75 on your last 65 undergraduate hours of education
Have a GPA of 3.0 on your DPD coursework
Have a GPA of 2.70 on your science prerequisites, including:

1 semester of general chemistry
1 semester of biochemistry
1 semester of microbiology
1 semester of organic chemistry
1 semester of anatomy and physiology

Mississippi State University, Mississippi State

11 months, full-time non-degree program
Emphasis in nutrition education and therapy
Earns you six hours of graduate credit
Academic standards you must meet for admission to the DI:

Overall GPA of 3.0 in your DPD
Nutrition courses GPA of 3.25
Pass the Graduate Record Exam (GRE)

Internships are offered at the following participating facilities in Mississippi:

Baptist Memorial Hospital, Columbus
Research, Starkville
Fresenius Medical Care, Columbus
Starkville School District Food Service, Starkville
Mississippi State Department of Health, Starkville
Sports Nutrition – Mississippi State Athletics, Starkville
Mississippi State University Extension Service, Starkville
MSU Health Center, Starkville
North Mississippi Medical Center, Tupelo
Mississippi State University-Aramark, Starkville
Choctaw Indian Reservation/Food Distribution Center, Choctaw
Mississippi CDR Registered Dietitian Exam
The CDR and the Mississippi State Department of Health both require that you pass the Commission on Dietetic Registration (CDR) Exam for Dietitians before you may legally work as a licensed and registered dietitian in the state of Mississippi. Review CDR's Registration Examination for Dietitians Handbook for Candidates which will explain in detail the application and examination process. You may register online through the CDR and pay the $200 exam fee. Pearson VUE Exam Centers in Mississippi at the following locations administer this exam:
Jackson – 1755 Leila Drive, Suite 404
Jackson – 6360 I-55 North, Suite 250
Tupelo- 431 W. Main St., Suite 340
You are given 180 minutes to finish the test. The questions may number as high as 145 and all have multiple-choice answers. As the test is computerized, you must answer a minimum of 125 questions for the exam to be scored. Additionally, you may not skip questions or change answers you have already entered into the computer. The exam tests your comprehension of what you have learned in your CP or DPD and how to apply that information. It is formatted as follows:
25 percent of the exam consists of questions concerning principles of dietetics, including:

Education and communication/technology
Research applications
Food Science
Nutrient Composition of Foods
Nutrition and Supporting Sciences

40 percent of the exam consists of questions concerning nutrition care for groups and individuals, including:

Diagnosis
Screening, assessment
Intervention, planning
Evaluation, monitoring

21 percent of the exam consists of questions concerning management of nutrition and food programs and services, including:

Functions of management
Human resources
Financial management
Public relations and marketing
Quality improvement and management

14 percent of the exam consists of questions concerning food service systems, including:

Menu development
Procuring, producing, distributing and service
Safety and sanitation
Facility planning and equipment
A test center proctor will provide you with a score report at the end of the exam. A scaled score of 25 or higher passes the exam. If you pass, you may legally use the credentials RD (Registered Dietitian).
Dietitian Licensing and Registration in Mississippi
After earning your RD credentials, you are ready to apply for licensure as a dietitian in Mississippi. Download the Mississippi Dietitian Application for Licensure. Enclose a passport-sized photo of yourself and a copy of your driver's license or social security card, as well as a copy of your CDR card proving your Registered Dietitian status. Submit an application fee of $100 with your completed, notarized application to Mississippi State Department of Health, Professional Licensure-Dietitian, P.O. Box 1700, Jackson, MS 39215-1700. Once your license is issued, you may legally use the LD (Licensed Dietitian) credentials.
Maintain Licensure and Registration in Mississippi
Maintaining Your Mississippi Dietitian License
You must renew your Mississippi dietitian license every two years. The Mississippi Department of Health will mail you a renewal notice 30 days before your license is set to expire. During each two-year licensure term, you must complete 30 hours of approved continuing education and submit proof of this with your renewal form and fee. If you meet the CDR's continuing professional education requirements, you may use those continuing education hours to satisfy Mississippi's requirement.
Maintaining your Registration as a Registered Dietitian in Mississippi
On a five-year basis, you are required to renew your CDR registration. The CDR expects you to complete 75 hours of continuing professional education (CPE) during each five-year period. CDR's online CPE database and PDP Guide can help you to find approved CPE and document it correctly.
View how to become a nutritionist in Mississippi here.
*2021 US Bureau of Labor Statistics salary figures and job growth projections for dietitians and nutritionists reflect state data not school-specific information. Conditions in your area may vary. Salary statistics representing entry-level/early career = 25th percentile; senior-level/highly experienced = 90th percentile. Data accessed April 2022.