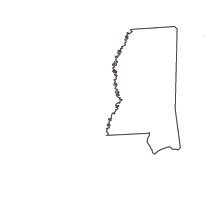 The Office of Health Protection, Professional Licensure Division regulates the practice of dieticians in the State of Mississippi. The Mississippi Dietetics Practice Act outlines clear licensure for dieticians in the State, yet does not license nutritionists. However, the title of nutritionist is a protected title in the State, and only licensed dieticians may provide nutrition services, nutrition care, and all aspects of medical nutrition therapy.
How to Become a Nutritionist: Nutrition Care in Mississippi
Dietetics practice in Mississippi includes, but is not limited to:
Providing medical nutrition therapy
Developing, evaluating and consulting standards of quality in food services and medical nutrition therapy
Providing counseling in health and disease
Providing case management services
Medical nutrition therapy is defined as nutritional diagnostic therapy and counseling services for the purpose of disease management and assessing the nutritional status of patients with a condition, illness, or injury who require medical nutrition therapy as part of their treatment. Nutrition therapy in this sense may mean diet modification, nutrition counseling, or the administration of specialized nutrition therapies.
The Licensure Process in Mississippi for Nutritionists
To practice nutrition care in Mississippi, candidates must meet the requirements for licensure as a dietician, which are equivalent to the Academy of Nutrition and Dietetics requirements to sit for the Commission on Dietetic Registration (CDR) exam.
Specifically, candidates must possess a bachelor's degree or higher from a regionally accredited college or university with a major in food and nutrition dietetics; food system management; or human nutrition and pass the CDR examination.
Candidates must also complete specific supervised experience requirements to be eligible to sit for the CDR exam and become licensed in Mississippi, which include at least 900 hours.
<!- mfunc feat_school ->
The following bachelors and Master's programs offer career-focused instruction delivered by trained nutritionists with experience in the field. Find out more what each individual course of study offers through the locations below.
Sponsored School(s)
Featured Nutritionist Programs
<!- /mfunc feat_school ->
Provisional/Standard Licenses for Dieticians/Nutritionists in Mississippi
Individuals may apply for a provisional license to practice dietetics and nutrition for a period one year, provide they have met the educational and dietetic experience requirements that makes them eligible for registration by the Commission on Dietetic Registration. To achieve a provisional license, applicants must practice under the direct technical supervision of a dietician during this time. A provisional license may be renewed, from year to year, for a period of up to 5 years.
Only those candidates who have passed the CDR examination and possess a valid CDR card are eligible for a regular license in Mississippi.
The cost of initial licensure as a dietician/nutritionist in Mississippi is $100, and the cost of a provisional license is $50. Candidates who upgrade their provisional license to standard license must pay an upgrade fee of $50. The biennial renewal fee for a regular license is $100, and the renewal fee for a provisional license is $50.
The Application for Dietician/Nutritionist must be completed and notarized and mailed to:
Mississippi State Department of Health
Professional Licensure: Dietitians
Post Office Box 1700
Jackson, Mississippi 39215
The successful completion of at least 30 clock hours every two years is required for biennial license renewal for regular licenses in Mississippi.
Nutritionist Careers in Mississippi
Many institutions and organizations seek the services of licensed dieticians in Mississippi. Whether providing medical nutrition therapy through one of the State's hospital systems or providing counseling in health and disease through employee programs at some of the largest companies in Mississippi, these qualified professionals continue to be sought out for their expertise in nutrition care.
Some of the largest employers in Mississippi that likely employ licensed dieticians include:
Mississippi Baptist Health Systems
BlueCross BlueShield of Mississippi
Forrest General Hospital
Gulfport Memorial Hospital
Rush Health Systems
St. Dominic Hospital
University of Mississippi Medical Center
Brandon Nursing and Rehabilitation Center
Manhattan Nursing and Rehabilitation Center
Graceland Care Center of Oxford
Hattiesburg Health and Rehabilitation Center
Biloxi Community Living Center
Professional Associations for Nutritionists in Mississippi
Both state and national professional associations and organizations serve nutrition professionals by offering professional certification, networking, and continuing education opportunities:
American Nutrition Association
Academy of Nutrition and Dietetics
National Association of Nutrition Professionals
International and American Associations of Clinical Nutritionists
American Society for Nutrition
Mississippi School Nutrition Association
Mississippi Academy of Nutrition and Dietetics
Mississippi Chapter of Association of Nutrition and Foodservice Professionals
---
Health Coach Careers in Mississippi
"Mississippi is the fattest state, and getting fatter," according to the University of Mississippi Medical Center (UMMC), which is the leading research center for combating obesity in the state of Mississippi today. To help Mississippians succeed in the fight against chronic diseases, cardiovascular diseases, and Diabetes, the UMMC provides a variety of resources that health coaches rely on to help raise obesity awareness and prevention.
The resources from the UMMC are numerous and extensive, and include weight loss surgery and weight management programs for adults and hands-on learning through gardening in elementary school gardens for children.
Additionally, doctors and scientists in the state are hard at work, partnering with health coaches to research the obesity epidemic and arrive at possible solutions through the Mississippi Center for Obesity Research (MCOR).
Nearly every page on the UMMC website plasters facts about obesity or possible remedies. The UMMC is also highlighting doctors, health coaches, or state government officials who have stepped up to the plate in Mississippi's attempt to fight obesity. In addition to all of these efforts, the center also sponsors the Manning Family Fund for a Healthier Mississippi, allowing people and organizations to donate to various medical causes through UMMC.
In an effort to address the troubling fact that Mississippi has the highest rate of childhood obesity in the nation, UMMC does not hesitate to recruit the help of health coaches to help educate the general public on the extent of the obesity issue and how best to resolve it through proper diet and exercise. The center provides extensive content on the overall negative effects of obesity on Mississippi's economy and population. Hopefully the statistics concerning obesity will soon begin to change as more and more health coaches partner with the UMMC's efforts to improve health.
Earning a Degree and Certificate
As a relatively new field without established educational guidelines or state licensing, you are free to blaze your own trail to a career in health coaching. This means that you have almost total freedom in selecting your degree, certification, electives, and internships. This means you can build your educational experience around your areas of interest, whether exercise science, dietetics and nutrition or some combination of the two.
Degree Options
Associate's degrees are suitable for some entry-level health coach jobs, but a bachelor's degree in one of these areas is the most common qualification employers look for:
Psychology
Applied Science in Health and Wellness
Exercise Science and Kinesiology
Health Education
Behavioral Health
Dietetics and Nutrition
Biology
A master's degree would be considered a very strong qualification, and would go beyond the general expectations of most employers.
Professional Certification

Most employers will expect you to hold some level of certification regardless of the degree you choose to complete. The certification you are required to complete will often depend on the employer you will be working for. Some employers expect health coaches to be registered and state-licensed dieticians, while others look for a more general certification in health coaching in particular.
American Council on Exercise (ACE) – ACE certification is accredited by the National Commission for Certifying Agencies (NCCA) and provides "standard" or "premium" self-study packages to prepare for the examination that leads to the Health Coach Certification. Certification through ACE must be renewed every 2 years by completing continuing education approved by ACE. The ACE Certification Candidate Handbook provides thorough details concerning the certification examination and maintenance process.
Health Coaching in Mississippi: Career Paths and Job Opportunities
Considering health coaching is still an evolving field, health coaching jobs vary in terms of requirements and levels of certification. The benefit to this variety is you are able to find a position that best fits your experience and specialty. Many employers will often allow time for you to receive any outstanding certifications or licensing that your position of choice may require.
 
The following job vacancy announcements represent the types of employment opportunities available to properly credentialed health coaches in Mississippi. These job vacancy announcements are shown for illustrative purposes only and are not meant to represent job offers or provide an assurance of employment.
 
Health Coach for Check-Ups Program – Madison, MS
You will collect health histories of the clients as well as coordinate appointments for blood tests and enroll clients in health programs. You will also help clients identify and set goals toward health improvement and nutrition.
 
Requirements:
At least four years of health and wellness experience
General understanding of health and wellness
Biometric screening experience
Capable of identifying healthy blood pressure, glucose and cholesterol, and weight
Experience using machines for cholesterol for fingersticks
Comfortable with working with a physician
Bachelor of science in health or a related field preferred
Experience handling biometric screening in a corporate setting

Coordinator – Fitness and Wellness for Centers – Jackson, MS
You will be responsible to manage wellness and fitness programs, training clients and mentoring trainers as well as coordinating group fitness and certification courses.
 
Requirements:
Bachelor's degree required and master's degree preferred
At least two years of wellness and fitness experience as well as facility management experience, preferably in a university setting
Fitness certification(s) from accredited national fitness organizations (ACE, NASM, NSCA, etc) in group fitness or personal training
Experience in implementing policies and procedures as well as managing facilities
Supervisory and leadership abilities
Understanding of standard practices in health and wellness facilities
  Health Coach for Aetna, Inc. – Ridgeland, MS
You will provide on-site wellness coaching for clients including health education and goal setting for obesity and/or chronic illness prevention.
 
Requirements:
Registered nurse with a strong background in wellness/health coaching or a registered dietitian with 3-5 years of health coach training desired
Bachelor's degree or equivalent experience. RN or RD preferred
Health and wellness coach certification, health fitness specialist certification desired, License or registered nurse desired, registered dietitian desired
Local Resources and Mississippi Health Departments
Mississippi State Department of Health
The Manning Family Fund
Mississippi Primary Health Care Association
Diabetes Foundation of Mississippi
Mississippi Health Advocacy Program
United Way of Southeast Mississippi
United Way of the Capital Area