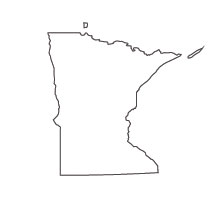 Follow the step by step process or choose what situation that best describes you:
Registered Dietitian job Description in Minnesota
According to the Commission on Dietetic Registration, there were 2,518 Registered Dietitians (RDs) and Registered Dietitian Nutritionists (RDNs) in Minnesota as of April 2022. The Bureau of Labor Statistics reported that the state's nutritionists and dietitians earned an average salary of $66,760 as of May 2021 —that's about $1,000 more than the national average of $65,620 for this profession. Early career professionals in Minnesota earned about $59,660, while those with extensive experience earned about $78,690 during this time.*
One way for Minnesota students who are interested in the profession of registered dietitian to gain valuable experience is through volunteering. The Minnesota Academy of Nutrition and Dietetics lists many volunteer opportunities for qualified individuals on its website. Volunteering can be a great way to get a head start on your potential career as a registered dietitian in Minnesota. You can volunteer while completing registered dietitian education in Minnesota, or before or after education is completed. Examples of volunteer opportunities in Minnesota in nutrition and dietetics include:
Open Arms of Minnesota in Minneapolis– cooking and delivering free meals to patients with breast cancer, multiple sclerosis, ALS, HIV/AIDS and other diseases in Minnesota
Help at Your Door in Golden Valley– shopping for and delivering groceries to homebound senior citizens in Minnesota
Volunteers Enlisted to Assist People in Bloomington– providing social and financial services, transportation, children and youth services, and food pantry services to low-income residents of Minnesota
Community Emergency Assistance Program in Brooklyn Park and Blaine – providing services to low-income Minnesotans such as meals on wheels, financial assistance, senior services, transportation, and youth food shelf
Becoming a registered dietitian in Minnesota requires hard work, dedication, and perseverance. You must complete at least four years of education, 900 hours of a supervised practice experience, and pass a registration examination before Minnesota will consider licensing you to work as a dietitian in the state. If you would like to learn more details, read below.
Registered Dietitian Education in Minnesota
The Minnesota Board of Nutrition and Dietetics Practice and the Commission on Dietetic Registration (CDR) of the American Dietetic Association (ADA) both stipulate that certain education, experience and examination requirements be fulfilled prior to registration and licensure as a dietitian in Minnesota. The dietitian education program in Michigan you choose must be accredited by the Accreditation Council for Education in Nutrition and Dietetics (ACEND).

ACEND-Accredited Programs Leading to Registered Dietitian (RD) Licensure in Minnesota:
Coordinated Programs in Dietetics (CP) – Provides both classes and an internship, at the undergraduate or graduate level:
Didactic Programs in Dietetics (DPD)- Provides only classes at the undergraduate or graduate level, internship is taken later:
What If I'm Looking for an Alternative to Becoming a Registered Dietitian in Minnesota?
Are you interested in the field of nutrition and dietetics, but do not want to study for four years and spend 900 hours in an internship? An alternative for you might be to become a Dietetic Technician, Registered (DTR). Also accredited by ACEND and mandated by the CDR, DTR programs offer students a two-year associate degree program in dietetic technology, and a 450-hour internship. DTR students must pass the CDR's DTR Exam prior to registration. There are two DTR programs in Minnesota:
<!- mfunc feat_school ->
The following bachelors and Master's programs offer career-focused instruction delivered by trained nutritionists with experience in the field. Find out more what each individual course of study offers through the locations below.
Sponsored School(s)
Featured Nutritionist Programs
<!- /mfunc feat_school ->
Dietetic Internship (DI) in Minnesota
The CDR and the state of Minnesota both require that you complete at least 900 hours of supervised professional experience in nutrition and dietetics after completing your degree requirements. This Dietetic Internship (DI) must also be ACEND-accredited. In Minnesota, DIs include:
Minnesota CDR Registered Dietitian Exam
The Minnesota Board of Nutrition and Dietetics Practice along with the Commission on Dietetic Registration (CDR) mandate that you must pass the CDR's Registration Exam for Dietitians if you wish to practice as a dietitian in Minnesota. View the CDR's Registration Examination for Dietitians Handbook for Candidates to learn the application process and what you should study. It will instruct you how to register and pay exam fees ($200) online. The test is given at the following Pearson VUE Exam Centers in Minnesota:
| | |
| --- | --- |
| | 5601 Green Valley Circle, Suite 150 |
| | 7101 Northland Circle, Suite 102, Triad Building |
| | 3459 Washington Drive, Suite 107, Washington Drive Exec Ctr. |
| | 4815 West Arrowhead Road, Suite 100, North Shore Bank Place |
| | 1544 Greenview Drive SW, Suite 200, Greenview Office Bldg. |
| | 2610 University Avenue W, Suite 400 |
You are given three hours to complete up to 145 questions on a computerized multiple-choice format exam. You must answer at least 125 questions, and may not skip or change answers. You will receive your score at the exam center after taking the test. You need a scaled score of 25 or better to pass. If you pass, you may legally use the RD (Registered Dietitian) credentials.
Apply for Dietitian Licensing in Minnesota
The Minnesota Board of Nutrition and Dietetics Practice states that you must apply for a license before you may work in the state as a dietitian. Once you have fulfilled the CDR's requirements, you are ready to apply for state licensing as a Minnesota dietitian.
Download the Application for Dietitian Licensure or apply online.
Enclose application fee of $100, initial license fee of $150, and Criminal Background Check Fee of $33.25 for a total of $283.25, via check or money order payable to the Minnesota Board of Nutrition and Dietetics Practice
Enclose a notarized copy of your current CDR registration card
Have the application notarized
Mail everything to State of Minnesota Board of Dietetics and Nutrition Practice, 2829 University Avenue SE, Suite 402, Minneapolis, MN 55414-3250
You should receive your license by mail within two weeks of the board receiving your application, documentation and fees.
Maintain Licensure and Registration in Minnesota
Maintaining Your Minnesota Dietitian License
Your Minnesota dietitian license expires November 30 of each year. The renewal fee is $75, payable via credit card when you renew online. Every three years, you must accrue a minimum of 45 continuing education (CE) units via board-approved CE programs. You will report these units to the Board in the manner directed by them. Examples of board –approved CE programs include publications, poster presentations, exhibits, study groups, seminars, lectures, correspondence study courses, conferences and courses/classes.
Maintaining your Registration as a Registered Dietitian in Minnesota
CDR registration is renewable on a five-year basis. You must accrue 75 hours of continuing professional education (CPE) every five years as well. The CDR's online CPE database and PDP Guide are helpful in finding local CPE activities, deciding what counts as CPE and documenting your CPE.
How to Become a Nutritionist in Minnesota
A nutritionist in Minnesota holds a separate license to practice in the state from that of a dietitian, and must meet separate qualifications:
You must earn a postgraduate degree (master's level of above) in one of the following areas:

Food and nutrition
Community nutrition
Nutrition education
Clinical nutrition
Public health nutrition
Human nutrition

AND:
You must complete a supervised pre-professional internship in nutrition practice lasting at least 900 hours in the U.S. or its territories
OR:
You must become certified as a Certified Nutrition Specialist by the Certification Board for Nutrition Specialists.
You must complete and submit the Application for Nutritionist Licensing, including:

A copy of your certification card, if applicable
Fee of $175 (application) plus $150 (initial license) plus $33.25 (Criminal Background Check) for a total of $358.25 via check or money order payable to the Minnesota Board of Dietetics and Nutrition Practice

Renew your license as a nutritionist every year on November 30
View how to become a nutritionist in Minnesota here.
*2021 US Bureau of Labor Statistics salary figures and job growth projections for dietitians and nutritionists reflect state data not school-specific information. Conditions in your area may vary. Salary statistics representing entry-level/early career = 25th percentile; senior-level/highly experienced = 90th percentile. Data accessed April 2022.