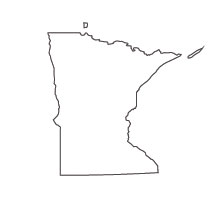 Minnesota Nutritionist Certification
The Minnesota Board of Dietetics and Nutrition Practice is responsible for the regulation and licensure of both dietetics and nutritionists in the State. The mission of the Board is to protect the public by setting standards for quality dietetics and nutrition services and to promote public interest through quality dietetic and nutrition services provided by competent and licensed dieticians and nutritionists.
Degree and Practice Requirements
The first step to becoming a nutritionist in Minnesota is earning a master's or doctoral degree from an accredited college or university, with a major in one of the following:
Public health nutrition
Human nutrition
Clinical nutrition
Nutrition education
Community nutrition
Food and nutrition
Upon completion of the required education, candidates for nutritionist jobs in Minnesota must complete a documented supervised experience of no less than 900 hours. This per-professional practice experience must be under the supervision of a registered dietician, a state licensed nutritionist, or a professional with a doctoral degree in: human nutrition, nutrition education, food and nutrition, dietetics, or foods systems management. The supervised practice must be completed in the U.S. (or a U.S. territory).
Candidates for nutritionist jobs may also qualify for licensure without the 900-hour supervised experience requirement if they possess certification as a Certified Nutrition Specialist by the Certification Board for Nutrition Specialists.
<!- mfunc feat_school ->
The following bachelors and Master's programs offer career-focused instruction delivered by trained nutritionists with experience in the field. Find out more what each individual course of study offers through the locations below.
Sponsored School(s)
Featured Nutritionist Programs
<!- /mfunc feat_school -> <!- mfunc search_btn -> <!- /mfunc search_btn ->
Minnesota Nutritionist Licensure: The Application Process
To become a licensed nutritionist in Minnesota, candidates must complete an Application for Nutritionist Licensing. Applicants may also complete an online application through the Board of Dietetics and Nutrition Practice's website.
Applicants must include the following with their completed application:
$325 ($175 nutritionist license application fee and $150 initial license fee); AND
Documented proof of the completion of the required pre-professional practice experience ; AND
An official transcript showing the required education for licensure; OR
A copy of the CNS certification
The completed application and required documentation must be mailed to:
State of Minnesota
Board of Dietetics and Nutrition Practice
2829 University Avenue SE, Suite 402
Minneapolis, MN 55414
All nutritionist licenses in Minnesota expire on November 30 every year. The cost of the annual renewal is $45, and continuing education is based on a three-year cycle. The required continuing education credits depend upon the date of initial license. The three-year total is 45 continuing education credits.
Salary Highlights for Minnesota Licensed Nutritionists
According to the Bureau of Labor Statistics, nutritionists in Minnesota earned an average salary of $66,760 as of May 2021. Nutritionists in the Minneapolis metro area (includes St. Paul and Bloomington) earned a similar average salary of $66,620 during this time.*
Minnesota Licensed Nutritionists: Advancing in the Profession
One of the most effective ways to advance in the nutritionist profession in Minnesota and to enjoy access to a wealth of continuing education opportunities is through membership and work in professional associations/organizations, such as:
Minnesota Academy of Nutrition and Dietetics
Minnesota School Nutrition Association
National Association of Nutrition Professionals
---
Health Coach in Minnesota
Health coaching is the new frontier in medicine, part of the rapidly expanding Health Education field. In fact, this field is expected to grow at twice the average job growth rate over the next ten years, and health coaching was named in The Post and Courier as "the top emerging trend from 2015."
Why are health coaches finding new ground in Minnesota? In spite of our outdoorsy, bike-trail-loving reputation, Minnesotans are sicker than ever. According to the Minnesota Department of Health:
Chronic conditions draining Minnesota's pocketbook:
35 percent of insured Minnesotans have at least one chronic condition.
The cost for Minnesota residents with one or more chronic conditions averages $12,800 per person instead of the $1,600 for our healthier counterparts!
We're also stressed out and overweight:
Chronic stress, the national illness, is tightly correlated with obesity.
Obesity in Minnesota rose from a rate of 15.3% in 1995 to 27.6% in 2014.
Over 50% of deaths are directly connected to obesity-related chronic diseases, according to the Minnesota Department of Health.
But here's the good news, and it involves you:
The Minnesota Department of Health says that many of these diseases can "be delayed or prevented through early identification, clinical treatments, and lifestyle changes."
As a health coach, you can bridge the gap between the doctor's office and real life change to prevent these chronic illnesses. Today, organizations as diverse as Medtronic and the local YMCA hire health coaches because they realize the financial and personal benefits the services they provide bring.
How to Become a Health Coach: Degrees and Professional Certification
The field of health coaching has been referred to as the "Wild West" of the medical world. That's why it's so exciting: Today's health coaches are pioneers in shaping the future of this field.
Although there are a number of private certifying organizations for health coaches, there is no one state or national licensing body. So, much like in the Wild West, as a health coach in Minnesota you'll need to chart your own course.
While the State doesn't set any specific requirements, many businesses and government agencies will only hire candidates that hold related degrees and professional certification.
In plotting your path towards a career, you may want to consider the many educational tracks available in Minnesota that will show future employers and clients you know your stuff.
Job vacancy aggregation site, indeed.com shows that Minnesota's certified health coaches make 40% more on average than non-certified health coaches. The higher the level of formal education, the more the coach can usually charge.
This is because Health coaching goes beyond just nutrition. Certification programs can offer a more complete understanding of the mental, emotional, and spiritual aspects related to a whole-health plan, better equipping the coach to empower their clients.
And really, you need to ask yourself: If I were the client, what preparation would I hope my health coach had done in order to serve me?
<!- mfunc search_btn -> <!- /mfunc search_btn ->
Whether through a formal degree program or a professional health coach certification program, you'll be introduced to concepts that could include:
Nutrition
Exercise Science
Complementary/Alternative Approaches to Healthcare
Spiritual Wellness
Coaching Skills
Ethical Considerations
Mind-Body Science
Group Coaching
Dietary Theories
Women and Holistic Health
Alternative Approaches to Nutrition
Mindfulness Meditation
Associate, Bachelor's and Master's Degree Options in Minnesota
Undergraduate degrees in these areas would be well suited to preparing for a career in health coaching:
Health Educator
Nursing (RN, Nurse Educator, Nurse Practitioner)
Nursing: Holistic
Dietetics
Nutrition Science
Exercise Physiology
Community Health Worker
Career changers with an existing undergraduate degree looking to prepare for a new career in health and nutrition, as well as those in the industry looking to advance their expertise through a graduate program, can elect for a master's degree or graduate certificate in areas that include:
Holistic Health Studies
Integrative Health and Wellbeing Coaching
Integrative Therapies and Healing Practices
Non-Degree Health Coach Certification Programs
Some employers don't maintain strict degree requirements for the health coaches they employ, making professional certification a viable alternative in some cases. Certification is even more impressive when combined with a degree in a relevant area that will provide a deeper understanding of health and nutrition.
Whether in addition to a degree, or in lieu of one, certification programs can usually be completed through online self-study courses that culminate in sitting for an exam.
American Council on Exercise (ACE) – ACE certification is the only organization that offers a Health Coach Certification program accredited by the National Commission for Certifying Agencies (NCCA). Three options are available to suit your specific career goals:
Health Coach for Fitness Professionals
Health Coach for Health Care Providers
Health Coach for Workplace Wellness
The ACE Certification Candidate Handbook provides thorough details concerning the certification examination and maintenance process.
Other Tracks to Becoming a Health Coach in Minnesota
Fitness coaches who take additional classes or self study to increase their knowledge
Lessons learned through personal life transformation
Self-study through audited classes and books
Career Paths and Job Opportunities Available to Health Coaches in Minnesota
The Minnesota Department of Health recently reported that 55% of Minnesota's employers with more than 100 employees routinely offer health promotion programs.
Perhaps more telling, 87% of all companies surveyed expressed interest in workplace wellness initiatives. If the current trend continues, you should expect to see more small and mid-sized businesses looking to hire health coaches in the coming years.
Many businesses and government agencies in Minnesota hire health and wellness coaches to improve productivity among workers to improve their bottom line.
Health coaches in Minnesota can choose to work on staff at a business or government agency, set up an independent coaching practice, or even combine the two.
Sometimes individuals need a health coach – part counselor, part researcher, part cheerleader – to fill the gaps in their health care plan. By troubleshooting what is and isn't working, health coaches point individuals in the right direction, provide resources and referrals, and assure personal accountability.
Not everyone loves working for someone else. You may want the flexibility and freedom found in working as an independent health coach.
If you plan to hang your shingle and start your own business, you'll first need toregister for your Tax ID through the Minnesota Department of Revenue. Before building your website and printing up business cards you should also consider purchasing health coach insurance and take the time to get familiar with the legal aspects of health coaching.
Companies in Minnesota known to hire health coaches include:
Medtronic
Harken Health
3M
Mayo Clinic
Allina
The YMCA
Blue Cross Blue Shield of Minnesota
Provant Health
Various Minnesota health and fitness clubs
Still wondering what it would look like to work as a health coach in a corporation?
Following is a list of job opportunities which represent the types of employment opportunities available to health coaches in Minnesota. These are shown for illustrative purposes only and are not meant to represent job offers or provide an assurance of employment. Some descriptions are condensed or are only portions of longer postings.
Health Coach, Allina, Minneapolis – Provides integrative health and wellness coaching for various partnerships including Allina's employee wellbeing program, the Medical Weight Loss Department, and other LiveWell healthy lifestyle programs.
Must use a whole person, integrative approach.
Health Coach, RedBrick Health, Minneapolis –Works with RedBrick clients by promoting health through individual phone based sessions. Job duties include facilitating and supporting overall wellbeing by assisting clients in identifying their vision to improve health and habits, providing education on health matters, establishing goals and accountability and developing an individualized plan designed to meet said goals.
A Bachelor's degree in health-related fields is required, with a Master's degree preferred. Certification in coaching or related field is also required.
Health Coach, Provant Health, Wayzata – Provides health and wellness screenings in corporate environments on a contract/per diem basis. Will interact with clients during 8-10 minutes sessions and must be comfortable with one-on-one communication.
Needs experience with clinical health education, weight loss management, tobacco cessation, stress management and understanding the role of physical activity. Must hold a license or certification as an RD, RN, Health Educator, or Exercise Physiologist.
Health Coach RN, Blue Cross Blue Shield of Minnesota, Eagan –Acts as the primary clinician providing condition and case management services to members. Contacts members for motivational interviewing and behavioral modification techniques, conducts clinical assessments, researches and prioritizes member needs and opportunities, collaborates with the member health care team on care plans, monitors and evaluates the care plan overtime while keeping proper member data documentation.
Must be a registered nurse with 3 years relevant experience, needs excellent communication, thinking, and relationship management skills.
State Resources for Health Coaches in Minnesota
Minnesota State Health Department and Wellness Initiatives
Find a Local Health Department or Community Health Boards in Minnesota
Tribal and Federal Indian Health Services in Minnesota
The Minnesota Department of Health
Workplace Wellness in Minnesota – Minnesota Department of Health
Worksite Wellness Toolkit – Minnesota Department of Health
Children's Environmental Health Initiatives – Minnesota Department of Health
Health Care Homes – Minnesota Department of Health
SHIP Health Care Implementation Guide – Minnesota Department of Health
Professional Organizations and Certifying Bodies
There are currently no Minnesota-based professional organizations serving health coaches, however health coaches often find themselves deeply connected with the worlds of public health and holistic medicine, and may find these resources helpful:
Minnesota Holistic Medicine Group
Minnesota Public Health Association (MPHA)
Minnesota Environmental Health Association (MEHA)
Additional Helpful Links
Minnesota State Laws for Practicing Nutrition
*2021 US Bureau of Labor Statistics salary figures and job growth projections for dietitians and nutritionists reflect state data not school-specific information. Conditions in your area may vary. Data accessed April 2022.