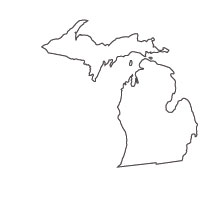 Steps to become a Registered Dietitian in Michigan
View how to become a nutritionist in Michigan here.
Follow the step by step process or choose what situation that best describes you:
Nutrition Career Information in Michigan
Michigan repealed all licensure requirements for dietitians and nutritionists in 2014, and abolished the Michigan Board of Dietetics and Nutrition. However, most Registered Dietitian jobs in the state still require education and experience as mandated by the Commission on Dietetic Registration (CDR) of the American Dietetic Association (ADA). This involves completing the CDR's Accreditation Council for Education in Nutrition and Dietetics (ACEND)-accredited programs in dietetics.
The average dietitian in Michigan earned $57,000 in 2018, according to the U.S. Department of Labor's Bureau of Labor Statistics. If you would like to learn how to become a registered dietitian in Michigan and pursue employment opportunities across the state, read on.
Registered Dietitian Education in Michigan
You can fulfill the CDR's requirements for education and experience to become a Registered Dietitian in a variety of ways. One is to complete an ACEND-accredited Coordinated Program (CP) in Dietetics. This program includes education and the experiential component necessary for RD education.
You can also opt to complete a Didactic Program in Dietetics (DPD), accredited by ACEND. This program just consists of coursework and must be followed by an internship or experience. The Dietetic Internship (DI) accredited by ACEND usually follows a DPD.
ACEND-Accredited Programs Leading to the Registered Dietitian (RD) credential:
Coordinated Programs in Dietetics (CP) – The courses and experience are offered in CPs in Michigan, including:
Didactic Programs in Dietetics (DPD)- Only the courses are offered in DPDs in Michigan (experience must be completed later):
<!- mfunc feat_school ->
Dietetic Internship (DI) in Michigan
The second step in meeting the CDR's requirements to become a Registered Dietitian in Michigan is to complete one of the following Dietetic Internships (DI) in Michigan:
Pass the CDR Registered Dietitian Examination
Your next step in becoming a Michigan Registered Dietitian is to pass the CDR's Registration Exam for Dietitians. The CDR's Registration Examination for Dietitians Handbook for Candidates is a valuable resource to use when preparing to take the exam. You are required to take the exam within one year of being eligible to do so. Register and pay ($200, credit card) online for the exam at the CDR website. The test is about 180 minutes long and consists of up to 145 multiple-choice questions. You are required to answer all questions, and cannot go back to review or change answers once entered. The test is given at Pearson VUE Exam Centers in Michigan, including:
| | |
| --- | --- |
| | 325 E. Eisenhower Parkway, Suite 3A, Lower Level, Burlington Ofc. Ctr. I |
| | 161 Ottawa Ave NW, Suite 410, Waters Center |
| | 2851 Charlevoix Drive SE, Suite 115 |
| | 1595 W Lake Lansing Rd, Suite 230 |
| | 888 W Big Beaver Rd, Suite 490, City Center Bldg |
| | 26555 Evergreen Road, Suite 125 |
A scaled score of 25 passes the exam. You will receive your score the day of the test. Passing the exam confers the credentials RD (Registered Dietitian) onto you.
Maintain Your Registration as a Dietitian
Maintaining your Registration as a Registered Dietitian in Michigan
You must renew your CDR registration every five years, and complete 75 hours of continuing professional education (CPE) during each five-year span. CDR's online CPE database and PDP Guide  can help you to find the right kinds of activities and education to fulfill this requirement. Examples of currently listed CPE programs in Michigan include:
University of Michigan C.S. Mott Children's Hospital Ketogenic Diet Practicum, presented by Michigan Medicine, 27.0 CPEUs, multiple dates
Feeding Infants: Nourishing Attitudes and Techniques, presented by USDA, WIC Works Resource System, 1.5 CPEUs, multiple dates
2019 Health and Wellness Food Show, presented by Sysco Corporation, 3.0 CPEUs, 06/26/19
Gaining Ground in Gastric Cancer – Updates on Current and Emerging Treatments & Supportive Care, presented by AXIS Medical Education, 1.0 CPEU, June 2019-20
Earn Specialty Certification in Dietetics and Nutrition as a Way to Fulfill CDR Continuing Education
Another way some Registered Dietitians in Michigan fulfill the CDR's CPE requirements is through earning specialty certifications. Earning these certifications may fulfill part of all of the CPE requirements for the CDR, as well as increase your marketability as an RD in Michigan and beyond. They include, but are not limited to:
Professional Organizations for Registered Dietitians in Michigan
Now that you are a registered and licensed dietitian in Michigan, you might want to explore professional organizations in your particular geographical area or area of practice. These associations can help you to network with other professionals, find employment, and increase your professional knowledge. In Michigan, they include:
Southeastern Michigan Dietetic Association – serves Macomb, Oakland, Wayne, Monroe and St. Clair Counties
Dietitians of West Michigan
Northern Michigan Dietetic Association- serves 21 counties in Northern Michigan
Southwest Michigan District Dietetic Association
Dietitians in Healthcare Communities of Michigan
Michigan Nutrition and Dietetic Educators and Practitioners