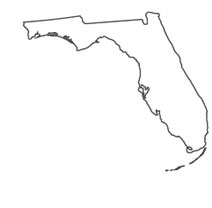 Follow the step by step process or choose what situation that best describes you:
Nutrition Careers in Florida
As of April 2022, the Commission on Dietetic Registration reported a total of 5,634 Registered Dietitians (RDs) and Registered Dietitian Nutritionists (RDNs) in Florida. According to the Bureau of Labor Statistics (BLS), dietitians and nutritionists earned an average salary of $62,320 as of May 2021. Early career professionals earned about $47,630, while those with extensive experience earned about $79,100 during this time.
It's commonplace to find many metro areas of Florida reporting average salaries for nutritionists and dietitians that top the state average. For example, the Miami-Fort Lauderdale-West Palm Beach metro area reported an average salary of $63,430 as of May 2021.*
The vision of the Florida Department of Health is to help make Florida the healthiest state in the nation. Registered dietitians are an important piece of this goal. Completing the required registered dietitian education in Florida and earning a license as a dietitian/nutritionist can enable you to make a difference in the nutritional outcomes of Floridians of all ages.
Keep reading to learn how to become a dietitian in Florida.
Get Your Florida Registered Dietitian Education
The Florida Board of Dietetics and Nutrition mandates that only those who earn the credential of Registered Dietitian can be licensed as a dietitian in the state. Earning this credential begins with completing registered dietitian education in Florida. The Commission on Dietetic Registration (CDR)'s Accreditation Council for Education in Nutrition and Dietetics must accredit the program that you choose.
Florida ACEND-Accredited Programs Leading to Registered Dietitian (RD) Licensure:
Coordinated Programs in Dietetics (CP) – These programs fulfill the CDR's requirements for both education and experience. In Florida, CPs are offered at:
Didactic Programs in Dietetics (DPD)-These programs fulfill the CDR's requirements for education only. If you complete a DPD, you must still take an internship after. DPDs in Florida are found at:
Would you rather become a Dietetic Technician, Registered (DTR)?
This option requires less education and experience, and is a way to get into the field of Dietetics in Florida more quickly. You must complete one of the following ACEND-accredited DTR programs in Florida, which combine an associate's degree curriculum with a 450-hour internship, then pass the CDR Dietetic Technician, Registered (DTR) exam:
<!- mfunc feat_school ->
The following bachelors and Master's programs offer career-focused instruction delivered by trained nutritionists with experience in the field. Find out more what each individual course of study offers through the locations below.
Sponsored School(s)
Featured Nutritionist Programs
<!- /mfunc feat_school ->
Apply for your Florida Dietetic Internship (DI)
Once you have a degree in dietetics or a related area, you must complete the experience requirement of the CDR.  In some instances, the DI may offer you the opportunity to complete a graduate degree while fulfilling the internship requirement. The following ACEND-accredited Dietetic Internships (DI) are offered in Florida:
Before applying for licensure to practice as a dietitian in Florida, you must complete a Florida Board of Dietetics and Nutrition-approved two-hour course related to the prevention of medical errors. This course may be offered in your CP, DPD or DI.
Commission on Dietetic Registration (CDR) Exam
The next challenge on your way to becoming a Registered Dietitian in Florida is to pass the CDR's Registered Dietitian Examination. This exam takes about three hours to complete and consists of computer-based, multiple-choice questions. The CDR's Comprehensive Study Outline and Study Guide and the Registration Examination for Dietitians Handbook for Candidates can help you to study for and apply for the exam. You must answer at least 125 questions (exam ranges from 125 to 145 questions in length) and may not skip, change or go back to review answers.
The CDR will email you instructions on registration and paying the $200 exam fee online once you are eligible to take it. After Pearson VUE Exam Centers receives your online payment, they will email you to schedule your exam. It is given at the following Florida locations:
Lakeland – 212 E Highland Dr, Suite 101
Tampa- 3922 Coconut Palm Drive, Suite 101, Sabal Business Center 5
Orlando- 1707 Orlando Central Pkwy, Suite 300
Port Charlotte- 1777 Tamiami Trail, Suite 508, BMO Harris Bank
Altamonte Springs – 237 South Westmonte Drive, Suite 305, Premier Point South
St. Petersburg – 877 Executive Center Drive, Suite 350, Baypoint Commerce Center-Glades Bldg
Deerfield Beach – 1191 East Newport Center Drive, Suite PHA/3 Story Bldg, 3rd Floor, Penthouse A
Plantation – 1000 South Pine Island Rd, Suite 260, Royal Palm at Southpoint
Pembroke Pines – 7369 Sheridan St., Suite 204
Gainesville – 2815 NW 13th St, Suite 101
Tallahassee – 2286-2 Wednesday Street
Jacksonville – 8659 Baypine Rd, Suite 305, Spring Lake Business Ctr, Bldg 3
Miami – 8615-17 South Dixie Hwy
Questions on the exam are derived from the information you have studies, and include these sub-disciplines of Dietetics and Nutrition:
Food and Nutrition Sciences
Management of Food and Nutrition Services and Programs
Nutrition Care for Individuals and Groups
Food Service Systems
Your score on the exam will be given to you at the test center on the same day. You must receive a scaled score of at least 25 to pass. If you fail, you may re-take it in 45 days or later. Reauthorize to test again by email at cdrexams@eatright.org, or by telephone at (312) 899-4859. Once you pass the exam, you can use the credentials RD (Registered Dietitian).
Apply for Licensure as a Dietitian in Florida
You have passed the CDR Registered Dietitian Examination and are now ready to apply for a license to work as a dietitian in Florida.
Apply online at the Florida Department of Health Online Portal.
Pay necessary fees (outlined here).
Complete the application in its entirety.
Your application will be reviewed and you should be contacted by the Department within 30 days of its receipt. This will be done by postal mail or email, whichever you specify. If your application is lacking, you will be notified of what needs to be submitted.
Once you receive your Florida license, you may use the credentials LD/N (Licensed Dietitian/Nutritionist) in the state of Florida only. 
Licensure and Registration as a Dietitian in Florida
Maintaining Your Florida Dietitian License
Your Florida dietitian license must be renewed every odd year on May 31. During each license renewal period, you must complete 30 hours of continuing education (CE) consisting of:
2 hour course in the prevention of medical errors
30 hours of approved CE that follows these rules:

10 hours must be live courses
No more than 20 hours from home study
No more than 10 hours may come from:

Educational techniques
Personal growth
Risk management
Education management

For first-time license renewal, you must complete 25 general CE hours (including the 10 live hours), 2 medical error hours and 3 hours on HIV/AIDS
CE may be obtained through board-approved providers (listed here) as well as through other methods (also listed here).
Maintaining your CDR Registration as a Registered Dietitian in Florida
You must renew your registration with the CDR as a Registered Dietitian in Florida every five years. During each five-year period, you must complete 75 hours of CPEUs (continuing professional education units). The CDR's PDP Guide   and CDR's online CPE database  can help you to find appropriate courses and activities following the CPE rules of the CDR.
View how to become a nutritionist in Florida here.
*2021 US Bureau of Labor Statistics salary figures and job growth projections for dietitians and nutritionists reflect state data not school-specific information. Conditions in your area may vary. Salary statistics representing entry-level/early career = 25th percentile; senior-level/highly experienced = 90th percentile. Data accessed April 2022.